...a little optimistic
Toronto - Croatia's head coach Rubin Toro (former Jamaica's coach) has predicted a London City - Toronto Croatia final at this year CPSL Cup.
A little optimistic for Croatian soccer community taking part in the professional competition for the first time ever, but there is little doubt that the Croatians have a highly talented squad capable of shocking a few of the more established powers.
Although, Toro tried to rejuvenate his side, especially at the back where there will be a huge gap to fill when players like captain Milodrad Akmadzic Backo , striker Ante Musa and midfielder master Darko Pantalon retire. Three other key members of the defense Danijel Pilas , Lubos Znidra and Leo Marasovic will also be hard to replace.
Head Coach Rubin Toro comments:
"We've had a very good month of training. We continue to make progress... Tomislav Granic is looking good and he will receive anywhere between 20 -80 minutes on Wednesday, against Glen Shields. Rene Martin was training with the ball all week and I'm confident about his prospects to play. We do have a few minor injuries, but nothing serious.We're taking a offensive approach to first Cup and all future games. It's important that everyone knows my approach to this team.We are a rested team, but I don't know if the players would agree. The training during the past week was not only pointed towards Glen Shields, but also London City on June 10th."
Rubin Toro might use Garry Delron , a player he has repeatedly promised to find a place for, instead of Tomislav Granic in the role of defensive midfielder.Granic would be pushed forward and given a more offensive role on the left ,supporting the striking of John Annisi. Coach Rubin Toro said that the team would stick with his favored 3-5-2 formation.
Certainly Toronto Croatia can have few complaints about April's CPSL - Ontario Division draw, which pitted it in a group featuring London City and the fellow newcomers, Glen Shields and North York Astros. There is no doubting the talent on the team, but how far it goes is likely to depend just as much on the players' mental attitude.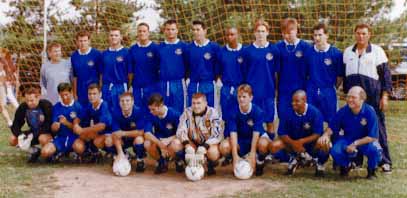 Toronto Croatia -- CPSL 1998
It is important to remember that Croatia - Toronto was arganized November 11, 1956. The most notable achivement of Metro Croatia (as it was called back then) is a win of 3:0 against Cosmos from New York. The game was played September 20, 1975. in a sold out stadium in Toronto. Pele was a player for the Cosmos at that time. The Canadians came to see the "Black Pearl" - Pele, and showed their admiration for Metro Croatia.
Croatia consisted of: Likacevic, McPhee, Bilecki, Fazlic, Peric, Bodlovic, Coyne, Polak, Sutevski, Vieri, Strenicer, Bradvic, I. Perani. The coach was Ivan Djalma Markovic.