.........................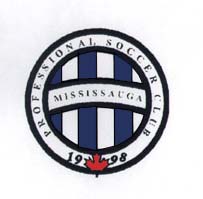 CPSL scheduled game of Sunday July 26, 1998.

The game scheduled Sunday July 26, 1998 for 7:30pm at Esther Shiner Stadium between North York Astros and Mississauga was not played when the Mississauga team did not show up. This would have been consided a League game.
North York Astros (blue socks, shorts and numbers, yellow shirts)
goal:...12 Greg Drakes
defenders:...2 Andrew Czalij, 3 Rene Martin, 4 Boris Lopez, 15 Michael Marshall
midfielders:...8 Alejandro Martinez, 10 Jorge Aviles, 16 Alex Nardi
forwards:...13 Audley Taffe, 14 Ednei Tavares, 17 Ivan Jurisic

Substitutes:...1 Alejandro Protti (gk), 5 Sebastian Busto (mid), 7 Gad Espinosa (def), 9 Rodrigo Flores (fwd).

Team Officials: head coach Jorge Armua, assistant coaches David Dedonato and Thomas Boykovac, masseur Ruben Delembert, equipment Juan Jose Zamora.
I arrived at the stadium at 7:15pm and only the Astros were warming up. I had no idea that Mississauga weren't going to show up. The press box was locked so I went down to the field by 7:30pm. I asked about the game and heard about Mississauga and the game being posponed until 8:00pm. Here's the story:
The CPSL league had an executive meeting earlier in the week. Mississauga owner/manager Joe Komlodi said he wanted to talk to Astros owner Bruno Ierullo. Komlodi was upset that Astros have a reserve team in the Peel-Halton Regional Soccer League. The City of Mississauga is in the Peel-Halton county region and Komlodi feels he has a right to this 'territory'. Ierullo says that he's had a team there for four years which is well before Mississauga FC was created or any rules about the CPSL had been formed.
It was understood that tonight's game would be played under protest and the result would be dealt with later which was fine with the Astros and the League. This was the first meeting of the season between the two teams. Bruno told me he'd rather play the game because a forfeit win won't help in the goals for/ goals against tiebreaker at year end. It also makes everyone look bad for the fans who were at tonight's game.
There were very few fans present and the Astros turned this into a practise. I waited until 8:00pm then got in my car and drove up to Dufferin District fields a few kilometers away just in time to see the second half of the Glen Shields vs St Catharines game.
Joe Komlodi will probably be all alone in approving of his actions. Astros will be against him, Bill Spiers of the CPSL, Armand Difruscio of St Catharines and Ron Harrison of Glen Shields all thought it was a dumb move.
Sunday August 2nd follow up...[Game is considered a forfeit and the final result will go into the record books as a 2-0 win for the Astros. The Mississauga franchise had a choice of forfeiting the game OR playing the game and paying a $2000 fine. Forfeiting was the cheaper way out. (Paying $2000 and NOT playing the game would have made a more interesting choice maybe equal to the expenses of renting the stadium etc. if the game was played!).]
Rocket Robin
robing@clo.com
.
.