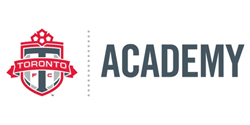 .....................................

May 8, 2010 CSL--TFC Academy vs Portugal FC (by Rocket Robin)

Result of the CSL game of Saturday May 8, 2010 between TFC Academy and Portugal United played at BMO Field in Toronto at 7:00pm.

TFC Academy (all red, white numbers)

................1 Garrett Cyprus
14 Dino Gardner...4 Doneil Henry...6 Jordan Murrell...3 Vincenzo Sasso
8 Oscar Cordon...7 Jonathan Lau...15 Matt Stinson (cpt)...23 Brennan McNicoll
............10 Keith Makubuya...18 Nicholas Lindsay

Subs:...22 Angela Cavalluzzo (gk)...2 Casey D'Mello (def)...19 Zaki Pera (def)...24 Daniel Fabrizi (def)...25 Tristan Jackman (fwd) ...29 Andrew Curci (def)...46 Sergio Camargo (mid)
team officials:...head coach Jason Bent, coach Stuart Neely, goalkeeping coach Paolo Ceccarelli, assistant coach Anthony Capotosto

Portugal FC (all white, green numbers)

................12 Sotiri Varlokostas
17 Dominic Antonini...6 Frank Ruscetta...19 Richard Asante...2 Jamaal Smith
20 Adrian Pena...5 Luca Zucal...13 Sergio DeLuca (cpt)...23 Marko Bedenikovic
...........9 Andrea Lombardo...11 Luca Forno

Subs:...01 Mike Silva (gk)...10 Frankie Bruno (mid)...7 Marco Casalinuovo (mid)...16 Branko Majstorovic (def)...8 Carlos Nogueira (mid) ...15 Douglas Sereti...6 Jarek Whiteman (fwd)
team officials:...head coach Carmine Isacco, assistant coach Patrice Gheisar, manager Jimmy Carvalho...team official Frank Cardona

Game officials:...referee Sylviu Petrescu...referee's assistantsRichard Oliveira and Gianni Facchini...fourth official Yusri Rudolph... (yellow shirts, black shorts and socks)

The national anthem is played but cuts off before it's over.

1st Half:...game starts 7:07pm...TFCA defends north end on this cold and windy night.
1 min...TFCA McNicoll cornerkick from left is whistled down in box.
4 min...TFCA Makubuya checked off ball on breakaway by PFC Smith at 25 yards.
5 min...PFC Forno 30 yard freekick from right curls for goalie to make easy catch.
10 min...TFCA Makubuya rolls 30 yard shot wide right.
12 min...PFC Forno 35 yard freekick from left has ball knock around and diving goalie pushes ball wide right of post.
13 min...PFC Forno cornerkick from right is caught by goalie in crowd of players.
15 min...PFC Forno 35 yard freekick from left is headed across box. PFC Lombardo crosses back into box has defender head ball away.
16 min...PFC Antonini cross from 35 yard chip is caught by goalie.
17 min...TFCA Makubuya from 18 yards on left blasts shot midair well over net.
18 min...TFCA player cross from right has both goalie and TFCA McNicoll miss getting to ball so goalkick from the left.
18 min...PFC Lombardo cross from right is caught by goalie.
19 min...TFCA McNicoll 45 yard freekick is headed over net for cornerkick on right.
20 min...TFCA player's low cornerkick has TFC Stinson blast 30 yard shot well over net.
25 min...TFCA YELLOW card...Stinson for tripping PFC Smith at PFC 30 yards.
28 min...PFC Lombardo 50 yard high cross from right is caught by goalie.
28 min...PFC Lombardo rolls cross from right that PFC DeLuca blasts 15 yard shot well over net.
31 min...PFC Antonini 45 yard chip is caught by goalie.
36 min...TFC Makubuya cross from right has PFC Ruscetta head ball away from box.
37 min...TFCA Lindsay cross from 25 yards on left is cleared by defender.
39 min...TFCA McNicoll cornerkick from right is cleared and TFC Stinson blasts shot high and wide right.
40 min...PFC Smith blocks TFCA Lindsay 10 yard blast and is injured on play.
40 min...TFCA McNicoll from left is over players in box. A recross is over leaping TFCA McNicoll at 12 yards.
42 min...TFCA Lindsay turns and fires 30 yard shot down middle is over net.
42 min...TFCA Lau cross from 25 yards on right is wide left for goalkick.
44 min...TFCA Lindsay in PFC box slips up before he can take an 8 yard shot.
48 min...half ends 7:53pm.

2nd Half:...starts 8:09pm.
46 min...TFCA Lindsay 6 yard shot on left post is smothered by goalie.
52 min...PFC player's 8 yard blast from right is over net.
55 min...TFCA sub...Pera replaces Sasso.
56 min...PFCA McNicoll rolls ball into PFC box that goalie charges forward to dive on.
57 min...TFCA Makubuya 10 yard shot is wide right when he's rolled pass from right side of box.
63 min...TFCA Lindsay and PFC goalie leap for ball with goalie catching it.
63 min...TFCA McNicoll freekick blast up middle well over net.
64 min...TFCA sub...Jackman replaces Makubuya.
66 min...TFCA Gardner makes key clearance with TFCA goalie beaten and ball rolling across box.
67 min...PFC sub...Sereti replaces Pena.
69 min...TFCA McNicoll rolls 45 yard freekick and TFCA player's low cross from 25 yards has PFC Ruscetta clear.
71 min...PFC Lombardo cross from right end line is caught by goalie.
72 min...TFCA sub...Camargo replaces Lau.
78 min...TFCA Doneil Henry GOAL...TFCA Brennan McNicoll chips 40 yard freekick even with goal to wide left of net where TFCA Nicholas Lindsay blocks ball on end line then from 5 yards chips PFC goalie Sotiri Varlokostas guarding one yard out off left post for Henry to head ball into open net from 1 yard.
81 min...PFC Lombardo 30 yard shot has goalie palm ball over net.
82 min...TFCA Cordon cramps up after being checked off ball wide right of PFC box.
85 min...PFC sub...Casalinuovo replaces Bedenikovic.
.........TFCA sub...Curci replaces still injured Cordon.
87 min...PFC Casalinuovo cornerkick from right is low and cleared from box.
88 min...TFCA Lindsay low 12 yard shot and PFC goalie dives to get piece of ball. A PFC defender keeps an charging TFCA player from a 5 yard tap-in.
92 min...TFCA goalie dives forward in crowd of players to gather a tipped header on long PFC throw-in.
93 min...game ends 8:57pm.

Final Score:........TFC Academy..........1.............Portugal FC..........0..........

Attendance started at about 100 people left over from the about 17000 people who watched the MLS game between Toronto FC vs Chicago Fire that had ended one hour earlier. (official attendance at that game had been announced as 20060 but many people didn't show up to put up with the intermittent rain and high winds. This CSL game was actually played in better conditions as there was no rain and the wind had somewhat slowed down but still gusted a lot. About 40 people watched the second half which would be the proud parents who usually watch their sons play.

Portugal FC started off the better team despite running into the wind but by the 20th minute, the Academy played at least their equals for the rest of the game. Brennan McNicoll took almost all the cornerkicks and freekicks in the game. Last year's specialist Jonathan Lao was sometimes used as a decoy. Keith Makubuya and Nicolas Lindsay were the Academy forwards and had a few chances each.

Portugal FC had five former players that I could link with the TFC organization which is only in the fourth year of their history. Andrea Lombardo was a member of the senior Toronto FC team through 2007 and part of 2008. Sotiri Varlokostas was the PFC goalie tonight. (Last year's starter Mike Silva was on the bench). He was a starter last year for the Academy but is now older than 19 and in the Academy's "Logan's Run" imposed age policy was not brought back by the team. (Academy head coach Jason Bent had warned me about that possibility at the CSL press conference earlier in the week). Defender Jamaal Smith had won the 1000+ player TFC roster tryout spot in their initial season and has since played for various CSL teams. Adrian Pena played for the Academy until his parents' famous meltdown incident but still won the CSL Rookie of the Year award in 2008. Richard Asante was a draft choice with TFC during their initial season.

Matt Stinson the CSL Rookie of the Year in 2009 is captain of the Academy this year. Sergio DeLuca is the captain of Portugal FC which pretty much means he won't be back with the PDL Toronto Lynx this year.

Garrett Cyprus earned the shutout for the Academy aggressively making some key catches of crosses into the box which was made more difficult with the wind blowing.

Sylviu Petrescu was the referee in today's game and gave out a few Yellow cards but this was certainly not a rough game.

The stadium had an operating scoreboard with team names and count-up clock working and the fourth official held up the same lighted signboard that the pros use for substitutions. Long-time CSL voice Ennio was in the broadcast booth making announcements.

With almost empty stands, the seagulls swirled around even landing on the corners of the field.

TFC Academy next plays next Saturday a home game at nearby Lamport Stadium (as the MLS team is out of town) at 6:00pm against Hamilton Croatia. I'll probably like that better as when I made my way over to the broadcast booth during halftime to get rosters for the teams, the stadium security staff made me feel most unwelcome...then undoing all their good by leaving as soon as the game ended with all their priceless equipment unattended.

By the time I stepped off the subway almost 90 minutes later it was snowing.

Rocket Robin
robing@eol.ca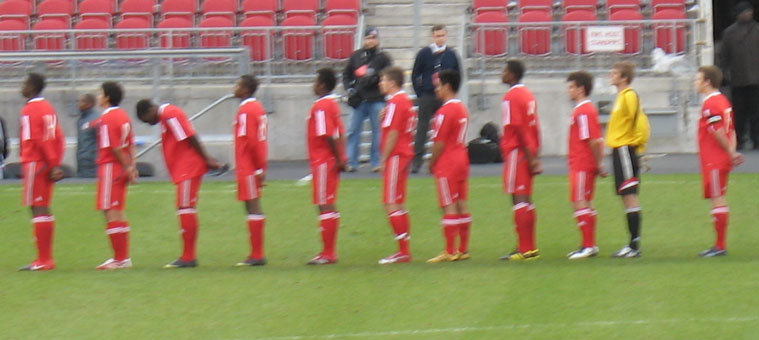 TFC Academy starters


Portugal FC starters


Academy player gets ball past Andrea Lombardo.


PFC player leads rush over center line.


PFC is awarded cornerkick. The scoreboard clock is working.


no one was allowed to watch from the west stands.


action near center line.
.
.