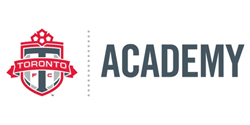 ........................

Result of the CSL game of Saturday May 15, 2010 between TFC Academy and Hamilton Croatia played at Lamport Stadium in Toronto at 6:00pm.
TFC Academy (all red, white numbers)
..................1 Garrett Cyprus
2 Casey D'Mello...24 Daniel Fabrizi...14 Dino Gardner...6 Jordan Murrell (cpt)...3 Vincenzo Sasso
.........20 Joshua Janniere...8 Oscar Cordon...7 Jonathan Lao
............18 Nicholas Lindsay...10 Keith Makubuya
Subs:...22 Angelo Cavalluzzo (gk)...5 Arthur Casupanan (mid)...19 Zaki Pera (def)...23 Brennan McNicoll (mid)...25 Tristan Jackman (fwd) ...29 Andrew Curci (def)...34 Jonathan Alemeida (mid)
team officials:...head coaches Jason Bent, Paolo Ceccarelli, and Stuart Neely...assistant coach Anthony Capotosto
Hamilton Croatia (white socks and numbers, blue shorts and shirts)
.................1 Cameron McKay
7 Silvano Rajkovic...18 Ivan Razumovic...5 Nikolas Jelicic...9 Tom Bilic (cpt)
19 Adam Leggett...27 Antonio Zupan...20 Jamie Dodds...11 Danny Jirta
.............23 Jason Shannon...99 Said Ali
Subs:...15 Andrew Leggett (mid)...2 Adam Jurcic (def)...8 Ivan Grubisic (def)...10 Jerko Grubisic (fwd)...12 Daniel Niksic (mid) ...6 Aidan O'Keefe (fwd)
team officials:...head coach Ron Davidson...assistant coach Ante Culina...manager Michael Radencich...team official Mike Radencich
Game officials:...referee Richard Oliveira...referee's assistants Jeff Fearnall and Sharon Welsby...fourth official Hassain Rafai...(yellow shirts, black shorts and shirts)
1st Half:...game starts 5:59pm...TFCA defend south end on this warm overcast evening.
2 min...HC Rajkovic cross from 20 yards on right is headed away by TFCA Murrell.
3 min...HC Dodds high cross from 20 yards on right line is caught by goalie.
4 min...HC Jirta 18 yard header is bounced to TFCA goalie.
6 min...TFCA Lao heads ball away from box on HC player's long throw-in from left.
7 min...TFCA Gardner 35 yard blast up middle is well wide right.
10 min...TFCA goalie charges out to dive on ball ahead of HC Shannon.
13 min...HC Jirta is given back pass and blasts skyball from 25 yards on left behind back fence.
14 min...HC Ali is centered pass and blasts weak roller from 28 yards wide right of net.
16 min...HC Jirta gets pass at 20 yards behind defender and he blasts shot well over net.
20 min...HC Shannon gets good chances; one 10 yard shot that's blocked by defender and then HC Ali takes midair 15 yard rebound shot sent well over net.
23 min...TFCA Janniere cross from 20 yards overhead has ball bounce through box.
25 min...HC YELLOW card...Rajkovic earns it for pulling down of TFCA Gardner in TFCA end.
25 min...Hamilton Croatia Jason Shannon GOAL...HC Antonio Zupan's shot up middle is partially blocked by defender at 15 yards and Shannon on right slides 15 yard roller behind sprawling goalie at 7 yards into center of net.
27 min...TFCA Lao cornerkick from right is whistled down in box.
30 min...TFCA goalie beats charging HC Ali to swat away ball at 15 yards inside box.
31 min...TFCA Lau 45 yard freekick from left has leaping TFCA Murrell in crowd of players head wide right of net from right.
33 min...HC Rajkovic 50 yard freekick from right has defender head ball away just inside box.
35 min...HC Zupan 15 yard shot from right is blocked by defender.
38 min...TFCA Makubuya long punt from left wing upfield 60 yards. TFCA player runs along left end line and centers through box and TFCA Lindsay blasts shot and defender behind goalie makes save.
39 min...TFCA Lau 35 yard freekick from right is partially cleared and TFCA Lindsay blasts 30 yard rebound well high and wide left of net.
41 min...TFCA Janniere run up right and cross to TFCA Makubuya at 8 yards is over his head.
42 min...TFCA Lindsay 30 yard freekick up middle is caught by goalie unchallenged.
43 min...TFCA Lau cornerkick from left has defender in crowd of players head ball away.
43 min...HC Ali 25 yard blast up middle blocked by defender and HC Jirta gets rebound on left and shoots 22 yarder over net.
46 min...half ends 6:45pm.
2nd Half:...starts 7:01pm.
halftime subs:...TFCA Pera replaces Sasso.
..............TFCA McNicoll replaces Lau.
47 min...TFCA McNicoll 40 yard freekick from right has ball cleared from box. TFCA Lindsay flubs shot.
48 min...TFCA Lindsay 20 yard chip up middle is caught by goalie.
50 min...HC Jirta cross from 15 yards along end line has HC Shannon blast midair 12 yard shot that flying goalie blocks on right post.
52 min...HC Ali eludes TFCA Murrell on 1 on 1 rush and 20 yard shot is popped up by sprawling goalie at 10 yards.
52 min...HC Rajkovic cross from 25 yards has HC Jirta head 10 yarder from left that's caught by goalie.
56 min...TFCA goalie beats HC Ali to cross to left.
57 min...HC goalie beats TFCA Cordon to dive on ball in box.
58 min...TFCA sub...Jackman replaces Makubuya.
.........HC sub...O'Keefe replaces Ali.
62 min...HC Dodds cornerkick from left is partially cleared and HC Bilic blasts 30 yard shot through box up middle is wide left.
63 min...TFCA Shannon 40 yard freekick from right is headed away by defender.
64 min...Hamilton Croatia Aiden O'Keefe GOAL...HC Jason Shannon passes through on right to O'Keefe behind defenders and he chips 25 yarder over goalie Garrett Cyprus who'd charged 12 yards out to cut the angle.
67 min...HC sub...Andrew Leggett replaces Adam Leggett (they are brothers!).
68 min...HC O'Keefe beats TFCA Fabrizi on left and crosses on endline over leaping HC players. The ball is rolled back across box from right but no one gets in shot.
71 min...HC Shannon turns and rolls pass from 30 yards on left has HC player's shot blocked.
72 min...TFCA McNicoll 30 yard up middle is caught by goalie.
73 min...TFCA McNicoll rolls ball from right that splits defense and TFCA Jackman shoots ball wide left from 10 yards as he falls.
74 min...HC O'Keefe 22 yard shot from right is caught by diving goalie.
75 min...HC O'Keefe curves 22 yard shot from left that goalie catches.
76 min...TFCA Lindsay gets ball and takes too long and is checked off ball before getting away 8 yard shot.
77 min...HC sub...Niksic replaces Jirta.
........TFCA sub...Almeida replaces D'Mello.
78 min...TFC Academy Nicholas Lindsay GOAL...TFCA Joshua Janniere centers pass from right for three TFCA players but Lindsay stops ball, and his low 12 yard shot is into the right corner of net behind diving goalie Cameron McKay.
80 min...TFCA McNicoll 55 yard freekick blast from right is high and wide right of net.
82 min...HC Jelicic heads ball back to goalie to hold off two TFCA forwards at 20 yards.
83 min...HC O'Keefe blasts 12 yarder up middle after pass from left that goalie palms over net.
84 min...HC Razumovic heads 12 yarder that's caught by goalie loose after cornerkick from right.
85 min...TFCA McNicoll 35 yard freekick from left is whistled down in HC box on TFCA hand ball.
86 min...TFCA Gardner cross from right after run to get ball to end line is through charging players in box.
90 min...HC two players tap around freekick in right cornerflag then throw-in to waste more time.
92 min...Two TFCA players offside on 50 yard shot into HC box.
93:30 min...game ends 7:50pm.
Final Score:..........TFC Academy.........1.............Hamilton Croatia.............2............
Attendance was about 200 people with all except about 30 fans being from Hamilton. I didn't notice any Toronto FC fans one other than the TFCA parents and even not many of them. With HC bringing so many travelling fans, it looks promising for large crowds to their home matches on Friday nights.
Hamilton had complete control of the game up to their first game. After that first goal the Academy held the advantage for the rest of the first half. The second half was generally even with each side sometimes controlling the chances for ten minute bursts. Each team could easily have scored three more goals each if their shooting had been more accurate.
Hamilton win their first match in their first game in the Canadian Soccer League. The Academy falls to 1-1 in their season (both home games).
Unlike last week's game at BMO Field, tonight's game was held at Lamport Stadium. The pressbox doors were locked and only one City staff member had keys. All formalities like the national anthem and introducing the players were therefore skipped. The scoreboard was working by the second half. There was no microphone so PA announcer Ennio just yelled out the scorers out the window to the amusement of the crowd.
TFC Academy played without defender Doneil Henry and midfielder/captain Matt Stinson who are away with the Canadian Olympic team. Their presence was missed as Hamilton players got behind the TFCA defenders on more than a few occasions.
I had only seen Hamilton Croatia when they were entered in the CSL's Open Canada Cup a few years ago. I did recognize a few of today's players from the past from other teams. They didn't raid the roster of Toronto Croatia to fill their team. Defender Antonio Zupan played for that CSL team last year but that was the only one. Midfielder Jamie Dodds played for the USL Toronto Lynx from 2004 to 2006 as one of their best players. His bio reads that he's played for Hamilton Croatia since 2007. Forward Said Ali played for Toronto Lynx in 2005. He didn't score in his 15 games when he came over from USL Vancouver and was frustratingly like the Jeff Cunningham stint with Toronto FC.
Referee Richard Oliveira had a very quiet game to call and gave out only one Yellow card the entire game.
Rocket Robin
robing@eol.ca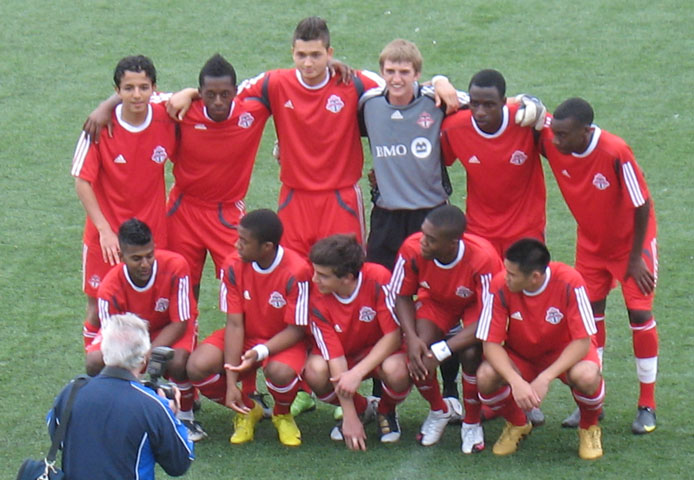 TFC Academy starters


Hamilton starters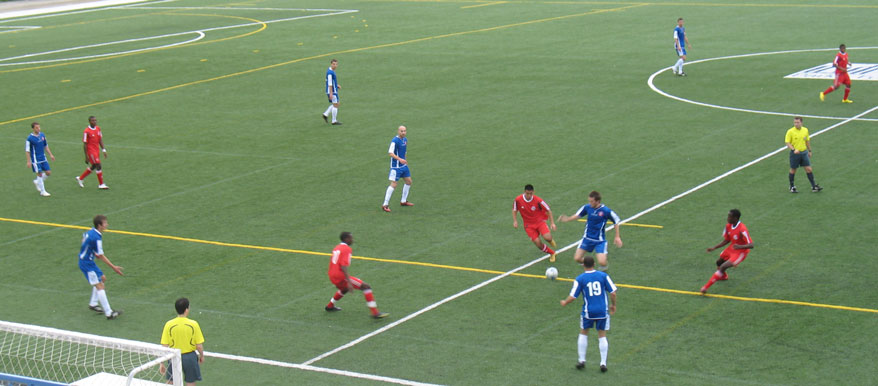 midfield action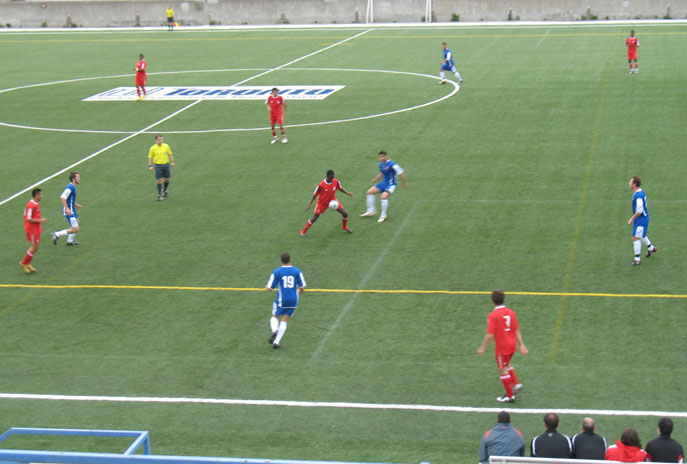 Academy goalie Garrett Cyprus is caught on the edge of his box.


Hamilton's Adam Leggett dribbles with ball.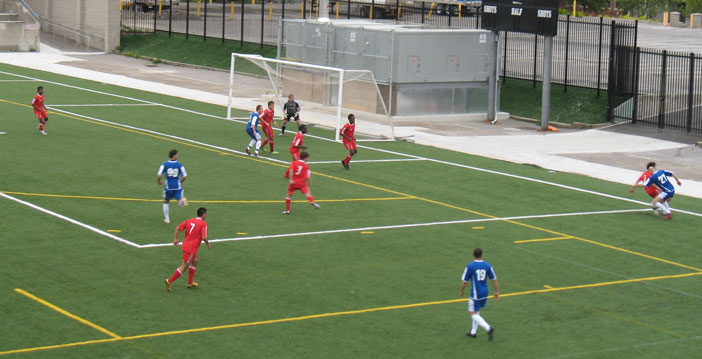 Hamilton's Antonio Zupan on end line.


Academy freekick
.
.