.......................

Result of the Sunday May 23, 2010 CSL game between Toronto Croatia and Brantford Galaxy played at Lamport Stadium in Toronto at 8:30pm.
Toronto Croatia (blue socks, white shorts and numbers, red shirts)
......................12 Sandi Matika
7 Halburto Harris...4 Sven Arapovic...17 Federico Vaccaro...15 Ainsley Deer
11 Ivan Zgela...23 Tonci Pirija...20 Alex Arbelo...16 Daniel Leko
..........10 Tihomir Maletic...8 Hayden Fitzwilliams
Subs:...12 Antonio Ilic (gk)...13 Alex Arbelo (mid)...14 Tomislav Pavicic (mid)...21 Braeden Krampert (mid)....5 Jonathan Bustamante (mid) ...18 Dani Jankovic (fwd)...?? Mark Bosnjak (def)...22 Mark Spehar (def)
team officials:...manager Ivan Kulis...assistant coach Alen Vukobrad...manager Perica Arapovic...head coach Krespo Ganjto...physio Rachel Leroux
Brantford Galaxy (white socks and shirts, black shorts and numbers)
......................1 Ante Domjanovic
4 Zachary Tait...15 Nyema Patric Gerhardt...3 Stanko Karacic...13 Jacek Przednowek
........10 Andrija Raic (cpt)...16 Zora Roglic...18 Drazen Govic
.........5 Drazen Vukovic...19 Miodrag Andjelkovic...11 Ranko Golijanin
Subs:...0 Kyle Bissonnette (gk)...6 Marco Giusti (def)...7 Ben Turnbull (fwd)...12 Robert Turnbull (def)...14 Trevor Schein (def) ...17 Stefan Dancetovic (mid)...8 Kyle Grootenboer (mid)
team officials:...manager Michael Vicano...head coach Lazo Dzepina...trainer Matthew MacDonald...assistant coach Tomislav Dancetovic ...physio Alexander Kunej...chiro Shawn Engell
Game officials:...referee Steve Senderovich...referee's assistants Mac Meloche and Dave Ashfield...fourth official Matt Arduini...(yellow shirts, black shorts and socks)
1st Half:...game starts 8:33pm...TC defend south end on this hot and humid evening.
2 min...BG goalie charges out of box to clear ball from TC Maletic.
2 min...BG goalie catches hig cross from right cornerflag from TC Zgela.
8 min...TC Deer cross from 22 yards on left bends for goalie to catch.
9 min...TC defender clears ball off goal line resulting in cornerkick.
9 min...BG Raic cornerkick from left has closest defender clear.
11 min...BG Govic 25 yard freekick down middle has goalie palm over net.
12 min...TC sub...Jankovic replaces Fitzwilliams.
13 min...BG Vukovic 40 yard shot from right is well over net.
14 min...TC player's cornerkick from right is over players in box.
16 min...BG Raic 15 yard shot/cross from right has goalie swat ball for save. BG Raic recross is cleared by defender.
19 min...BG Tait cross from 25 yards right of goal and TC Arapovic boots ball behind end line.
20 min...BG Andjelkovic cornerkick from right has goalie leap to catch.
21 min...BG YELLOW card...Roglic earns it for pushing over TC player at BG 30 yards.
21 min...TC player blasts 35 yard freekick from right is well over net.
23 min...BG Raic 35 yard freekick blast hits TC Leko in face of three man wall.
27 min...TC YELLOW card...Leko earns it for mouthing off at official.
.........TC Zgela was injured at TC 40 yard line just before the card was given.
28 min...TC sub...Krampert replaces still injured Zgela.
29 min...BG Govic is injured at TC 45 yard line.
32 min...BG Roglic 35 yard freekick from right has defenders and BG forwards knock ball back and forth across edge of TC box.
35 min...BG Tait bends in 40 yard cross from right that's caught by goalie.
35 min...TC YELLOW card...Arapovic earns it for knocking over BG player at TC 35 yards.
36 min...BG Przednowek charges to kick 15 yarder that goalie makes point blank save.
37 min...BG goalie catches 30 yard cross from right.
41 min...TC YELLOW card...Harris earns for check on BG 25 yard line.
43 min...BG Roglic 25 yard freekick from left is caught by goalie.
43 min...BG Raic 30 yard freekick from left hits player wall.
44 min...Galaxy Miodrag Andjelkovic GOAL...Galaxy Zoran Roglic rush on right and crosses from 22 yards to charging Andjelkovic at 8 yards to head ball between TC goalie Sandi Matika and short right post.
47 min...half ends 9:20pm.
2nd Half:...starts 9:33pm.
50 min...Croatia Braeden Krampert GOAL...TC Daniel Leko cross from left at 30 yards is over TC player and defender's heads at 15 yards but Krampert is behind them in open and from 12 yards rolls shot under sprawling BG goalie Ante Domjanovic in center of net.
53 min...BG Raic 25 yard shot down middle is high and wide left of net.
58 min...TC sub...Bustamante replaces Leko.
60 min...BG sub...Ben Turnbull replaces Raic. Roglic now becomes captain.
61 min...TC Arbelo 30 yard freekick from far right is cleared by defender.
63 min...TC Arbelo blasts 30 yards shot down middle well over net.
64 min...BG Govic on give and go shoots ball wide left from 12 yards.
65 min...BG Ben Turnbull blasts shot over net from 25 yards after getting to cornerkick's partial clearance.
65 min...BG Golijanin chips 15 yarder after bad backpass over net wide left of net.
67 min...TC sub...Spehar replaces Vaccaro.
69 min...TC Deer blasts 25 yard shot from left well over net and back fence.
71 min...Galaxy Ranko Golijanin GOAL...BG Drazen Vukovic from 20 yards on left rolls cross through box past BG player but Golijanin who was behind him kicks a low 15 yard shot into the left corner of the net.
72 min...TC Maletic quick 15 yard shot from left in crowd of players is caught by goalie.
73 min...BG Roglic is injured near center line.
78 min...BG Govic 10 yard shot deflects off defender wide left of net for cornerkick.
81 min...TC Arbelo 40 yard freekick fromright is over corwd of players and caught by goalie.
84 min...TC Arbelo blasts 35 yard freekick from left that hits head in player wall and pops up for goalie to catch.
86 min...TC Krampert 30 yard blast from right is over crowd of players and bends well wide left of goal.
88 min...BG Golijanin blasts 25 yard shot in crowd of players well over net.
89 min...Croatia RED card...Sven Arapovic draws his second Yellow card for a tackle on BG Miodrag Andjelkovic on breakout at center line. (he earned his first for another knockdown at 35 minutes.
91 min...BG sub...Grootenboer replaces Andjelkovic who is injured.
93 min...TC Arbelo cornerkick from right has leaping defender head ball away. A 30 yard rebound blast is wide right of goal.
95:00 min...game ends 10:23pm.
Final Score:......Toronto Croatia.........1.................Brantford Galaxy...................2............
Attendance was about 200 on this hot and humid evening. This game had been moved on less than two days notice from Centennial Stadium as the league was into its second weekend of games being cancelled there because of poor field conditions--loose Field Turf not properly reinstalled after a high school track meet. Fans got to see a fireworks display during the game in the distance at nearby Ontario Place celebrating the Victoria Day holiday weekend.
Toronto Croatia have had a rough weekend. They lost at this same stadium on Friday night 4-2 against Portugal FC and are off to an 0-2 record. They lost midfielder Hayden Fitzwilliams at only 12 minutes when he pulled up lame.
CSL league official Pino Jazbec said the Galaxy had nine players from Europe in their lineup. They are from eastern Europe and this will be their living for their time here. To save money the owner didn''t but them together until a few weeks ago and so they missed the CSL exhibition season. They will get better the longer they play together. Their first goal tonight with the timed run for the header was world class. The Galaxy record improves to 1 win, 1 tie.
Jazbec said the CSL has changed to confirm to Canadian Soccer Association standards even though it's only a development league by limiting a team's substitutions per game to five rather than seven as it had been last year.
Jazbec said the league is putting the finishing touches on getting their All Star team assembled to play on June 23rd against Esporte Clube Vitoria of Brazil. Vitoria are on the market to shop some of their young players and will then travel to Calgary on the 25th and play in Edmonton on the 27th against the new USL Edmonton team. The CSL game will likely be played on the natural grass at BMO Field in Toronto as MLS Toronto FC are interested in scouting some of their players and Vitoria only wants to play on real grass.
Rocket Robin
robing@eol.ca


Toronto Croatia starters


Galaxy starters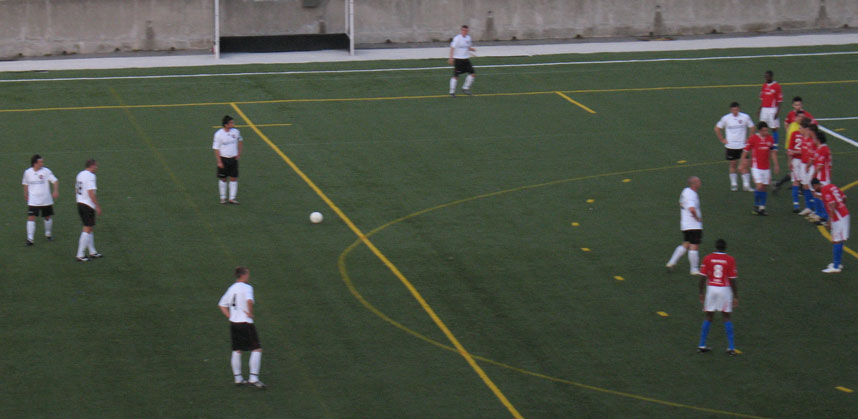 Galaxy players line up for freekick.


Croatia defender clears this ball.


Action on the far side of the field.


Croatia players set up freekick.
.
.