.....................

Result of the Friday June 4th, 2010 CSL game between Serbian White Eagles and York Region Shooters played at Centennial Stadium in Etobicoke at 8:00pm.
Serbian White Eagles (white socks and numbers, blue shorts, red shorts)
...................1 Milos Kocic
18 Taylor Lord...6 Mirko Medic (cpt)...5 Mark Jankovic...3 Milos Vucinic
14 Uros Stamatovic...11 Milos Scepanovic...22 Adrian Tismenar...10 Alex Braletic
..............8 Shawn Brown...16 Victor Anastasov
Subs:...23 Milos Djurkovic...20 Milan Janosevic...99 Sasa Viciknez...7 Kirie Dimitrov...17 Stefan Vukovic...19 Dragorad Milicevic...28 Veljko Lukovic
team officials:...head coach Dusko Prijic...assistant coach Sasa Vukovic...manager Marijo Ostojic
York Region Shooters (all blue, white numbers)
...................12 Camilo Benzi
23 Aundrae Rollins...16 Ryan Dummett...2 Rick Titus...6 Fitzroy Christey
4 Darryl Gomez...5 Julio Garcia...11 Jonathan Westmaas...17 Mario Orestano
............13 Kadian Lecky (cpt)...9 Jason DeThomasis
Subs:...00 Stefan Avramovic (gk)...21 Chris Turner (mid)...24 Yohan Carrera (mid)...14 Nichols Martinez (fwd)...8 Marcelo Capazolo (def) ...22 Geron Duporte (--)...7 Desmond Humphrey (--)
team officials:...manager John Pacione...head coaches Tony De Thomasis and Filipe Bento...physio Erik Yuill
Game officials:...referee David Barrie...referee's assistants and fourth official unknown...(yellow shirts, black shorts and socks)
1st Half:...game starts 8:05pm...SWE defend south end.
1 min...SWE Braletic long throw-in on left has defenders check player off ball not allowing shot in box.
3 min...YRS Orestano cornerkick from right has leaping YRS Titus head 8 yarder from left that's stopped on line and cleared.
5 min...SWE Brown beats ball sent back to YRS goalie and nods 12 yarder that goalie reaches up to catch at 5 yards.
6 min...SWE Milos Scepanovic dribbles to right just inside YRS box and YRS Fitzroy Christey spins him around on shirt tug and YRS Rick Titus dives behind him at his ankles and Scepanovic falls over. Referee David Barrie calls for a Penalty kick.
6 min...SWE Milos Scepanovic GOAL...Scepanovic blasts Penalty kick into high left side of net beyond reach of goalie Camilo Benzi who dived low.
9 min...SWE YELLOW card...Tismenar earns it for pulling down player at SWE 30 yards.
10 min...YRS DeThomasis 35 yard freekick from left bounces to goalie on low blast.
10 min...YRS Orestano 20 yard shot from left is stopped by diving goalie.
10 min...SWE Brown cross from left has SWE Anastasov backwards head flick at 12 yards that's caught by goalie.
12 min...SWE Anastasov rush down right and chips charging goalie at 15 yards but ball bounces wide right of net.
14 min...YRS Lecky beats shirt tug by defender to get out in from right sideline and send 15 yard shot from extreme angle towards goal.
16 min...SWE Shawn Brown GOAL...SWE Alex Braletic rolls through ball up middle from 50 yards. YRS goalie Camilo Benzi calls off defender Rick Titus and crouches to pick up ball but Brown cuts between them to poke away ball. Brown then is on a 2 on 1 and shoots 12 yarder into center of net past defender Ryan Dummett.
17 min...SWE Milos Scepanovic GOAL...SWE Adrian Tismenar kicks long pass from 65 yards to right and from 30 yards Scepanovic gets to pass and takes 20 yard shot past goalie at 15 yards into left side of net.
19 min...YRS Gomez 35 yard freekick bounces between players in box for throw-in on left.
24 min...SWE Medic heads back to own goalie when called to and almost messes up under pressure.
27 min...YRS goalie scopps up ball bounced into box from right.
29 min...SWE Jankovic checks ball from YRS Lecky just inside SWE box preventing shot.
30 min...SWE YELLOW card...Medic earns it for ankle clip on YRS DeThomasis injurying him at SWE 35 yard line.
34 min...YRS player's 25 yard shot is over net.
34 min...YRS sub...Duporte replaces Garcia.
35 min...YRS goalie charges outside of box to head ball away from charging SWE Brown.
37 min...SWE Medic head ball back to own goalie from 20 yards on cross from left.
38 min...SWE Braletic blasts 25 yard ball up middle just wide right of net.
42 min...SWE Stamatovic gets tapped back pass and blasts 25 yarder well over net.
47 min...SWE Anastovic rush to through ball on right and he then on 2 on 0 rush shoots low roller wide left of net from 12 yards. SWE Scepanovic is injured at the center line on play.
48 min...half ends 8:53pm.
2nd Half:...starts 9:10pm.
46 min...YRS Dummett cross over defenders from 25 yards on right but defender kicks ball away from YRS Orestano at 12 yards on left.
50 min...YRS Orestano cuts in from left and dekes SWE Lord and has 12 yard cross stopped by defender.
51 min...YRS sub...Capazolo replaces Dummett.
52 min...YRS Duporte 20 yard freekick from sharp left spins off defender and clearance kick and backwards has YRS Lecky head ball that from 4 yards flying goalie stops on swat and falls to swat away. YRS DeThomasis kicks 4 yarder that hits bar and deflects back into play where defender clears.
53 min...YRS DeThomasis 22 yarder from right dips and hits top of bar deflecting for goalkick.
56 min...YRS Lecky flying header deflects ball wide left from 15 yards.
57 min...YRS sub...Carrera replaces Westmaas.
58 min...SWE Braletic freekick from left cornerflag is over leaping players in box.
59 min...SWE Scepanovic 25 yard freekick from right sideline is deflected for cornerkick on right.
59 min...SWE Scapanovic cornerkick from right has defender on right head ball away from box.
60 min...SWE sub...Vukovic replaces Anastasov.
63 min...YRS RED card...Marcelo Capazolo earns a direct ejection for a sliding trip on a charging SWE Stefan Vukovic at 22 yards as the last man back.
65 min...SWE Tismenar blasts 22 yard freekick has goalie fly to block ball and deflect out of box but SWE Brown slips and can't get to ball.
66 min...YRS sub...Humphrey replaces Orestano.
66 min...SWE Stamatovic low blast from 25 yards on right is wide left of net.
67 min...SWE sub...Viciknez replaces Braletic.
69 min...YRS Gomez header has diving goalie saves at 8 yards.
70 min...YRS goalie steps up to edge of box to beat SWE Brown from getting to ball.
71 min...SWE Scepanovic nutmegs defender to get SWE Lord away on right sideline and his 25 yard roller cleared by defender.
71 min...SWE sub...Lukovic replaces Tismenar.
74 min...SWE Vukovic long run on left and rolls ball into box but defender clears.
75 min...YRS Christey is injured with ball in face at center line.
76 min...SWE Brown is moved back to midfield and SWE Viciknez is moved to forward but he is too slow to receive pass.
77 min...SWE Vukovic cuts in on YRS Rollins but rolls 15 yarder from left wide right of net.
78 min...YRS YELLOW card...Carrera earns it for knock down on SWE Vucinic.
79 min...SWE Janosevic replaces Stamatovic.
80 min...SWE Dimitrov replaces Scepanovic.
80 min...YRS Martinez replaces DeThomasis.
83 min...SWE Dimitrov long run up left and cuts along to center at 25 yards and blast has goalie bat down and gather up.
88 min...SWE Viciknez rolls 25 yarder up middle to YRS goalie.
89 min...YRS YELLOW card...Martinez earns it for check at center line.
91 min...YRS YELLOW card...Gomez earns it for dissent.
92 min...YRS goalie steps forward to clear ball before SWE Viciknez can get to it.
93 min...SWE Viciknez blast from 10 yards getting short pass has goalie palm ball wide right of net.
94 min...YRS Lecky on rush on right has 15 yard weak roller along end line that goalie dives to stop.
94 min...game ends 9:59pm.
Final Score:.........Serbian White Eagles..............3.................York Region Shooters...............0..............
Attendance was about 200 people on this warm evening with the threat of rain all day which resulted during the game with a few drips but after the game a big rainstorm hit. There were two CSL games further west and south of here that were actually cut short by the storm. This game was broadcast live by Rogers Community Channel.
The White Eagles came out flying and put the game away in the first 20 minutes with three goals. Club official Dragan said the team put on all their 'fast' players at the beginning to jump start the team. The veteran/leading scorer/past captain Sasa Viciknez wasn't brought into the game until the 67 minute mark. He is slower but a set piece specialist. I saw defender Taylor Lord make some long runs along the wing. He played with midfielder Milos Scepanovic in the Francophone Games held in Lebanon last year.
Milos Kocic earned the shutout for the White Eagles. He made his first start for the MLS Toronto FC and a shutout in the Nutrilite Canadian Championship game on Wednesday night playing against Vancouver Whitecaps. He's number three on the TFC depth chart at goaltender and needs the extra work.
There's no reason to worry that TFC Academy has locked up all the good young players. Speedy Stefan Vukovic came on at 60 minutes and had some chances and forced the YRS player to take a Red card to prevent a breakaway. Dragan said he's only 17 and from Hamilton.
Shooters had one glorious chance to get back into the game at 52 minutes when Geron Duporte took a 20 yard freekick from the sharp left side and the ball spun backwards off a defender trying to clear the ball and popped up for YRS Kadian Lecky to head the ball from 4 yards that the flying goalie Milos Kocic blocked with his hand then, when he and the ball fell to the ground, swatted the ball out for YRS Jason DeThomasis to kick a 4 yarder that hit the bar and deflected out and a defender made the clearance from the box.
Coming into the game, York Region Shooters were in first place of the 13 teams with a 3 win, 1 tie record and the Serbian White Eagles were in last but only because they had played just one game so far in the season which they'd lost. Most fans would believe that both teams will end up in the top four by the end of the season.
Rocket Robin
robing@eol.ca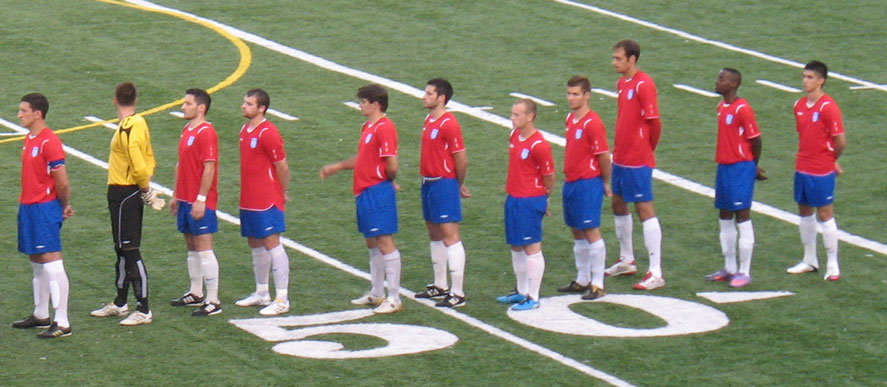 White Eagles starters


Shooters starters

White Eagles players shields ball.


Shooters rush


Shooters Victor Anastasov on rush.


Shooters Jason De Thomasis moves up.


Shooters Aundre Rollins runs down right wing.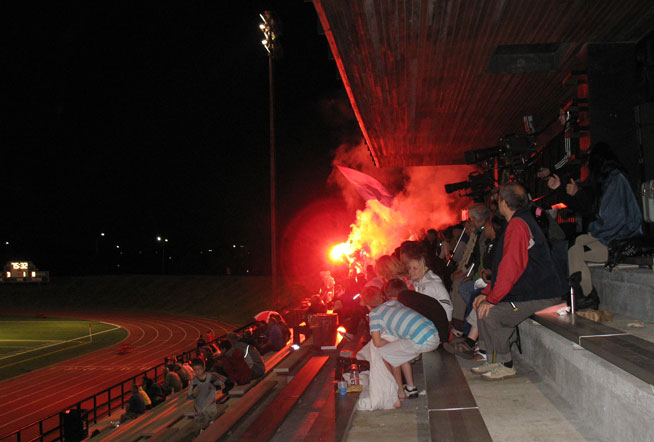 White Eagles fans light flares in the second half.
.
.