...........

Result of the Friday October 22nd, 2010 CSL game between Portugal FC and Brantford Galaxy played at Centennial Stadium in Etobicoke at 8:00pm. This was a one game semi-final.
Portugal FC (all white uniforms, black numbers)
................1 Mike Silva (cpt)
22 Francesco Capone...15 Andre Stewart...3 John Jonke...21 Jean Louis Perruzza
9 Andrea Lombardo...16 Joe Rini...8 Dominic Oppong...23 Marco Bedenikovic
.........14 Jarek Whiteman...13 Massimo Mirabelli
Subs:...12 Matt Dias (gk)...2 Jamaal Smith (def)...5 Joseph Del Priore (fwd)...18 Carlos Nogueira (mid)...11 Luca Forno (fwd)...19 Gustavo Serrano (--)
team officials:...head coach Carmine Isacco...manager Jimmy Carvalho...assistant coach Patrice Gheisar
Brantford Galaxy (red socks, black shorts, red & black striped shirts, white numbers)
................1 Ante Domjanovic (cpt)
4 Zachary Tait...10 Zvonko Bakula...3 Stanko Karacic...6 Dragan Oluic
2 Kyle Grootenboer...25 Nyema Patric Gerhardt...15 Nenad Begovic...8 Fazlagic Harris
..........9 Miodrag Andjelkovic...11 Ranko Golijanin
Subs:...0 Jeff Martins (gk)...16 Kyle Campbell (mid)...7 Ben Turnbull (fwd)...12 Jake Simmons (fwd)...13 Patryk Misik (fwd)...14 Austin White (mid)...27 Stefan Dancetovic (mid)
team officials:...head coach Lazo Dzepino...assistant coaches Tomislav Dancetovic and Trevor Guy...assistant manager Shawn Engell...club official Jim Turnbull
Game officials:...referee Matthew Bordeau...referee's assistants Steve Senderovitch and Zac Taylor...fourth official Dave DiPasqualie (yellow shirts, black shorts and socks)
1st Half:...game starts 8:08pm...PFC defend south end.
1 min...BG Andjelkovic 27 yard shot is well over net.
4 min...PFC Mirabelli rush on right and taps pass back to PFC Oppong whose 10 yard shot is blocked by sliding goalie.
5 min...BG goalie charges out to clear through ball away from PFC Oppong at 18 yards.
7 min...BG player's 45 yard freekick from left has PFC Jonke head away and goalie bump him and whistle blown as both player's injured.
10 min...PFC YELLOW card...Capone earns it for trip of BG Oluic on run on left edge of PFC box.
11 min...BG YELLOW card...Golijanin earns it for saying something before a freekick is taken.
12 min...BG Begovic 20 yard freekick has goalie punch ball forward over players in box to clear.
14 min...PFC Jonke clears cross into box at 5 yards that was crossed in by BG player at 15 yards on left.
16 min...PFC Mirabelli rolls ball behind defender and PFC Whiteman kicks 10 yards that goalie blocks point blank at 5 yards.
17 min...BG Andjelkovic injured at PFC 35 yards on tackle by PFC Stewart.
18 min...BG Golijanin up middle has point blank shot from 10 yards on goal and goalie makes save.
19 min...PFC Perruzza cross from 25 yards on left has PFC Whiteman one touch 7 yard shot on right that goalie bats down.
21 min...Galaxy Ranko Golijanin GOAL...A BG player crossed from 12 yards from left that goalie Mike Silva saved. BG Miodrag Andjelkovic kicked an 8 yard rebound that the goalie blocked. BG Fazlagic Harris then backheeled the ball back as he was blocked by defender from a shot and Golijanin kicked a 12 yard shot from the right into the left corner of the net.
31 min...BG Harris 22 yard shot down middle is well over net after receiving pass from left.
32 min...PFC Lombardo heads ball wide left from 8 yards when PFC Capone crosses from right.
34 min...Galaxy Ranko Golijanin GOAL...BG Miodrag Andjelkovic passes a through ball from the center circle that finds Golijanin behind the defence at 40 yards and he rushes to left when he cuts in a tough angle shot from 15 yards into the top right corner of net over the goalie.
37 min...BG goalie drifts right to catch cross from the left sent in by PFC Perruzza from 35 yards near sideline.
38 min...BG goalie yells for ball causing BG Karacic to back off and PFC Oppong crashes into him at 15 yards. BG goalie is injured.
40 min...Portugal FC Jarek Whiteman GOAL...PFC Whiteman is alone on a 1 on 3 break and splits the defence of BG Stanko Karacic and Zachary Tait and taps in a 7 yarder into the right corner of the net past goalie Ante Domjanovic sprawling in the middle of the net.
44 min...BG defender clears ball sent into box by header of PFC Whiteman on left edge of box.
45 min...PFC Bedenikovic 45 yard shot from right is through players and bounces to goalie.
46 min...BG defender gives backpass to goalie past him which causes goalie to charge back and slide to ensure ball would be stopped.
46 min...half ends 8:54pm.
2nd Half:...starts 9:08pm.
47 min...PFC Lombardo one-touches pass to himself too far up left that allows defence to clear.
49 min...Portugal FC Andrea Lombardo GOAL...PFC Dominic Oppong on left passes centering ball from 20 yards and Lombardo in middle sidesteps defender Dragan Oluic and sends low 16 yard shot into right center of net beyond goalie anchored to the line at the center of the net.
51 min...BG Begovic 22 yard freekick from left has PFC Lomabrdo get foot in to deflect ball at 5 yards for cornerkick.
51 min...Galaxy Miodrag Andjelkovic GOAL...BG Nenad Begovic cornerkick from left is over players in box but charging BG Nyema Patric Gerhardt slides in at 8 yards to send low ball back across box from right to Andjelkovic on left who kicks in 5 yarder into top of net.
52 min...PFC YELLOW card...Bedenikovic earns it for sliding tackle on BG Gerhardt at BG 50 yards.
58 min...PFC Lombardo weak spin kick past defender from 25 yards rolls to goalie.
59 min...BG Golijanin weak header over defender on run from 15 yards bounces to goalie.
60 min...PFC Bedenikovic(?) 25 yard freekick from left is caught by goalie on leap.
61 min...PFC goalie charges up middle to clear through ball at 22 yards ahead of BG player.
61 min...Galaxy Kyle Grootenboer GOAL...Grootenboer is given a pass on charge up middle on give and go with BG Fazlagic Harris at 35 yards and his shot from 20 yards is into top left corner of net.
62 min...Galaxy Ranko Golijanin GOAL...Golijanin pokes ball off PFC defender Andre Stewart who was last man back and races up the middle from 40 yards to roll 20 yard shot to left side of net.
64 min...PFC Bedenikovic 32 yard freekick up middle is wide right and high of net.
64 min...PFC YELLOW card...Lombardo earns for high boot on BG Begovic at BG 30 yards.
65 min...PFC Oppong has 18 yard shot up middle blocked by defender.
65 min...PFC goalie slides out to beat BG Harris to through ball.
67 min...PFC YELLOW card...Perruza earns it for plowing into BG Bakula.
68 min...PFC sub...Forno replaces Perruzza.
70 min...PFC Whiteman cross from 20 yards on left has goalie catch.
73 min...PFC sub...Del Priore replaces Rini.
74 min...PFC Forno cornerkick from right has goalie catch in front of crowd of PFC players on left post.
75 min...PFC Forno on 2 on 1 kicks 18 yarder that hits right post.
76 min...PFC Lombardo cornerkick from right has ball knocked around in box and PFC Del Priore kicks shot just wide left of post from 12 yards on deflection off PFC Oppong.
79 min...BG player's clearance on edge of BG box is off own man has ball pop up for goalie to catch.
81 min...BG sub...Ben Turnbull replaces Tait.
82 min...BG YELLOW card...Gerhardt earns it when PFC Jonke pushes him at BG 50 yards and he dives down.
83 min...BG sub...Dancetovic replaces Begovic.
85 min...BG Oluic dekes two guys but goalie slides to save through ball.
85 min...PFC Forno kicks 8 yarder wide left of net when headed a pass from 15 yards.
86 min...BG sub...Misik replaces Golijanin.
87 min...Portugal FC Massimo Mirabelli GOAL...Mirabelli on run on right from 45 yards blasts a 20 yard shot into middle of net just under bar as defender BG Stanko Karacic turned around to avoid blocking the ball.
90 min...PFC Forno 25 yard freekick from left sideline has BG goalie catch cross over head of PFC player at 8 yards on right.
90 min...BG YELLOW card...Misik earns it for jumping on back of PFC Stewart on sideline at PFC 35 yards to slow him picking up ball for throw-in although Stewart then elbowed him to free himself.
90 min...PFC player low 25 yard shot up the middle is smothered by goalie.
91 min...PFC RED card...Lombardo earns his second Yellow card for something.
92 min...BG sub...Simmons replaces Andjelkovic.
92 min...BG Grootenboer cornerkick from right has ball headed out of box.
93 min...PFC YELLOW card...Silva earns it for complaining about BG being awarded freekick near sideline.
94 min...BG sub...Campbell replaces Gerhardt.
94:58 min...game ends 9:58pm.
Final Score:.......Portugal FC.......3...........Brantford Galaxy........5..........
Attendance was about 120 people plus 30 ball kids on this very cold night. This was the one game semi-final for the chance to play in next Sunday's CSL Championship game. This is not the Portugal FC usual home field of Lamport Stadium but something tells me the league waited to long to book it as they didn't expect the 5th place team to draw a home game for the semi-final. This is the home stadium of Serbian White Eagles (2nd in the standings but knocked out in the quarterfinals) and Toronto Croatia (8th place in the standing, still in it, but must play away to 3rd place Hamilton Croatia on Sunday). Brantford Galaxy were the 7th place team but upset the White Eagles last week. The crowd was very pro-Galaxy.
Watching the first 20 minutes with both goalies of Galaxy Ante Domjanovic and PFC Mike Silva making spectacular saves, it felt like it might be a 1-0 score to win it. By 2-0 the game felt like it would be over but PFC did claw back to tie it. The turning point was that within two minutes of PFC tieing the game, Galaxy took the lead again and then it was easy for them to increase it as the last 35 minutes, PFC were forced to push up and the Galaxy ended up having several breakaways and just rolled up the score.
Maybe one or two chances that would have kept PFC in it was at 75 minutes when 68 minute sub Luca Forno on a 2 on 1 break kicked an 18 yard shot that hit the right post and on the resulting cornerkick Joseph Del Priore shot just wide left of the post. Galaxy with a lead like they had shouldn't have let PFC have any chances like that one or at 87 minutes. Galaxy didn't start making their subs until 81 minutes.
Referee Mathieu Bourdeau (whom I don't remember seeing anywhere before) gave out cards throughout the game but kept events in check so it wasn't too rough. I thought a big lead would lead to a bunch of PFC cheap shots but the game stayed very open.
The game was broadcast live in the Toronto area (and I'd expect Brantford too) by Rogers Community channel but using the Brantford broadcast crew although one of the commentators was new/guesting because he flubbed an intro by calling the city Brampton. I went home and played the goals again to fill in the assists on each play. .
Rocket Robin
robing@eol.ca


Portugal FC starters

Galaxy starters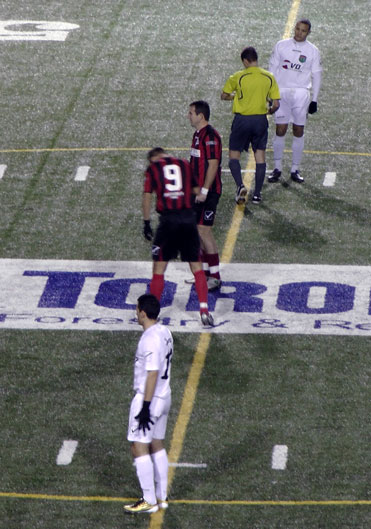 Galaxy kickoff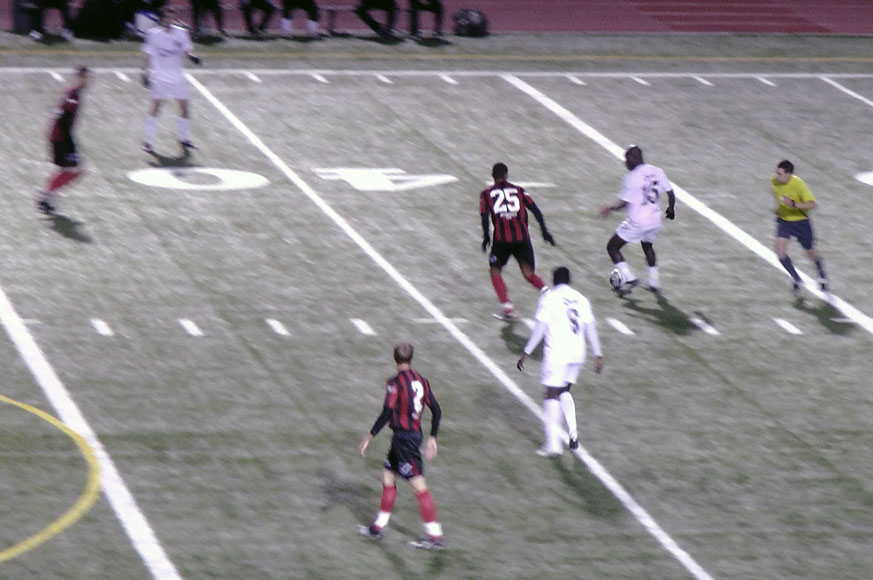 PFC Andre Stewart tries to get by Galaxy Nyema Patric Gerhardt.


Action in Galaxy corner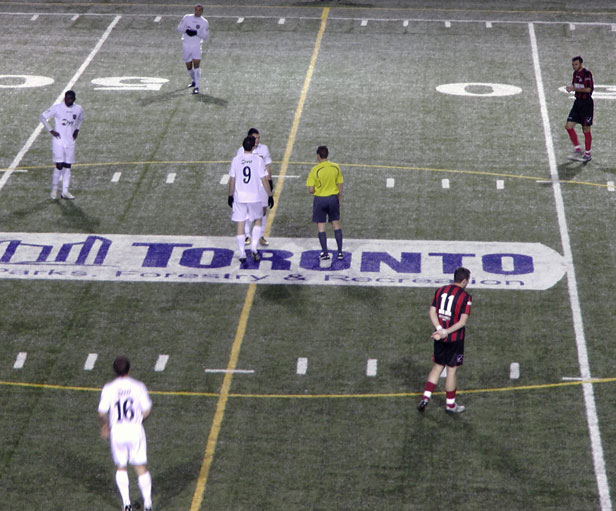 2nd half start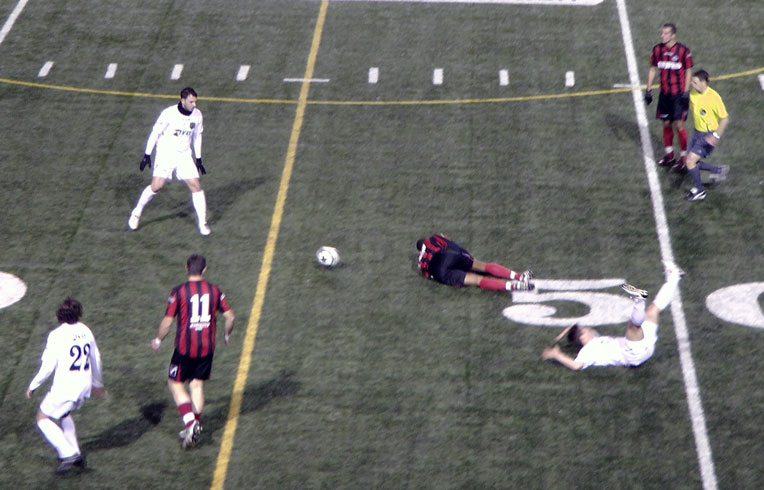 Two men are down on this play.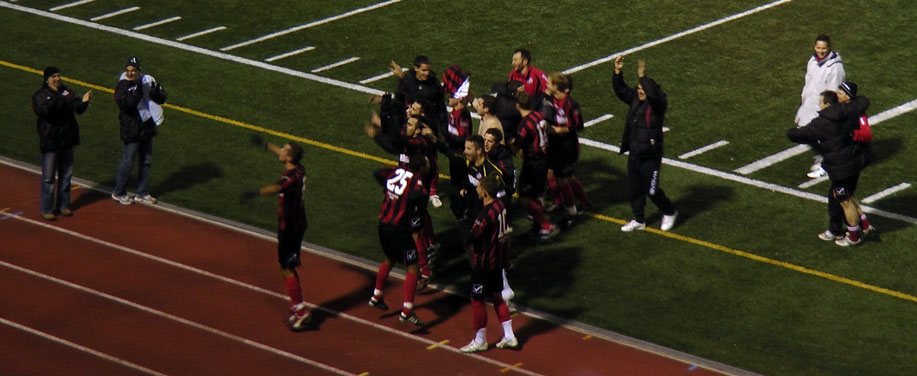 Galaxy players salute their fans after the game.
.
.