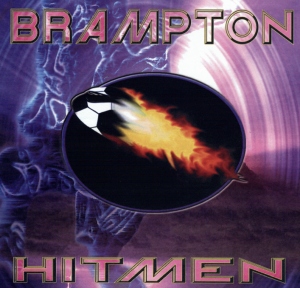 ......................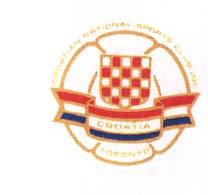 Result of the Tuesday September 30, 2003 CPSL Playoff game between Brampton Hitmen and Toronto Croatia played at Victoria Park in Brampton at 8:30pm.
Brampton Hitmen (blue socks, numbers, and trim, white shorts and shirts)
................................................00 Roy Blanche
...............6 Robert Fran...5 Milodrag Akmadzic...19 Sean Roberts
18 Lovemore Ncube...4 Alex Morrison...13 Phil Ionadi (cpt)...12 Jonathan Bustamante...2 Maximiliano Andrada
.........................10 Adolfo Mella...3 Hugo Herrera

Subs:...01 Ricardo Esgro (gk)...17 Kurt Mella...16 Diego Da Silva...14 Ruben Flores...9 Sean Holmes...15 Scott Houston...20 Jusif Yawando
team officials:...head coach Steve Nijjar...assistant coach Pernel Mason...general manager Ruben Toro...team manager Hector Marinaro...therapist Paolo Pacione

Toronto Croatia (blue socks, white shorts and numbers, red shirts)
...................................1 George Azcurra
...........4 Domagoj Sain (cpt)...14 Antonio Zupan...2 Adrian Azcurra
6 Mario Kulis...16 Caswain Mason...5 Kevin Rickets...15 Hayden Fitzwilliams...21 Orlin Chalmers
............................9 Edin Kalic...10 Leo Laurito

Subs:...11 Mario Zupetic...8 Hugo Alstitud...18 Vedran Bacek...17 Jose Aniekwe...19 Halburto Harris...3 Pop Gabriel Salustius...7 Jure Pavic
team officials:...coach Velimir Crljen...club manager Mile Brkic...team manager Ivan Zjubic...trainer Sam Virdo...assistant coach Ivan Felavi

Game officials:...referee Mauel Orellana...referee's assistants Yakhov Keimakh and Justin Tasev...fourth official Alex William...(yellow shirts, black shorts and socks)
1st Half:...game starts 9:18pm...Hitmen defend west end.
3 min...Toronto Croatia Orlin Chalmers GOAL...Chalmers runs down left and from 20 yards cuts across towards goal, Chalmers shot is tipped off defender and ball pops up and drops into left side of net beyond goalie Roy Blanche.
7 min...TC Zupan 25 yard freekick from left is tapped to center to TC player to blast 20 yarder well over net.
10 min...TC Laurito 30 yard freekick from right is headed away by defender.
11 min...TC Fitzwilliams 25 yarder roller through crowd of players to goalie.
12 min...BH Alex Morrison hurt in center circle. He needs help off field.
14 min...BH sub...Flores replaces injured Morrison.
16 min...BH player 30 yard freekick from right bends into outside right webbing of net.
19 min...TC Kalic twists and takes 25 yard shot that's headed by BH Fran and goalie picks up ball wide right of net.
20 min...BH Ionadi hurt at center line and leaves game.
22 min...BH YELLOW card...Flores for knocking TC goalie after he picked up ball.
23 min...TC leapers lead rush to enge of BH box but shot wide.
24 min...BH Ionadi returns to game.
26 min...TC Fitzwilliams gets pass on left wing and steps around goalie, Fitzwilliams 8 yard shot from sharp angle is into outside left webbing of net.
28 min...TC Zupan quick freekick from 35 yards, TC player's header to TC Fitzwilliams on left and he rolls shot off target.
29 min...Referee Manuel Orellana ejects Hitmen head coach Steve Nijjar from the bench for swearing at him. Referee actually comes over to sideline and uses a similar combination of four letter words. Nijjar was probably incensed by the hard tackling and lack of calls including captain Phil Ionadi taking a hand or elbow in the eye requiring him to leave the game for about 5 minutes so he could get an ice pack treatment and the Toronto Croatian particular lineup. I saw the handwritten protest letter at halftime.
31 min...TC Chalmers cornerkick from right is headed away by BH Fran for clearance by BH player.
33 min...BH Fran 30 yard shot through crowd is wide left.
36 min...Hitmen Ruben Flores GOAL...Hitmen cornerkick from left is through crowd of players in box, Hitmen player heads ball off bar from 3 yards and ball rebounds back in play for Flores to pound in 5 yard shot on left past goalie George Azcurra.
38 min...TC Kalic 20 yard shot stopped by goalie and TC Kalic crashes into diving goalie.
39 min...BH Herrara 20 yard shot blocked by goalie and defender clears.
39 min...BH Bustamante 25 yard shot on right is wide right.
40 min...BH Flores 20 yard roller is wide left.
41 min...TC player slides in box to knock ball from BH Bustamante.
42 min...TC Laurito runs on left and cuts along edge of box but shot well right, TC player keeps ball in play and centered but 25 yard shot over crowd well over net.
44 min...BH Ionadi 35 yard shot over crowd is well over net.
46 min...half ends 10:04pm.

2nd Half:...starts 10:22pm.
halftime subs:...TC Salustius replaces Kalic.
....................TC Zupetic replaces Laurito.
48 min...TC Fitzwilliams cornerkick from right lands on top of net.
49 min...BH Ionadi 40 yard shot from left is cuaght by goalie.
51 min...TC YELLOW card...Rickets for tackle on BH Akmadzic in BH end injuring him.
52 min...TC Salustius 35 yard roller from right is picked up by goalie.
53 min...furious action in TC box too fast to write down.
57 min...BH Ionadi 30 yard freekick is blasted well high left of net.
59 min...BH player's 40 yard high ball into box caught by goalie on left of net.
60 min...BH YELLOW card...Ionadi for tackle on sideline in BH end.
62 min...TC Chalmers long run on left and cross is over box.
64 min...BH Adolfo Mella injured off ball when TC Mason crashes with him.
...........BH Herrara injured in TC box diving to get penalty call. It takes about three minutes to sort these two incidents out.
70 min...BH Ionadi 30 yard freekick worked into box and TC defender blocks cross to open man.
71 min...TC Zupetic ctus away from BH Akmadzic on rush to goal and 20 yard shot caught by diving goalie on right post.
73 min...BH YELLOW card...Ncube for sliding tackle on left in BH end near sideline.
75 min...TC Kulis 20 yard shot on right in midair wide left after TC player had run up left side deking through three players!
76 min...TC Zupan 30 yard freekick from extreme left is caught in crowd by goalie.
78 min...BH Adolfo Mella 30 yard freekick is into TC defender's foot behind TC wall.
79 min...BH Herrera tangled up in box, BH Andrada launches 12 yard kick that hits crossbar.
80 min...BH Herrera 30 yard shot is wide left.
81 min...BH sub...Kurt Mella replaces Flores.
83 min...BH Ionadi and referee argue, Ionadi's eye is now almost swelled shut.
85 min...TC defender heads ball back conceding cornerkick when BH players threaten.
86 min...BH Akmadzic can't turn header on left from BH cornerkick from right.
87 min...TC player on sideline run injured.
88 min...BH goalie catches 30 yard shot from left.
90 min...TC Kulis cornerkick from left is whistled down in box.
92 min...TC Fitzwilliams runs up middle and passes to TC Zupetic who boots 20 yarder over net.
93 min...half ends 11:10pm.

1st Half:...1st Half Golden Goal Overtime...starts 11:13pm...Hitmen stay and defend East end.
pre overtime substitute...TC Harris replaces TC Kulis.
91 min...BH YELLOW card...Kurt Mella for hand in face of TC Mason.
93 min...BH Flores 45 yard freekick from left is well wide right.
98 min...BH Salustius 20 yard header on left is wide left when he receives cross from right.
101 min...BH goalie makes leaping catch on long cross from left. He cramps up before taking goalkick to restart.
103 min...TC Rickets bouncer into box and goalie charges in box to gather up ball.
104 min...TC Salustius rolls ball to left and TC Fitzwilliams eludes defender to slide 7 yard shot wide right.
104 min...half ends 11:27pm.

2nd Half:...2nd Half Golden Goal Overtime...starts 11:28pm.
106 min...BH goalie catches ball in crowd of players. BH Fran is injured in BH box.
111 min...TC sub...Pavic replaces Zupetic.
113 min...BH Adolpho Mella tangled in legs of TC player and is injured.
114 min...TC Sain kicks to TC Fitzwilliams on left and cross has TC Salustius charge in just missing ball from 2 yards.
115 min...Ball bounces low and hits BH goalie lining up save and he's injured when it hits his face.
117 min...TC shot hits goalpost, BH defender blocks rebound on line in furious action.
118 min...TC sub...Aniekwe replaces Salustius.
118 min...TC throw-in from left is again kicked around in box and shot is ruled offside.
120 min...half ends 11:44pm.

Penalty Shootout:...uses east end.

1. TC Goal...Chalmers kicked to center of net while goalie crumples to right.
1. BH Miss...Hugo Herrera takes hard shot to left as goalie blocks ball by diving left.
2. TC Goal...Antonio Zupan shoots high to center of net as goalie crumples in middle.
2. BH Goal...Jonathan Bustamante low shot to left post as goalie dives right.
3. TC Goal...Hayden Fitzwilliams shot to top right corner of net too far for goalie.
3. BH Goal...Maximiliano Andrada blasts shot to middle. Goalie stops ball while crumpling in center but momentum spins ball into net.
4. TC Goal...Kevin Rickets shot is high and under bar in middle of net.
4. BH Goal...Adolfo Mella shot to right side of net beyond goalie.

5. TC Miss...Jure Pavic hard shot that goalie dives left to make save.
5. BH Miss...Phil Ionadi takes hard kick to left, diving goalie gets hands to it and pushes it just inches wide left of post. Maybe Ionadi had been reduced to one eye.
Final Score:.......Brampton Hitmen..............1..............Toronto Croatia.............1...........(Toronto Croatia wins 4-3 on Penalty kicks).
Attendance was about 150 people on this brutally cold night. The game actually kicked off at 9:18pm (45 minutes late) only partially explained by a game already in progress of teenage girls. I thought there'd be a problem with the uniforms but the game carried on. "Who put in that slide tackle?" A guy wearing blue socks and white shorts! Well both teams were dressed like that. With the hard tackling that could be important.
Toronto Croatia had started in their quest to win the playoffs by playing their second of five games in seven days. They had played Metro Lions tooth and nail the night before and needed the result to qualify for the playoffs. This night they had four Metro Lions players on their roster including starters Kevin Rickets, Hayden Fitzwilliams and Caswain Mason and substitute Pop Gabriel Salustius. Talk about kiss and make up. I didn't see anything wrong with this at the time in that I thought the CPSL hadn't passed their final roster lineup deadline limit that they'd promised. With also-ran teams like Durham Flames showing up with only ten men for one game I saw, I could see why the league might look the other way. That was the reason for the Hitmen protest.
CPSL league execs Vince Ursini and Stan Adamson told me the next evening at the Supra vs Sun Devils game that it was easier to disqualify Toronto Croatia for having coach Velimir Crljen who supposedly was suspended three years and club manager Mile Brkic who was also suspended. I think since Toronto Croatia knew that there was no way they could win five games in seven days they gave the league the ultimate salute (see above comments on Steve Nijjar vs the referee) and go out with a bang for their fans which by volume may have reached 50% of the crowd. Head referee Tony Camacho agreed it wasn't right about the scheduling. Other team execs on Wednesday blamed allowing London to host for being part of the problem. I asked, "So if the game didn't count will (head coach/strategic wizard) Steve Nijjar be allowed to be back behind the Hitmen bench?". "No, a red card stays in place" I heard from the execs.
Would someone check up on longtime CPSL volunteer/critic Dave Bailey as I can imagine his eyes just rolling up to look at the ceiling laughing at the league ineptitude. Tonight's story may permanently lock them in place!
Should make an interesting weekend.
Rocket Robin
robing@eol.ca
.
.