..........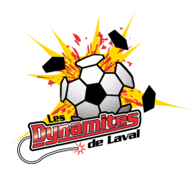 Result of the Thursday October 6, 2005 CPSL game between Toronto Croatia and Laval Dynamites played at Memorial Park in Streetsville at 8:30pm. This was the semi-final of the Eastern Conference.
For reasons listed below the game didn't start until 10:00pm. The teams agreed to some rule modifications because there was a danger the game wouldn't be completed until the lights went out by a timer set by the City of Mississauga. Half's would be reduced to 35 minutes each; no intermission except to switch ends; no golden goal overtime--the teams would go right to Penalty kicks in case of a tie in regulation time.
Toronto Croatia (blue socks, white shirts and numbers, red shirts)
.........................1 George Azcurra (cpt)
...............2 Robert Fran...5 Antonijo Zupan...4 Domagoj Sain
3 Halburto Harris...18 Andrija Botica...7 Caswain Mason...14 Miles O'Connor...8 Hayden Fitzwilliams
....................10 Leo Laurito...16 Edin Kalic

Subs:...12 Vinko Kozina (gk)...6 Mario Kulis (def)...11 Velemir Crljen (mid)...19 Joseph Cosentino (mid)...20 Leo Marasovic (fwd)...13 Marko Milicevic (mid)...23 Rudy Spajic (fwd)
team officials:...head coach Velemir Crljen...assistant coach Kruno Culjack...team officials Tom Granic...trainer Caralann Julien...club official Theo Krajacic
Laval Dynamites (all navy, white numbers)
.......................0 Patrick Geffrard
14 Francis Agyei...13 Arturo Salas...5 Nick Rotiroti (cpt)...7 Sandro Adesso
2 Gilbert Iloanusi...11 Joe Lande...15 ????????...9 Nasson Theosmy
................12 Horath MacArthur...16 Luta Makita
Subs:...01 Jean Luc Gosselin (gk)...6 Jamil Demers...3 Radek Majkowski...8 Maxime Belanger...18 Steven Craig...4 Joseph Magath
team officials:...no team officials listed.
Game officials:...referee Vito Curali...referee's assistants Vlad Gorgevic and Andrew Kravits...fourth official Afshin Korkorian
The game starts 10:02pm (the natives were restless! about 125 of them)...all times are converted from my wristwatch.
3 min...TC goal Leo Laurito GOAL...TC Hayden Fitzwilliams crossed from left 50 yards that has LD defender head to side but Laurito on right send in low blast from right into low corner of net beyond goalie Patrick Geffrard.
4 min...TC goalie slides to left to push shot wide poast charging forward.
5 min...TC Fitzwilliams has shot stopped. Fitzwilliams rebound header hits bar from 8 yards. TC Mason's 15 yard shot earlier had been stopped point blank but rebound had gone to Fitzwilliams.
8 min...TC Botica freekick from 25 yards on left is blocked low in two man wall.
9 min...TC Zupan injured at center line.
10 min...LD Theosmy 45 yard freekick from left is stopped by leaping kick by TC Zupan in TC box how had just returned to game.
13 min...LD MacArthur 5 yard header has diving goalie save on right post after cross from left is over TC defenders.
14 min...LD Makita 20 yard shot batted down by goalie.
20 min...TC goalie stops 75 yard ball into box ahead of LD forwards.
22 min...LD YELLOW card...Agyei for swearing about call. end of conversation...Agyei: something unclear, Referee: "What kind of hands?", Agyei: "Fucking hands!", Referee: That's what I wanted to hear" and then he pulled out the card.
24 min...TC goalie catches bouncer into box in front of LD players.
25 min...LD YELLOW card...#15 at LD 35 yard right sideline.
25 min...TC players 40 yard freekick from right is blocked in box.
26 min...TC Fitzwilliams dekes defender and slides shot under goalie but LD Adesso saves ball on line from his 8 yard shot.
30 min...TC Fran 50 yard cross into box from right is caught by goalie in crowd of players.
32 min...TC goalie chases to right post to stop LD MacArthur 35 yard cross.
32 min...TC goalie charges forward to clear through ball at TC 25 yard line.
33 min...TC goalie chases wide left to slide over for save.
35 min...TC Fran hurt when LD players backs into him.
38 min...LD Adesso 60 yard freekick up middle has ball bounce wide right of net.
39 min...half ends 10:41pm.

2nd Half:...starts 10:43pm.
halftime subs:...LD Craig replaces Iloanusi.
................LD Magath replaces Adesso.
1 min...TC Fitzwilliams on break down left boots 25 yard kick just over bar.
3 min...TC Botica 20 yard shot from right is caught by goalie.
7 min...LD Magath flick head leap of cornerkick from right is just over net from 5 yards.
8 min...TC Botica 40 yard shot into LD box is caught by goalie.
8 min...TC YELLOW card...Mason for hard check on sideline.
9 min...LD Magath 30 yard shot up middle through crowd of players is pushed wide.
10 min...LD Theosmy 30 yard freekick from left is curled wide right and can't be crossed back.
11 min...TC Mason cross from right end line drifts behind net.
12 min...TC sub...Marasovic replaces Kalic.
14 min...TC YELLOW card...Marasovic for crushing check on LD Salas.
15 min...LD Theosmy 35 yard freekick from left is bent and LD Lande 10 yard header is just wide left.
16 min...TC Marasovic injured just on edge of TC box (with a bloody nose) and has to leave game for treatment.
19 min...LD Agyei 50 yard freekick is headed away on edge of box.
20 min...TC sub...Crljen replaces Marasovic.
21 min...LD Theosmy 55 yard freekick has ball bounce through to goalie.
23 min...TC Fran gets back to break up rush on LD Lande up middle.
24 min...LD Roldege 25 yard freekick from right is lofted over net.
24 min...the lights suddenly go out!?!
Final Score:.........Toronto Croatia..........1..........Laval Dynamites...........0......
The game was shortened to 35 minutes per half because the TC officials knew that the lights went off automatically. Three minute intermission. Many complaints from LD about time wasting against TC. 2nd half starts 10:43pm continues with fast action and then......
Hey the lights go out at 11:10pm. That's only a 27 minute second half. Referee Vito Curali makes a pretty swift and wise decision. The game is over...he said he's filling in his report...and let the league decide.
Attendance was about 125 on this mild night.
After the first goal the rest of the game was close. LD almost tied a few times with long passes to guys up the middle and George Azcurra had to be sharp.
The reason for the late start went something like this: At 8:30pm, the scheduled game time, some of the Dynamites players are here and some aren't. The team was booked with WestJet and six of their players and luggage got 'bumped'. Those players had to take a later flight with Air Canada. (a team official says the cost of their trip is $9000).
Of course the only one from the league is Stan Adamson who was here before the game but vamoosed when the crowd started jeering and chanting. He said if the game wasn't going to be played they'd just play it tomorrow which would bump the wild card game to Saturday morning and so on and they'd play games on Sunday and have the finals on Monday. Oh brother. How out of touch is that?
The Dynamites are staying at a hotel tonight because had they (did they?) win they would be 'in town' and ready for tomorrow's wild card game.
I'd really wonder if the Dynamites will return to the CPSL next year. As I've heard, they didn't like making the eight trips to the GTA (Greater Toronto area) this year. They just can't play a road game during the work week. That would be the same for any team going to Montreal during the week as well. The players have jobs or school the next day. Some officials from GTA teams have said Dynamites fan support is only a few dozen so they wondered if Laval would think it's worth joining a local Quebec league.
Rocket Robin
robing@eol.ca
.
.