Result of the Sunday July 23, 2006 W-League game between Toronto Lady Lynx and Ottawa Fury played at Centennial Stadium in Etobicoke at 6:00pm.
Toronto Lady Lynx (black socks, shorts, names, and numbers, yellow shirts)
...............................22 Anne Ogundele
6 Robin Rushton...16 Vonya Beckles...23 Catharine Marosszeky (cpt)...13 Nicole Mailloux
4 Natalie Martineau...14 Finella Annand...10 Amanda Cicchini...11 Allysha Chapman
....................18 Loredana Riverso...9 Sylvia Forbes
Subs:...1 Justine Bernier (gk)...3 Sara Scharoun (def)...5 Melissa Bigg (fwd)...7 Tessa Roche (fwd)...20 Jennifer Williams (mid)...25 Fyana Christopolous (fwd)...Tanya Dennis (def)
team officials:...head coach Danny Stewart...technical consultant Drew Murray...team manager Stephanie Rushton...team doctor Dr Frank Markus...medical co-ordinator Dr Robert Gringmuth...medical assistant Dr Melanie Lopes
Ottawa Fury (white socks and shirts, navy shorts, numbers, and names, red trim and chest emblem)
...........................22 Leisha Alcia
2 Robyn Gayle...4 Carmelina Moscato...8 Melissa Miller...3 Allison Kelly
11 Annie Hamel...10 Leah Robinson...9 Stacey Stocco (cpt)...14 Zoe Avner
.....................23 Mallory Outerbridge...18 Carrie Kveton
Subs:...1 Taryn Swiatek (gk)...6 Amy Vermeulen (fwd)...13 Diana Matheson (mid)...15 Kelly Parker (mid)...20 Marie-Eve Nault (def)...24 Eilish McConville (fwd)
team officials:...head coach Frank Lofranco
Game officials:...referee Denise Robinson...referee's assistants Patti Peebles and Jason Hanley...fourth official Jeremy Beggs
1st Half:...game starts 6:06pm...LL defend north end on this hot humid evening with overcast skies. The field was wet because of the afternoon rain.
33 sec...LL Mailloux stubs 18 yard shot that rolls to goalie.
1 min...LL goalie catches chip from OF Kveton as she picks up LL Rushton clearance header in box.
2 min...LL Chapman and OF Hamel injured in crash of heads at OF 22 yard line.
5 min...LL Marosszeky passes left and LL Chapman charges to blast 7 yarder deflected over net wide right for cornerkick.
7 min...LL Riverso 15 yard shot from right is caught by goalie just wide right of net.
10 min...LL Beckles long throw-in from right has LL Forbes knocked down header by ball cleared from box.
11 min...LL Annand in middle passes to LL Chapman on left alone but first touch pushed too far ahead and goalie slides out for save.
12 min...LL Beckles long throw-in from right is headed away by defender.
13 min...OF Stocco can't quite get to high through ball and bounces to goalie.
14 min...LL Marosszeky 55 yard freekick up middle is wide left.
17 min...LL Chapman 30 yard cross from near left sideline is just wide right.
20 min...LL YELLOW card...Annand for interference at center line.
20 min...LL goalie catches OF Hamel long cross from right.
21 min...OF Outerbridge shot from 10 yards on left is wide right.
23 min...LL Annand run on right and cross just one step ahead of LL Forbes at 4 yards.
27 min...LL Marosszeky 45 yard freekick from left is just over leaping LL Forbes in box and caught by OF goalie.
28 min...OF Outerbridge is caught when she makes steal and run in from 35 yards but defender poke checks ball away.
30 min...Lady Lynx Sylvia Forbes GOAL...LL Finella Annand pushes ball right and LL Natalie Martineau rolls ball forward to Forbes who tucks 4 yarder low past sprawling goalie Leisha Alcia on right inside post.
32 min...OF Stocco slides and connects 15 yard shot from left deflected wide right.
33 min...OF Stocco cornerkick from right drifts behind net.
37 min...OF Kelly 35 yard freekick from left has defender pop up header and OF Outerbridge 8 yard sideways kick has goalie fly left to push wide left for cornerkick.
39 min...OF Outerbridge rush to through ball but LL Marosszeky sliding block to stop 7 yard poked shot.
41 min...LL Marosszeky 40 yard shot up middile is over net.
43 min...LL Rushton 45 yard cross from right is stopped in box.
45 min...LL Forbes 22 yard blast with defenders shadowing is over net.
46 min...half ends 6:52pm.
2nd Half:...half starts 7:13pm...the sun comes out for this half from the north west; bad news for the Lady Lynx goalie.
halftime subs:...OF Swiatek replaces Alcia as goalie.
.........................OF McConville replaces Avner.
.........................OF Matheson repalces Robinson.
.........................OF Vermeulen replaces Kveton.
.........................OF Parker replaces Outerbridge.
.........................LL Dennis rreplaces Rushton.
47 min...OF Gayle cross from right end line has defender boot away.
48 min...LL Chapman cornerkick from right has leaping OF McConville head away.
49 min...LL Beckles long throw-in from left has defender knock away.
50 min...LL Marosszeky 20 yard freekick from left is through players in box.
52 min...OF McConville given ball down right wing has cross from 20 yards and lands on top of bar as goalie couln't see ball in the sun. Defender blocks rebound when it deflected back into play.
53 min...LL Cicchini 40 yard line pass attempt and pops ball to LL Forbes who heads too far ahead from 25 yard that rolls to goalie.
54 min...LL Riverso rush along as to OF players trip over each other and are down but she can't get away shot as another defender runs her out of room wide right of net.
56 min...OF sub...Nault replaces Gayle.
57 min...Fury Amy Vermeulen GOAL...OF Eilish McConville rushes on right and pass forward to Vermeulen who puts 7 yard shot low between right post and falling goalie Anne Ogundele.
58 min...LL Chapman cuts between players on left and crosses too high over players in box.
59 min...LL Chapman rush on left for through pass but OF Nault knocks her off ball.
60 min...LL goalie beats OF Hamel to through ball to grab.
61 min...LL Forbes held up and 22 yard shot is over bar.
63 min...LL sub...Bigg replaces Mailloux.
..............LL sub...Williams replaces Martineau.
..............LL sub...Christopolous replaces Annand.
66 min...OF YELLOW card...Stocco for sliding tackle from behind on LL Cicchini at OF 45 yards.
67 min...LL Chapman cross from left has LL Christopolous one touch too far from 10 yards and ball rolls behind end line.
68 min...LL goalie picks up roller into box.
71 min...OF Parker cross from right has LL Beckles head away.
73 min...LL Beckles long throw-in from right has defender in box head away.
75 min...OF Matheson cornerkick from right has LL defender pop up partial clearance, LL goalie dives out to beat OF Hamel to rebound chip to right.
76 min...LL Chapman ends rush with 12 yard shot that hits goalie in face after receiving tip from LL Williams after LL cross from right.
76 min...OF YELLOW card...Matheson for kicking ball into LL net after play being whistled down offside.
77 min...OF Parker beats LL Marosszeky to ball on run up middle and dekes goalie but 5 yard shot has LL Marosszeky now back in play head ball off line.
79 min...LL goalie beats OF Hamel to ball on right.
80 min...LL Scharoun replaces Chapman.
81 min...LL goalie comes out and both she and OF forward high kick ball jab but defender clears.
81 min...OF Stocco 25 yard low shot up middle has diving goalie save on left.
83 min...LL Beckles charges back to catch OF Hamel (?) on break down right.
84 min...LL Forbes scuffs 20 yard shot rolling it to goalie.
85 min...OF Hamel on cross from right has OF Matheson slide and tip ball to OF Vermeulen whose slide kick from 12 yards blocked by defender.
86 min...LL Forbes gets to bouncer and 20 yard shot deflects off defender wide right.
86 min...LL Bigg cornerkick from right has defender head away.
88 min...LL Riverso has pass blocked by defender to end 2 on 1 break.
90 min...LL Riverso rush down middle but can't get away pass at OF 22 yards line to LL Forbes in open.
91 min...game ends 7:59pm.
Final Score:...........Toronto Lady Lynx............1..........Ottawa Fury...........1.........
Attendance was about 700 on this hot evening. The sun came out in the second half and played a factor against the Lady Lynx goalie who was often staring into the sun. The field was wet because of the thunderstorm, rain and hail that had fallen in the afternoon possibly cutting into the walk-up crowd today.
This was a game between the two best teams of the Northern Division with both clinching spots last week. Yesterday the Fury assured themselves of 1st place which means they host the Lady Lynx this Wednesday night in Ottawa so the game didn't affect the standings. Head coach Frank Lofranco has guided the Fury to five division titles in a row. The players didn't play with any less intensity but the choice of some of the starters let it be known that neither team was going to reveal their complete hand before the one game playoff which will let the winner advance to the W-League championship in New Jersey.
Both teams started their back up goalies with Anne Ogundele playing the whole game for the Lady Lynx and looking especially strong in the second half and the Fury starting with Leisha Alcia and subbing in Taryn Swiatek at halftime. The Fury made a massive substitution at halftime besides switching goalies and that was bringing in Eilish McConville, Diana Matheson, Amy Vermeulen, and Kelly Parker for Zoe Avner, Leah Robinson, Carrie Kveton, and Mallory Outerbridge. The Lady Lynx only subbed defender Tanya Dennis for Robin Rushton and waited until 63 minutes before subbing in Melissa Bigg, Jennifer Williams, and Fyana Christopoulous for Nicole Mailloux, Natalie Martineau, and Finella Annand.
While both teams had a chance to score a winner near the end of the game the best chances were when at 77 minutes, Fury Kelly Parker ran past Catharine Marosszeky on run up the middle and deked the sprawling goalie but her 5 yard shot had Marosszeky head the ball off the line as she got behind the goalie to play back up. One minute earlier, Allysha Chapman ends a rush with a 12 yard shot off the goalie Taryn Swiatek's face after receiving a tipped pass from LL Jennifer Williams after an LL player had crossed from the right.
This was the best game of the season (although the goalless Laval Comets game was good too) with both teams showing great ball control and the game being a nail biter until the final whistle. Team manager/broadcast game commentator Stephanie Rushton agreed that Wednesday's game that turned out to be against players from the Lynx under 15 and 16 boys' teams was a better tune up for this game than the scheduled exhibition against Oakville Storm which would probably have been a blow-out. Since the Lynx severed their ties with the Oakville club last year, this was a surprise why that game was on the schedule from the beginning of the year but it could have been Oakville's revenge to string the Lynx along until one day before the game. Rushton agreed. The boys were more physical which was good practise against the many big players on the Fury.
Before the game some of the Lady Lynx were presented with season end awards. Rookie of the year went to goalie Justine Bernier. Defender of the year was shared between Robin Rushton and Vonya Beckles. Offensive player went to Sylvia Forbes. The Fan MVP chosen by balloting from the last home game was Natalie Martineau (I was on the field and presented that award). Team MVP was Deanna Everrett.
Tonight's game was the last Lady Lynx home game of the season. They had a record of four wins and two ties in their six league home games and I enjoyed their effort in all of them.
Rocket Robin
robing@eol.ca


Ottawa Fury starters


Toronto Lady Lynx starters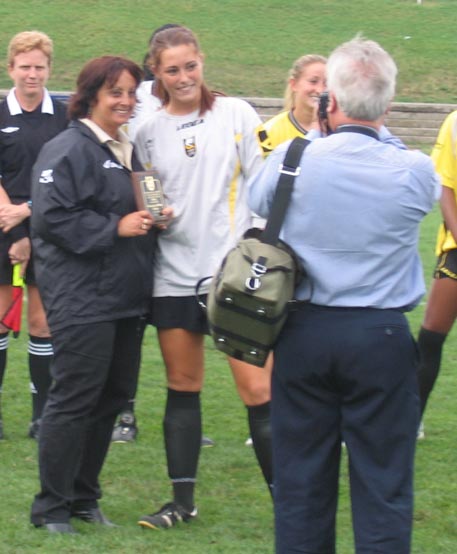 Lady Lynx team manager/Rogers soccer commentator Stephanie Rushton presents Rookie of Year award to goalie Justine Bernier.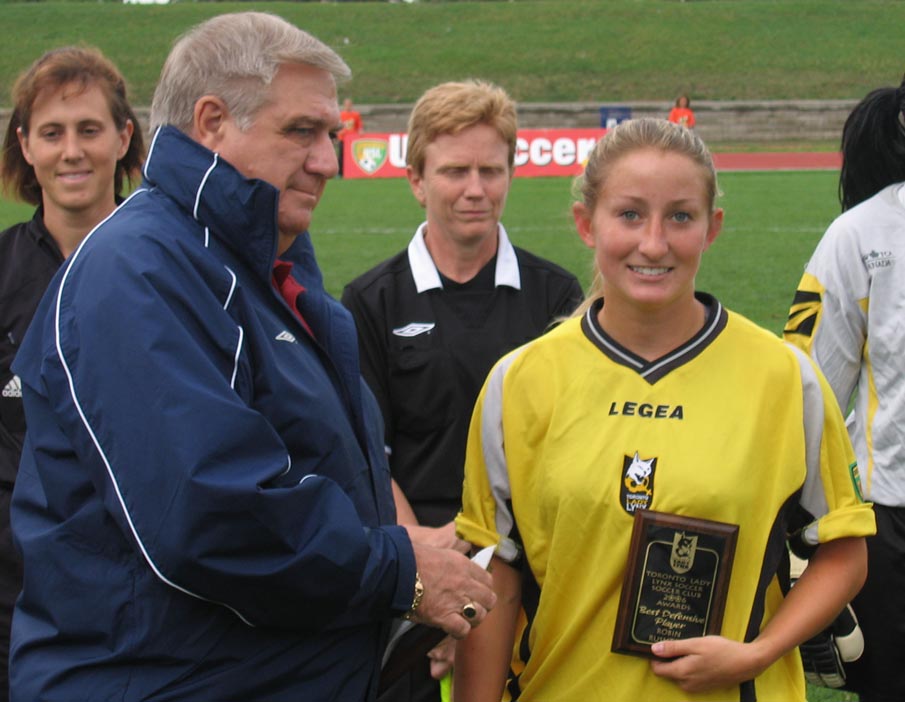 John Knox* presents Defender of Year award to co-winner Robin Rushtin

John Knox* presents Defender of Year award to co-winner Vonya Beckles
*I had the presenter identified as David Gee for the last eleven years but this is in fact John Knox. This correction
was made today on November 12, 2017 after chatting with David Gee at the League 1 Ontario Awards Banquet. This correcton
will hopefully convince the Wikipedia editors to correct their bio photo of David Gee.

Lady Lynx head coach Danny Stewart presents Offensive Player of Year award to Sylvia Forbes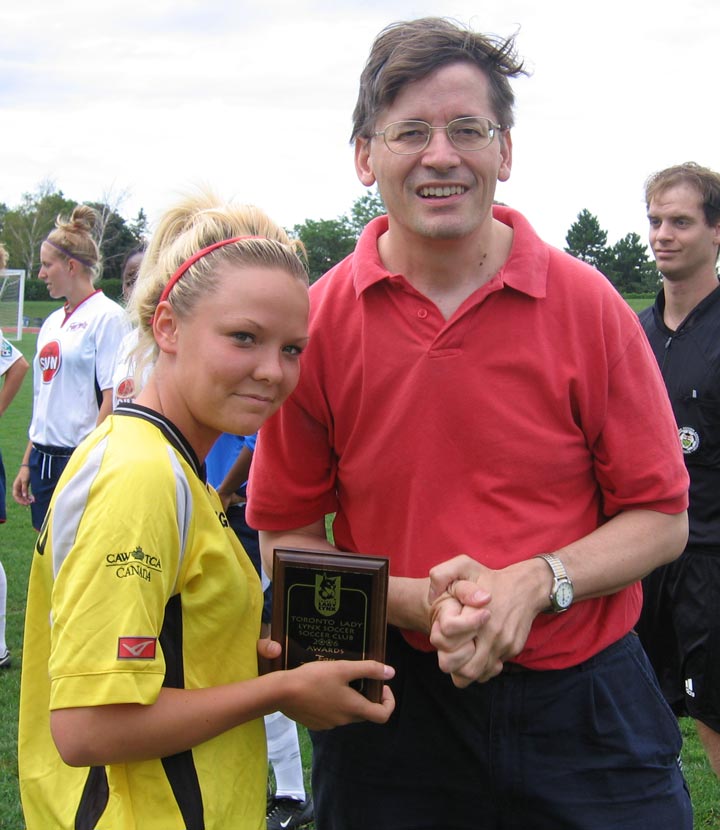 Rocket Robin presents Fans MVP award to Natalie Martineau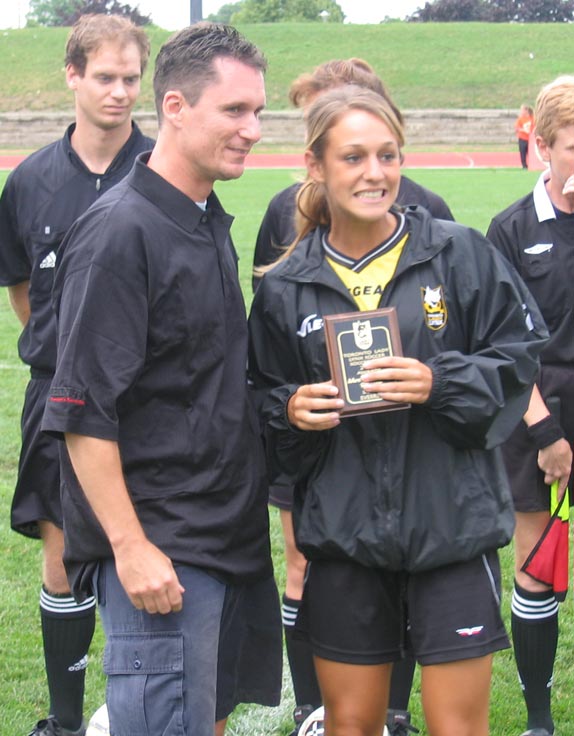 Rogers soccer commentator Dan Dunleavy presents MVP award to Deanna Everrett
.
.