Result of the Friday May 26, 2006 USL game between Toronto Lynx and Miami FC played at Centennial Stadium in Etobicoke at 11:00am.
..............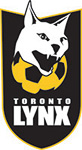 .............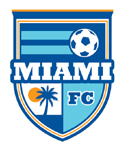 Toronto Lynx (all black, yellow names, numbers, and trim)
.........................1 Richard Goddard
17 Chris Williams...4 Joe Mattacchione (cpt)...6 Andres Arango...3 Rick Titus
13 Jamie Dodds...23 Gordon Chin...20 Robbie Aristodemo...12 Marko Bedenikovic
.....................21 Neto...15 Matthew Palleschi
Subs:...22 Theo Zagar (gk)...7 Helinho (mid)...9 David DiPlacido (mid)...11 Darren Baxter (mid)...14 Cameron Medwin (mid)...16 Neils Dekker (mid)...19 Jeremy Shepherd (fwd)
team officials:...head coach Duncan Wilde...assistant coach Billy Steele and Joe Mattacchione...medical co-ordinator Dr Robert Gringmuth...trainer Matt Daher
Miami FC (all royal blue, white names and numbers)
.............................1 Chris Doyle
2 Allen Handy...23 Michael Erush...5 John Paul Rodrigues...13 Walter Ramirez
..............18 Oscar Gil-Alzate...24 Abiodon "Mike" Adeyemi...16 John Pulido
................7 Sean Fraser...10 Zinho...11 Romario (cpt)
Subs:...22 Hunter Gilstrap (gk)...8 Diego Walsh (mid)...14 Jamil Jean-Jacques (def)...15 Fabian Sandoval (mid/fwd)...17 Luc Harrington (fwd)...20 Pedro Power (mid)...21 Art Bartholomew (mid/fwd)
team officials:...head coach Chiquinho de Assis...assistant coaches Luis Carlos Perea, Victor Pastora and Ricardo Lopes
Game officials:...referee Carol-Anne Chenard...referee's assistants Mike Lambert and Angelo Gertzakis...fourth official Silviu Petrescu...(yellow shirts, black shorts and socks)....hmm not quite complete opposites from the Lynx...should have worn red tops.
1st Half:...game starts 10:58 am...Lynx defend north end on this wet field in warm weather on an overcast day.
1 min...Lynx Neto shot blocked by defender on edge of box.
2 min...Lynx Mattacchione 25 yard freekick from left is blasted over net after he's touched a pass.
4 min...MFC Zinho 30 yard freekick from right is headed away by defender.
6 min...Lynx Neto 20 yard shot deflects for cornerkick.
7 min...Lynx Dodds cornerkick has MFC Adeyemi leap and head ball away, ball is recrossed but wide left of players in box.
7 min...Lynx Arango heads away cross into box. MFC Zinho weak 20 yard roller to goalie.
8 min...MFC Pulido 20 yard low shot pushed wide left by diving goalie.
9 min...Lynx goalie makes two point blank saves on right post after cornerkick from left is popped up by Lynx Titus. MFC Romario gets 5 yard shot from even with the right post.
13 min...MFC Romario from 7 yards on left misses open net after MFC Pulido rolls him cross from right on through ball pass.
14 min...Lynx Bedenikovic has ball blocked on sliding tackle on edge of box.
16 min...MFC Pulido blasts partially cleared ball from 30 yards well over Lynx net.
17 min...MFC goalie rushes left to beat Lynx Bedenikovic to through ball.
17 min...Lynx Bedenikovic chests ball down and 20 yard shot from left is bent wide right of net.
18 min...Miami Romario GOAL...Romario breaks through middle when defender chests down ball but Joe Mattacchione slips and Romario gets ball at 25 yards and takes 15 yard shot into top right corner of net beyond flying goalie Richard Goddard.
19 min...Lynx Palleschi rolls 22 yarder weakly to sliding goalie.
22 min...MFC Ramirez cross from left has leaping goalie get hand to ball and pick it up.
23 min...Lynx Titus cross from 35 yards on left finds Lynx Dodds on right charging and he heads 10 yarder wide right.
25 min...Lynx Bedenikovic rolls 22 yarder that hits right post, Lynx Dodds follows up after some in box action with 12 yard low shot that's weak and saved by sprawling goalie.
26 min...Lynx Dodds cornerkick from right, goalie catches cross from right on scramble but drops ball and defender clears off line.
27 min...Lynx YELLOW card...Chin for sliding tackle in center circle.
28 min...MFC Zinho cornerkick from left has defender head away but MFC Rodrigues 10 yard midair blast on partial clearance sent well over net.
31 min...Lynx Aristodemo roller from 30 yards to goalie on left post.
33 min...MFC Zinho long run up middle but he rolls 25 yarder into box through players and picked up to goalie.
36 min...MFC Romario run down middle and he rolls pass and MFC Zinho 15 yard shot is into short left side of net for cornerkick.
37 min...Lynx Williams chests dangerous cross into box for Lynx goalie to pick up.
37 min...Lynx Neto pushed ball on left and 12 yard blast is well high and wide right of net.
38 min...Lynx sub...DiPlacido replaces Palleschi.
39 min...MFC Handy 60 yard ball shot is high over players and caught by goalie.
41 min...MFC Romario blasts 18 yarder over net as he's trailing on 2 on 1 play. Lynx goalie tipped ball over net because a cornerkick was awarded.
42 min...MFC Zinho cornerkick from right caught in crowd of players by goalie.
44 min...MFC Fraser cross from left has MFC Zinho jump and shoots 12 yarder over net.
47 min...Lynx YELLOW card...Titus for tackle near right cornerflag in Lynx end.
48 min...half ends 11:46am.
2nd Half:...starts 12:00pm...there's now a hard rain falling.
halftime sub:...Lynx Baxter replaces Chin.
46 min...MFC Zinho 25 yard freekick from left has goalie palm ball through box. MFC Gil-Alzate blasts 20 yarder from right is just over bar.
47 min...Lynx Neto 15 yard shot from left is over net when he rushes shot to avoid sliding tackle.
48 min...Lynx Dodds cross from right after through ball has goalie catch breaking up Lynx player's header attempt.
51 min...Lynx Neto cornerkick from right has Lynx player head ball down and partial clearance has Lynx Bedenikovic boot ball over bar from 12 yards.
52 min...MFC Pulido 10 yard blast is stopped point blank by goalie as two Lynx defenders had missed deflection and Pulido found himself in the open.
55 min...Lynx YELLOW card...Baxter for sliding tackle at center line.
56 min...Lynx Dodds and Lynx Mattacchione work out good play making 40 yards on right side line and Dodds corss is over Lynx DiPlacido in MFC box.
58 min...Lynx Mattacchione sliding tackle on MLC Romario on edge of box as he waited too long to take shot.
59 min...Lynx Bedinokovic 20 yard freekick on left edge of box has Lynx Neto stop but defender makes clearance before shot.
60 min...Lynx Bedinokovic 20 yard shot just over net when he hooks partial clearance.
60 min...Lynx sub...Shepherd replaces Bedenikovic.
61 min...Lynx DiPlacido can't get away shot when Lynx player backheels pass inside MFC box.
63 min...MFC Romario fed ball up middle from 30 yards but he passes off to no one and goalie picks up ball.
65 min...Lynx Baxter turns and fired 30 yard shot wide right.
69 min...MFC Fraser 25 yard shot up middle is well over net.
70 min...MFC sub...Walsh replaces Fraser.
71 min...Lynx sub...Helinho replaces Neto.
72 min...Lynx Helinho is pushed pass and his 10 yard blast is stopped by sliding goalie. The ball is popped up high but is cleared when it lands.
73 min...MFC Adeyemi hand ball on edge of MFC box as he miskicked clearance atttempt.
73 min...Lynx player's 18 yard freekick has ball touched and Lynx Baxter's shot on edge of box is blocked by defender.
74 min...MFC goalie punches away ball crossed in from left injuring Lynx DiPlacido.
75 min...Lynx DiPlacido 25 yard shot is caught by goalie.
76 min...Lynx Shepherd 35 yard cross from right has Lynx DiPlacido head ball wide right from 10 yards. Wow where's the MFC defence on this one?
77 min...Lynx sub...Dekker replaces Mattacchione.
78 min...Lynx Dekker 45 yard cross from right has goalie leap and fumble ball for cornerkick from left.
78 min...Lynx Arango 10 yard header from right is popped up for goalie to catch.
80 min...Lynx YELLOW card...Helinho for diving on rush to edge of MFC box. MFC Erush complained to the referee and then she pulled out a Yellow card.
87 min...Lynx Baxter throw-in from left corner flag has Lynx Helinho checked off ball in box.
88 min...MFC goalie charges out for sliding save to prevent Lynx Aristodemo from getting to through ball.
92 min...Lynx goalie comes up to take 55 yard freekick that has leapign defender head away ball on edge of MFC box.
93 min...game ends 12:48pm.
Final Score:...Toronto Lynx........0........Miami FC......1......
Attendance was announced as 2832 with only the grandstand filled this year for the Lynx annual School Day game. No one would have wanted to sit on the grass slope on the east side in the rain anyway. Although it had rained during the night to make the field slippery, there was a misty rain started in the first half and a much harder rain in the second half.
Chris Doyle earned the shutout for Miami. He had to be sharp on a few shots and caught a few crosses off cornerkicks before the Lynx had time to set up anything.
Helinho had a great chance for the Lynx at 72 minutes, one minute after subbing for Neto, when he was pushed a through pass and blasted a 10 yard shot that Doyle slid out to stop. Marko Bendenikovic had a few shots stopped or off target. He had a 20 yard shot at 25 minutes that hit the right post and Jamie Dodds send a weak 12 yard re-bounder weakly to the sprawling goalie. Neto missed the net at 47 minutes when he rushed a 15 yard shot to avoid a sliding tackle. The Lynx had all four of the Yellow card given out today by referee Carol-Anne Chenard. FC defender Michael Erush convinced her to give Helinho a card for diving on the edge of the box.
The Lynx controlled the second half with Miami content to try to get Romario the ball but in the second half he was so slow that defenders were able to catch up to him. If it wasn't for his attempt at scoring 1000 goals in his career, he should have been subbed by at least the 60 minute mark. Romario almost had scored at the 13 minute mark as he was given a short pass by John Pulido on the left of the Lynx box and missed a 7 yard shot into the open net. Joe Mattacchione saved another Romario goal at 58 minutes as he made a sliding tackle and stripped away the ball on the edge of the Lynx box when Romario waited too long to line up a shot. Romario wasn't selfish at all as he passed when appropriate so the defenders couldn't just narrow in on him.
Miami only subbed one player and that was Diego Walsh for Sean Fraser (the Jamaican of that name, not the Canadian) at the 70 minute mark. The Lynx first sub was at 38 minutes. A chorus of "We want David" went up from the young crowd about 15 minutes earlier and then David DiPlacido came on as a forward for Matthew Palleschi. I found DiPlacido in the walkway to the parking lot after the game and asked him if the kids had gone to his school. He said he expects they were from a school where he'd put on a soccer clinic. His best chance came at 61 minutes when he was given a backheel pass in the box but couldn't get away a shot and at 74 minutes when the goalie punched away a cross from the left that DiPlacido was lining up for a five yard header and crunched into him leaving DiPlacido slow to get back up.
The Lynx failed to score again this game. They've only scored one goal in their first six league games and have a 0 and 6 record. Richard Goddard played well in net for the Lynx especially on two point blank saves on the right post at 9 minutes. Without him it could have been 4-0 in the first half and then Miami really could have set up the ball for Romario during the second half.
At a media scrum after the game, the Lynx Tony Menezes (who was neither a starter of on the bench for the team) was asked about his time playing both with Romario and against him. He made a point that his presence brings the media out to the games (yeah that's true with stories making local outlets OMNI, CITY TV and A-Channel).
The Lynx Jamie Dodds was asked questions about Romario plus one about the Lynx poor start—"early in the season…plenty of time…" Miami's other dangerous forward; the Brazilian "Zinho" (Crizam Oliveira) answered in Portuguese something about not being surprised that the USL was a high quality league. We then heard that Romario had changed his mind about showing up for any interviews. I will say he was signing autographs for awhile at the end of the game, posing for pictures and even holding a fan's baby as I saw on the sports news. Many of the Lynx players were signing autographs outside the stadium.
The next game for Miami FC is Sunday in Montreal and four members on the Impact were in the press box watching the notes—Joey Saputo, Mike Moretto, Peter Pinizzotto and head coach Nick DeSantis. It shouldn't be much for the Impact to worry about because Miami's defence is suspect although the goalie is good.
The Lynx next game is Sunday June 4th at 6:00pm against Virginia Beach Mariners. On the press box sign-in sheet, Edgar Bartolomew signed in for "Toronto Lynx" so maybe he's back with the team for 2006.
The game did take place at the scheduled time of 11:00am despite the renewed interest in finding that Romario signed to the Miami team. Every year there's complaints on the Voyageur's soccer message board about these school day games leaving the hard core working fans unable to attend. However expecting that many of them will defect to the MLS Toronto FC franchise starting in 2007, I can see the Lynx continue to promote their team to families and kids. The Lynx do the school day promotion again next Wednesday when the Lady Lynx host the new Hamilton Lady Avalanche at 11:00am. I suppose girl's soccer during working hours won't upset the hard-core.
Rocket Robin
robing@eol.ca


The teams line up for the national anthems.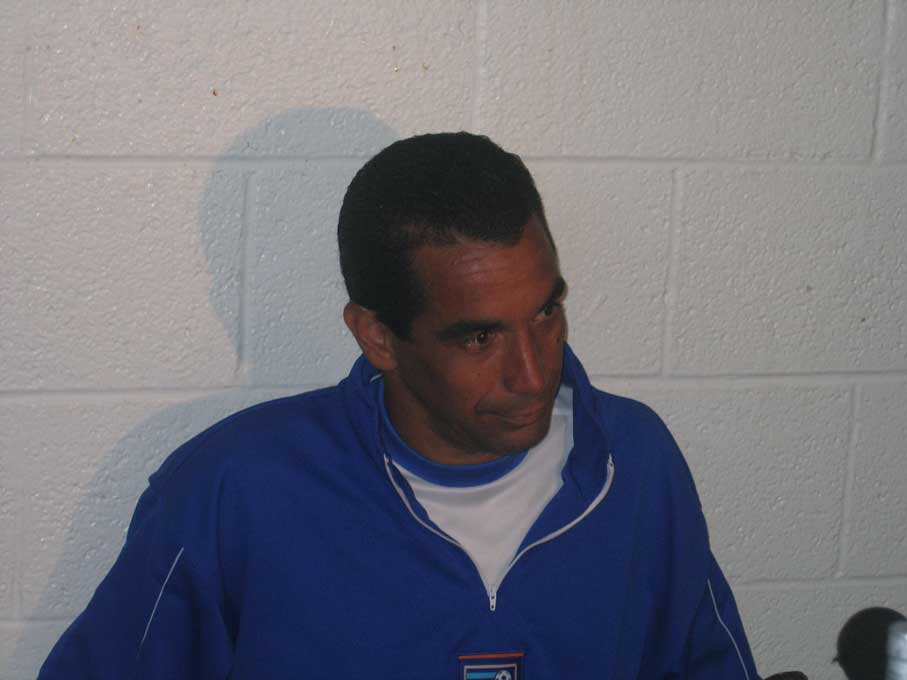 Zinho answers questions at the after game press conference.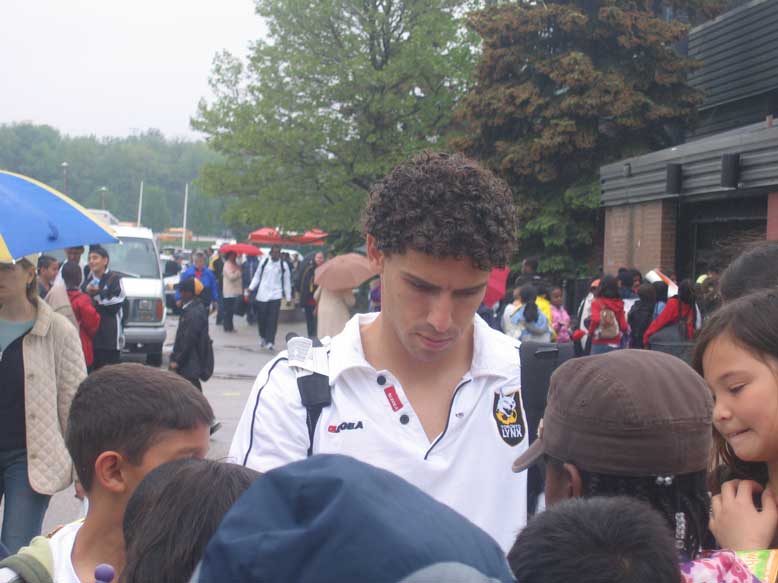 David DiPlacido signing autographs for his fans.
.
.