Tuesday May 15, 2007 Canadian Soccer League Press Conference
Details of the Canadian Soccer League Press Conference held Tuesday May 15th, 2007 at the VIP Lounge of BMO Field in Toronto at 12:00pm.
Stan Adamson, executive director of the CSL called the meeting to order at 12:35pm. A bigger media crowd this year than last year when it was held at Toronto City Hall. Many were here anyway getting interviews with players because tomorrow night is the MLS game between Toronto FC and Houston Dynamo.
Adamson immediately introduced Bruce Thomas by reading a short bio of this NASL pioneer who was anxious to get a Toronto team into that league when they were setting up. He was out of soccer after 1980 and moved on to become a successful Queen's Council law practice. He is back in soccer now to organize the Toronto committee of the FIFA U-20 Men's tourney hosted by Canada. He said the games in Victoria and Vancouver will sell out. Edmonton will be a tougher sell because Commonwealth Stadium has 60,000 seats to fill. Sales in Ottawa and Montreal are doing well. Toronto will have nine match dates. Three of them are sold out and a fourth is 90% sold right now. The only dates where there are still tickets available is the Group of 16 playoff game, the quarterfinal, the semi-final and the 3rd place game. The final is one of the sold out games.
Thomas said that 750 million people with watch the tournament in 90 countries. There will be 1500 hundred accredited media who will be sitting in the stands at BMO field (the press box isn't big enough!). This tournament is what got the governments to finance the building of this stadium. The stadium is what got MLS to award Toronto a franchise.
The tournament does present some challenges in this busy city. There's a Grand Prix car race being held one weekend. [I'd heard they moved one game to Montreal to avoid conflict]. The race isn't just that day because it takes a few days to set up. There's a bike race on June 30th and the CHIN picnic on July 1st. They are trying to get a free TTC pass to ticket holders to ease traffic congestion.
He said there are only three paid staff in Toronto and the others are volunteers. The VIPs must be taken care of. He's got some former Canadian Olympic organizers brought in to help the event run smoothly. There's an IT team, a medical team, a security team etc. The CBC will broadcast games. Volunteers need a driver's licence, be age 16, have no criminal record and are expected to work 30 hours during the tournament.
Adamson introduced CSL commissioner Cary Kaplan. Kaplan said this lounge was a better venue than the Toronto City Hall where it's been held the last two years. He said the soccer community should be one big cooperative group. The game is on the move as in Toronto surveys conducted have shown soccer is more popular than hockey.
Kaplan said one year ago the CPSL decided to have an international division. Laval didn't work out so there's now a team in Trois Rivieres. Oakville didn't work so the team has gone back to Scarborough. He wants 1000 fans per games. He said of the ten teams, only London, Windsor, and Trois Rivieres hadn't sent reps today but they were the farthest away. I later did see Julian Carr of London City here later.
Kaplan said there have been forty (40) expansion enquiries this last year. There's talk of a BC, Alberta, Quebec division, to go along with the International Division in Toronto and the Civic Division in Southern Ontario. Teams coming into the league now need a marketing model and just having the money for a franchise will no longer be enough to be approved. The new model of soccer in this country will be to have 'divisions' then have a national playoff--not have a franchise in each city and the huge travel expenses that have killed other leagues in Canada. He says he had enquiries from Halifax and Atlantic Canada.
He says there's now committed owners and the quality of this leagues soccer is getting better. The CSL all star team have scared off many challengers.
He paid tribute to Harry Gauss, the owner of the London City franchise who is struggling with brain cancer. He started his franchise in 1969. There will be a new trophy named the Harry Paul Gauss trophy which will be awarded to the person best helping the league. Kaplan thanked us for our support.
Adamson came back to tell us some new developments outlined in the press packet. He said it was great to see more of the media at these press conferences. He named and thanked the CSL office staff which seems to have grown. The league will start Web broadcasting starting June 1st. He said 24 teams in BC have joined the Open Canada Cup and the best team from that group will earn a semi-final place in the tournament in London over the Labour Day weekend. The 1st round of the competition will begin June 2nd. The league championship game will take place near the end of October. He also discussed talks they've had about making the Open Cup winner moving on to the Concacaf club championships. Only Canada and Puerto Rico currently don't send a representative.
After the meeting was over I asked Kaplan about the league. He said there are now five stadiums the league has banned. Glen Shields (although Italia Shooters now play at the Ontario Soccer Centre), Brockton Stadium in Toronto (Portuguese Supra played there in the past.--bad field, dressing rooms across the street!). Bronte Park in Oakville (often a swamp after it rained) and Memorial Park in Streetsville (Toronto Croatia played there until this year; The City of Mississauga had timed lights that cut off at 11:00pm no matter what during a playoff game a few years ago...otherwise it could turn into a swamp and a mosquito den at different times). Also Lamport Stadium is on their banned list! (it had a poor, worn out astroturf about as hard as the parking lot outside the grounds). With Lamport Stadium hosting two of the three Toronto Croatia vs Serbian White Eagles games last year, mainly to keep the fans separated, out of the picture, Kaplan said it's possible that BMO Field is a possibility. He was interested in my discussing the flare that was thrown on the field and the groundscrew concentrating on it exclusively and letting others pick up the seat cushions tossed at Saturday's MLS game.
Kaplan introduced me to Mr Wilson, the owner of the new African Icons franchise starting in 2008. Where they will play in Toronto has not been worked out yet but the new Varsity Stadium is a definate possibility. I asked Kaplan why not 2007 with the league down from 12 to 10 teams this year. He answered that both African Icons and Quebec City joined the league in February 2007 and there wasn't enough time to work out the logistics. He says this year's cutoff to join in 2008 will be August 2007. Brampton FC will be a returning franchise as the owner of Brampton Stallions is expected to sell his team. Any expansion Toronto franchises will be 'ethnic' teams.
Nenad, who runs a White Eagles web site said they have many new players this year but CSL League MVP Sasa Viciknez will be returning. He didn't get a tryout with Toronto FC after all. I talked with popular message board poster John about media conspiracy theories with some other journalist.
I went outside and caught some of the Houston Dynamo practice.

CSL Commissioner Cary Kaplan and Executive Director Stan Adamson pose in front of the expansion board.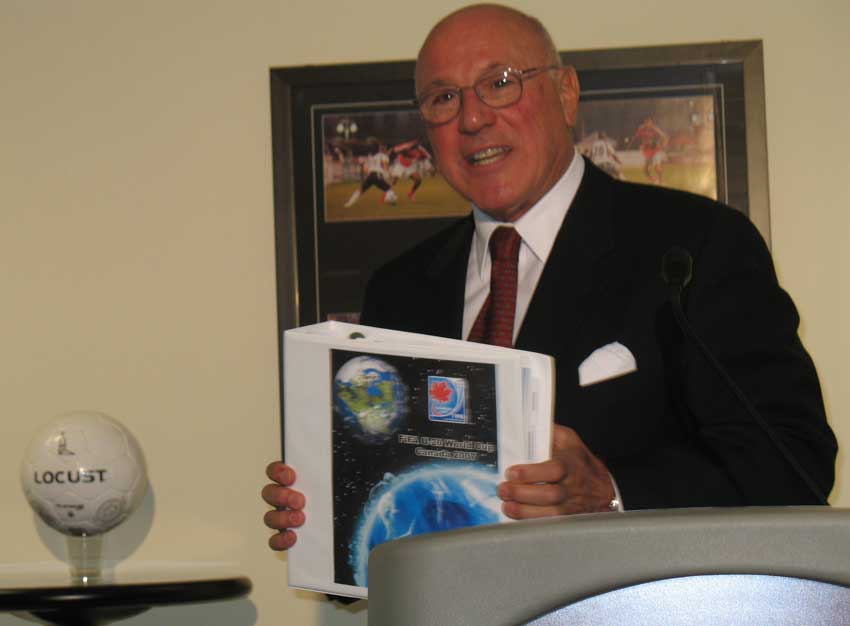 Bruce Thomas is chair of the 2007 U-20 Men's tournament.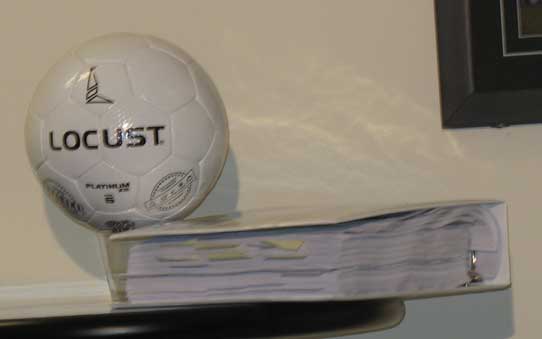 There's the FIFA manual of all the rules for running the 2007 U-20 Men's tournament.

Houston Dynamo players warming up. Dwayne DeRosario wears #14. There was some talk about when the last time he played in Toronto. Yes it was at old Varsity Stadium. Last league appearance was a playoff game on September 15th, 2000 when he was on Richmond Kickers against Toronto Lynx. Last international appearance was November 15th, 2000 in a World Cup qualifier Canada vs Mexico.

.
.