.............

Result of the Friday May 18, 2007 CSL game between Serbian White Eagles and Trois Rivieres Attak played at Centennial Stadium in Etobicoke at 8:00pm.
Serbian White Eagles (all white, blue names and numbers)
.......................23 Dusan Belic
7 Dragan Radovic...16 Joshua Gordon...20 Milan Janosevic...15 Milos Scepanovic
12 Hosni Neto...8 Nenad Stojcic...13 Nikola Budalic...10 Alex Braletic
.................11 Gabriel Pop...9 Sasa Viciknez (cpt)
Subs:...1 Miodrag Bogdanovic...14 Milan Janikic...17 Ibrahimoglu Yekta...19 Ratomir Boroja...3 Bojan Budisavljevic...18 Noel Ellerton
team officials:...head coach Dusan Belic...assistant coach Sinisa Ninkovic...manager Dragisa Latinic...trainer Dean Stambolic
Trois-Rivieres Attak (all black, white numbers and "Oasis" logo on chest)
....................24 Vincent Cournoyer
2 Paul Moran...16 Olivier Brett...23 Elkana Mayard...4 Alex Surprenant
18 Fabrice Lasonde...6 Boubacar Coulibaly (cpt)...20 Danny Anderson...14 Guillaume Barrette
...............17 Massimo Di Ioia...12 Nicolas Lesage
Subs:...22 Gerardo G Argento (gk)...27 Francois Boivin (def)...8 Jean-Louis Besse (mid)
team officials:...head coach Marc Dos Santos...manager Stephane Chiarrello...trainer Marta Dos Santos
Game officials:...referee Joe Fletcher...referee's assistants Michael lambert and Geoff Gamble...fourth official Kyle McIntosh...(red shirts, black shorts and socks)
1st Half:...game starts 8:04pm...SWE defend south end on this mild evening with the air cooling fast. The sun was still in the north west.
2 min...SWE goalie catches cross from left.
6 min...TRA Moran chests back cross from 20 yards to goalie.
7 min...SWE Viciknez cross from left near end line is over players in box.
7 min...TRA Lesage rush on right sends 15 yard shot over sliding goalie but into outside right webbing of net.
9 min...TRA Barrette eludes two defenders and gets away cross from left side of box and leaping TRA lesage heads 10 yard shot over net.
13 min...SWE Viciknez low 15 yard shot from right smothered by goalie.
13 min...SWE goalie bats down 15 yard shot from left.
15 min...TRA sliding player just misses connecting to cross from 5 yards in SWE box.
17 min...TRA Lesage 18 yard shot tipped for cornerkick by defender.
19 min...SWE Viciknez 35 yard blast down middle is well over net.
20 min...TRA goalie charges out to grab through ball on right.
24 min...TRA Lasonde saves ball on run down right sideline and SWE Janosevic gives up cornerkick on sliding tackle inside box.
24 min...SWE Viciknez 20 yard shot is low and wide right of net.
26 min...TRA Coulibaly 30 yard shot up middle is just wide right of post.
27 min...TRA Moran 50 yard freekick from right has goalie catch.
29 min...SWE Neto run on right and 20 yard shot has sprawling goalie tip ball wide right with glove.
30 min...SWE Neto cornerkick from right is caught by goalie in crowd of players.
33 min...TRA goalie charges to catch popped up ball on edge of box.
36 min...SWE Braletic cross from left. SWE player taps ball back inside box and SWE Viciknez shot that's blocked by defender.
36 min...TRA goalie catches cross over his head from right.
38 min...TRA Moran 35 yard freekick from right drifts in front of players in box and ball is caught by goalie.
39 min...TRA Anderson huge blast on partially cleared rebound from 15 yards is blocked by goalie.
41 min...SWE goalie big sliding save on through ball pass from 40 yards one step ahead of charging TRA forward.
44 min...SWE goalie beats TRA Lesage to through ball on edge of box.
45 min...SWE Viciknez can't draw penalty kick in right side of box but gets up with possession and rolls pass that SWE player rushes but pushes over end line on left.
45 min...SWE Pop 22 yard blast from left is blocked by goalie.
46 min...half ends 8:50pm.
2nd Half:...starts 9:06pm...the weather is much cooler and it's now twilight.
46 min...SWE Viciknez 20 yard shot from left rolls wide right through box.
49 min...TRA Anderson 30 yard freekick from right has goalie leap to catch ball over TRA players.
50 min...SWE Neto 22 yard roller up middle is wide right of net.
52 min...SWE Viciknez cross from right has ducking SWE Scepanovic not quite able to twist header from 5 yards and ball is knocked wide left.
53 min...TRA sub...Besse replaces Lesage.
54 min…SWE Gabriel Pop GOAL…Pop 4 yard shot on loose ball in box is low and into left corner of net beyond goalie Vincent Cournoyer. SWE Sasa Viciknez had run up right side by defender and sent in pass.
58 min...SWE Pop injured on right side line on check.
59 min...TRA Di Ioia on rush gets ball around defender but another defender concedes cornerkick when Di Ioia gets ahead of him too.
59 min...TRA Surprenant cornerkick from right has ball deflect off two SWE players back to goalie.
60 min...TRA Anderson 20 yard shot has goalie dive and push ball wide left for cornerkick.
61 min...TRA Anderson cornerkick from left has defender on right knock ball behind line for cornerkick.
62 min...TRA goalie dives out to beat SWE Budalic to through ball.
63 min...TRA Surprenant 30 yard freekick from right has diving defender head ball for cornerkick.
64 min...TRA Surprenant cross after cornerkick from right is rebounded and has TRA Di Ioia cross back from 15 yards on left has defender give up cornerkick.
66 min...TRA Anderson cornerkick from left deflects off players in box and TRA player on right for goalkick.
68 min...SWE Pop injured on head knock at TRA 40 yards.
69 min...SWE sub...Boroja replaces Radovic.
..........SWE sub...Ellerton replaces Pop.
70 min...TRA Besse on rush down right wing ends up on 2 on 1 rolls cross and TRA Di Ioia slips and can't get to ball.
72 min…SWE Sasa Viciknez GOAL…Viciknez gets pass after cross from left has defender miss and Viciknez gets around defender cutting along 8 yards and he bends shot over goalie into left side of net.
73 min...TRA goalie rushes out of box on left to boot away through ball ahead of SWE Ellerton.
75 min...TRA Coulibaly 18 yard shot up middle on freekick that's caught by goalie as it's shot directly to him.
77 min...TRA sub...Boivin replaces Barrette.
79 min...TRA Besse injured on edge of SWE box. He is treated off field. TRA has no other replacements!
83 min...SWE Braletic on 4 on 2 break and doesn't get away shot.
83 min...SWE Braletic injured at 35 yards in own end. He's treated off the field.
85 min...SWE Neto on right centers pass to SWE Viciknez and he chips 15 yard shot over ogalie but just over net.
86 min…TRA Elkana Mayard GOAL…Mayard gets short blast into net from 6 yards off underside of back crossbar over goalie Dusan Belic.
87 min...SWE Stojcic injured at own 45 yard line.
90 min...TRA Besse 25 yard shot is well over net as he slides for shot.
90 min...SWE Boroja rush on right and cross to SWE Viciknez has shot slip up blocked by defender.
92 min...TRA Besse wins freekick when he's knocked down at SWE 22 yard line.
93 min...TRA Di Ioia 22 yard freekick blast is wide left of net.
94 min...TRA Lasonde on 3 on 2 12 yard shot from right has goalie block shot on right post. There's no time for the cornerkick they earned.
94 min...game ends 9:55pm.
Final Score:…….Serbian White Eagles………2……………Trois Rivieres Attak………..1…………
***Attendance was about 225 on this cool evening. This was the first game of the season for White Eagles and the second for Attak who tied Toronto Croatia 0-0 last weekend in Trois Rivieres. I thought the crowd was smaller than most of their crowds last year and didn't have many in the crowd leading cheers. A family had brought seat cushions from the Toronto FC game last week and actually sat on them instead of throwing them. The weather wasn't so nice and it was the start of the holiday weekend.
The CSL leading goal scorers of the 2006 season both had a goal each for the White Eagles. They ran away with the titles last year as top scorer and MVP. Goaltender Dusan Belic was listed as the head coach. Dragoslav Sekularac was coach at the time of the final game last year. White Eagles have also added scoring punch with Osni Neto from Brazil who played in 2006 for Toronto Lynx when they were in the USL Division One and he had some good runs and passes tonight. The team should improve if they can get their timing together.
The Attak are the farm team of the USL Division 1 Montreal Impact. They had a few chances to tie the game late when after their goal; TRA Massimo Di Ioia's 22 yard freekick blast up middle was wide left of net at 93 minutes. At 94 minutes TRA Fabrice Lasonde on a 3 on 2 break got away a 12 yard shot from the right that the goalie blocked on his right post and pushed ball wide for a cornerkick. Referee Joe Fletcher stopped the game there without letting the Attak get away a cornerkick. The Attak step into the league and are immediately competitive. They should get better with a few breaks and if the roster stays stead without a lot of call ups to the Impact.
The Attak dominated the end of the game after the second White Eagles goal. There advantage was dulled somewhat when Jean-Louis Besse was injured at 79 minutes and had to be treated off the field. The Attak had already used their two outfield players (plus one goalie) they brought as subs and had to play short. They have to play another game in Toronto this Sunday at Canadian Lions. They should have Abrahim Baldeh available for that game as he was serving a suspension for picking up a Red card in their opener and was hanging around the press box tonight.
CSL Executive Director Stan Adamson was here tonight and talked about having the Toronto Croatia vs Serbian White Eagles regular season match ups and the playoff championship game played at the new BMO Field in Toronto. Also these games may be broadcast using live internet audio to listen on the web and telephone pay-per-listen option for those without an internet connection.
Rocket Robin
robing@eol.ca
***comments added on Sunday at a game regarding attendance on this night:
Note: Attendances tonight were pretty accurate because of how small they were but on Friday night's Serbian White Eagles game, I said 225 after asking the women who came up to the booth to count the cash and one of them said 200 even after I said maybe there were a lot of people who got in with season ticket passes. She wouldn't budge. I made 225 the minimum as I estimated at halftime using her figures. I could have believed twice that amount. The White Eagles confirmed with the league 843 but they count all pass holders as going to every game (nothing wrong with that as MLS Toronto FC count 20000 at the rain drenched game last Wednesday against Houston Dynamo). CSL executive director Stan Adamson estimates 700. Yep I deserved an earful from my lowball attendance in my Friday report.


White Eagles players await national anthem.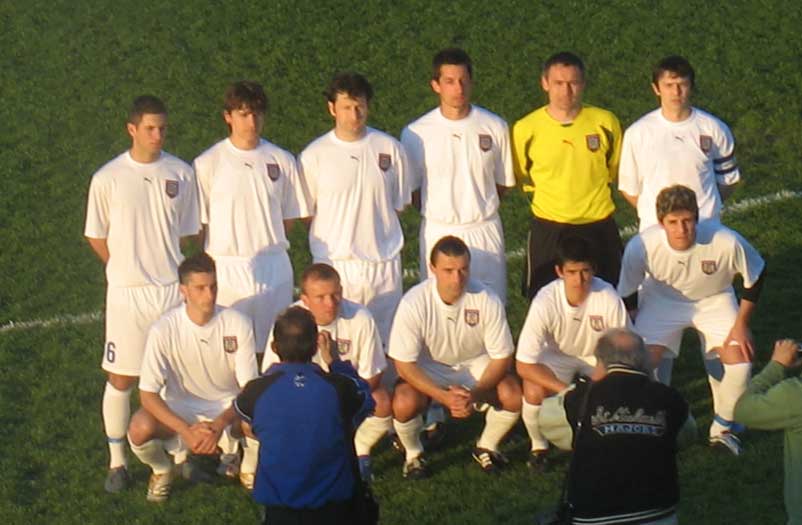 White Eagles starters pose for team photo.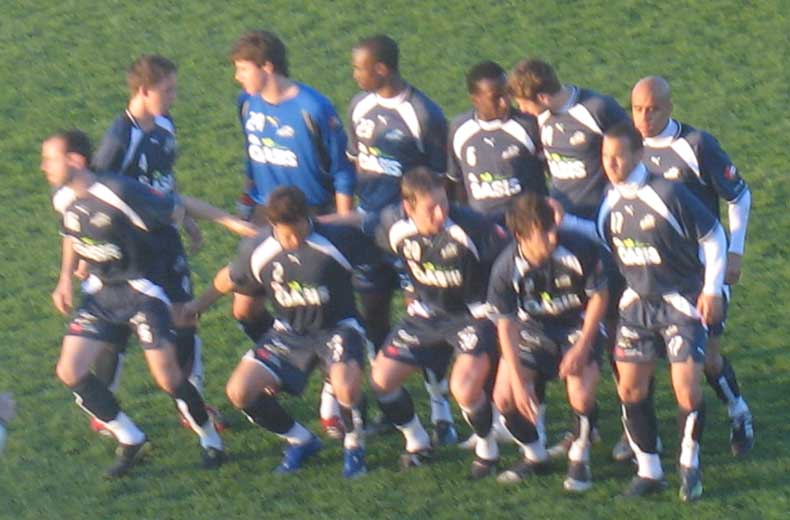 Attak starters break after posing for photo.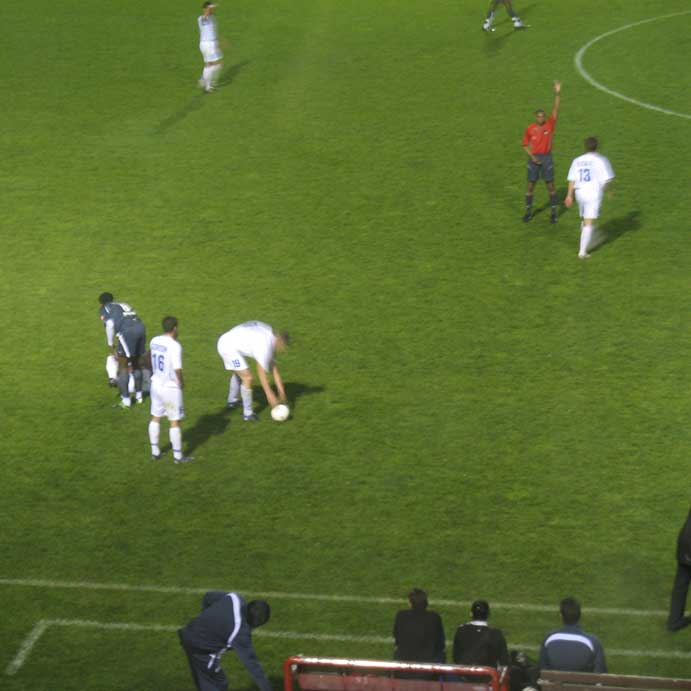 White Eagles player lines up freekick.
.
.