............

Result of the Friday July 6, 2007 CSL game between Toronto Croatia and Canadian Lions played at The Hershey Centre in Mississauga at 8:30pm.
Toronto Croatia (blue socks, white shorts and numbers, red shirts)
.......................1 George Azcurra
2 Robert Fran...6 Mario Kulis...3 Ante Brkic...16 Halburto Harris
19 Robert Grnja...5 Jonatan Bustamante...23 Boris Tomac...8 Hayden Fitzwilliams
..............22 Hugo Herrera...7 Tomislav Ples
Subs:...21 Roy Blanche (gk)...10 Leo Marasovic...11 Adolfo Mella...14 Tomislav Pavicic...15 Mario Beljo...18 Rudi Spajic...30 Tom Granic
team officials:...head coach Milodrag Akmadzic...assistant coach Tom Granic...trainer/physio Milan Krigan
Canadian Lions (white socks and shirts, navy shorts and numbers)
...................1 Matthew Willis
12 Aram Doski...10 Dejan Jakovic...18 Alan Keri...20 Kevin Ricketts
5 Eric Asanin...16 Marc Jankovic...3 Lovemore Ncube...15 Beleshi Misiara
.............13 Nikola Miodrag...9 Evan Milward
Subs:...4 Ryan Reece (mid)...7 Joe Rini (mid)...11 lexton Hurlock (fwd)...15 Adam Peros (def)...17 Marko Milanovic (mid)...19 Marko Janjicek (fwd)...21 Jelani Smith (fwd)
team officials:...head coach Predrag Milkovic...assistant coach Goran Rapaic...manager Blagoje Bratic...trainer/physio Brad Muir...club official Ken Mollineau
Game officials:...referee Greg Fabi...referee's assistants Kim Babb and Paul Bottos...fourth official Pasquale DeLuca...(yellow shirts, black shorts and socks)
1st Half:...game starts 8:40pm...TC defend south end on this warm evening with a bright sun in the north. The Hershey Centre is field turf, a wide field, and is near enough to the airport runway to Pearson airport. As there is no working scoreboard, all times are converted from my wristwatch.
2 min...The ball is kicked over the side fence, across the lane and down into the swamp.
5 min...Lions Ricketts injured in tackle at center line.
8 min...Lions Keri rush on left but roller from 15 yards on end line picked up by goalie.
9 min...TC goalie catches bounced header from 12 yards.
13 min…Croatia Boris Tomac GOAL…TC Hayden Fitzwilliams cross from 25 yards near left sideline has Tomac step in front of defender and one-touch kick deflecting ball 10 yards from left into right low corner of net.
14 min...Lions Keri 40 yard shot dips and hits top of crossbar.
15 min...Lions Keri 30 yard shot over crowd of players is caught by goalie.
16 min...TC goalie picks up Lions Misiara through ball roller from 30 yards before Lions Asanin can get to it.
17 min...TC Tomac 20 yard shot from left is into short outside webbing of net.
19 min...TC Kulis 30 yard blast through crowd of players low and wide left of net.
The sun is no longer a factor.
20 min...Lions Jankovic 30 yard blast that goalie bats wide right for cornerkick.
21 min...Lions player's cornerkick from right is cleared by defenders.
21 min...Lions Milward in crowd cuts 25 yard roller wide left.
22 min...TC Kulis is injured at own 35 yard line.
24 min...TC Bustamante 22 yard roller in crowd of players is well wide left.
26 min...TC Fran throw-in from right is cleared from Lions box.
27 min...TC Tomac injured by Lions Ncube on sliding tackle.
29 min...Lions defender heads away TC Fran cross from right just outside Lions box.
30 min...Lions player in crowd of players takes 30 yard roller wide right of net.
31 min...Lions YELLOW card...Ricketts for tackle on TC Tomace near sideline.
32 min...TC Ples injured in Lions box.
36 min...TC Tomac 22 yard shot low and rolls to goalie through crowd of players.
37 min...Lions Miodrag injured just outside the center circle.
40 min...TC goalie runs wide left to prevent through ball play.
40 min...TC Fran cross from 22 yards on right has TC Ples leap in crowd of players and head 8 yarder wide right of net on bounce. Lions Misiara was injured on edge of box.
41 min...Lions defender slide to stop cross rolled from left of box.
42 min...Lions Milward rush on left rolls cross for Lions Miodrag who blasts 22 yard roller wide left.
42 min...TC Herrera cross from right has goalie dive forwaard to catch.
43 min...TC Herrera 22 yard shot from right is over bar.
44 min...Lions YELLOW card...Miodrag for tackle near center circle.
44 min...TC Fran cornerkick from right has defender boot ball away.
45 min...TC goalie dives on through ball to prevent Lions Milward from getting to ball.
47 min...TC YELLOW card...Bustamante for tackle in center circle.
49 min...TC goalie dives on ball in box that spun off defender.
49 min...half ends 9:29pm.
49 min…Croatia RED card…Head coach Miodrag Akmadzic is ejected at the end of the half for am incident when the half was whistled over and players got into a pushing match leaving the field. Lions' players Nikola Miodrag and Lovemore Ncube were given Yellow cards for their team.

2nd Half:...starts 9:46pm.
halftime subs:...TC Mella replaces Tomac.
............Lions Reece replaces Miodrag.
............Lions Janjicek replaces Ricketts.
............Lions Rini replaces Misiara.
46 min...Lions Ncube 25 yard freekick from left is crossed into box and goalie catches in crowd of players.
48 min...Lions Reece weak roller from 20 yards is wide left of net.
49 min...TC Herrera rolls 15 yarder into net up middle but pass to him was offside.
51 min…Lions Marko Janjicek GOAL…Janjicek gets pass bounced to him and one-touch chips 12 yarder over goalie into right side of net.
54 min...TC Mella rolls pass up middle to TC Ples whose low 12 yard shot is stopped by sliding goalie.
55 min...Lions Milward takes pass on right and shot chipped to goalie from 20 yards.
57 min…Croatia RED card…Jonatan Bustamante picks up his second Yellow card of the game for a tackle on Lions Aram Doski who'd knocked over a Croatia player in the TC end a few seconds earlier.
58 min…Lions Joe Rini GOAL…Rini blast after freekick is low from 20 yards up the middle and goalie George Azcurra get piece of it but momentum spins ball over him and the ball pops into the net.
60 min...Lions Ncube spins 20 yard header that's caught by goalie after cross from right.
62 min...Lions Milward rush on right cuts over chips shot from 20 yards wide left.
65 min…Lions Evan Milward crosses ball into box from right and Lions Dejan Jakovic has his shirt tugged and referee Greg Fabi awards a penalty kick.
66 min…Lions Dejan Jakovic Penalty kick is low and to right and diving goalie blocks shot. Lions Milward crosses through the box from 5 yards but no Lions player is close enough to make a play.
68 min...TC Fitzwilliams 30 yard freekick from left has leaping TC Ples head ball over net from 8 yards in crowd of players.
69 min...TC Harris 20 yard cross tipped wide left for goalkick.
70 min...Lions YELLOW card...Janjicek for sliding tackle on TC Brkic near sideline in TC end.
73 min...TC Fitzwilliams charges in from left to get to cross at 6 yards and touches ball wideleft when Lions Doski collides with him. Both players are injured.
74 min...TC YELLOW card...Herrera for clipping goalie who dived for through ball and shadowed by defender on edge of box. TC Herrera is injured.
75 min...TC sub...Marasovic replaces Fran who leaves field by walking through end zone.
............TC sub...Granic replaces Herrera.
77 min...TC YELLOW card...Granic card for tackle in TC end.
78 min...Lions Doski 40 yard chip from right bounces to goalie.
80 min...TC YELLOW card...Mella for knock on Lions player near center circle.
80 min...Lions Jankovic 20 yard shot in crowd is caught by leaping goalie on right post.
81 min...Lions Milward gets pass centered from left and blasts 18 yarder well high and over net wide right.
83 min...Lions Reece freekick is left corner flag is cleared to right off box after danger in middle.
85 min...TC Fitzwilliams cornerkick from right has TC player flick header into box but blocked on line and partially cleared and TC Kulis 25 yard shot off target.
87 min...TC Granic 35 yard freekick from right has TC Marasovic on left nods header that ogalie blocks on line and ball cleared.
89 min…Croatia Tomislav Ples is mashed between charging Lions goalie Matthew Willis and a defender in box after he'd been popped a through ball into the Lions box. A Penalty kick is awarded.
90 min…Croatia Hayden Fitzwilliams GOAL…Fitzwilliams Penalty kick is kicked to top left corner of net with goalie diving for low kick.
93 min...TC Mella 40 yard freekick from right has defender head away on edge of box.
93 min...game ends 10:34pm.
Final Score:…………Toronto Croatia……….2……….Canadian Lions………..2………
Attendance was about 225 on this warm evening with a bright sun in the north that was only a factor for the first 20 minutes of the game.
This was the first home game of the season for Toronto Croatia. It was played at the new Hershey Centre soccer field (outdoors) and played on modern field turf. The field is wider than the bandbox they used to play at Memorial Field in Streetsville over the last few years. The park is near a flight path to Toronto Pearson International Airport and medium size planes were flying overhead as often as every two minutes. The grounds are surrounded by a chain link fence, very high in the end zones so balls don't go too far. The side fences are maybe only eight feet tall and at only the 2 minute mark a Croatia player knocked a ball over the side fence and it bounced over the gravel path and another chain link fence down into the swamp below. I wouldn't expect they could find that ball. Swamp? Uh-oh that means mosquitoes; just like old Memorial Field! The other limit like Memorial Park is there is no scoreboard.
Toronto Croatia hadn't played any CSL games in the last few weeks as they went over to Croatia and took part in a tournament. They won and brought home two trophies for beating the other ex-pat teams. Now it was announced last night they can be called "The best Croatian team from outside Croatia". Domagoj Sain was named the MVP in that tournament but was not a starter or sub for tonight's game.
Tonight's game was really rough with a lot of bumping hard tackles from both teams. I counted nine cards between the players including the Red card. Croatia assistant coach Tom Granic came on at 77 minutes and within two minutes had picked up a Yellow card.
Lions' coach Predrag Milkovic made three changes at halftime to shake things up by bringing in Ryan Reece, Marko Janjicek, and Joe Rini. It did work because they'd been outplayed in the first half.
Croatia coach Miodrag Akmadzic wasn't allowed to stay just outside the fence behind the player's bench so he got into the mini-van holding the sound equipment for the game at the centre line and shout out instructions from the open roof. It made him look like a tank commander.
Canadian Lions still have not won this year but now have three ties in eight games. Toronto Croatia has not lost this season and has four ties in seven games.
The teams meet again this weekend on Sunday evening and I wouldn't look forward to being the referee in that game as I believe hostilities will be renewed. Both teams had members of the 2006 Brampton Stallions. That team isn't operating in the CSL this year. Lions Nikola Miodrag played earlier this year for the PDL Toronto Lynx.
Rocket Robin
robing@eol.ca


Toronto Croatia starters


Canadian Lions starters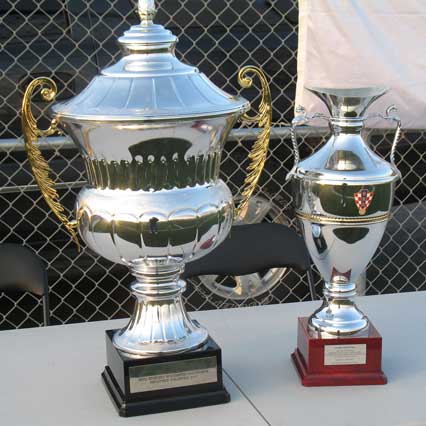 The trophies that Toronto Croatia won from the tournament in Croatia.


Marc Jankovic leads a rush for the Lions.
.
.