...........

Result of the Saturday July 7, 2007 CSL game between Italia Shooters and Portuguese Supra played at Mount Joy in Markham at 8:00pm.
Italia Shooters (blue socks and shirts, black shorts, white numbers and trim, red 'Saturn' logo on chest)
.......................00 Camilo Benzi
12 Alvaro Yaques...23 Andrew Stewart...19 Desmond Humphrey (cpt)...11 Fitzroy Christie
24 Courtney Dennis...18 Bill Androutsos...8 Chris Turner...5 Stalin Cardenas
..............13 Kadian Lecky...3 Gladston Richards
Subs:...1 Pablo Alvarado (gk)...2 Denny Veleastegui (def)...9 Jason DeThomasis (fwd)...7 Miles O'Connor (mid)...22 Geron Duporte (mid)...6 Anthony Valentime (mid)...25 Craig Taylor (fwd)
team officials:...head coach Tony DeThomasis...assistant coach Sam Medeiros...manager John Pacione...trainer/physio Stella Macris...team official Ruben Toro
Portuguese Supra (all maroon, yellow numbers)
......................1 Michael Silva (cpt)
19 Gavin Fuller...5 Yami William...4 Carlos Zebollos...23 Tim DiPedro
11 John Cardoso...17 Andrew DaSilva...3 Ronald Nicholas...14 Alban Vuktilaj
.................9 Michael DiLuca...8 Helio Pereira
Subs:...13 Jose Bottia (fwd)...25 David DiReino (mid)...20 Michael Aigboki (mid)...10 Daniel Zamien (mid)...22 Franky Iomore (mid)...12 Davey Merrick (mid)
team officials:...head coach Paolo Almos...manager Victor Cameira
Game officials:...referee Emil Schultz...referee's assistants Mike Izzo and Ashin Korkorian...fourth official Alex Hearn...(yellow shirts, black shorts and socks)
1st Half:...game starts 8:12pm...IS defend south end...as there is no scoreboard, all times are converted from my wristwatch.
2 min…Shooters Kadian Lecky GOAL…Lecky gets forward pass and his 18 yard shot from the left has goalie Michael Silva get a hand on it as he flies across goal but the ball deflects into the left side of the net.
4 min...Supra DiLuca gets bouncing pass and IS Humphrey catches him to head ball down and goalie slides right to smother it.
11 min...Supra Cardoso pass on right wing forward to Supra Nicholas who crosses through box from 15 yards but no Supra players are there to make play.
12 min...Supra Pereira gets to ball up middle and chips over net from 20 yards.
13 min...Supra Pereira cornerkick from right has ball headed through box and cleared.
14 min…Shooters Kadian Lecky GOAL…Lecky takes low shot from 12 yards from right and sliding defender on goal line can only deflect it from left corner into right side of net.
18 min...IS YELLOW card...Lecky for sliding tackle near sideline.
19 min...Supra Cardoso rush down right wing and cross is caught by goalie.
20 min...Supra DiLuca cornerkick from right has leaping Supra William in crowd of players head 8 yarder that hits top of bar over flying goalie.
20 min...Supra YELLOW card...DiLuca for kicking ball away to center of field when he's not awarded a second cornerkick.
23 min...Supra sub...Zamien replaces DiPedro.
27 min...Supra DiLuca touches ball left to Supra Cardoso who in alone round sliding goalie but shoots into outside webbing of net from 8 yards.
29 min...IS Cardenas runs and crosses from 20yards on left over players in Supra box.
31 min...IS Androutsis chips ball into box from 35 yards that goalie outjumps forward to catch.
32 min...Supra player's cornerkick is short and recrossed from right and ball id deflected over net for cornerkick.
33 min...IS Humphrey rush on left passes back to IS Richards who blasts 20 yarder through crowd and flying goalie pushes wide right for cornerkick.
34 min...IS YELLOW card...Christie for not giving 10 yards on freekick near right cornerflag.
35 min...Supra Pereira freekick from near right cornerflag has goalie drop ball near right post but play is whistled down although Supra player blasted over net from 3 yards.
38 min...Supra YELLOW card...Fuller for grabbing IS Lecky rushing up right wing.
39 min...IS Richards blasts scissor kick from left wide left from 8 yards when he receives freekick cross from right.
44 min...Supra Zamian 65 yard pass catches Supra Pereira alone on left and chips 20 yard shot over goalie that hits bar and ball cleared.
45 min...Supra DiLuca tapped freekick and chips over wall from 25 yards and Supra Pereira booots over net from 12 yards.
47 min...half ends 8:59pm.
2nd Half:...starts 9:11pm.
halftime subs:...IS O'Connor replaces Androutsos.
46 min…Referee Emil Schultz awards penalty kick to Supra.
47 min…Supra Helio Pereira Penalty kick shot to right is low and diving goalie Camilo Benzi pushes ball wide right for a cornerkick.
48 min...Supra DiLuca blasts shot on right that hits bar and defender heads ball away.
49 min…Supra RED card…Gavin Fuller draws his second Yellow card for a sliding tackle on the sideline. The Shooters player was injured which at that time made three Shooters players laying on the field at the same time including the goalie Camilo Benzi.
51 min...Supra RED card...Supra's manager Victor Cameira was ejected for arguing on the sideline.
52 min...Supra DiLuca on breakaway has sliding goalie make point bland stop on 15 yards shot and grabs ball.
58 min...IS Dennis 30 yard shot is wide right.
58 min...IS sub...DeThomasis replaces Richards.
59 min...IS goalie smothers Supra player's rolling cross from right end line.
60 min...IS O'Connor 20 yard shot stopped by sliding goalie. IS DeThomasis 20 yard shot is stopped by sliding defender.
61 min...Supra DiLuca has goalie make point blank save on right.
62 min...IS sub:.....Alvarado replaces Benzi in goal.
...........IS sub:...Duporte replaces Cardenas.
63 min…Shooters Kadian Lecky GOAL…Lecky rush in on right and slides 18 yard shot from right into left side of net.
64 min...IS goalie catches Supra player's freekick from 25 yards in crowd of players.
65 min...Supra sub...Merrick replaces Yuktilaj.
66 min...IS Dennis 15 yard blast down middle is well over net.
67 min…Supra Ronald Nicholas GOAL…Nicholas rush on left and slides 20 yard shot into low right corner of net beyond substitute goalie Pablo Alvarado.
69 min...Supra DiLuca run on right cutting in towards IS net and rolls cross but two Supra forwards miss making play.
70 min…Shooters Jason DeThomasis GOAL…DeThomasis 20 yard blast from right is into left side of net.
70 min...IS sub...Velastegui replaces Yaques.
73 min...I couldn't see and injured Supra player over the mound slope of the field.
76 min...IS Lecky rush on right and goalie slides to make save.
76 min...IS sub...Taylor replaces Dennis.
76 min…Major pushing/punching match between players breaks out.
…………Supra RED card…Carlos Zebollos for punching Jason DeThomasis.
…………Shooters RED card…Jason DeThomasis for punching Carlos Zebollos.
…………Shooters RED card…Bill Androutsos for rushing onto the field to 'separate' the combatants. Androutsos had been subbed out at halftime and was sitting on the players' bench in street clothes.
81 min…game ends 9:47pm...The game has still not resumed but referee Emil Schultz after repeated warnings to players and being constantly being sworn at abandons the match.

Final Score:…….Italia Shooters…….4………Portuguese Supra………1……….
Attendance was about 200 on this hot evening. The game was played at Mount Joy, the home of the Markham Soccer Club. They were having a tournament with kids teams coming from as far away as Australia and Rochester New York. I'm pretty sure I've been here before but I first drove 5 km past the entrance as this area is no longer farmland and the park is surrounded by subdivisions. The quirk about this field is it slopes from the center to the east sideline. The slope is so severe from the sideline we couldn't see a player that had been knocked down and was lying injured on the west sideline. This field is natural grass but has no scoreboard. The grounds are ringed with more swampland. Ack, two nights in a row as the Hershey Centre field had swamps beside them too. Pack bug spray for evening games!
Kadian Lecky scored a hat trick and was a crowd favourite for running over to the sidelines with his fingers to his lips like he was saying "Shhhhh". Shooters played a crowd pleasing game with lots of offence but they should've tightened it up after going a man up in the early second half but they continued to let Supra get a player behind the defenders and goalies Camilo Benzi and then, after 62 minutes, Pablo Alvarado had to make some good saves. Supra's Helio Pereira had missed some good chances in the first half including chipping the goalie and hitting the bar at 45 minutes and than booting a ball over the net from 12 yards one minute later during injury time before the early second half penalty kick. Michael Diluca and John Cardosa had also missed good chances. Yami Nicholas hit the bar with a header from 8 yards at 20 minutes.
I had moved to stand on that side of the field at halftime to keep better track of the substitutes. The fight that ended the game was near the team benches. A good thing this was kept away from the kids in the stands because what would ejections and fights be like without the "F" word being used quite often? Jason DeThomasis claimed he was punched first and he looked like his eye would be swelling shut very shortly and he routed through the cooler on the sideline for some ice stalling around after being ejected. His father head coach Tony DeThomasis was the person who had finally been able to get him to the sidelines after the fight.
I was a bit surprised that the players or club officials couldn't restore order because when the referee said the game was 'abandoned' it gave me an idea that the whole game would have to be replayed or points would be docked. This is what happened in the last minute of the WC qualifier between Denmark and Sweden with the score tied and some drunken fan ran onto the field and tried to hit the referee. I didn't get a chance to fill in some notes I wanted to ask after the game (like why was the penalty kick awarded) because I felt noone was in the mood but I did get Kadian Lecky to pose for a picture for this more detailed game report. The next day's league announcement had the score stand at 4-1 so both teams just have to worry about how many and how long the suspensions will be.
Rocket Robin
robing@eol.ca


Shooters starters


Supra starters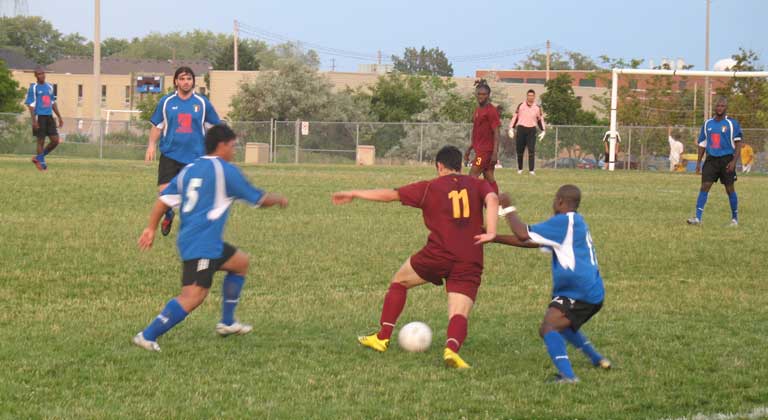 Supra's John Cardoso on rush.

Cardoso doesn't get too far on this rush.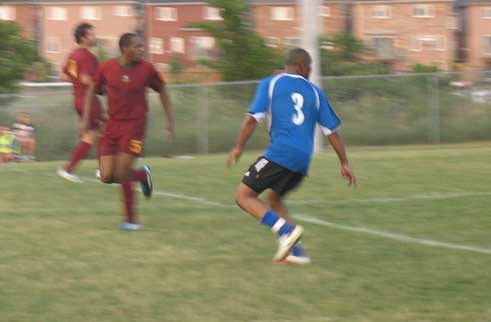 Shooters Gladston Richards waiting for pass.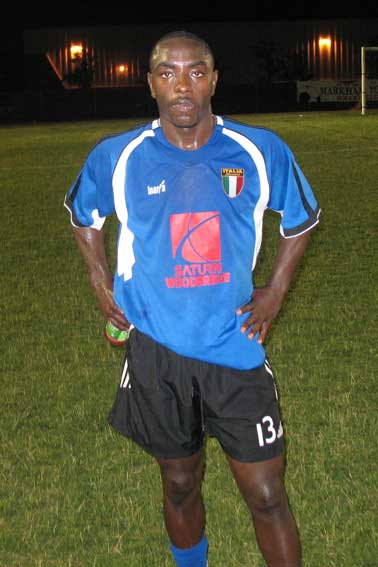 Kadian Lecky who scored three goals wasn't really in the mood to celebrate based on how the game ended.
.
.