.............

July 12, 2007 CSL Portuguese Supra vs Canadian Lions Open Canada Cup (by Rocket Robin)
Result of the Thursday July 12, 2007 CSL game between Portuguese Supra and Canadian Lions played at The Soccer Stadium in Vaughan at 8:30pm. This was a second round match in the Open Canada Cup.
Portuguese Supra (all maroon, yellow numbers)
....................1 Michael Silva
2 David Ribeiro...3 Ronald Nicholas...5 Yami William...19 Gavin Fuller
...........8 Selmir Semic...15 Giovanni Annisi...17 Andrew DeSilva
...........9 Michael DiLuca...13 Helio Pereira...11 John Cardoso
Subs:...4 Carlos Zebollos...10 Paviel Cameiro (mid)...12 Timothy Pedro (mid)...14 Alban Vuktilej (fwd)...20 Micheal Aigibokie...22 Franky Carreira...23 Winston Griffiths (mid)
team officials:...head coach Paulo Almos...manager Victor Cardosa...train/physio Richard Archer
Canadian Lions (white socks and shirts, navy shorts and numbers)
........................1 Matthew Willis
14 Adam Peros...10 Dejan Jakovic...12 Aram Doski...15 Beleshi Misiari
5 Eric Asanin...3 Lovemore Ncube...17 Marko Milanovic...4 Ryan Reese
................9 Evan Milward...21 Jelani Smith
Subs:...7 Joe Rini...8 Nordo Gooden...11 Lexton Hurlock...13 Nikola Miodrag...18 Alan Keri...19 Marko Jancicek
team officials:...head coach Goran Miscevic...assistant coach Blagoje Bratic...manager Ken Mollineau...trainer/physio Doug Neal...team official Predrag Mikovic
Game officials:...referee Mike Winstanley...referee's assistants Vladen Djorojevic and Matt Arduini...fourth official Jeff Pearlston...(yellow shirts, black shorts and socks)
1st Half:...game starts 8:37pm...Supra defends north end on this mild night with a strong wind from the west. This is not the home field of either team so no-one has access to the scoreboard or a PA system. All times are converted from my wristwatch.
2 min...Supra player takes 30 yard freekick from right that's blocked by defender on edge of box.
3 min...Supra goalie picks up low 40 yard freekick from left.
6 min...Lions Asanin cornerkick from right has Lions Milward pass right to Lions Ncube whose 30 yard shot that wind blows and just misses top right corner.
7 min...Lions Asanin cornerkick from left is caught by goalie.
A double rainbow can be seen in the south.
15 min...Lions Milward pushed pass but galls over on edge of box.
16 min...Supra player given pass on right and dribbles along edge of box running left and falls over.
17 min...Lions player's cornerkick from left is over players in box and caught by goalie in wind.
18 min...Lions Smith shoots 30 yard shot up middle that's well wide right.
21 min...Supra YELLOW card...Fuller for sliding tackle on Lions Asanin near right corner in Supra end.
22 min...Supra Fuller 30 yard shot from left bounces to goalie.
23 min...Supra DiLuca 35 yard freekick bends to goalie on right for him to catch.
In the distance there's now lightning in the south.
24 min...Lions Doski checks Supra DiLuca off ball before he can control ball in Lions box.
26 min…(9:03pm) Referee Mike Winstanley halts the game because of lightning in the distance. Better safe than story but neither team is pleased. As soon as the game is called the storm, which is south of where we are, moves from the west to the east and the lightning is even further away.
26 min...(9:20pm)…game restarts…not a drop of rain had fallen and the wind has suddenly stopped. Supra players had not left the field during the delay.
27 min...Lions Misiari 40 yard shot from left is smothered by diving goalie.
30 min...Lions Evan Milward GOAL…Lions Marko Milanovic 35 yard freekick from left has Milward running up middle one-touch 10 yarder into top right corner of net beyond goalie Michael Silva.
35 min...Lions sub...Miodrag replaces Smith.
36 min...Supra Pereira 12 yard blast from right has goalie dive and push wide right of post on hard shot.
37 min...Lions Ncube clears off line after Supra Pereira cornerkick from right has Supra player recross from left in box.
40 min...Supra DeSilva rolls 22 yard shot wide left of net.
42 min...Lions Milward rush down left and cross to post has partial clearance after goalie save and Lions player blasts low 20 yard shot up middle to fallen goalie on left post who pushes ball wide.
43 min...Supra goalie catches cornerkick from left.
45 min...Supra William 35 yard cross from right is wide left of net for goalkick.
47 min...half ends 9:41pm.
2nd Half:...starts 9:49pm.
halftime sub:...Supra Griffiths replaces Cardoso.
47 min...Supra Ribeiro 45 yard cross from right has Supra Diluca shoot as he falls at 10 yards on left and his shot is wide right of goal.
48 min...Supra Semic 30 yard freekick cross from right has defender head ball away and Supra Ribeiro take 22 yard shot on clearance wide left from up middle.
49 min...Lions Milward 20 yard shot from left is wide left.
50 min...Supra Semic cornerkick from right has defender head away from box.
51 min...Lions goalie catches ball deflected off Supra pass on rush that deflects off player.
52 min...Supra DiLuca on rush up middle rolls pass left and Supra player backheels pass further left and Supra Griffiths blasts 15 yard shot over net.
54 min...Lions YELLOW card...Miodrag for not giving 10 yards on freekick deep in Supra end. Supra Nicholas blast ball off Miodrag's head!
56 min...Lions goalie catches 45 yard shot from left that bounces through crowd of players.
57 min...Supra Semic rush on right and cross that goalie flies forward to catch.
59 min...Lions sub...Jancicek replaces injured Milward who'd been crunched near sideline.
60 min...Supra Semic cross from right drifts behind net.
62 min...Lions Jancicek breakaway from 50 yards up middle has low 25 yard shot that sliding goalie near end of box deflects wide right for cornerkick.
63 min…Supra Helio Pereira GOAL…Supra Winston Griffiths 20 yard shot from left hits bar and deflects back into play and Pereira boots 12 yarder into open left corner of net with goalie Matthew Willis down.
65 min...Lions Ncube 25 yard freekick from left is blocked by leg in player wall.
67 min...multiple injuries. Supra Semic comes off the field with a bloody hand. There's definitely a Lions player injured.
68 min...Supra YELLOW card...Nicholas for leaving player wall therefore not giving 10 yards on a freekick. Supra Semic returns to game before freekick retaken.
69 min...Lions Jancicek 27 yard freekick hits player in Supra wall.
71 min...Lions goalie leaps and crashes with Supra player making catch.
72 min...Lions Jancicek gets long freekick from 45 yards and cross is cleared.
73 min...Lions Jancicek lofts 35 yard shot well over net.
74 min...Supra Pereira rush and cuts 25 yard shot from right that goalie dives forward to save.
74 min...Lions goalie bats down cross from right directly to Supra DiLuca who blasts 12 yard shot at partially fallen goalie and deflects wide left.
74 min...Supra DiLuca cornerkick from lleft has goalie punch ball out of box.
75 min...Supra Semic crosses from right and ball drifts over net.
77 min...Lions Ncube 30 yard blast through crowd of players high and wide left of goal.
79 min...Lions Misiari low 30 yard shot through crowd of players from left is wide left.
80 min...Supra player rushes on left and crosses wide right for goalkick.
81 min...Supra have three guys injured! Supra DeSilva hurt in Lions box trying cross. Supra DiLuca is worst hurt outside of box on partial clearance and another Supra player is hurt in crash with goalie.
84 min...Supra DeSilva 35 yard shot up middle is caught by goalie.
85 min...Lions goalie charges out right to catch ball on deflection.
86 min...Supra Griffiths rush to left end line and crosses that has ball knocked around.
86 min…Supra Yami Williams GOAL…Williams 12 yard shot from left after he gets pass on rush and his shot is into right side of net.
87 min...Lions sub...Hurlock replaces Asanin.
.........Supra sub...Vuktilej replaces Semic.
88 min...Supra Pereira on 2 on 2 rush with Supra Vuktilej. They beat both guys on pass to right but Vuktilej one-touch shoots well wide right from 22 yards.
89 min...Supra sub...Cameiro replaces DeSilva.
92 min...game ends 10:36pm.
Final Score:……Portuguese Supra………2………..Canadian Lions………1…………
Attendance was about 45 on this mild evening with a strong wind from the west. Some of the fans left their seats during the storm delay which was a good idea for an expected lightning storm in the stands made out of aluminium. Later in the game there were about the same number of fans which might mean everyone returned or were replaced by people coming over from the indoor facilities to see what was going on. Not that these teams have huge crowds but this was on a neutral site (home field of Italia Shooters) and I had less than a week's notice for this game.
Both these teams are struggling in CSL league play after nine games each with Supra only winning one game so far this year and Lions with no wins. This game got rough at times with at one point before the Supra winning goal, three Supra players were down injured at the same time all in separate incidents.
Supra players calling out "Vancouver" as a nickname for Winston Griffiths reminded me of this player. Yep. He's played for the USL Vancouver Whitecaps in the past with Jamaican national team experience. Carlos Zebollos was listed as a Supra sub for this game although I didn't see him come into the game. In league play he would be serving a Red card suspension.
Rocket Robin
robing@eol.ca


Lions starters


Supra starters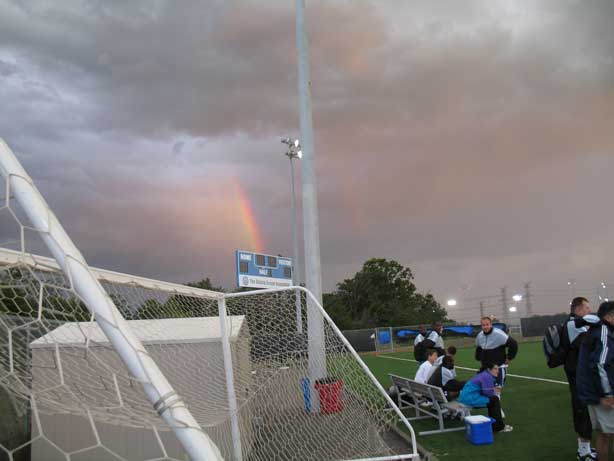 A double rainbow at the end of the storm. Can barely see the second one on the other side of the pole.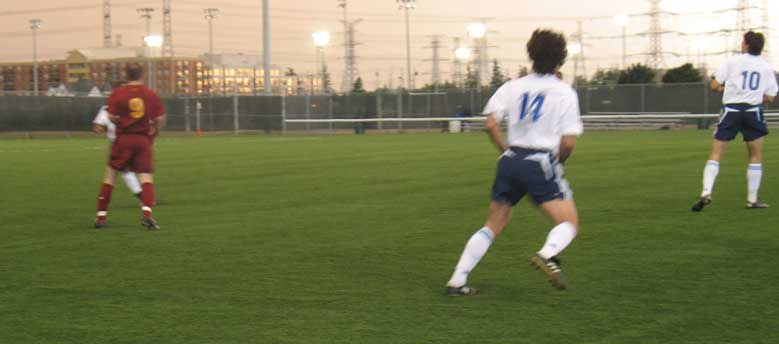 Shooters players wait for pass.


Supra break out of own end.
.
.