...............

Result of the Sunday September 9, 2007 CSL game between Italia Shooters and Toronto Croatia played at The Soccer Centre in Vaughan at 8:00pm.
Italia Shooters (blue socks and shirts, black shorts, white numbers and trim)
...........................00 Camilo Benzi
22 Geron Duporte...20 Alex Ruhe Lischke...4 Rick Titus...11 Fitzroy Christie
23 Andre Stewart...7 Cameron Medwin...8 Chris Turner...19 Desi Humphrey (cpt)
.....................14 Sean Myers...13 Kadian Lecky
Subs:...1 Pablo Alvarado (gk)...6 Eduardo Garcia (mid)...10 Josua Jaramillo (mid)...18 Alexander Almeida (fwd)...21 Kevin Omakua (fwd)...24 Niko Martinez (fwd)
team officials:...head coach Tony DeThomasis...assistant coach Sam Medeiros...manager John Pacione...team officials Julian Carr and Ruben Toro
Toronto Croatia (blue socks, white shorts and numbers, red shirts)
..........................1 George Azcurra
2 Robert Fran...4 Domagoj Sain (cpt)...6 Mario Kulis...16 Halberto Harris
23 Boris Tomac...19 Robert Grnja...5 Jonatan Bustamante...8 Hayden Fitzwilliams
.....................22 Hugo Herrera...9 Tihomir Maletic
Subs:...12 Marko Culjak...3 Ante Brkic...11 Mario Pupic...15 Mario Belio...30 Tomy Granic
team officials:...head coach Milodrag Akmadzic...assistant coach Tomy Granic...manager Vlado Manjerovic...trainer/physio Milan Krljan
Game officials:...referee Steve Cahoon...assistant referee Emonok Gherghel and Yusri Rudolf...fourth official Leif Maitland...(neon green shirts, black shorts and socks)
1st Half:...game starts 8:06pm...IS defend north end on this mild overcast evening with the rain from last night and some rain earlier today.
1 min...TC Maletic and IS Stewart injured when they knock heads.
3 min...TC Tomac gets tapped over freekick and blasts 35 yard kick wide right of net.
4 min...TC Herrera rush up right and rolls cross to TC Tomac who shoots roller under diving goalie from 20 yards but wide right of net.
6 min...TC goalie dives out to block through ball.
10 min...TC Maletic 30 yard freekick from right bent to goalie under bar.
12 min...IS Medwin 22 yard freekick from left is crossed into box and blocked by defenders and cleared.
13 min...IS Lecky rolls pass upfield from 15 yards but IS player ruled offside.
14 min...IS Turner 30 yardd shot through crowd of players and well over net from 25 yards.
Lots of great passes on both sides but everything is broken up before players get into box.
22 min...IS Christie 35 yard freekick from left has defender on right head ball away in box.
23 min...TC Tomac cross from center line on right has TC Fitzwilliams chest ball down with and at 30 yards so play whistled down.
24 min...IS Titus and TC Harris crash together at IS 30 yard line.
25 min...TC Bustamante pushes 30 yard freekick forward to TC Maletic who rolls cross through box unplayed!
28 min...IS Lecky 25 yard blast is well over net after he intercepts defender's goal kick.
28 min...IS Myers cross from TC end line is deflected for cornerkick.
29 min...IS Christie cornerkick from right is blocked and cleared by nearest defender.
30 min...TC Tomac 30 yard blast deflects for cornerkick.
31 min...TC Tomac cornerkick from right is partially cleared and TC Bustamante blasts 30 yarder well over net.
32 min...IS YELLOW card...Titus for crash with TC Herrera near center circle.
33 min...TC Tomac gets cross from left and has shot deflected by IS Titus from 22 yards and goes for cornerkick.
35 min...IS goalie charges left to grab through ball.
38 min...TC player's 45 yard freekick from left has TC Maletic twist head 12 yarder down middle that's caught by goalie.
40 min...IS Lecky injured near center line.
41 min...IS Christie injured making clearance on IS edge of box.
46 min...TC Maletic on break out pass tips ball forward but it's ruled offside.
47 min...TC Tomac rolls 30 yards shot up middle wide left.
49 min...IS Humphrey recovers IS Ruhe Lischke cross from right through box and cross to middle and headed away by defender.
49 min...half ends 8:55pm.
2nd Half:...starts 9:11pm.
47 min...TC goalie charges right to pick up through ball.
47 min...TC Tomac cross from 30 yards on right sideline drifts behind net.
48 min...TC Bustamante injured just outside center circle.
50 min...TC Fitzwilliams rush down middle then pushes ball forward offside.
51 min...IS goalie beats TC Herrera to through ball.
53 min...IS Medwin 35 yard shot up middle after pass from throw-in has goalie pick up shot ahead of IS Myers.
55 min...IS Duporte 30 yard shot has defender stop in TC box.
56 min...IS YELLOW card...Stewart for sliding tackle on TC Maletic in center circle.
59 min...TC Grnja rush on left has TC Herrera twist 10 yard header that's caught by goalie.
60 min...TC sub...Pupic replaces Bustamante.
65 min...TC Grnja cross from 25 yards on left has defender head away.
66 min...TC Pupic cornerkick from left has defender head ball away.
68 min...TC YELLOW card...Herrera earns it has IS Turner injured before TC Pupic ready for cornerkick from right. He's hit in the nuts says the trainer after she comes back from the field.
69 min...TC goalie comes to edge of box to catch an IS fast break shot.
69 min...IS goalie slides out to block TC Fitzwilliams 20 yard shot.
70 min...IS goalie punches forward TC Pupic freekick from left. IS Turner blasts 30 yard rebound well over net.
71 min...IS sub...Jaramillo replaces Turner.
72 min...TC Herrera passes right to TC Maletic who delays run and rolls ball for throw-in.
74 min...TC Fitzwilliams pass forward to TC Tomac who taps ball over to TC Herrera whose 20 yard shot is caught by goalie. TC Tomac was injured on the play.
76 min...IS sub...Almeida replaces Lecky.
78 min...TC goalie charges off line to catch ball into box.
79 min...IS goalie crunched in tackle when TC player piles into him as he's charging out to stop ball.
80 min...TC sub...Brkic replaces Tomac.
81 min...TC Maletic pass to TC Fitzwilliams on left who rolls cross from 20 yards on end line that's picked up by goalie.
82 min...TC Brkic long throw-in from left has TC Herrera pop up header that's caught by goalie.
83 min...IS Titus pokes ball from TC Herrera from getting shot in box.
86 min...TC Granic replaces Herrera.
87 min...IS Medwin 30 yard freekick from far left has defender clear ball behind own line on right.
87 min...IS player's cornerkick from right has defender clear.
89 min...TC Maletic dives to knees to head 12 yarder wide right after cross from right and his cross is deflected for cornerkick.
90 min...TC Brkic pass from left has TC Grnja 30 yard shot saved by defender in box.
92 min...IS players good rush is worked into middle but ball checked away before a shot on net.
93 min...TC sub...Belio replaces Fitzwilliams.
93 min...game ends 9:59pm.
Final Score:…….Italia Shooters……….0…………..Toronto Croatia……..0…………
Attendance was about 80 on this warm night. There had been rain the night before and it looked like rain from earlier in the day but nothing fell while the game was on.
Play was pretty even throughout the night with one patch between 15 and 21 minutes when no ball was inside the 20 yard lines of either team yet the passing was great, just one pass too short of getting a clear shot or a break in the box. Many of the shots throughout the game were blocked or saved by defenders rather than the goalies although they were both called on to make a few stops.
Camilo Benzi for the Shooters and George Azcurra for Croatia earned the shutouts for each team. Benzi had a tougher time lucky to stay in the game when he was crunched by a Croatia player when he charged to the edge of box to punch a ball away.
Shooters defender Rick Titus asked me after the game if I thought the game was boring. I didn't think that because this was a close, hard fought game. Referee Steve Cahoon stopped the game in the first half to warn Croatian head coach Milodrag Akmadzic and in the second half on Shooters assistant coach Sam Medeiros to stop complaining from the sidelines. He never lost control of the game and kept the cards to a minimum. One of his cards though was at 68 minutes to Croatia's Mario Pupic when Shooters Chris Turner suddenly went to ground while a group of players stood waiting for a cornerkick into the Croatia box. Shooters physio Stella Makcis examined his injury then came back off the field to tell their bench. "Nothing I can do for him, he got hit in the balls".
Croatia coach Milodrag Akmadzic was very upset at the usually reliable Hayden Fitzwilliams who held back on some rushes and made some offside passes breaking up Croatian rushes. Tihomir Maletic and Hugo Herrera were the forwards for Croatia.
Shooters coach Tony DeThomasis answered me before the game to explain how they were beaten 4-0 by Croatia on Friday. They had three starting defenders at a Footsal tournament in South America. Fitzroy Christie was back for tonight's game and Denny Velastegui and Alvaro Yaques will be back and ready for the next game. Midfielder Bill Androutsis was suspended for the rest of the year by the league for getting into a fight after already being subbed off. Forward Jason DeThomasis is serving a suspension for being ejected from the Open Canada Cup semi-final last weekend.
With a tie tonight, this showed that Shooters could rebound from their 4-0 loss, the Serbian White Eagles jumped into first place in the International Division with a 5-1 win over North York Astros. That game started an hour before this one and announcements were made during the game about the score 2-0, 3-1, 4-1, and 5-1 as the evening went on. Next game for Toronto Croatia is against the White Eagles on Thursday night at Centennial Stadium in Etobicoke. This game was sold as a 'home' game for White Eagles with tickets only being distributed through Serbian ethnic shops and clubs. There are no tickets available on the night of the game and one reason for the game being on Thursday rather than the weekend is to stop any travelling rowdies from out of the city from causing trouble. A game later in the season will be treated as a 'home' game for Croatia.
Rocket Robin
robing@eol.ca


Croatia starters

Shooters starters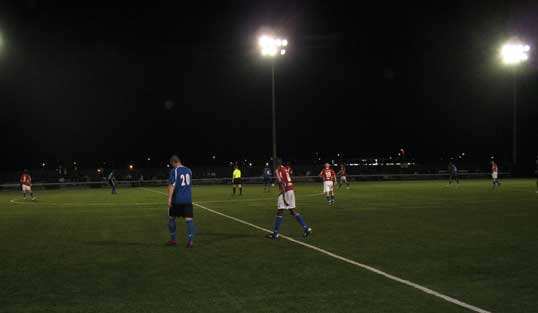 1st half action.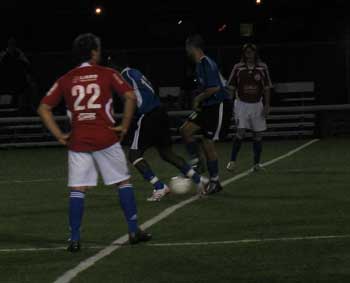 Shooters kick off the second half.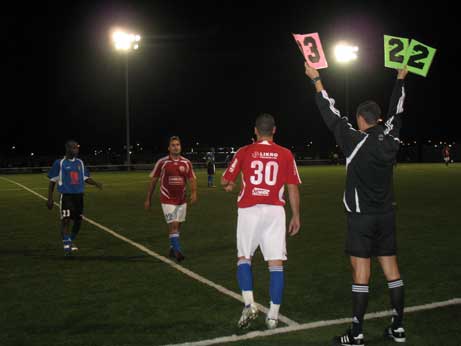 Croatia's sub Tomy Granich replaces Hugo Hererra at 86 minutes.
.
.