.................

Result of the Saturday October 27, 2007 CSL game between Toronto Croatia and Serbian White Eagles played at Esther Shiner Stadium in North York at 5:00pm.
This was the first leg of the CSL Championship Final.
Toronto Croatia (blue socks, white shorts and numbers, red shirts)
.......................1 Marko Zuljak
16 Halburto Harris...19 Robert Grnja...4 Domagoj Sain...3 Ante Brkic
6 Mario Kulis...23 Jonatan Bustamante...11 Mario Pupic...8 Hayden Fitzwilliams
................9 Tihomir Maletic...7 Tomislav Ples
Subs:...21 Roy Blanche (gk)...12 Heiko Bauer...2 Robert Fran...15 Mario Beljo...13 Damien Scot...18 Leo Marasovic
team officials:...coach Tomy Granic...manager Vlado Majerovic...trainer Ivan Ljubk and Velimir Crljen
Serbian White Eagles (white socks, names and numbers, blue shorts and shirts)
.......................27 Djordje Radan
17 Dragan Cosic...8 Nenad Stojcic...20 Milan Janosevic...10 Alex Braletic
9 Sasa Viciknez (cpt)...6 Mirko Medic...19 Dragorad Milicevic...13 Nikola Budalic
.....................11 Gabriel Pop...18 Zoran Kokat
Subs:...01 Danilo Starcevic (gk)...15 Milos Scepanovic (fwd)...24 Mihailo Bacanin (mid)...14 Milan Janikic (mid)...21 Daniel Milojevic (mid)
team officials:...head coach Branko Pavlovic...assistant coach Aca Krivokapic...manager Dragisa Latinic...physio Dean Stambolic...trainer Milenko Matic
Game officials:...referee Sylviu Petrescu...referee's assistants Kim Babb and Ben Salvenescu...fourth official Emil Schultz
1st Half:...game starts 5:16pm...TC defend west end on this cool evening with a strong wind from the west.
1 min...TC Grnja cornerkick from right is through players in box and knocked wide left for goalkick.
4 min...SWE Pop kicks TC Harris in chest from behind at TC 45 yards, injurying him.
6 min...SWE Pop 20 yard cross on run on right is drifted over net.
7 min...TC Maletic 35 yard freekick up middle through crowd of players is smothered by goalie.
9 min...TC goalie charges to edge of box to catch through ball bouncer.
12 min…Croatia Jonatan Bustamante GOAL…TC Tihomir Maletic 20 yard freekick up the middle has goalie Djordje Radan stop shot on dive to right but Bustamante charges up for rebound to head ball under bar from 7 yards over fallen goalie.
13 min…White Eagles Dragorad Milicevic GOAL…Milicevevic's 35 yard freekick from right drops down into top left corner of net over goalie Marko Zuljak.
18 min...SWE Viciknez 25 yard freekick from extreme left is over players in box.
19 min…Croatia Mario Pupic GOAL…Pupic 35 yard shot up middle in crowd of players flies into top right corner of net.
21 min...SWE Milicevic midair blast from 25 yards is well over net up middle.
22 min...TC Bustamante 45 yard freekick up middle wide to left side of box but play whistled down.
24 min...TC Pupic 35 yard freekick blast up middle is well over net.
25 min...TC Bustamante pushes ball forward from 20 yards but rolls to goalie.
26 min...TC Ples injured in collision at TC 30 yard line.
A misty rain starts.
28 min...SWE Stojcic chips 25 yard ball into box but goalie catches.
31 min...SWE Kokat 30 yard shot is high and wide right.
32 min...SWE Pop elbows TC Grnja in center circle well away from play as SWE goalie catches chip into box.
38 min...SWE Braletic cross from left into box has TC Grnja head away.
40 min...SWE Medic and TC Maletic injured in collision on edge of SWE box.
42 min...TC YELLOW card...Bustamante for check on SWE player at TC 30 yards after sliding tackle on SWE Viciknez 20 seconds earlier.
44 min...TC Fitzwilliams cross to TC Maletic after TC player's freekick from left has goalie make point blank save.
45 min...SWE Viciknez cornerkick from right has defender clear ball away.
46 min...TC Maletic long run on left but rolled cross is cleared from box.
46 min...SWE Pop cross from right is caught by goalie.
47 min...Croatia Jonatan Bustamante GOAL…Bustamante blasts 30 yard shot up middle into top right corner of net after receiving a rolled crossed ball from the left sideline.
48 min...SWE Viciknez low 25 yard shot bobbled by goalie then ball is cleared by defender.
48 min...half ends 6:04pm.
2nd Half:...starts 6:22pm...now there's not rain but the weather is still windy.
halftime sub:...TC Blanche replaces Zuljak in goal.
46 min...TC goalie catches 12 yard flick header from left.
48 min...SWE Milicevic 15 yard lobbed shot just wide right.
51 min...SWE YELLOW card...Janosevic for tackle on TC Maletic injurying him near center line.
52 min...TC Harris 40 yard shot up middle is wide right.
53 min...SWE Viciknez 25 yard freekick from extreme right headed away for throw-in from defender in box.
57 min...SWE Viciknez 25 yard freekick along end line on left has defender head ball across box.
58 min...SWE Viciknez cornerkick from right headed for another cornerkick.
59 min...SWE Viciknez cornerkick from right is well over players in box wide left.
59 min...TC sub...Marasovic replaces Ples.
63 min...TC sub...Scot replaces Bustamante.
65 min...TC Fitzwilliams pops up 20 yard kick hangs and drops for goalie.
67 min...SWE player's 40 yard pass up field rolls well wide right.
68 min...SWE sub...Scepanovic replaces Kokat.
68 min...TC goalie gets hand to 20 yard blast and tips wide left of post.
69 min...SWE player's cornerkick from left is well wide right.
70 min…Croatia Hayden Fitzwilliams GOAL…Fitzwilliams gets rolled pass from right side and his low 20 yard shot from the left is into the right side of net past defender and diving goalie.
71 min...TC goalie dives to right post to make save.
74 min...SWE Viciknez bends in 35 yard freekick from right that's caught by goalie.
75 min...TC goalie charges out to kick away through ball on left.
76 min...SWE sub...Milojevic replaces Stojcic.
77 min...TC Marasovic on 1 on 2 rush passes over to charging TC Maletic on right in clear and sliding goalie makes 10 yard point blank save.
78 min...SWE sub...Bacanin replaces Braletic.
78 min...TC Grnja is injured in TC box.
79 min...SWE Viciknez 30 yard freekick from right is bent over net wide right.
80 min...SWE Medic 40 yard blast over net as he is pushed over.
81 min...TC sub...Fran replaces Maletic.
82 min...TC Marasovic and SWE Janosevic warned by referee for pushing match near SWE box.
90 min...SWE Viciknez rush down right and 25 yard shot is low and caught by goalie.
92 min...SWE Budalic low blast up middle and has diving goalie bobble and stop behind end line.
92 min...SWE RED card...referee ejects some SWE official or player from the player's bench.
94 min...TC YELLOW card...Grnja for not giving 10 yards on SWE second cornerkick from right.
94 min...SWE Viciknez 20 yard freekick from right line looked like it dropped into the net but TC was instead awarded either a freekick or goalkick.
95:10pm...game ends 7:12pm.
Final Score:……..Toronto Croatia……4………..Serbian White Eagles……..1……….
Attendance was about 300 on this cool, wet day with a strong gusty wind from the west. The crowd was cut down by the threat of rain before game time. The field was wet from afternoon rain but there was only a brief spell of misty rain from 26 minutes to the end of the first half. The wind played a key factor in the game as it was strong and from the west. Croatia took advantage in the first half with their second and third goals flying in from long range. Balls shot into the wind just died and dropped to the ground. The White Eagles goal looked like it would sail over the net but dropped just below the bar.
In the second half with the big lead, Croatia subbed in defender Robert Fran for forward Tihomir Maletic to hold on from the 81 minute mark. This brought their total up to five defenders on the field. They also subbed in experienced goalie Roy Blanche at halftime replacing 18 year old starter Marko Zuljak. He made about three crucial saves in the second half to foil White Eagles taking advantage of the wind. White Eagles kept trying plays up the south side of the field maybe to avoid the Croatia crowd but defenders seemed to take delight in clearing balls over the south fence into the Northview Heights schoolyard to waste time (Hey comedian Howie Mandel went to that school!). Fitzwilliams' 70 minute goal caught the White Eagles defense short at the back and may make the difference on any comeback attempt tomorrow. White Eagles Sasa Viciknez looked like he had a goal from a 20 yard freekick from the right end line at 94 minutes but the next thing I saw was the goalie picking the ball out of the net and taking a goal kick to end the game.
CBC Television was at the game with a camera crew but they had left before the game was over. I suppose with no riot taking place they lost interest. The broadcast booth was full of audio equipment as the game was being broadcast live on internet radio in Serbian. The game was being filmed by the league for posterity. I don't know if reporters from the Toronto Star and Toronto Sun will file stories about the game after the big buildup. I only counted the crowd I saw but maybe the league did a lot of pre-sale and fans just didn't show up because of the weather.
This is a two legged final and now the White Eagles have to win their 'home' game at this stadium tomorrow at 3:00pm by three goals to force extra time and penalty kicks. That will be a very tough job.
I didn't ask any questions after the game except to clear up who got the assist on the first goal. I drove off to squeeze the last 45 minutes of visitor's hours at the hospital and found my mother has taken a turn for the worse.
Rocket Robin
robing@eol.ca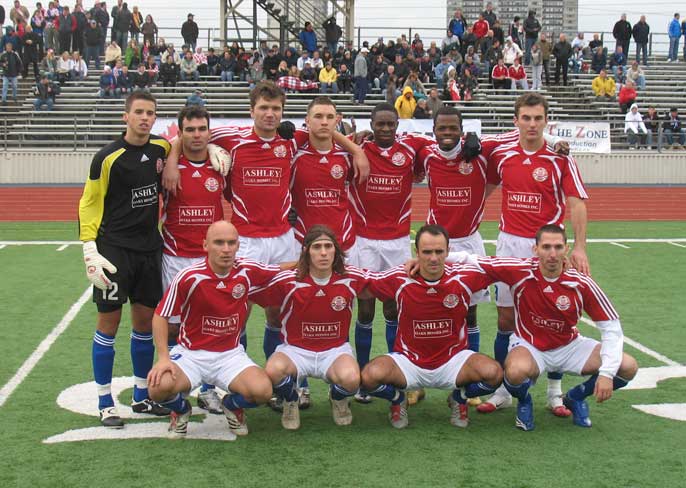 Toronto Croatia starters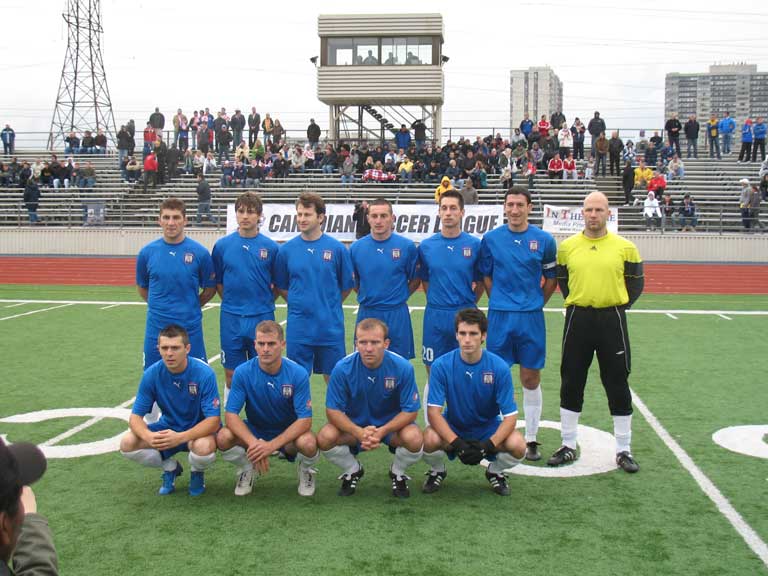 Serbian White Eagles starters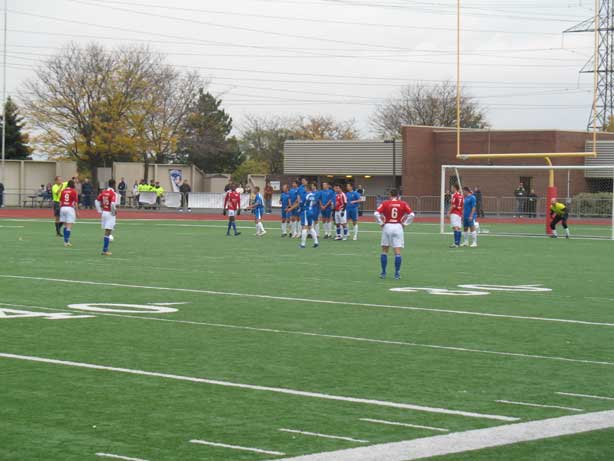 Key play in the early going as Tihomir Maletic will take this freekick and Jonatan Bustamante will head in the spilled rebound at 12 minutes.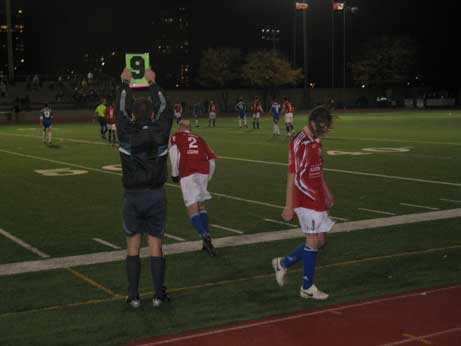 81 minutes when defender Robert Fran subs in for striker Tihomir Maletic to shore up the defence.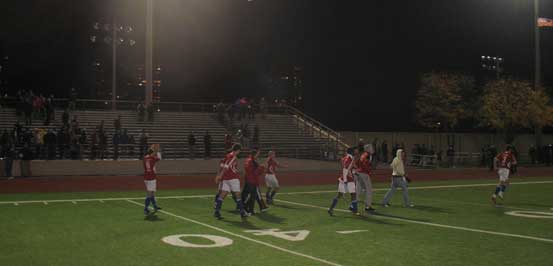 Croatia players walk to the dressing room after saluting their fans in this first leg of the championship.
.
.