..................

Result and details of the Friday June 6th, 2008 CSL game between Brampton Lions and Windsor Border Stars played at Victoria Park in Brampton at 8:30pm.
Brampton Lions (white socks and shirts, blue shorts and numbers)
..........................1 Adrian Ibanez
21 Adrian Johnson...18 Matt O'Connor (cpt)...4 Luis Riviero...5 Denny Velastegui
6 Daniel Cameira...11 Orlin Chalmers...17 Alex Arbelo...7 Miles O'Connor
..................8 Nordo Gooden...9 Daniel Nascimento
Subs:...00 Maxfield Materne (gk)...3 Nico Poku...19 Mike Ferracci...20 Fabian Pagan...22 Mohamed Kanu
team officials:...head coach Armando Costa...manager Victor Camiera...team official Krystla Bokulo
Windsor Border Stars (orange socks, black shorts and shirts, white numbers)
.........................1 Henry Steinwischer
16 Gino Berardi...5 Scott Patriquin...22 Mark Favaro...2 Cale Samuel
17 Tom Eller...7 Jeff Hodgson...21 Emkilio Giorgio...20 David Kadoic
.................31 George Vlithar...9 Aaron Byrd
Subs:...12 Blake Ordell (mid)...19 Mike Collruno (fwd)...24 Christan Huerta (mid)...33 Christian Hatzenbuler (fwd)
team officials:...head coach Scott Patriquin...club official Jeff Hodgson
Game officials:...referee Justin Tasev...referee's assistants Patty Peebles and Michael Winstanly...fourth official Antonio Caccicarro...(yellow shirts, black shorts and socks)
1st Half:...game starts 8:36pm...Lions defend east goal on this hot and humid evening.
<1 min...WBS Byrd run up middle pass to right charging WBS Eller who kicks 15 yarder that's tipped wide right by goalie for cornerkick.
4 min...WBS Byrd cross from 20 yards on left has goalie catch on bounce.
5 min...Lions Chalmers chips 25 yarder over players in box and ball bounces to goalie.
9 min...Lions Gooden rush along right wing and cuts towards net and kicks 12 yard shot near endline into the outside webbing of net.
12 min...Lions YELLOW card...Gooden upended by WBS goalie at WBS 25 yard line on right.
13 min...Lions Arbelo 25 yard freekick blast deflects off defender standing wide of wall and pops up for goalie to catch on left post.
14 min...WBS Byrd run on left and crosses from 15 yards on left end line and defender clears ball for cornerkick.
15 min...WBS Byrd and WBS Eller work out short cornerkick from left but WBS Byrd rolls 10 yard shot to goalie.
15 min...Lions goalie called on running with ball over edge of box.
16 min...WBS Byrd 18 yard freekick is chipped just over bar.
18 min...WBS goalie waits on edge of box to beat Lions Gooden to through ball up middle and picks up ball.
21 min...WBS Vlithar 20 yard shot down middle is just over bar.
22 min...Lions Gooden run on right cross along edge of box and Lions player on left centers ball for Lions Arbelo to chip 18 yarder that's caught by goalie.
24 min...Lions Cameira 30 yard through ball up middle is too far ahead of Lions players charging on left and bounces for goalkick.
25 min...WBS Byrd 30 yard freekick up middle is bent just wide right.
26 min...Lions Nascimento 45 yard shot from left is caught by goalie on left post.
27 min...Lions Gooden on rush up middle has defender clear ball at 25 yards.
28 min...WBS YELLOW card...Giorgio for sliding tackle at WBS 45 yard line.
29 min...WBS goalie catches tipped ball that Lions player crosses in from 30 yards.
31 min...Lions Nascimento rush on left and cross has WBS Giorgio block ball and clear in goalmouth.
31 min...WBS Favaro great sliding poke check on Lions Gooden knocking ball from him on break down middle.
32 min…Lions Alex Arbelo GOAL…Arbelo 28 yard shot down middle has goalie Henry Steinwischer fly and get hand to ball but he pushes it into right side of net just inside post.
34 min...Lions Arbelo bounces low 25 yard shot from left that goalie picks up on right post.
34 min...WBS goalie charges to edge of box to pick up through ball before Lions Gooden can get to it.
36 min...Lions Chalmers badly hurt by slamming check at center line but advantage rule initially played.
36 min...WBS YELLOW card...Eller earns card for his part in last play.
37 min...Lions Cameira beats defender on right and centers ball to Lions Gooden who can't get away shot on edge of box as defenders close in.
44 min...WBS Samuel injured making check on Lions Gooden in WBS box as Gooden cuts around WBS Favaro.
45 min…Lions Daniel Nascimento GOAL…Lions Adrian Johnson long kick into box from 40 yards has Nascimento on edge of box take shot from 12 yards that goalie blocks but Nascimento pushes 6 yard rebound into low right corner of net.
46 min...half ends 9:22pm.
2nd Half:...starts 9:41pm.
halftime subs:...WBS Collruno replaces Samuel.
..........WBS Ordell replaces Vlithar.
47 min...Lions Gooden rush on left and rounds goalie but he runs out of room on end line. Gooden chips goalie shot gets hand to it.
48 min...WBS Eller cross from left 25 yards has defender poke with flying kick and ball goes for cornerkick.
49 min…Lions Nordo Gooden GOAL…Gooden gets ball in box in crowd of players and takes low 10 yard shot into center of net.
51 min...Lions Gooden ends Lions pressure with a shot that's wide left of net.
51 min...WBS sub...Huerta replaces Patriquin.
52 min...Lions Gooden 20 yard blast from left is well over net.
55 min...WBS Eller 15 yard shot from left after getting pass pushed forward is wide left.
57 min...Lions sub...Ferracci replaces Arbelo.
59 min...Lions Chalmers has 20 yard shot blocked.
60 min...Lions Chalmers gets cornerkick from left and 20yard shot is through crowd and caught by goalie.
61 min...Lions Cameira cross from right has dfender on left knock ball for cornerkick.
62 min...Lions Nascimento cornerkick from left has Lions Johnson leaping header from 10 yards that's wide right.
64 min...Lions Gooden gets through ball from Lions Miles O'Connor up left and ball is stopped.
65 min...WBS Nascimento turns and cuts 20yard roller up middle is picked up by goalie.
67 min...Lions Gooden on left touches pass back to Lions Ferracci who blasts 30 yarder well over net.
68 min…Lions Daniel Cameira GOAL…Lions Miles O'Connor pass finds Lions Nordo Gooden alone for run down right wing. Gooden's low 15 yard shot is tipped by foot of Cameira to center of net.
71 min...Lions sub...Poku replaces Matt O'Connor.
72 min...Lions Cameira another run and shot is wide left from 20 yards.
73 min...Lions sub...Pagan replaces Velastegui.
74 min...Lions Gooden blasts 20yard shot from left after rush has sprawling goalie.
75 min...WBS goalie catches Lions player's 30 yard cross from right.
75 min...WBS Eller rush on right has him push ball too far to get in cross.
76 min…Lions Daniel Cameira GOAL…Lions Daniel Nascimento good pass forward and Cameira 10 yard shot is into left side of net.
77 min...Lions sub...Kanu replaces Cameira.
78 min...WBS Byrd quick freekick has WBS Kadoic trip up in box before getting away shot.
79 min...Lions Poku 30 yard cross from right is caught by leaping goalie in box.
80 min...Lions Gooden flying header actually knocks away ball.
81 min...WBS sub...Hatzenbuler replaces Eller.
82 min...Lions Gooden wins freekick as he's cut down at WBS 22 yards.
82 min...Lions Kadoic 22 yard freekick shot into wall and cleared.
85 min...WBS Byrd on rush passes off to WBS Kadoic who hits 12 yarder off top side of bar from right.
86 min...Lions sub...Materne replaces Ibanez in goal.
87 min...Lions Gooden cramps up at WBS 25 yards and limps off field.
Lions mostly play-keep away the last few minutes of the game.
91 min...game ends 10:27pm.
Final Score:…….Brampton Lions…….5……….Windsor Border Stars……..0………
Attendance was about 70 on this hot humid evening. The late start almost ensured that there would be no children here. The league didn't have a team in Brampton last year but facilities were unchanged. They had a PA system and DJ (the same one as did last year's Metro Lions games). The scoreboard was functioning as a countdown clock. Natural grass field and wooden benches as the stands can hold a few hundred people.
Border Stars failed to capitalize on their early chances. Before the 1st minute was over Aaron Byrd ran up the middle and passed over to the right where a charging Tom Eller kicked a 15 yard shot that Lions goalie Adrian Ibanez tipped wide right. Byrd, Eller, and George Vlithar also had other chances in the first 25 minutes.
From the 25th minute on the Lions took over the game. The second Lions goal just before the end of the first half was the killer for this game and put the game out of reach.
Nordo Gooden looked great for the Lions and had that extra burst of speed that he could use to run past the Border Stars defenders. He may make us forget about last year's Lions star Evan Milward.
Two-goal scorer Daniel Cameira looked great in the second half and cheering loudest was one Lions official. I'd wondered why I recognized Victor Cameira listed as this year's Lions manager after many years as an official of Toronto Supra (Portugal FC). That was his son playing and scoring for the Lions.
The other 'family' connection on the Lions is that brothers Miles and Matt O'Connor were playing midfield on the same team this year. Matt was their captain in last night's game.
Adrian Ibanez and Maxfield Materne shared the shutout for the Lions. Materne replaced Ibanez at 86 minutes and didn't face a shot. David Kadoic for WBS had just hit the top side of the bar a minute earlier for their last chance.
For the last five minutes of the game the Lions just played keep-away in the midfield. Border Stars were comfortable with that as from the bench they were advised to 'save it for tomorrow'. With league scheduling, this game ended at 10:27pm and they have a five hour drive to get back to Windsor and they play a 'home' game tomorrow at 7:00pm against Trois-Rivieres Attak in Chippewa Valley Michigan (their only game there this year). Lions' next game is Sunday against North York Astros at 3:00pm at Esther Shiner Stadium in North York.
I had been sent an e-mail from a fan in Bulgaria asking if it was true that Windsor had started the game with only ten players against North York Astros last Sunday which Astros won 3-0. After tonight's game I asked Border Stars owner/coach/midfielder Jeff Hodgson if that rumour was true. He said it wasn't; their team "just wasn't good enough". Tonight's game they had brought four subs and used them all.
Rocket Robin
robing@eol.ca


Lions starters


Border Stars starters


Nordo Gooden runs along sideline on rush on left.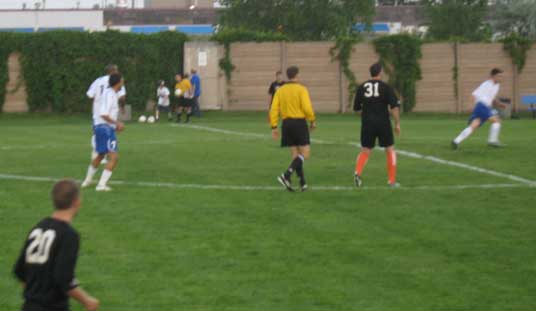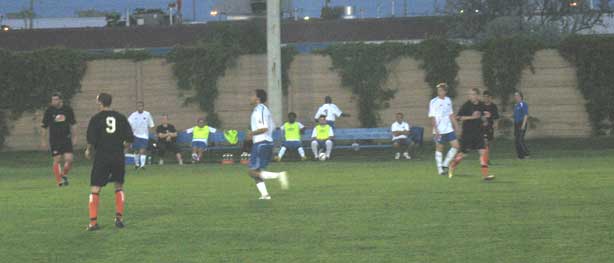 .
.