..............

Result of the Sunday August 24th, 2008 CSL game between Italia Shooters and Serbian White Eagles played at St Joan of Arc Catholic High School in Vaughan.
Italia Shooters (all blue, white numbers)
........................00 Camilo Benzi
21 Branko Majstorovic...5 Gerrad Ladiyou...2 Jamaal Smith...24 Luca Zucal
18 Tristan Murray...17 David DiPlacido...16 Richard Asante...14 Marco Termenisi
................22 Doug Sereti...25 Murphy Wiredu
Subs:...1 Ramon McIntosh (gk)...4 Carlo Cudini (def)...6 Gil Vainshtein (def)...8 Chris Turner (mid)...9 Jason DeThomasis (fwd)...11 Vince Forestiari (fwd)...13 Anthony Celebre (mid)
team officials:...manager Luca Forno...trainer/physio Kevin Sims...club official John Pacione
Serbian White Eagles (all white, black numbers)
.........................27 Dan Pelc
...........14 Uros Stamatovic...7 Milos Vucinic...6 Mirko Medic...4 Mark Jankovic
16 Caswain Mason...5 Nikola Budalic (cpt)...8 Nenad Stojicic...15 Milos Scepanovic
...............11 Dragan Radovic...9 Sasa Viciknez
Subs:...12 Diego Maradona (mid)...17 Princ Ihekwoaba (fwd)...21 Aleksadar Radovanovic
team officials:...head coach Milan Cancarevic...manager Dusko Sevkovic
Game officials:...referee Vito Curalli...referee's assistants Geoff Gamble and Peter Pendli...fourth official Paul Bottos...(neon green shirts, black shorts and socks)
1st Half:...game starts 4:10pm...IS defend north end on this hot humid afternoon with the sun in the west.
1 min...SWE Scepanovic rolls pass down left wing. SWE Viciknez low cross from 20 yards near end line has goalie catch.
4 min...IS Termenisi cornerkick from right has IS Zucal flying head miss connecting from 10 yards and ball bounces through box.
5 min...IS DiPlacido feeds pass to right for charging IS Sereti and sharp angle 12 yard shot on right is blocked by flying goalie on near post.
7 min...SWE Scepanovic cross from 20 yards on left ahs IS Smith pop header away.
8 min...SWE goalie catches long cross into box from left.
9 min...SWE Radovic charges on right for through ball and 20 yard shot is caught by goalie.
10 min...IS Majstorovic 45 yard shot from right is through players and wide right of net.
13 min...IS Termenisi 35 yard freekick from right has charging IS player bounce header that's deflected over net from 20 yards for cornerkick.
14 min...IS Termenisi cornerkick from right is over players in box.
16 min...IS Sereti shot pushed forward down middle from 25 yards. IS Wiredu scissor kick from 12 yards has goalie fly to block.
18 min…Serbian Nikola Budalic GOAL…SWE Sasa Viciknez 30 yard freekick from left has SWE player miss flying header up middle but Budalic who is on right of net ducks his head and heads 7 yarder low to center of net behind goalie Camilo Benzi who's guarding the left side of the net.
19 min...SWE goalie dives to right to save low 20 yard shot from left.
21 min...SWE Stojicic chips 35 yard ball from left that one-bounces to goalie wide left of net.
23 min...IS Majstorovic kicks 40 yard pass from right to IS Termenisi in middle but he turns around defender but ball bounces to goalie.
26 min...IS Termenisi injured as he bangs with SWE Medic as he's trying to ensure ball rolls over end line.
31 min...SWE Mason on break down right has 20 yard shot from right blocked point bland by goaoie and Mason is injured when he crashes with goalie.
32 min...IS goalie catches cross from right before SWE Radovic can get to it.
33 min...IS Murray cross from 25 yards from right has goalie catch stepping forward although the offside flag was up for the charging IS players.
37 min...SWE Mason intercepts IS goalie's quick clearance of backpass and fires 30 yarder over net.
39 min…Shooters Doug Sereti GOAL…IS Murphy Wiredu feeds Sereti a pass from 40 yards up left and his sharp angle 15 yard shot from left rolls into right side of net beyond goalie Dan Pelc who's guarding the right post.
40 min...SWE Radovic can't kick spinning ball all alone in box after deflection finds him alone at 8 yards.
41 min...IS Wiredu 30 yard freekick blast up middle is well over net.
43 min...SWE Mason 35 yard pass up right finds SWE Radovic spins around defender but knocked over in box and goalie picks up ball.
44 min...IS Sereti cross after run down right and IS Termenisi flagged offside although he can't turn header.
46 min...IS Termenisi 40 yard freekick from right has defender head ball away on edge of box.
47 min...IS Termenisi freekick from 25 yards along right end line has SWE Scepanovic head ball over end line.
48 min...IS Termenisi cornerkick from right has defender head ball away inside the 6 yard box.
48 min...half ends 4:58pm.
2nd Half:...starts 5:17pm.
46 min...IS Wiredu works ball up middle on series of deflections but defender trips him up. No call is given on edg of SWE box.
48 min...SWE Viciknez lobs 30yard shot from left in crowd of players and goalie flies right to palm ball over net.
49 min...After SWE Viciknez cornerkick from right is over players in box. the ball is crossed from left and SWE Radovic pops 10 yard header well over net.
52 min...SWE YELLOW card...Medic for knocking down IS Asante.
52 min...IS Asante 40 yard freekick from left is caught by goalie.
53 min...SWE Radovic pass chip from 30 yards has SWE Viciknez roll 12 yard shot from left wide right of net.
55 min...SWE YELLOW card...Viciknez for knocking down IS Majstorovic near center line sideline injurying him.
57 min...IS YELLOW card...Smith for tripping SWE player in center circle.
58 min...IS Asante rolls pass from left and IS Wiredu one-touches 12 yard shot roller wide left.
58 min...IS Termenisi shot from left 20 yards has goalie block and IS Wiredu has 7 yard rebound shot saved.
59 min...SWE YELLOW card...Maradona (when did he come into the game?) for pulling down IS Termenisi at 30 yards.
60 min...SWE Radovic low 30 yard blast up middle smothered by goalie.
61 min...IS goalie charges out to 25 yards to clear through ball ahead of SWE Radovic.
62 min...IS YELLOW card...Ladiyou for tripping SWE Radovic at 35 yards on 1 on 1 rush.
63 min...IS Wiredu short pass to IS Murray inside box and his 12 yard shot is saaved on right post by flying goalie.
64 min...SWE YELLOW card...Stamatovic for tugging on IS player on run on left at 40 yards.
65 min...IS Termenisi pushes pass to IS Wiredu has defender block 18 yard shot and ball deflects for goalie to pick up.
70 min...SWE Budalic sweeps ball from IS Wiredu at 20 yard preventing shot.
71 min...SWE Stojicic 40 yard kick from right is over endline on left.
72 min...SWE Viciknez cornerkick from left partially cleared by IS player's header and SWE Mason 30 yard blast down the middle is well over net.
73 min...IS DiPlacido pushes pass to IS Termenisi who crosses over players in box and IS Sereti misconnects on scissor kick from 10 yards on right that's wide right.
75 min...SWE Radovic cross from 20 yards near right end line has defender clear.
76 min...IS DiPlacido 30 yard shot from extreme right has goalie dive on ball to save.
77 min...IS sub...DeThomasis replaces Wiredu.
77 min...IS Zucal pushes pass up left for IS DeThomasis whose sharp angle 10 yard shot is stopped by goalie on left post.
81 min...IS Termenisi cross from right too high for leaping IS DeThomasis at 7 yards.
81 min...IS sub...Turner replaces DiPlacido.
82 min...SWE Viciknez cornerkick from right is headed out of box. SWE Stojicic pass up for SWE Viciknez who blast shot wide left for throw-in.
83 min...IS Majstorovic cornerkick from left has goalie punch ball through box wide right.
84 min...IS Termenisi 35 yard freekick from right has play whistled down for bumping in box.
86 min...IS Turner slides and 25 yard shot wide left.
88 min...SWE Viciknez gets ball crossed from left and stops and turns and blasts 30 yard shot well over net.
90 min...SWE Radovic cross from 20 yards near left end line is blocked by defender.
92 min...game ends 6:04pm.
Final Score:……..Italia Shooters………1………..Serbian White Eagles……….1………..
Attendance was about 150 on this hot and humid late afternoon with a bright sun in the west. The crowd was about 50/50 for each team.
Referee Vito Curalli kept control of this game. He didn't give out any cards until 52 minutes and then gave out five Yellow cards within twelve minutes to curb the rough stuff. This seemed to incense one White Eagles fan who swore each time right in front of a group of children. What surprised me is he swore when a Shooters player was carded I suppose because he thought an 'advantage' situation would have let play carry on. Back to your sunflower seeds pal.
The return of Nikola Budalic and Sasa Viciknez to the White Eagles lineup gave them some offensive power although Budalic as captain in midfield had him come back several times to make defensive plays. I had seen a few games with those two missing and Dragan Radovic as the lone striker and he tired in the second half of those games. Viciknez got many of the dead ball restarts while for the Shooters it was the specialty of Marco Termenisi.
Both goalies Camilo Benzi and Dan Pelc had to be sharp to keep the game tied. It was a fair result with each team getting good chances and lots of long rushes and good passing but good defensive checking too with sliding tackles getting 'all ball' for knock-aways on the edge of the box.
The Shooters were so 'deep' that they didn't have striker Kadian Leckie (both goals on Friday night in their 2-0 win over Toronto Croatia) and defensive leader Rick Titus in the lineup.
A reader on one of the message boards has been asking about the Shooters Frank Jonke for a few weeks now. Tony and Cindy DeThomasis (owners of the Shooters) say that he's trying out for a team in Finland but they're not sure which one.
At least I saw one game today. I had started the day early trying to get to the MLS Toronto FC vs. New England Reserves game but it wasn't held at BMO Field at 10:00am. I wheeled by the Ontario Soccer Centre as a detour on the drive home because I know they've played there before and their Academy team had a CSL game in the afternoon but they weren't inside or outside when I was there. I could have avoided this if I had an answering machine (no cell phone either) as Greg from TFC staff did call late last night while I was still at the CNE (Canadian National Exhibition) probably at the time I was knee deep in a soap bubble machine but my old father couldn't get to the telephone in time. Well more disappointed than me was "AtlanticTFC" who had seen last night's game and this was his only other chance to see the team before returning to Cape Breton. Lucky for me there was no traffic that early in the morning. I was so earlier they hadn't dropped the arm of the parking lot near Lamport Stadium (ah proved that they weren't here neither) until five minutes after I'd parked (some future condominium site with a $4 fee). I also bluffed my way through the gates with last night's ticket inside the plastic necklace they gave us at the All Star game, my TFC card, and picking the CNE gate with the 18 year olds and a 20 year old manager who waved me through which saved a $14 cover charge.
Lamport Stadium is the home team of both TFC Academy and Portugal FC in the CSL but the game was rescheduled for the Ontario Soccer Centre I'd assume to stay away from the traffic chaos in the area while the CNE is on.
On the Shooters were defender Jamaal Smith who was the 1 of 1000 players who passed the 2007 Open Tryouts with TFC who was then dropped in that first preseason and midfielder Richard Assante who was claimed in the 2007 MLS draft by TFC but left the team before their first game. The Shooters beat the TFC Reserve team 4-0 within the last month in a game at the Ontario Soccer Centre (oh yeah, that's another reason why I thought of going there).
Rocket Robin
robing@eol.ca


Shooters starters


White Eagles starters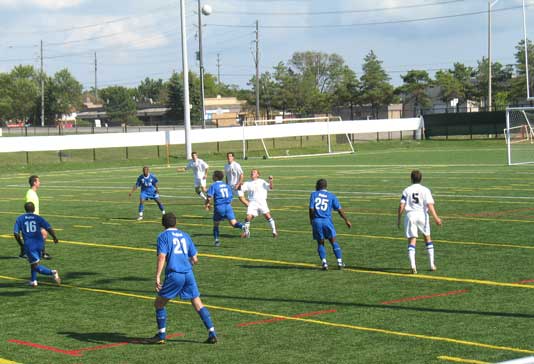 The ball is above them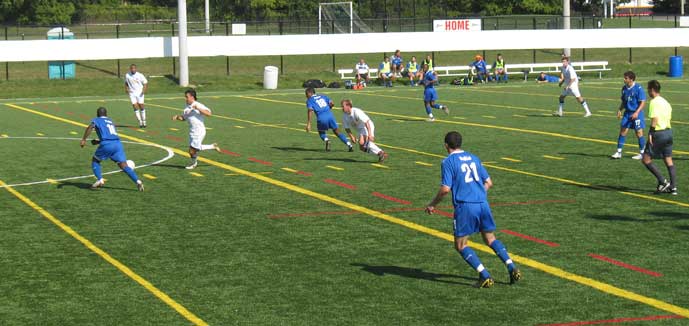 White Eagles Dragan Radovic leads rush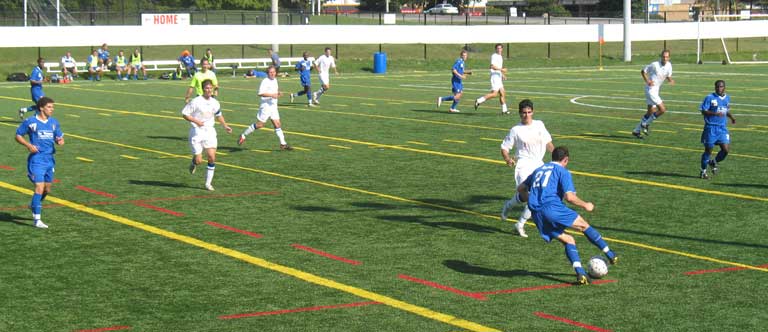 Shooters Branko Majstorovic with ball.


action in center circle
.
.