..............

Result of the Friday September 5th, 2008 CSL game between Portugal FC and Italia Shooters played at Lamport Stadium in Toronto at 8:00pm.
Portugal FC (white socks, red shirts and shorts, yellow numbers and trim)
........................1 Mike Silva
7 Selmir Sehic...23 Gagan Natt...15 Kevin McIntosh...21 Sebastian Busto
10 Danny Amaral (cpt)...16 Ramon Bailey...22 Ilailson Da Silva...2 Emerson Fiti
................9 Mike Diluca...20 Wigor Gomes
Subs:...12 Ian Cummins...3 Steve Pacheco...6 Yami Williams...8 Gavan Fuller...13 Jamie Carvalho...19 Gustavo Serrano
team officials:...head coach Jose Testas...assistant coach Jaime Carvalho...manager Tony Maia...trainer/physio Mike Edwards
Italia Shooters (all white, black numbers)
.......................00 Camilo Benzi
.........19 Desmond Humphrey...4 Rick Titus...2 Fitzroy Christey
21 Branko Majstorovic...22 Doug Sereti...16 Richard Asante...25 Murphy Wiredu...17 David DiPlacido
................12 Kadien Lecky...23 Matthew Palleschi
Subs:...1 Ramon McIntosh (gk)...5 Carlo Cudini (def)...7 Stallin Cardenas (mid)...8 Chris Turner (mid)...14 Marco Terminesi (fwd)
...18 Tristan Murray (mid)...24 Luca Zucal (def)
team officials:...head coach Carmine Isacco...assistant coach Domenic Iantelli...trainer/physio Kevin Sims...club official John Pacione
Game officials:...referee Isaac Raymond...referee's assistants Matt Arduini and Dereck Abrams...fourth official Vito Curalli...(neon green shirts, black shorts and socks)
1st Half:...game starts 8:41pm after long delay. As there is no working scoreboard, all times are converted from my wristwatch.
1 min...IS Majstorovic cornerkick from right has ball headed away by nearest defender.
5 min...IS Majstorovic 35 yard freekick from right is cleared on edge of box.
7 min...PFC YELLOW card...Da Silva at IS 50 yard line for something he did or said although PFC is awarded a freekick.
8 min...PFC Fiti 35 yard freekick from left has ball fly just one step ahead of PFC Da Silva header attempt at 5 yards as he charged in.
9 min...PFC player's cross from right is into 6 yard box.
10 min...IS player's cornerkick from right is caught by goalie in crowd of players.
13 min…Portugal FC Mike DiLuca GOAL…DiLuca has ball deflect to him at 50 yards giving him break. He dekes goalie Camilo Benzi at 40 yards on left and rolls in 30 yard ball to middle of net as two retreating defenders converge on him there.
16 min...IS Sereti 18 yard blast is low and deflects off defender at 7 yards and rolls to goalie.
17 min...PFC Bailey rolls pass in from left to PFC Da Silva at 35 yards whose blast from 35 yards up middle is just wide left of net.
19 min...IS Palleswchi 22 yard freekick from right is bent wide left of goal.
20 min...PFC Diluca gets ball tappped back to him on rush and 20 yard blast is well over net.
27 min...IS Christey charge down left and cross from left near end line has play whistled down.
33 min...IS Humphrey sent high pass from center line and bounces for him to break a 2 on 0 rush at 40 yards but his quick chip of goalie has ball bounce just wide left of post.
35 min...PFC YELLOW card...Gomes for dive in IS box when he's knocked over by defender.
36 min...IS players cross from 20yards on left and IS Lecky in center has header from 10 yards fly wide left of post.
38 min...PFC Bailey on rush takes sharp angle 15 yard shot from right that has goalie dive forward to save and prevent tap-in.
39 min...IS Humphrey cross from 35 yards on right has goalie stop.
42 min...IS goalie leaps for high bouncer into box.
45 min...IS Asante 25 yard rebound shot on headed clearance is just over net.
46 min...half ends 9:26pm.
2nd Half:...starts 9:37pm.
45 min...IS Palleschi 30yard freekick up middle is high and wide left of net.
49 min...IS Palleschi 22 yard blast from right is through players and over net.
50 min...IS YELLOW card...Majstorovic for sliding tackkle on PFC Sehic at IS 20 yards near right sideline.
51 min...PFC Diluca 27 yard freekick from right sideline is through players in box.
54 min...PFC Bailey on rush 30 yard blast from right is high and wide right of net.
55 min...IS Wiredu 20 yard blast up middle is just over net.
56 min...PFC YELLOW card...Busto for knock down on IS Lecky at 40 yards.
57 min...IS sub...Terminesi replaces Wiredu.
57 min...IS Palleschi short cornerkick from left is worked out and Palleschi's 25 yard shot is wide right.
59 min...IS player runs down cneter and rolls pass to IS Lecky on right and charging goalie slides to grab ball at 8 yards.
60 min...IS Palleschi turns and fires 33 yarder up middle low and wide right.
60 min...IS Terminesi cornerkick from right has PFC Gomes head ball away.
61 min...IS Asante big stop to prevent 2 on 1 PFC players break at 40 yards.
62 min...PFC Gomes run on left rolls cross and Gomes has shot from 10 yards blocked.
64 min...PFC Gomes 25 yard shot off defender pops ball up and deflects to goalie.
64 min...IS DiPlacido run on left but he pushes 45 yard ball too far upfield for forward to get to it.
65 min…Portugal FC Selmir Sehic GOAL…Sehic from 50 yards on right chips goalie only 7 yards off his line and the ball drops into left side of net.
65 min...PFC sub...Serrano replaces Gomes.
68 min…Shooters David DiPlacido GOAL…DiPlacido's 25 yard low shot deflects off a defender into net as it changed directions on goalie.
69 min...IS Lecky 20 yard shot into left of net was ruled offside.
71 min...PFC Diluca rush up right but IS Christey catches him and prevents shot.
72 min...IS Lecky has cross from 15 yards on left blocked in box and cleared.
73 min...PFC Diluca rolls cross into box from left but defenders clear.
74 min...IS Lecky run up right and wins cornerkick on deflection from 12 yards.
75 min...IS DiPlacido cornerkick from right has defender head ball away.
76 min...IS Lecky cross from left has IS DiPlacido blast 10 yarder well over net and back fence onto King Street!
77 min...IS sub...Zucal replaces Christey.
79 min...IS Zucal cross from near left end line has goalie leap to catch.
80 min...PFC Bailey wins freekick as he is tripped when dribbling near edge of box and is injured.
81 min...IS sub...Turner replaces DiPlacido.
............IS sub...Murray replaces Asante.
82 min…Portugal FC Emerson Fiti GOAL…Fiti touches 22 yard freekick to PFC Selmir Sehic who stops it and Fiti bends 20 yard shot into right side of net.
84 min...IS Zucal 40 yard one-touch shot from left bounces to goalie.
85 min...PFC sub...Williams replaces Natt.
86 min...PFC Bailey gets centering pass after PFC interception and runs from 35 yards and takes 25 yard kick that's low and just wide right of post.
86 min...PFC Da Silva injured with ball to mid-section at PFC 40 yard line.
89 min...PFC Bailey rush on left on 3 on 3 and his 25 yard shot is wide right.
91 min...PFC sub...Carvalho replaces Da Silva.
94 min…Shooters Kadien Lecky GOAL…Shooters Luca Zucal crosses ball into box from 25 yards after run down left. A PFC defender skies the ball on kick at 10 yards and it drops for goalie who fumbles it at 3 yards and Lecky bulls ball into open net. Lecky picks up ball from net and runs it back to center circle but referee Isaac Raymond blows whistle as soon as the restart.
94 min...game ends 10:26pm.
Final Score:……….Portugal FC……….3…………Italia Shooters………..2…………
Attendance was about 300 on this mild but overcast night. A misty rain starts at 8:30pm (much like it had in the afternoon) but didn't fall for long.
The game also started over 30 minutes late when both teams brought their 'white' kits to the game. Shooters as the visitors had to get someone to drive back for their alternates (fighting Toronto International Film Festival traffic) but before the person got back, Portugal whipped out their red kits (which I wonder if they had all along?) and the game got going just after 8:30pm with now a misty rain that started. (Good thing this wasn't the Roger's Game of the week). Probably some pressure from the Lamport grounds crew that there were other permit holders so they better get on with this game. (I think it was a U-Sector game scheduled?).
Rick Titus played the entire game on defence. I wouldn't have expected him to play as he's been called up by Toronto FC of the MLS who are short of players because of so many call ups to different national teams. He'll have to reach back to his USL and CSL days when teams often play two games in two days. I had asked Shooters coach Carmine Isaaco before the game if any Shooters players had got the call up and he just put his finger to his lips "Shhhh" with a big smile on his face. It was Ennio the PA announcer who told me Titus had been called up. (I hadn't read the message boards for a day so I was in the dark). Isaaco is still serving a suspension so had to hop over the barrier back into the stands after the team warm-ups.
Tonight's game had two great goals similar to David Beckham's best. The Sehic goal was great as the goalie wasn't really far off his line but the ball just dropped in as it got near the bar on a 50 yard shot. Fiti's freekick goal too was great as it curved into the net before reaching the player wall and finding the goalie in the center of the net. It wasn't Portugal's only attempts, they had one player chip the ball over the defenders and the forwards charge for it but mostly they were called back on offsides.
This is an important win for Portugal FC as it's their second in a row after a poor road trip to London and Windsor. Now that the league has combined the standings of the two divisions to make it easy to see who will make the playoffs (or easy to see which three teams will NOT make the playoffs, Portugal flips over a few more teams to the middle of the standings. The Shooters were in first place in their division but with Serbian White Eagles winning 5-1 last night against Brampton Lions, the race got tighter.
Rocket Robin
robing@eol.ca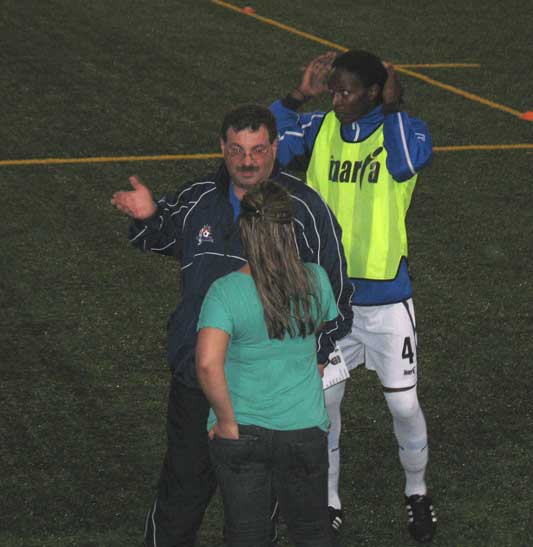 Rick Titus and Ennio the PA announcer before tonight's game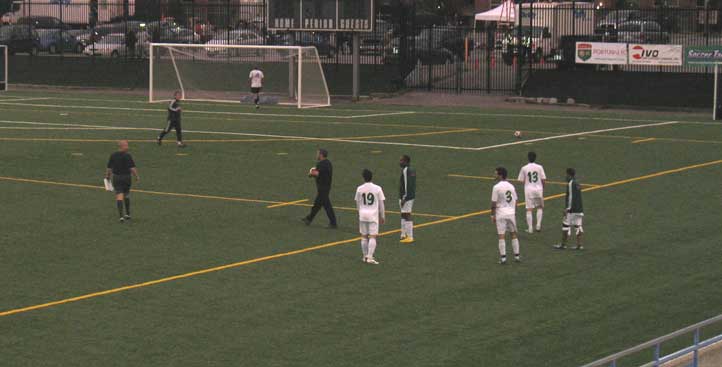 Portugal FC warm-up while still wearing their white uniforms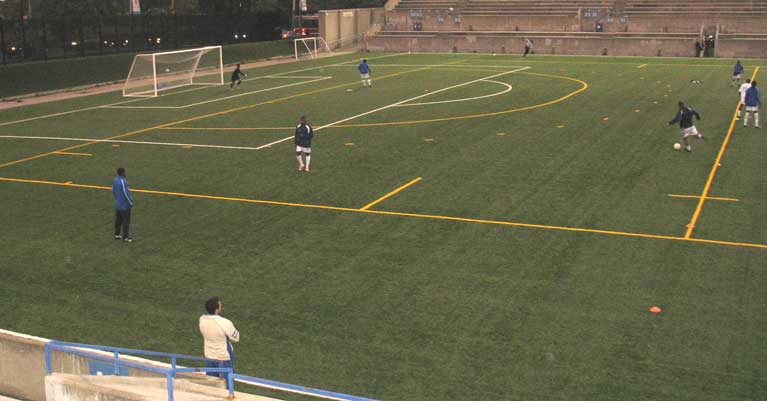 Shooters warm-up (because of the delay in starting the game there weren't any lining up for the national anthem.

Lamport Stadium doesn't have bright enough lights so I couldn't take good pictures in the dark even with Photo Shop brightening things up.
.
.