...................

Result of the Sunday September 21st, 2008 CSL game between Italia Shooters and TFC Academy played at St Joan of Arc Catholic High School in Maple at 4:00pm.
Italia Shooters (all blue, white numbers and trim)
......................00 Camilo Benzi
2 Fitzroy Christey...8 Chris Turner (cpt)...4 Carlo Cudini...24 Luca Zucal
13 Kadian Lecky...19 Desi Humphrey...17 David DiPlacido...18 Tristan Murray
.................9 Jason De Thomasis...23 Matthew Palleschi
Subs:...1 Ramon McIntosh (gk)...3 Franco Ruscetta (def)...6 Gil Vainshtein (def)...7 Stalin Cardenas (mid)...12 Jelani Smith (fwd)...22 Doug Sereti (fwd)
...25 Murphy Wiredu (fwd)
team officials:...head coach Carmine Isacco...trainer/physio Kevin Sims...club official John Pacione
TFC Academy (gray socks and shirts, red shorts and trim, black numbers)
......................25 Sortiri Varlokostas
...........5 Jordan Kotstopolous...33 Gino Mauro...43 Dominic Roberts (cpt)
20 Josh Janniere...40 Daniel DiBiagio...38 Erick Olazabal...42 Lloyd Grist...31 Ashton Morgan
.................49 Viktor Anastasov...41 Junior Ellis
Subs:...50 Jarrett Humphreys (gk)...7 Johnathan Lao (mid)...34 Max Marsh (mid)...27 Julio Alegre (fwd)...35 Shawn Kodejs (def)...46 Donavan Wilson (def)
team officials:...head coach Jason Bent...assistant coach Stuart Neely...manager Nick Dasovic...trainer/physio Sebastian Buitrago...club official Earl Cochrane
Game officials:...referee John Oliva...referee's assistants Ken Van Dyk and Cosmo Iavazzi...fourth official Al Wielinga...(neon green shirts, black shorts and socks)
1st Half:...game starts 4:13pm...IS defend south end with the sun in the west on this midle late afternoon)
5 min...TFCA Olazabal 45 yard freekick from left is bounced to goalie.
7 min...TFCA Ellis slies for ball passed in from 25 yards and low 12 yard shot deflects off goalie for cornerkick.
9 min...TFCA Anastasov 22 yard roller from left is straight to goalie.
10 min...TFCA Olazabal 22 yard freekick from right is palmed over net by leaping goalie near right post.
10 min...TFCA Olazabal cornerkick from right is over players in box and wide left for goalkick.
11 min...IS goalie slides wide left to block 15 yard shot from left.
15 min...IS Christey goalmouth pass from left has TFCA Mauro make big interception.
16 min...TFCA Ellis gets cross from left and 20 yard shot deflects off defender for cornerkick.
17 min...TFCA Morgan cross after run on left has goalie dive forward to catch.
18 min...IS DiPlacido pushes IS Lecky ball and 5 yard shot on left is wide left of net.
20 min...TFCA Morgan 20 yard shot from left is over net.
22 min...IS Zucal 45 yard cross from left has IS Lecky and goalie and TFCA Roberts crash together. TFCA Roberts is injured on the play.
24 min...IS DeThomasis flick header from 40 yards give IS Lecky a breakaway at 30 yards and 20 yard shot over sliding goalie 15 yards out hits right post and defender clears.
25 min...TFCA Morgan 40 yard shot has diving goalie push wide right of net for cornerkick.
26 min...TFCA Morgan injured at IS 35 yard line.
29 min...IS DeThomasis rolls ball from TFCA 12 yard line too far for IS player to get to ball.
30 min...IS Christey holds off defenders on right and cross has charging IS Lecky deflect wide right from 7 yards.
31 min...TFCA Olazabal cornerkick from left is cleared from box.
32 min...IS Palleschi cornerkick from right has TFCA Janniere deflect behind own net.
33 min...IS Humphrey cornerkick from left has IS DeThomasis have 7 yard shot blocked.
34 min...TFCA Morgan kicks ball away from IS Lecky for cornerkick of right.
35 min...IS Palleschi long throw-in from right has IS Cudini 12 yard shot stopped.
36 min...TFCA Olazabal on rush on right sends long cross to man on left end line and his 22 yard roller along end line is smothered by goalie.
38 min...TFCA Ellis takes ball off IS Cudini and run on right cross through box but no one is there.
39 min...IS Zucal given a pass near left end line but cross is well over box.
40 min...TFCA goal called back on offside at 22 yards.
41 min...TFCA DiBiagio cross from right is well over box.
42 min...TFCA Roberts cross from 40 yards on left lands near right end line.
42 min...IS DeThomasis from left rolls pass to center at 18 yards but defender intercepts.
43 min...TFCA Morgan breaks through and diving goalie blocks 15 yard point blank shot and defender clears.
45 min...IS Lecky rush up middle and shot deflected by goalie.
46 min...TFCA Morgan and TFCA Ellis mess up a 2 on 1 break out rush when one player falls at 30 yards on check by defender.
47 min...Shooters Tristan Murray GOAL...Shooters Fitzroy Christey pass from right is low into crowd of players in box and Murray blasts ball from midair from 15 yards that's under flying goalie Sotiri Varlokostas into center of net.
48 min...half ends 5:01pm.
2nd Half:...starts 4:17pm...The temperature is cooling off fast.
halftime sub:...TFCA Lao replaces Roberts....Mauro now wears the captain's armband...DiBiagio plays back at defence.
45 min...IS Lecky 20 yard chip on left on rush is over net.
47 min...IS YELLOW card...Palleschi for grabbing player crossing center line.
48 min...IS Lecky beats defender and round goalie and 15 yard roller to elude retreating defender and hits left post and ball is cleared.
51 min...TFCA Janniere 25 yard blast through crowd is wide and high left.
52 min...IS Palleschi after short cornerkick from left has ball deflected for throw-in on right.
56 min...TFCA player on right endline shoots 20 yarder into outside webbing of net.
57-58 min...IS players are called on about three offsides in a row.
59 min...IS DeThomasis 22 yard blast saved point blank on left by goalie and rebound blasted into goalie and rebound cleared.
60 min...IS Wiredu (when did he come into game?) 40 yard freekick cross from left and IS Zucal heads down at 7 yards on right but shot attempt is blocked.
62 min...TFCA Morgan cuts diagonal from left and 30 yard shot through crowd is wide right of net.
64 min...TFCA Morgan weak 25 yard shot is caught by goalie.
64 min...IS Lecky cross from 25 yards on right end line is caught by goalie on near post.
65 min...TFCA Ellis run on right and 25 yard shot blocked point blank by sliding goalie at 28 yards. TFCA DiBiagio injured on play.
67 min...IS Palleschi long diagonal run from right has 25 yard shot from left is well over net.
69 min...Shooters Murphy Wiredu GOAL...Shooters Jason DeThomasis flicks ball forward on right from 20 yards and Wiredu charges forward to chip 10 yarder over sliding goalie into net.
70 min...IS sub...Vainshtein replaces Murray.
72 min...TFCA sub...Alegre replaces Anastasov.
.............IS sub...Cardenas replaces Palleschi.
73 min...TFCA Olazabal cornerkick from left has goalie swat out ball in box.
74 min...TFCA Daniel DiBiagio earns Yellow card for knock of Shooters Kadian Lecky inside left side of TFCA box. Referee John Oliva awards Shooters a Penalty kick.
75 min...Shooters Kadian Lecky GOAL...Lecky blasts Penalty kick down middle and has crumpling goalie get a hand to it but it was shot too hard for him to grab or slap away.
78 min...TFCA Morgan header from 15 yards has defender head ball away.
78 min...TFCA Olazabal chip 40 yard forward pass on left but goalie picks ball up.
79 min...IS goalie catches 55 yard pass into box.
80 min...TFCA sub...Kodejs replaces DiBiagio.
82 min...TFCA Olazabal 25 yard freekick from left is low and rolled to goalie.
83 min...TFCA sub...Marsh replaces Ellis.
.............IS sub...McIntosh replaces Benzi as goaltender.
85 min...Shooters Murphy Wiredu GOAL...Shooters Desi Humphrey given pass on left as he charges to goal and he boots low 15 yarder into right side of net. Shooters Stalin Cardenas on right had stopped his run as he knew he was offside.
87 min...TFCA Erick Olazabal GOAL...Olazabal low 20 yard shot is into right side of net beyond diving goalie Ramon McIntosh.
88 min...TFC goalie dives to smother 25 yard shot.
90 min...Shooters RED card...Fitzroy Christey gets card for retaliation of push on sideline at Shooters 30 yard line.
.............TFCA YELLOW card...Ashtone Morgan for his part in starting the pushing incident.
.............Shooters YELLOW card...Jason DeThomasis for kicking ball over the fence after the initial whistle.
94 min...game ends.
Final Score:..........Italia Shooters..........4.............TFC Academy...........1...............
Attendance was about 200 people on this mild sunny afternoon but the temperature was falling quickly by the second half. Fans were divided about 1/3 for Shooters, 1/3 for TFC Academy, and 1/3 for the ball retrievers from North York Azzuri (parental pride).
Camilo Benzi was in the net for Shooters until he was subbed at 83 minutes to give Ramon McIntosh some playing time.
This was a good wide open game with attack and counterattack up and down the pitch the entire game. I thought there was one change that rattled the TFC Academy up until then good defensive play--it was in the second half when they subbed their captain Dominic Roberts who'd taken a knock in the head at 22 yards when the TFC goalie and him crashed together when they were trying to stop a cross meant for Shooter Kadian Lecky who sidestepped this sandwich on the right side of the box. Brought into the game at halftime was Johnathan Lao who played at midfield and they brought back Daniel DiBiagio. He played with defenders Jordan Kotstopolous and Gino Mauro as a three-man defensive line much the same as the 1st half but the Shooters were by this time timing their runs better to get break throughs. Shooters Murphy Wiredu was brought in for the second half and was very effective. DiBiagio was the one caught pulling on Kadian Lecky for the Penalty kick call. DiBiagio was subbed off at 80 minutes.
Kadian Lecky was very anxious to take the Penalty kick. He was involved at 24 minutes when Jason DeThomasis told him to start his run as he waited for a high ball from his own end and gave him a flick header over the defenders at 40 yards and Lecky on a breakaway at 30 yards and his 20 yard shot was over the sliding goalie who was 15 yards out and hit the right post and a defender cleared. At 48 minutes, Lecky beat a defender and rounded the goalie and took a 15 yard roller to elude the retreating defender he's just beaten and it hit the left post and the ball was cleared.
TFC Academy fans were generally well behaved (I was not at the game when there was a post game fight with parents attacking players from Portugal FC that led to the dropping of player Adrian Pena) until the red card incident. I suppose TFC management had talked it over with the remaining parents. I'll have to ask the next time I catch this team what the team makeup will be next year. ie. Will it always be a team of 17 year olds as the team that plays in the CSL Reserves league is 16 and will they move up? Will some of this year's team move up to the MSL Reserves team or disperse for college and university teams?
TFC Academy needs a win or two to climb into the playoffs and gets the opportunity with two games against Windsor Border Stars next weekend.
Rocket Robin
robing@eol.ca

Shooters starters


TFC Academy starters


Action in Shooters end.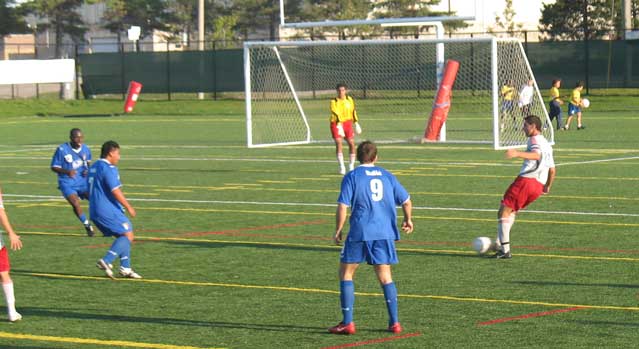 TFC Academy's Gino Mauro with ball.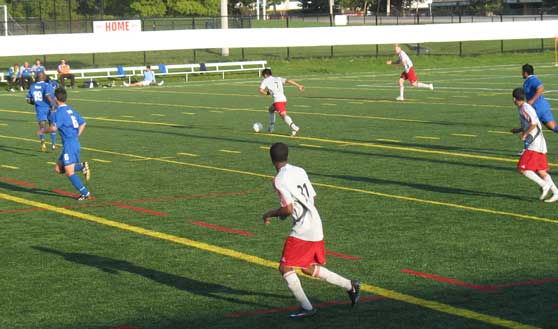 TFC Academy's Johnathan Lao on rush.
.
.