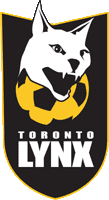 ......................

Result of the Friday May 30th, 2008 PDL game between Toronto Lynx and Chicago Fire Premier played at Varsity Centre in Toronto at 7:30pm.
Toronto Lynx (all black, yellow numbers and trim)
........................1 Nils Binstock
............4 Erick DiLorenzo...6 John Jonke...3 Rick Titus
21 Kevin Omokua...10 Dereck Rios...13 Taylor McNamara...19 Lloyd Grist...7 Chris DeAbreu
................11 Jean Tshimpaka...9 Daniel Revivo
Subs:...27 Brandon Heembrock (gk)...8 Domenic Oppong (fwd)...14 Damion Scott (mid)...16 Cameron Medwin (mid)...17 Matthew Smith (def)...22 Anthony Badahur (fwd)...24 Chris McBride (fwd)
team officials:...head coach Duncan Wilde...assistant coaches Billy Steele and Rick Titus...goalkeeping coach Glenn McNamara...team doctor Dr Frank Markus...medical co-ordinator Dr Robert Gringmuth
Chicago Fire Premier (red socks and shirts, white shorts and numbers)
.........................66 Pat Sperry
...........7 Patrick McMahon...39 JD Binger...5 Mike Giffin
10 David Guzman (cpt)...18 Drew DeGurian...2 Brian Usinger...26 Chris Schuler...4 Brandon Barklage
.................15 Michael Ferguson...9 Peri Marosevic
Subs:...--Drew Van Kampen (gk)...3 Brendan King (mid)...17 Taylor Waspi (def)...15 Andrew Duran (def)...16 Daniel Simek (fwd)...19 Eric Gehrig (mid)...6 Alex Jones (mid)
team officials:...head coach Larry Sunderland
Game officials:...referee Vito Curalli...referee's assistants Michael Izzo and Ihor Bokiy...fourth official Matt Arduini...(blue shirts, black shorts and socks)
1st Half:...game starts 7:41pm...Lynx defend south end on this mild and overcast evening.
50 sec...Fire Marosevic flicks ball to Fire Schuler who slides for ball in box crashing with goalie and is injured.
2 min...Lynx Grist checks Fire Guzman off ball inside Lynx box on right conceding cornerkick.
3 min...Fire Guzman cornerkick from right low and nearest defender kicks away.
5 min...Fire Barklage 30 yard low shot from left bounces to goalie.
6 min...Fire player's 20 yard shot in crowd of playters on right is bounced wide left of net.
8 min...Lynx YELLOW card...Grist for knocking player down on right of box.
8 min...Fire Guzman freekick from 20 yards has play whistled down in box.
9 min…Fire Peri Marosevic GOAL…Fire Michael Ferguson threads pass from center line up middle and Marosevic gets ball at 30 yards and his low 20 yard kick from right is rolled into left corner of net beyond goalie Nils Binstock.
10 min...Fire Schuler blasts 30 yard shot through crowd of players but well over net.
13 min...Lynx DeAbreu 35 yard freekick from left has ball knocked to ground and Lynx player shoots ball from 20 yards wide through crowd of players.
16 min...Lynx Tshimpaka wins freekick when jostled off ball by two defenders on right edge of box.
17 min...Lynx YELLOW card...Tshimpaka earns it for bumping into goalie after he'd made catch on Lynx DeAbreu's 25 yard freekick from right.
18 min...Lynx McNamara cornerkick from left has Lynx player stick foot in and his 7 yard shot is over net wide left.
24 min...Lynx Revivo breaks through center although being tugged on and he backheels 28 yard ball back to Lynx Rios who blast 30 yard shot over net.
26 min...Fire Degurian long throw-in into box is cleared away.
28 min...Lynx goalie leaps in crowd of players to punch away shot from 20 yards. Fire forward's shot from 22 yards deflects for cornerkick of right.
29 min...Lynx goalie leaps to punch away ball off Fire player's head at 5 yards.
30 min...Lynx DeAbreu 38 yard freekick from right has Lynx player header stopped ball wide left for pass but goalie charges to grab it.
32 min...Lynx Omokhua run on right and centers pass to Lynx Revivo who stops and shoots ball over bar from 20 yards.
33 min...Lynx Omokhua cross from 25 yards on right of box has Fire defender tip header so Lynx forward can't connect.
34 min...Fire Schuler heads ball on edge of Lynx box for Fire Barklage to blast ball that's defelcted for cornerkick.
34 min...Fire Guzman cornerkick from right has goalie punch ball away and defender clear.
36 min...Fire Guzman 35 yard freekick from right has defender on other side of player wall head ball away.
It's now raining and fans pull out their umbrellas.
44 min...Lynx Omokhua on run on right stabs centering ball from 20 yards that's picked up by goalie.
45 min...Lynx DeAbreu ends Lynx pressure with 30 yard blast is wide left of goal after Lynx player in box have defenders block shots.
45 min...Lynx Thsimpaka low 20 yard shot is saved by goalie.
45 min...half ends 8:26pm.
Foul filled with Lynx being called for 12 and Fire for 9.
2nd Half:...starts 8:44pm.
halftime subs:...Lynx Medwin replaces Tshimpaka.
48 min...Lynx DeAbreu long cross in own end has Lynx Omokhua chest down and run in on right and center pass to Lynx Revivo who one-touch volleys 18 yard shot that's directly for goalie to catch.
50 min...Lynx DeAbreu cornerkick from left has Lynx DiLorenzo shoot 20 yarder in crowd of players over net.
51 min...Lynx Medwin heads ball into Fire box on pop up and defender clears.
54 min...Lynx DiLorenzo rush on right rolls centering cross and Lynx Rios redirects wide right on 5 yard shot!!
55 min...Lynx sub...Badahur replaces McNamara.
58 min...Lynx Omokhua cross from left has defender in box heads away.
59 min...Lynx Badahur rush on right has cross cleared by defenders.
60 min...Lynx Omokhua long throw-in from left has ball bounce and deflect off Lynx players head ball over net for goalkick.
62 min...Lynx Rios 15 yard shot has sliding goalie deflect ball onto top of net for cornerkick.
63 min...Fire sub...Gehrig replaces Binger.
...........Fire sub...Simek replaces Guzman.
64 min...Lynx Omokhua blasts partial clearance that's blocked.
66 min...Fire YELLOW card...Barklage for tackle near center line.
67 min...Lynx Rios cornerkick from right has defender block. Rios recrosses and ball again is cleared.
69 min...Fire sub...Jones replaces Degurian.
70 min...Fire Simek 22 yard from right is caught by goalie.
73 min...Lynx sub...Oppong replaces Rios.
78 min...Lynx sub...Scott replaces Deabreu.
79 min…Fire RED card…Brandon Barklage picks up his second Yellow card for kicking the ball into the Lynx net after the whistle was blown. Referee Vito Curalli had given him a Yellow card at 66 minutes for a tackle near the center line.
81 min...Lynx Grist pops up header from 5 yards that goalie catches.
84 min...Lynx Omokhua 15 yard shot from left has goalie push ball wide left of net on dive.
85 min...Lynx Medwin cornerkick from left has ball whistled down in box.
86 min...Lynx Medwin 50 yard bouncer through crowd of players that's caught by goalie.
86 min...Lynx Scott cross from 25 yards has Lynx Badahur shot from 8 yards deflects for cornerkick.
87 min...Lynx player long throw-in from right has Lynx Badahur header from 4 yards that's caught by goalie wide of net.
88 min...Lynx Omakhua 12 yard shot in crowd up middle just wide left of post.
89 min...Lynx Scott cornerkick from right is low and has Lynx player's foot-in deflects ball in for cornerkick on right.
91 min...Fire sub...King replaces Ferguson.
92 min...Lynx Scott spots goalkick for Fire player to save timewasting.
93 min...Fire Gehrig saves ball on line when Lynx Grist boots high kick from 30 yards.
93 min...game ends 9:32pm.
Final Score:…..Toronto Lynx……0……..Chicago Fire Premier………1………
Attendance was about 130 on this warm but wet night. It never rained as hard as predicted but more like an annoying mist. I'm glad I was inside the press box or it would ruin my notes. There wasn't as much slipping around on the slick artificial turf as I expected.
Pat Sperry earned the shutout for the Fire and he had to be good especially in the second half when the Lynx got through a few good shots. The Fire's defense of Patrick McMahon, JD Binger, and Mike Giffin and the midfielders who pulled back in the second half blocked many of the kicks that the Lynx put into the box or kicked the ball away before the Lynx could set up that final touch. The Lynx had stretches near the end where the Fire end of the field was turned into a shooting gallery but the Fire was able to hold on. In injury time Lynx Lloyd Grist booted a high kick in from 30 yards and Fire Eric Gehrig saved on the line by turning and kicking away the ball as it passed him.
The Fire are the first place team in the Midwest Division with a now 4 wins, 1 loss record.
David Guzman was the captain of the Fire team tonight and played as a midfield winger. He played for Toronto FC last year. He took many of the cornerkicks and freekicks but he's short in height.
Rick Titus took the ceremonial kick off tonight. He was an original member of the Toronto Lynx 1997 season and this was the team's first appearance back at Varsity since they left in 2001 and the old stadium was demolished. Tonight was called 'Homecoming Night'.
The Lynx Under 20 team beat the comparable Chicago Fire team 4-0 in the game right before this one.
The Lynx record falls to 1-1. Their next game is Sunday June 1st against West Michigan at 4:00pm as part of a doubleheader with the Lady Lynx who play Vermont at 1:00pm. Both games are at Centennial Stadium.
Newest rumour is that Centennial Stadium will switch from natural grass to an artificial turf in August. I don't know how that will happen when the CSL's Serbian White Eagles are scheduled to play their every Friday in September. The stadium is the largest of Toronto's grass fields and can hold 3000 in the stands.
Rocket Robin
robing@eol.ca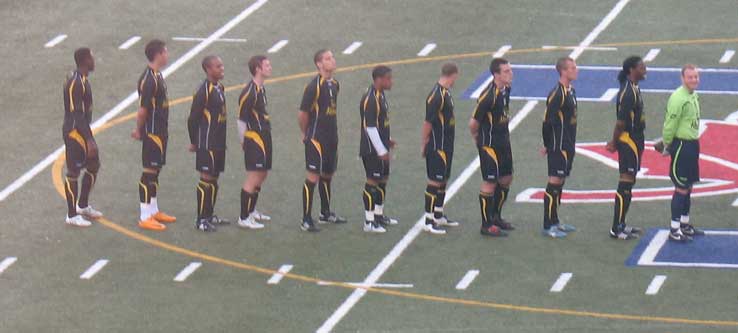 Lynx starters


Fire starters


Rick Titus takes ceremonial kickoff.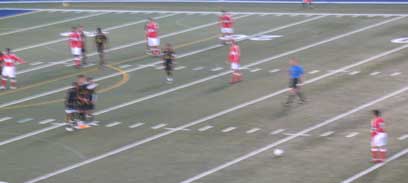 David Guzman takes freekick for Fire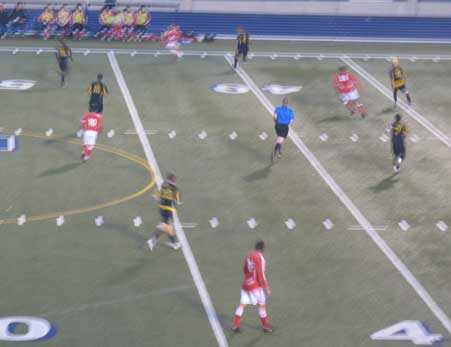 midfield action
.
.