May 12, 2009 CSL Press Conference part 1 (by Rocket Robin)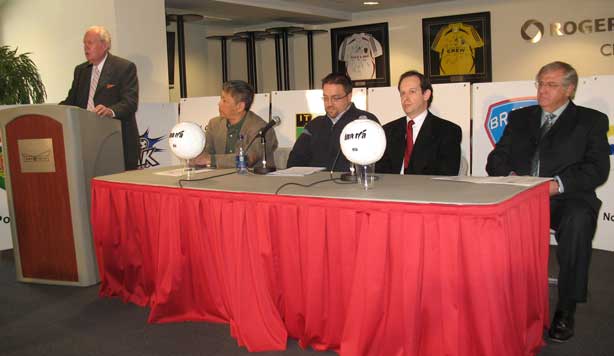 Stan Adamson speaks at the press conference with from left, Willy Jong, Dino Rossi, Cary Kaplan, and John Knox.
[Rocket Robin's comments in these style brackets]
………………………………………………………………………………………………………………….
Summary of the Canadian Soccer League (CSL) press conference of Tuesday May 12th, 2009 held in the VIP Lounge at BMO Field in Toronto at 12:00pm.
The head table was made up of CSL Commissioner Cary Kaplan, new CSA director-at-large John Knox, Willy Jong from Rogers TV, and soccer community member and director of the Soccer Academy of Canada Dino Rossi. The MC was CSL Executive Director Stan Adamson
Stan Adamson brought the press conference to order. [I thought there were more people here than last year].
Adamson said soccer development was revolutionary and evolutionary—going through various stages of development.
He said FIFA was here in 2001 and Sepp Blatter talked about pro soccer saying "Don't be put off by mainstream sports (in North America) as soccer will become (one of them)".
In 2006, Canada ranked # 10 in the world in player registration while in women's soccer on its own Canada was # 3 for registration. We should be seeing Canada perform in proportion with the number of players registered!
He said we've seen the successful launch with high attendances of Toronto FC (overcoming all the neigh sayers just a few years ago). Vancouver and Montreal are also moving along. Montreal has built Saputo Stadium and Vancouver is building [actually refurbishing] a stadium and will have an MLS franchise.
He introduced the head table which would speak for the next half hour.
First Brock Robinson (CSL League Coordinator) went through the press kit that was given out to the media. He discussed the included schedule. Ten teams [balanced schedule of each team playing home and away once against each team], 90 regular season games with the first game coming this Friday with Italia Shooters hosting Trois-Rivieres Attak in Maple. There will be 14 playoff games. Most of the games will be held on weekends except the traditional Wednesday night games of St Catharines. Eight of the ten teams will make the playoffs. There will be two leg quarter-finals and semi-finals then a one game final (which the league—not a club will host) which the two finalists will share in the revenues. In the QF's and SF's are tied at the end of 90 minutes of the second game, the two teams will play a further two 15 minute minutes of overtime, with penalty kicks to decide a winner if necessary (replacing the previous Silver Goal tie-breaker system).
Adamson reminded us that Serbian White Eagles won the championship last year.
He said the CSA (Canadian Soccer Association) has accepted the CSL for membership whereas the CSL used to be a member of the OSA (Ontario Soccer Association).
This national affiliation is important for CSL league expansion. The CSA has given the league "conditional/qualified" membership since May 2nd.
Next introduction was for Willy Jong from Rogers TV.
He said viewer feedback rated soccer coverage as very popular. He was pleased (to have just finalized this yesterday) that Rogers will carry a game of the week to be recorded Saturday afternoon and broadcast on Saturday night. This won't just be for the Toronto area but also for London, Peel area etc. for whoever is the 'road' team in their community. Roger's is looking to grow this relationship as they already find soccer coverage popular with local and high school level games. These (CSL) are pro teams. He wished good luck to the teams and to see them at the championship.
Adamson thanked Jememy Milan for Rogers's production values and urged CSL teams to be cooperative with Rogers needs for background stories and data.
Adamson introduced Boris Spremo a retired photographer who holds the Order of Canada.
Adamson said they encourage clubs to get involved with youth soccer and announced:
1. Brampton Lions are now associated with the Dixie Soccer Club. There will be a special fan day, soccer camps, coaching by the pro players etc. The Brampton Dixie Lions will be the reserve team of the Brampton Lions.
2. Italia Shooters are now associated with the Woodbridge Soccer Club and will bring together youth and pros. Peter Pinnizzotto will be the link between the groups.
Unionville Soccer Club will also have an association with Italia Shooters.
Dino Rossi spoke next. He says a new year brings hope. He has been a supporter of the CSL for years. He looks forward to speculation which players will be drawn to bigger leagues. He's desperate for national team success and has many theories and blame for it. One of the solutions is for the CSL to be an important part of player development. The CSL should evolve to be a top development league. The best youth players should be in the league because of the pro coaching and the level of competition. He noticed that in their first year the TFC Academy improved the quality of their play as the season progressed. He saw how they evolved and the same for the Trois-Rivieres Attak for the Montreal Impact. He knows that there are more 17 and 18 year olds who should be playing in this league. The CSL should inspire these players. The CSL should affiliate with even more youth teams. It helps keep youth in the sport. He's never seen soccer in Canada more popular but it needs success (at the top levels i.e. National team) to build a groundswell. He will attend more games and hopes to see big crowds.
Adamson introduced some officials from the Dixie Soccer Club. He then introduced the CSL league's Chief Referee Tony Camacho and also Ken Thomas.
John Knox was up next and presented greetings from the CSA board. He is happy with Rogers bringing expanded coverage to the league. He remembers last year watching the TFC Academy vs. North York Astros on television and remembered what a great game it was and as a showcase for young players. He said Cary Kaplan made a convincing presentation that won the CSL provisional membership in the CSA. He hopes they can move on to full membership. He said the standard and teams in the CSL has improved to excellent. He wishes the teams and officials success.
Adamson gave thanks to Phil Ionadi of Brampton Lions for his hard work in linking his club with Dixie.
There was a brief break in the conference to set up a replay of Cary Kaplan's 5-8 minute presentation that he made to the CSA.
Cary Kaplan started before that saying this is now his fifth year of these introductory press conferences.
The ten clubs are all important. There are four 'pioneer' teams (London, North York, St Catharines, and Toronto Croatia) with links back to the old NSL days.
The Trois-Rivieres Attak led the league in attendance last year. He gave us some background on himself (hockey executive background) and those of some of the CSL execs like Stan Adamson.
The presentation is ready!
Xxxxxxxxxxxxxxxxxxxxxxxxxxxxxxxxxxxxxxxxxxxxxxxxxxxxxxxxxxxxxxxxxxxxxxxxxxxxxxx
Now this is where I fell behind (just like old school days) when there were 8 reasons for this or that and I'd get to write down the first 5 and the screen would change.
Near the end, I started taking pictures on my own camera which might come out however I asked after the conference if I could copy his slides/overheads to fill in the blanks and he gave instructions for one of the staff to e-mail me a copy of the presentation. If I receive that in the next day or so I'll post a message or put it on my website…otherwise I'll use my own notes to piece something together.
Xxxxxxxxxxxxxxxxxxxxxxxxxxxxxxxxxxxxxxxxxxxxxxxxxxxxxxxxxxxxxxxxxxxxxxxxxxxxxxxxxxxxxxx
After the presentation (he joked that he knew it would last more than five minutes but he didn't want people bolting for the exits). He also mentioned the league goal of becoming a 30 team national league. The CSA membership of the CSL was approved by all ten provinces with no objections (which was a surprise as it's not often they agree). He's looking for a CSL team to someday get a spot as the fourth team in the Nutrilife Canadian Championships. He outlined the future West, International, East divisions. (Great slide on that I'll try to write down if they don't send me the file). They make no apologies to ethnic named teams in the Toronto area. It suits the purpose of our multi-cultural city. Serbian White Eagles—Chivas USA. The league is currently a medium sized player in a large jersey. This is a big moment for the CSL this year and compared it to the NHL in 1918 when they had 'three teams and a burnt out arena'.
That brought the meeting to an end and there was a catered luncheon served.
I did some mingling and spoke to Ryan Gauss from London who says all their home games will be broadcast live on Rogers in their area. They may pick up some players from Windsor Border Stars [not in the league this year—ironically when the league talks of expansion]. That team may be restructuring.
I asked TFC Academy head coach Jason Bent about the team this year. He agreed losing the MLS Reserve league has created a huge hole between the academy program and the MLS pro side. Their reserve side is made up of 15 and 16 year olds and their league side is made up of 17 and 18 year olds. There will not be overage players staying with the team. He says there will be five players returning from last year's senior team. The older players will move on to University. [I suppose they could always join another CSL team].
I asked around and settled on Brock Robinson the league coordinator if he knew if Rookie of the Year Adrian Pena would be on any CSL team—not known at this time.
This year's organization:
National Division—Brampton Lions FC, London City, North York Astros, St Catharines Wolves, TFC Academy, Trois-Rivieres Attak [same as last year except there is no Windsor Border Stars this year]
International Division—Italia Shooters, Portugal FC, Serbian White Eagles, Toronto Croatia [same as last year]
Reserve Division—Brampton Dixie Lions, Elite Italia FC, North York Astros II, Portugal TE, TFC Academy II, Unionville Italia FC, Woodbridge Italia FC
[Yes, Italia Shooters owner Tony DeThomasis agreed that Italia actually has three teams in the reserve division but with their own identities].
[Last year's Reserve Division had only five teams but Toronto Croatia Reserves appear to not be back this year].
Rocket Robin
robing@eol.ca
.
.