.................

Result of the Friday May 15th, 2009 CSL game between Italia Shooters and Trois-Rivieres Attak played at St Joan of Arc Catholic High School in Maple at 8:00pm.
Italia Shooters (all blue, white and numbers)
..................1 Roberto Scala
12 Alvaro Yacques...3 Fabrizio Castigliane...18 Gabriel Gallucci...7 Samuel Hazan
19 Johna Carrera...4 Christos Myrtos...11 Vince Forestieri...8 Nick Casternino
...............23 Aundrae Rollins...10 Joey Todaro (cpt)
Subs:...00 Camilo Benzi (gk)...5 Stalin Cardenas (fwd)...6 Anthony Egizii (def)...13 Kadien Lecky (fwd)...16 Endri Begaj (def)...17 Frank Todaro (mid)...22 Karl Pagels (def)
team officials:...head coach Roberto Pugliese...assistant coach Kris Traykov, manager Alex Burecci, trainer/physio Kevin Sims and John Pacione
Trois-Rivieres Attak (all white, blue numbers, these were actually Montreal Impact jerseys with crests and all)
.................1 Simon Lagarde
8 Samuel De Cuantal...3 Elkana Mayard (cpt)...20 Karl Ouimette...33 Amine Moftouh
27 Chris Michel Rumuri...16 Felix Cardin...5 Joey Crotese...18 Guillaume Heroux
..................15 Pierre Rudolph Mayard...7 Yanick Rome-Gosselin
Subs:...22 David Lewis-Lamoureux (gk)...6 Kevin Cossette (mid)...9 Reda Aggourram (fwd)...10 Antoine Flores (fwd)...11 Mircea Ilco (fwd)...14 James Louis-Jeune (def)...24 Francesco Augustin (def)
team officials:...head coach Darippe Eullaffroy...assistant coach Christophe Dutarte...manager Abdel Bousayri...trainer/physio Martha Dos Santos and Celine Quesnel
Game officials:...referee David Barrie...referee's assistants Steve Sendorovich and Peter Pendli...fourth official Yusri Rudolph...(all black, yellow and white trim)
1st Half:...game starts 8:23pm...IS defend south end.
There's a ceremonial kick taken by a Vaughan city councillor.
There's a moment of silence for the victims of the earthquake in Italy.
3 min...TRA Cortese cornerkick from left pinballs off players including TRA Mayard and ball delflects wide right for cornerkick.
4 min...TRA Rumuri cornerkick from right is low and IS Myrtos tips over players in box.
10 min...IS Forestieri low 40 yard freekick through crowd of players and ball is smothered by goalie.
11 min...TRA player low 30 yard cross from left is smothered by goalie.
11 min...TRA Mayard 35 yard blast up middle is just over bar.
14 min...IS Yacques cross from right is headed back and recross is also from 20 yards on right is whistled offside.
16 min...IS Todaro cross from 20 yards on left has goalie swat ball away on leap from IS forward at 3 yards and rebound is cleared.
17 min...TRA Heroux low cross from 20 yards near left end line is picked up by goalie.
19 min...TRA Mayard 25 yard midair kick is over net to left.
21 min...TRA Mayard 25 yard freekick on extreme left hits leaping one man wall.
25 min...TRA YELLOW card...Rumuri earns it for tackle on IS Gallucci at IS 50 yard line.
25 min...IS Todaro 22 yard shot up midle is wide right.
26 min...IS Casternino charges for ball on left and dekes defender and 20 yard cross into box has goalie stop.
29 min…Attak RED card…Chris Michel Rumuri picks up his second Yellow card from referee David Barrie for diving inside the right edge of the Shooters box when he's nudged by a defender. (This was his second Yellow card within four minutes).
33 min...IS Todaro turns and fires 25 yard shot up middle that sprawling goalie pushes wide left of post.
34 min...IS Hazan ends pressure after cornerkick from left with 22 yard shot well wide left of net.
34 min...TRA Mayard blast from 25 yards on left is just over net.
37 min...IS Casternino charges up left and eludes defender sliding tackle at 40 yards and blast 25 yard shot on left that snakes over bar.
40 min...IS Rollins flics 15 yar shot from right that goalie catches.
42 min…Attak Yanick Rome-Gosselin GOAL…Rome-Gosselin gets ball at 25 yards up middle and his low 22 yard shot rolls into left corner of net beyond diving goalie Roberto Scala.
44 min...TRA Rome-Gosselin cuts in along 25 yards and blast as he falls over and ball is caught by goalie.
45 min...TRA Cortese 40 yard freekick from right drops just over bar.
46 min...half ends 9:09pm.
2nd Half:...starts 9:25pm...the weather is now getting much colder.
halftime subs:...IS sub...Lecky replaces Forestieri.
.................IS sub...Cardenas replaces Gallucci.
47 min...IS Lecky rush down right but crosses after ball is rolled over end line.
50 min...IS Todaro and IS Myrtos work out short cornerkick but no shot is gotten away.
51 min...TRA DeCuantal 35 yard blast over crowd is caught by goalie.
51 min...IS Lecky 30 yard blast is over net.
55 min...TRA Mayard injured on edge of TRA box.
56 min...IS YELLOW card...Cardenas for pushing over TRA Mayard at IS 50 yards.
57 min...TRA sub...Cossette replaces Heroux.
57 min...TRA Moftouh curves in 45 yard cross from left that flies wide right of net.
60 min...IS Casternino sliding tackle knocks TRA Rome-Gosselin off ball conceding cornerkick.
61 min...IS Castiglione shanks clearance attempt at 7 yards and goalie pushes ball wide left for cornerkick.
62 min...IS Todaro cross from right has IS Cardenas 10 yard shot stopped point blank by goalie and IS Casternino 20 yard rebound is blasted well over net.
64 min...TRA sub...Augustin replaces Cortese.
65 min...IS Lecky eludes defender and leaps sliding goalie to avoid collision at 15 yards.
68 min...IS Todaro 30 yard freekick from left has leaping goalie catch in crowd of players.
69 min...TRA Mayard and TRA Rome-Gosselin get away on 2 on 0 break but Mayard's 30 yard roller has retreating IS Yacques get back to clear ball.
70 min...TRA Casternino cornerkici from left has defender head ball away.
70 min…Attak Yanick Rome-Gosselin GOAL…Attak Francesco Augustin (?) crosses ball high from right side of box and Rome-Gosselin pushes in 2 yard shot on left post stepping around defender to get to the ball.
71 min...TRA sub...Aggourram replaces Rome-Gosselin.
72 min...IS Cardenas low 15 yard shot on right is smothered by goalie on right post.
73 min...TRA Mayard 20 yard blast from right is well over net.
73 min...IS sub...Begaj replaces Carrera.
74 min...IS Todaro cornerkick from left has IS Casternino pop up header.
74 min...IS defender gets back to clear ball off TRA Mayard on rush on right.
74 min...TRA Cossette cornerkick from right is whistled down in box.
75 min...TRA Mayard 30 yard blast on interception down middle is wide right.
75 min...IS Casternino rolls 30 yard shot on left wide left of net.
77 min...IS YELLOW card...Lecky for pushing ball on run through two defenders at 30 yards for hand ball.
78 min...TRA Cossette cross from left end line is well over right side of net.
81 min...TRA Mayard and IS Cardenas crash together just outside TRA box and are both injured. TRA Cardin cramps up near them and is down the longest.
83 min...IS Hazan 22 yard freekick is low and blocked in player wall. IS Begaj low 27 yard rebound from left is saved by diving goalie on right post.
84 min...TRA sub...Louis-Jeune replaces injured Cardin.
84 min...IS Todaro 20 yard shot deflects off defender to goalie.
86 min...IS sub...Hazan replaces Rollins.
87 min…Attak Reda Aggourram GOAL…Aggourram 30 yard blast up middle dips under diving goalie on right side of net.
89 min...IS sub...Pagels replaces a cramped up player I couldn't identify at IS 18 yards on far sideline.
91 min...TRA Ouimette checks IS Lecky off breakaway ball and is injured when pushed at TRA 25 yards.
92 min...TRA Mayard 15 yard shot around defender on left but wide right.
92 min...TRA Aggourram blasts 18 yard shot wide left on shot from left on 3 on 1 break.

Final Score:…..Italia Shooters………..0…………….Trois-Rivieres Attak………..3………..
Attendance was about 300 on this overcast evening with the temperature starting cool and getting colder as the game wore on. There was no gate charge for tickets tonight but everyone was requested to donate to the Italian earthquake relief fund.
The Attak roster looks completely different from last year and is much younger that the 2008 edition. They never ran out of energy despite playing one man down for the last hour of the game.
Simon Lagarde earned the shutout for the Attak making nothing much more than routine saves.
The Shooters roster started with veterans Kadian Lecky and Stalin Cardenas on the bench and coming in at the start of the second half to add some offence to their team. New captain of the Shooters is Joey Todaro who has returned to the team after three years absence. His brother Frank Todaro was listed as a substitute. Brothers Elkana Mayard and Pierre Rudolph Mayard were both starters for the Attak tonight.
New head coach for the Shooters this year is Roberto Pug. The Attak head coach new for this year is Darippe Eullaffroy. Former head coach Marc Dos Santos from two years ago was promoted to the Attak's parent team Montreal Impact after the Impact lost to Toronto FC on Tuesday night.
In a CSL Reserve League exhibition game held before the main game started, Brampton Dixie Lions beat Woodbridge Italia FC (Strikers) 2-1.
Trois-Rivieres Attak plays in the only other CSL game this weekend with a game on Saturday at 3:00pm at Esther Shiner Stadium in North York at 3:00pm against TFC Academy. The game will be taped and broadcast at 8:00pm on Rogers Community Channel. TFC Academy coach Jason Bent was in the stands scouting for tomorrow's game. If Attak can get a result in that game starting only 17 hours after tonight's game ended, they would be my favorites to retain their National Division title. The Attak are the only team that plays two-games-in-a-weekend and that is to cut down on the number of times this season they have to travel to the Greater Toronto area.
Rocket Robin
robing@eol.ca


Shooters starters


Attak starters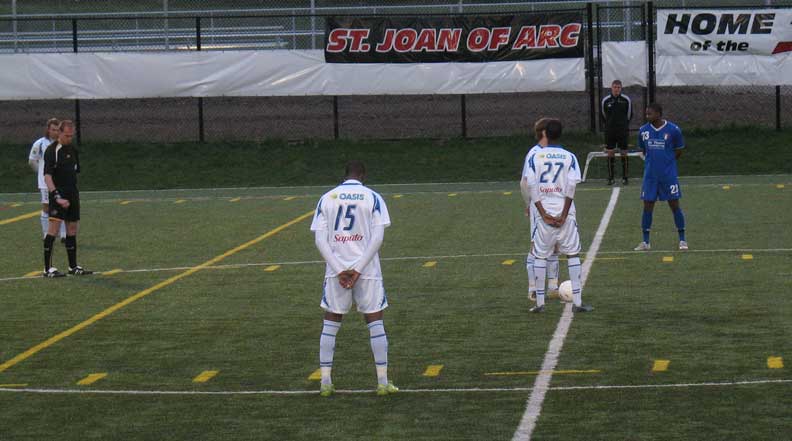 Attak players ready to kick off the 2009 CSL season.


Attak with possession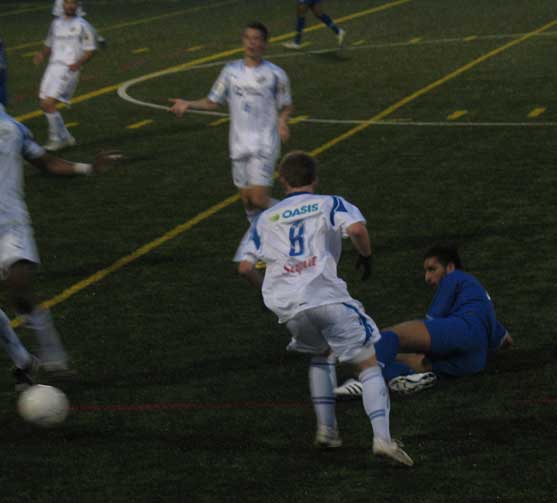 Shooters player slides to poke ball away.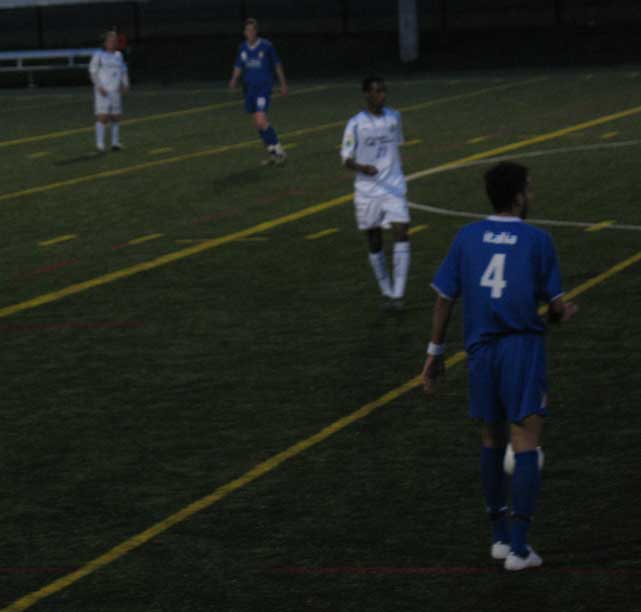 players wait for ball.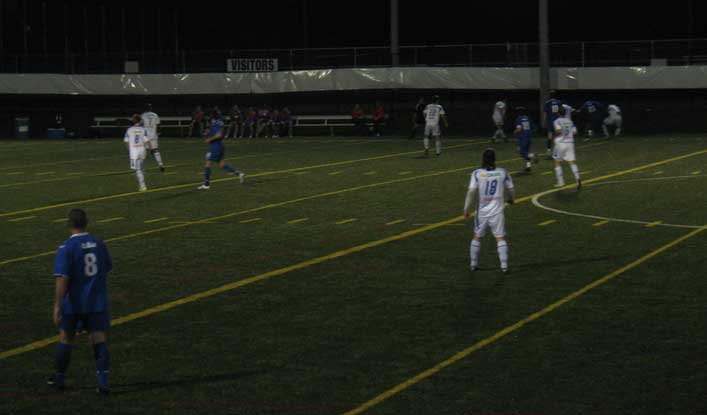 more midfield action.
.
.