.................

Result of the CSL game of Friday May 22, 2009 between Portugal FC and Serbian White Eagles played at Lamport Stadium in Toronto at 8:00pm.
Portugal FC (white socks, red shorts and shirts, yellow numbers)
..........................1 Mike Silva
............20 Dustin Chung...3 Andre Stuart...5 Giovanni Annisi (cpt)
16 Taylor Lord...7 Kevin McIntosh...10 Ramon Bailey...8 Carlos Nogueira...11 Jaroslav Radzinski
...............19 Nana Amponsem...9 Jarvin Skeete
Subs:...6 Alessandro Tavernese...13 Seungok Lee...15 Ahmed Hersi...17 Jamie Carvalho...22 Gustavo Serrano...23 Andrew Leite
team officials:...head coach Danny Amaral...assistant coach Jaime Carvalho...manager Tony Maia...trainer/physio Jesse Asiedu
Serbian White Eagles (white socks and shirts, blue shorts and numbers)
........................27 Dan Pelc
...........6 Miko Medic...5 Marc Jankovic...20 Milan Janosevic
14 Uros Stamatovic...8 Carlos Zaballos...18 Kiril Dimitrov...22 Adrian Tismenar
............9 Sasa Viciknez (cpt)...16 Evan Milward...11 Milos Scepanovic
Subs:...1 Danilo Sarcevic...7 Mario Ostojic...15 Nino Velimirovic...17 Alex Braletic
team officials:...head coach Rafael Carbohal...manager Ken Stanojevich
Game officials:...referee Justin Tasev...referee's assistants Ben Suvulescu and Ramee Arbaji...fourth official Ricky Zomparelli...(all black, yellow and white trim)
1st half:...game starts 8:06pm...PFC defends south end.
4 min...SWE Scepanovic 25 yard blast down middle pops off defender and goalie catches ball on way down.
5 min...SWE Stamatovic cross from 20 yards on right has SWE Milward flick header from 10 yards just wide left of net.
8 min...SWE Zaballos low cross from right has ball cleared from box.
12 min...PFC Amponsem 50 yard chip from right is caught by goalie.
13 min...SWE Zaballos makes key clearance on cross at 3 yards in SWE box.
14 min...SWE Zaballos 50 yard chip from right is caught by goalie.
15 min...SWE Janosevic injured at PFC 40 yard sideline on tackle.
22 min...SWE Viciknez cornerkick from left has Viciknez get chance on recross and goalie leaps to swat away ball in crowd of players.
24 min...SWE Dimitrov gets away cross on right end line but ball is cleared.
24 min…White Eagles Sasa Viciknez GOAL…Viciknez gets through ball pass up right from 40 yards and rushes by defender and he kicks 10 yard roller into left corner of net beyond goalie Mike Silva.
26 min...PFC Bailey 25 yard freekick from right is over wall of players and caught by goalie.
27 min...SWE goalie beats PFC Skeete to through ball up middle to smother ball on edge of box.
28 min…White Eagles Uros Stamatovic GOAL…Stamatovic intercepts PFC defender's clearance from 3 yards who'd just stopped 10 yard cross from left. Stamatovic one-times blast from 15 yards into right side of net.
31 min...SWE Zaballos cross from near right cornerflag is drifted behind net.
33 min...PFC Radzinski cross from 15 yards near right line is over players in box.
34 min...SWE YELLOW card...Dimitrov earns it for what looked like argueing a freekick call against SWE.
34 min...PFC Lord freekick from extreme left 30 yards has goalie punch ball away leaping in crowd of players. PFC Nogueira blasts 25 yard partial clearance well over net.
38 min...SWE Zaballos taps 5 yard shot on low cross has ball deflect off defender.
38 min...SWE Stamatovic cornerkick from left has SWE player nod header just over bar from 7 yards.
39 min...SWE Dimitrov gets ball up middle and boots 20 yarder that's saved.
40 min...SWE YELLOW card...Milward for knocking over PFC Lord near left side of box.
41 min...PFC Chung 22 yard freekick from left has ball over players' heads.
43 min...SWEDimitrov cross from 25 yards on left has ball bounce wide right for goal kick.
44 min...SWE Viciknez rush down left and turns and crosses but flying defedner heads ball out of box.
45 min...PFC defender makes great scissor leg tackle to poke ball away from SWE Dimitrov at PFC 8 yards on left side.
46 min...half ends 8:52pm.
2nd Half:...starts 9:08pm.
Halftime subs:...SWE Braletic replaces somebody.
......................PFC Serrano replaces somebocy.
48 min...PFC Radzinski 40 yard freekick shot from right has partial clearance and PFC Serrano dribbles into box but is poke checked off ball.
51 min...SWE Viciknez 30 yard freekick from right bounces wide right of net.
54 min...SWE Scepanovic rush up left from 60 yards and boots 20 yard shot well over net.
55 min...PFC Lord 25 yard freekick from left is over net.
58 min...SWE Viciknez cornerkick from right has partial clearance sent by another player and goalie catches.
59 min...PFC Lord pushes pass too far ahead of charging player and rolls ball right to goalie.
61 min...PFC sub...Hersi replaces Chung.
62 min...SWE Scepanovic long run on 1 on 2 rush on left and he wins a cornerkick from the left.
62 min...SWE Stamatovic cornerkick from left has ball cleared in box.
63 min...SWE sub...#10 (not listed) replaces Stamatovic.
64 min...SWE Viciknez cornerkici from left has ball dip into box and deflect off SWE Zaballos and goalie catch 6 yard shot.
66 min...PFC sub...Lee replaces McIntosh.
69 min...PFC Lee 20 yard roller after receiving quick freekick on right and goalie smotheres ball as sliding PFC forward just misses connecting.
70 min...SWE Jankovic gets back to poke away ball from PFC Lee for cornerkick. SWE Jankovic is injured on that play on edge of box and needs off field treatment).
71 min...PFC Nogueira cornerkick from left has ball drop in box and defender clear.
75 min...PFC Skeete holds off defender and turns and kicks low shot smothered by goalie.
76 min…PFC Carlos Nogueira wins a Penalty kick as he's knocked down in the White Eagles box. Referee Justin Tasev points to the spot.
76 min…PFC Ramon Bailey Penalty Kick GOAL…Bailey shoots low and ball is tucked into right corner of net just between post and diving goalie Dan Pelc.
77 min...SWE sub...Ostojic replaces the still injured Jankovic. SWE had played shorthanded for the last 7 minutes.
78 min...PFC Lee cross from right has goalie catch.
78 min...SWE Viciknez 35 yard shot from left is caught easily by goalie.
79 min...PFC Lee cross from right has PFC Serrano head ball just wide left of post from 10 yards.
82 min...PFC sub...Carvalho replaces Lee.
83 min...SWE Viciknez 25 yard shot is well wide left of net.
84 min...SWE Dimitrov 22 yard shot has flying goalie push ball over bar.
84 min...SWE Viciknez cornerkick from right is cleared on right edge of box.
86 min...PFC Annisi 45 yard freekick from left is knocked around in box but cleared.
87 min...PFC Stuart low 40 yard blast through players wide right.
88 min...SWE Zaballos 25 yard shot is blasted well over net from right.
90 min…PFC Ahmed Hersi GOAL…PFC Ramon Bailey takes 35 yard freekick from right sending ball into box and it gets knocked over to Hersi who kicks ball in from 6 yards from even with right post low to left side of net.
91 min...SWE #10 25 yard freekick from left has ball stopped in box and cleared.
92 min...PFC Serrano charges for through ball but can't redirect before going over end line falling over on right.
93 min...SWE players cross from right has another SWE player in crowd of players on left post head 5 yarder which deflects wide left for cornerkick.
93 min...SWE Viciknez cornerkick from left has defender clear ball on edge of box.
94 min...game ends 9:57pm.
Final Score:…….Portugal FC………….2……………Serbian White Eagles………….2………
Attendance was about 800 people for this season opener for both teams. The weather was mild only cooling down when it got dark before the second half. The crowd included what seemed to be about 200 players from the Toronto Eagles Soccer Club who played mini games at halftime. This is the new allegiance Portugal FC has formed with local kids' leagues. The kids all stayed to the game ended just before 10:00pm. This will be fantastic if the team can keep this promotion going for a mid afternoon game. White Eagles had some traveling fans that made the trip to downtown Toronto.
Serbian White Eagles are the defending CSL champions and I expected a 2-0 lead would be easy enough to defend. White Eagles roster (so I've heard) is the most unchanged from last year but is supposedly the oldest. White Eagles controlled most of the first half but PFC picked things up at about the 65 minute mark. A crucial save at the 84 minute mark by goalie PFC Mike Silva where he flew backwards and pushed the ball over the bar on SWE Kiril Dimitrov's 22 yard shot saved the PFC comeback attempt or this game would have been over.
Jaroslav Radzinski was a starter for Portugal FC. I hadn't seen him in the CSL since he played for Brampton about three year's ago. He is the younger brother of Canadian National team player Thomasz Radzinski. Taylor Lord was also a starter. I've never heard of him but he has played for Monaco in the French League and is still a young guy. The head coach is Danny Amaral who put in many years service as a forward up to last season but through injury, can't play anymore.
Serbian White Eagles have a forward listed as Evan Milvard. If this is the same Evan Milward who was the CSL leading scorer for Metro Lions a few years ago, it's good to have him back. Head coach is Rafael Carbohal.
Lamport Stadium finally has a working scoreboard after a few years of doing without one. The stadium lights are still not bright enough when it gets dark and it's hard to see certain corners of play.
The program (lineup of players) was very poorly produced. I can understand that this first game of the year they would not know the visiting players but there were only two players who were listed on the Portugal FC team that actually wore the uniform number listed on the program. Evidently tonight's game was played on Friday June 22, 2009 against the "Serbian White Ealges (sic)". Their next game will be played on Friday May 29, 2009 (hmm some kind of time travel?). On the back of the program it lists their season's schedule and has tonight's game with the proper date but their next game as Saturday May 30th at 4:00pm. That confuses people who may want to come back. PA announcements repeatedly reminded fans of their next game. (It really will be on the Saturday afternoon).
Tomorrow's game at Lamport Stadium will be played at 7:00pm and will have TFC Academy against Toronto Croatia. The timing is convenient as potentially there will be 20,000 TFC fans getting out of BMO Field at 6:00pm after their MLS game against New England Revolution and it leaves them able to see both games. It's only about 6 city blocks away.
Rocket Robin
robing@eol.ca


Portugal FC starters


White Eagles starters

action near sideline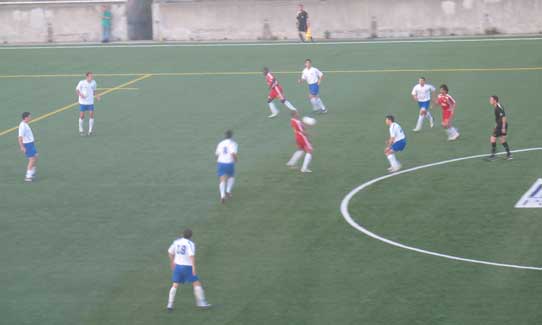 midfield action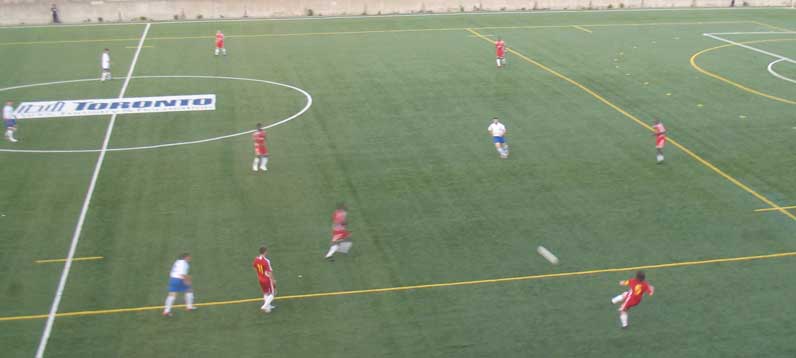 Portugal FC Annisi freekick.
.
.