.................

Result of the Sunday May 24, 2009 CSL game between Italia Shooters and London City played at St Joan of Arc Catholic High School in Maple at 5:00pm.
Italia Shooters (all blue, white and numbers)
...................00 Camilo Benzi
12 Alvaro Yacques...2 Gaston Orique...7 Samuel Hazan...6 Nick Cisternino
............17 Mario Orestano...19 Johan Carrera...23 Aundrae Rollins
............13 Kadian Lecky...5 Stalin Cardenas...10 Joey Todaro (cpt)
Subs:...1 Vito Pittelli (gk)...3 Fabrizio Castiglionel (def)...15 Gonzalo Lopez (mid)...18 Gabriel Gallucci (def)...21 Andrae Naccarato (fwd)...25 Domenic Sciculana (def)
team officials:...head coach Roberto Pugliese...assistant coach Kris Traykov...manager Alex Burecci...trainer/physio Kevin Sims...team official John Pacione
London City (white socks and shirts, black shorts and numbers)
...................1 Anthony Santilli
...........16 Keith Smith...13 Sergio Siguenza...5 Jevon Vanderryden
11 Patrick Bueno...22 Brian Abidakun...12 Shawn Uz...3 Erik Elmauer...2 Mohcine Talouati
..................19 Jon Zdrunca...35 Andrew Loague (cpt)
Subs:...31 Chris Davis (gk)...4 Travis Gordon (def)...10 Juan Londonog (fwd)...20 Mike Vandenheuvel (fwd)...21 Landell Bennett (mid)
team officials:...head coach Sean Gauss...assistant coach Andrew Loague...manager Ryan Gauss
Game officials:...referee Yusri Rudolf...referee's assistants Ben Savulescu and Alexis Vaughan...fourth official Gianni Facchini...(all black, yellow and white trim)
1st Half:...game starts 5:04pm...IS defend south end.
1 min...City Zdrunca just step behind for 8 yard shot charging to right post to get to 45 yard freekick from right.
4 min...IS YELLOW card...Cisternino earns it for a sliding tackle.
5 min...IS Otrestano 25 yard balst up middle is caught by goalie.
6 min...City Uz cornerkick from left is headed away on left post by defender.
8 min...IS goalie charges forward to pick up bounce in box.
9 min...IS Carrera blast hits City Siguenza in head and deflects up and bounces to goalie.
10 min...IS Cardenas blasts 12 yard shot wide right from extreme right after IS Cisternino cross from left is throuugh box.
11 min...IS Rollins wins cornerkick on left on sliding tackle at 5 yards after IS Cardenas has shot blocked.
13 min...IS Todaro takes third cornerkick within two minutes and has defender clear away from box. The other cornerkicks had a defender head the ball behind the end line.
14 min...IS Todaro 35 yard freekick from right has IS Carrera head ball from left at 10 yards and defender clears from right at 3 yards.
15 min...IS Todaro 35 yard shot from left has goalie punch away ball from left post.
15 min...IS Lecky break on right and he chips shot over bar from 18 yards on right.
16 min...IS Lecky break on right has ball pushed too far away for goalie to catch from 12 yards.
17 min...IS Cardenas injured just outside center circle.
18 min...City player's cornerkick from left sails over players in box.
19 min...City Loague 40 yard shot down middle is wide left.
19 min...IS Lecky rush on right has ball tipped wide right for cornerkick.
20 min...IS Todaro freekick from 25 yards on left has IS players stoop down for headers but defenders clears in box.
23 min...City Loague gets off balance 30 yard shot up middle that has diving goalie push ball wide right.
23 min…City Brian Abidakun GOAL…A cross from 30 yards on the left found Abidakun open and he boots a 12 yard shot low that goalie Camilo Benzi gets a piece of but ball trickles into left side of net.
25 min...City YELLOW card...Zdrunca for roughing Cisternino.
25 min…Shooters RED card…Nick Cisternino picks up his second Yellow card for retaliating when City John Zdrunca appeared to kick Cisternino when he'd fallen over.
27 min...City goalie makes sliding save on left post.
29 min...IS goalie charges to clear through ball.
30 min...IS Todaro 30 yard shot up middle is saved by sprawling goalie.
31 min…Shooters Johan Carrera GOAL…Shooters Kadien Lecky dummy kicks from 5 yards as ball crossed low through City box and Carrera kicks in 5 yarder from right post beyond goalie Anthony Santilli trapped on the wrong post.
32 min...IS sub...Castiglione replaces Orestano.
32 min...City Vanderryden leaps to high-kick ball ball for cornerkick to prevent tap-in.
33 min...IS Cardenas heads 7 yarder after cornerkick from right that City defender heads off line on left post.
34 min...City goalie catches 35 yard high shot from right.
35 min...IS goalie charges out to catch high bouncer ahead of charging City Loague.
36 min...City YELLOW card...Talouati for tackle at IS 40 yards.
38 min...City Loague pops up 10 yard header over bar charges to 35 yard freekick from left.
40 min...City Uz 40 yard freekick from right has defender clear.
40 min...IS Lecky gets pass up center, rounds City Siguenza to cut 12 yard shot just wide right of net.
42 min...IS Lecky given pass to middle in clear and rushes to 18 yards where he chips goalie and shot is just over bar.
44 min...City Zdrunca good run up right but pass to City Loague alone at 7 yards is offside at 18 yards.
47 min...half ends 5:51pm.
2nd Half:...starts 6:05pm.
48 min...City Uz 30 yard low shot up midddle has goalie smother ball.
49 min...City Vanderryden injured at City 30 yards near sideline.
51 min...City YELLOW card...Elmauer earns it for bashing into IS goalie who leapt for high cross.
52 min...IS Lecky cross from right is partially cleared and IS Carrera gets away 20 yard shot that goalie saves.
53 min...IS Hazan pass from left is too far for IS Lecky and ball rolls for goalkick.
54 min...IS sub...Lopez replaces Cardenas.
55 min...City sub...Vandenheuvel replaces Elmauer.
56 min...IS players work out cornerkick from left but shot is blocked on edge of box.
56 min…Shooters Aundrae Rollins GOAL…Shooters Kadien Lecky flick header from 30 yards sets Rollins on rush on right who races down side and his low shot bounces over falling goalie into left side of net. (since the goalie had his hand over his eyes later in the game, it appears he lost the ball in the sun).
57 min...IS goalie leaps to catch chip from right.
58 min...IS Todaro 25 yard freekick from left is just over bar.
59 min...IS Todaro cornerkick from left has ball header and bounce off turf and goalie bobbles but picks up.
60 min...IS Castiglione hurt sliding to check and kicked in face by City Loague at IS 35 yards.
64 min...City sub...Londonog replaces Vanderryden.
65 min...IS Lecky long run on left and rolls cross along end line which defender clears.
66 min...IS YELLOW card...Castiglione earns it for mouthing off inside the IS box.
67 min...IS Carrera injured on edge of center circle.
68 min...IS sub...Sciculana replaces Rollins.
70 min...City Talouati 25 yard freekick from extreme right is cleared from box.
72 min...IS Lecky has sliding goalie beat him to through ball on edge of box.
74 min...IS Todaro 25 yard freekick near right cornerflag has IS Sciculana nod 8 yard header over bar.
75 min...IS goalie catches City Abidakun 50 yard shot down middle over crowd.
76 min...IS sub...Gallucci replaces Carrera.
77 min...IS Todaro cornerkick from right is partially cleared and IS Yacques blasts low 25 yarder that injures City Abidakun in stomach on edge of box.
80 min...IS Todaro blasts 25 yard freekick from left is into side webbing of net.
81 min...IS Lecky run on left gets tangled up and taps pass to IS Sciculana who kicks 15 yarder and defender heads ball wide left off goal line.
82 min...IS Gallucci on 2 on 1 break passes over to IS Lecky who pokes 20 yard shot that's blocked by sliding goalie.
82 min...City sub...Gordon replaces Abidakun.
85 min...IS Lecky taps pass for IS Sciculana who rolls tender pass to IS Todaro but goalie steps forward to pick up ball.
87 min...IS goalie catches bouncer too far for City Loague at 20 yards.
88 min...IS YELLOW card...Lecky for hand ball pushing ball forward along left end line.
90 min...City YELLOW card...Siguenza earns it for pushing over IS Lecky.
91 min...IS Orique makes important clearance to prevent shot up middle on edge of box.
92 min...City Smith can't turn cornerkick from right from 15 yards on left leaping for header and ball is wide left for goalkick. Smith is injured on the play.
94 min...IS Todaro taps cornerkick from right to IS Hazan and they both play with ball in the corner. A pushing match starts between the two teams.
94 min...IS RED card...Samuel Hazan earns it for argueing or throwing an elbow.
96 min...City win last cornerkick from left which they waste.
97 min...game ends 6:57pm.
Final Score:…….Italia Shooters………2……………London City………1………..
Attendance was about 200 people for this game on a mild day with a bright sun. This was great weather for soccer but too bad that more people didn't show up.
Shooters recovered well from their opening loss last week when they were beaten 3-0 by Trois-Rivieres Attak. They played over an hour with ten men. Once again they had many chances to put the game out of reach earlier but the game was in doubt until the end even though Shooters really limited City's chances in the second half.
This game they started out with veterans Kadian Lecky and Stalin Cardenas on the field. Cardenas lasted the first 54 minutes and Lecky completed the game although he looked tired near the end for all his runs but went on a last minute time wasting run up the sideline in injury time and even got City defender Sergio Siguenza to draw a Yellow card for pushing him over trying to check him off the ball at the corner flag and won a cornerkick on that play. Lecky had about half a dozen chances that were just off target or stopped by the goalie.
Team captain and veteran Andrew Loague was the offensive threat for City but he looked tired in the last 20 minutes.
There were a lot of Yellow cards (besides the Red) given out today by referee Yusri Rudolph for the rough tackles given out by both teams and a few for mouthing off.
I'd heard City was going to pick up a few players from the folded Windsor Border Stars and sure enough there was the new City goalie Anthony Santilli between the pipes who had to make some great saves. Erik Elmauer was a starting midfielder but that wasn't too much of a surprise as he's played for London in previous years. Biggest surprise was Shooters substitute Domenic Sciculana who came in at the 68 minute mark as a forward and helped them dominate possession. I asked him after the game and found out he drove four and a half hours from Windsor to Toronto to suit up for Shooters and said that really surprised many of the City players.
Rocket Robin
robing@eol.ca


Shooters starters


City starters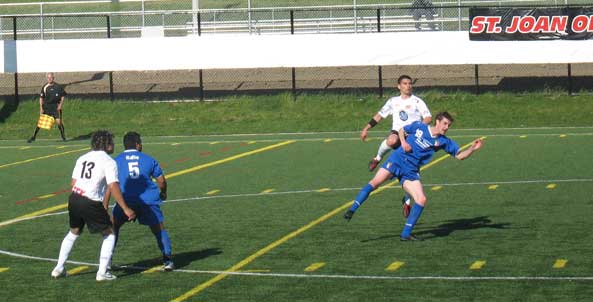 Shooters Joey Todaro has just headed away ball.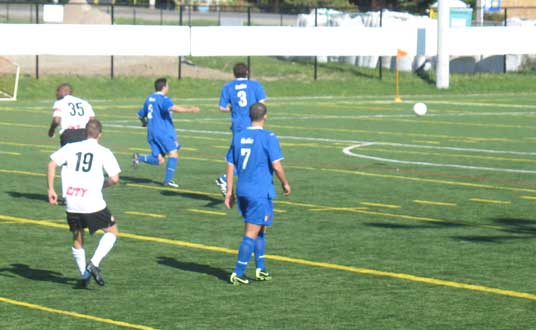 City players push ball too far forward.


Shooters Stalin Cardenas held by City's Sergio Siguenza.


City players on a rush.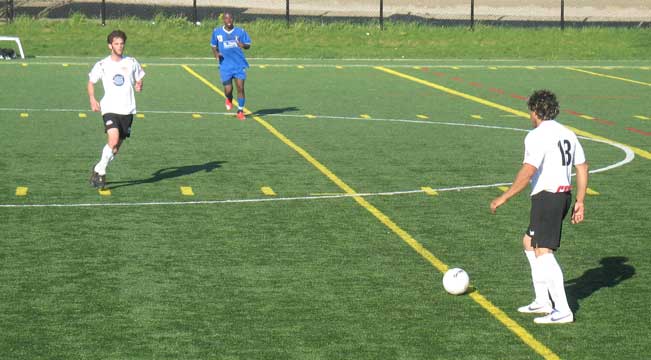 City's Sergio Siguenza with ball.
.
.