.................

Result of the Saturday July 25, 2009 CSL game between North York Astros and Italia Shooters played at Downsview Park in North York at 3:00pm.
North York Astros (all navy, yellow numbers, white trim)
..............12 Arthur Zaslavski
5 Diego Benzi...14 Kurt Ramsey...16 Alex Kawalit (cpt)...2 Phil Rivers
9 Nick Miodrag...10 Diego Maradona...20 Stefan Ziatanov...17 Adrian Mancini
.............18 Gersi Xhuti...7 Adrian Pena
Subs:...1 Euloge Awitor (gk)...4 Cedric Mpununu (fwd)...6 John Jung (fwd)...8 Ivan Solis (mf)...11 Alexandre Oran (def)...13 Murat Demir (mid)... 15 Josue Arian (mid)
team officials...head coach Vladimir Klinovsky...asssistant coach Pavel Zaslavski...general manager Bruno Ierullo...assistant manager J. Perez
Italia Shooters (all white, black numbers)
.................10 Camilo Benzi
21 Geron Duporte...17 Desmond Humphrey...3 Rick Titus...4 Fitzroy Christey
23 Aundrae Rollins...22 Darryl Gomez...12 Alvaro Yaques...8 Nick Cisternino
............19 Johna Carrera...13 Kadian Lecky
Subs:...9 Jason DeThomasis (fwd)...15 Francesco Gioia (mid)...xx Jordan Webb...xx Ryan Dummot...6 Leo Garcia
team officials:...head coach Tony DeThomasis...assistant coach Hubert Groves...club official John Pacione
Game officials:...referee Yusri Rudolf...referee's assistants Pierre Acouri and Costa Karmalis...fourth official Elaudil Karamalis...(all black, white and yellow trim)
1st Half:...game starts 3:13pm...Astros defend north end on this hot overcast afternoon with a heavy rainstorm. As there is no scoreboard, all times are converted from my wristwatch.
2 min...IS Lecky slides 12 yard shot that goalie stops.
6 min...Astros Maradona 45 yard freekick has diving defender clear ball in box.
10 min…Shooters (Astros own goal) GOAL…Shooters Kadian Lecky cross from 12 yards on right has sliding Astros Alex Kawalit redirect ball into own net from 10 yards.
12 min...IS Gomez cornerkick from left has goalie slap at 5 yards on right post and defender blocks ball going into net.
15 min…Shooters Kadian Lecky GOAL…Shooters Alvaro Yaques rolls ball up middle from 30 yards and Lecky gets ball at 20 yards and blasts 15 yarder up middle under bar in center of net.
18 min...Astros Miodrag 22 yard freekick from right has defender head ball away.
20 min...IS Gomez blasts 25 yard shot down middle just wide left of net.
23 min...IS players have goal disallowed for an offside pass.
I retreat to my car to watch the game from the end zone when the fourth official won't let me under the official's tent.
33 min...Astros YELLOW card...Miodrag earns it for pulling down IS Lecky on left edge of Astros box.
34 min...IS player's 18 yard freekick from left is over players on right side of box.
36 min...Astros Miodrag 15 yard cross from right has defender chest ball behind own end line.
37 min...Astros Benzi cornerkick from right is low and Astros Miodrag passes through box bugt ball cleared.
38 min...Astros Rivers 30 yard shot through players up middle has goalie catch.
40 min…Shooters Kadian Lecky GOAL…Shooters rush on left and shoots over sliding goalie Arthur Zaslavski at 15 yards into low center of net.
46 min...half ends 3:59pm.
2nd Half:...starts 4:15pm.
halftime subs:...IS Garcia and Webb replaces two players.
...............Astros replaces goalie and one other player.
48 min...Astros Miodrag low cornerkick from right has IS Dummot clear ball as closes man in box near right post.
54 min...Astros goalie makes diving save to stop low 15 yard shot from right.
55 min...IS Humphrey makes important header in IS box to prevent Astros player connecting on 6 yard header.
56 min...Astros Miodrag 22 yard blast is just high and wide right of net.
57 min...IS sub...Gioia replaces Carrera.
57 min...IS goalie charges out to beat Astros Pena to through ball.
58 min...Astros Benzi cornerkick from right has Astros Kawalit poke ball down, two low shots are saved by IS Titus but a hand ball call in made.
60 min…Astros Diego Benzi GOAL…Astros player taps back freekick from only 6 yards and Benzi blasts low 12 yard shot that deflects off defender's leg into left corner of net with goalie Camilo Benzi (his brother I heard) lost in the crowd of players.
61 min...Astros Mpununu rush up middle has 12 yard shot is pushed wide left of net for cornerkick on left.
61 min...IS goalie leaps and palms away shot from top left cornerkick after cornerkick from left sets Astros player a 15 yard shot.
62 min...Astros Benzi cornerkick from right is caught by goalie.
62 min...Astros Zlatanov 20 yard blast is saved by flying goalie on right post.
65 min…Shooters Geron Duporte GOAL…Duporte low 18 yards shot from right into left corner of net behind diving goalie.
65 min...Astros sub...Demir replaces someone.
67 min...IS Humphrey stops Astros Demir from sharp left angle that had beaten goalie. Astros Mpununu gets partial clearance and shoots 15 yarder on charge just over net.
69 min...Astros Miodrag cornerkick from right is headed through box.
73 min...IS Yaques centers cross to IS Gioia who blasts 20 yarder up middle that flying goalie pushes wide right off post.
75 min...IS Gioia low 20 yard blast up middle is smothered by goalie.
75 min...IS Benzi injured at IS 45 yards on left and needs help to limp off field.
76 min...Astros goalie gives up cornerkick to clear through ball wide right of net from IS Lecky.
77 min...IS Titus 40 yard blast from left is just wide of net.
79 min...Astros Demir flubs on kick from 10 yards on sharp angle shot from right straight to goalie on his knees.
80 min...IS Webb leaping header from 12 yards that goalie catches.
81 min...Astros Benzi 35 yard freekick from right has ball deflect off both a defender and an Astros forward and ball is cleared from the box.
83 min...Astros sub...Arias replaces Mancini.
85 min...Astros goalie charges to edge of box to beat IS Gioia to through ball.
86 min...Astros YELLOW card...Ramsey earns it for a check inside the center circle.
88 min...Astros Benzi 35 yard freekick from left has IS Titus save wide right of net over to Astros Pena at 7 yards on left but defrender keeps him from getting away shot.
89 min...Astros Pena 15 yard blast is saved by diving goalie on right.
90 min...Astros Arias rush up middle and low 16 yard shot is smothered by goalie.
92 min...IS Dummot 25 yard blast down middle has leaping goalie palm ball over net while falling backwards. The whistle ends the game before the cornerkick can be taken. 92 min...game ends 5:02pm.
Final Score:……….North York Astros……..1……..Italia Shooters………4……….
Attendance was about 60 people with almost half in their cars parked in the endzone watching the game like a drive-in movie. The rain downpour started about 30 minutes before the game and lasted well after the game was over. I couldn't watch the game from the press tent as I couldn't see either net from my angle so I watched the end of the first half and the entire second from my own car. I didn't care about the rain as I had my umbrella but I couldn't hold it and make notes. Rogers community channel was filming the game for broadcast at 8:00pm but I don't get cable so I'll have to wait weeks to see the torrent to make better notes like substitutes and he took shots at the other end of the field after the season is over.
The game was played on artificial turf but was a ditch full of water on one of the sidelines. I may have made the broadcast fetching a ball that was floating on it in the second half. The hard rain definitely effected play. The rain had two settings "Hard" and "Harder".
Shooters Kadian Lecky switches from orange boots to plain white ones between halfs because the others got so wet he said.
New players for teams:…Shooters had MLS/USL/CPSL veteran Rick Titus to stabilize their defence. Astros have 2008 CSL Rookie of the Year (he won it while playing for TFC Academy) Adrian Pena as a midfielder on their team.
Shooters help their own cause opening another three points further away from the 9th and 10th place teams Astros and London City. Regardless of divisions, only two teams don't make the playoffs.
This game had been moved from Esther Shiner Stadium because of the City of Toronto workers' strike which now has lasted over a month.
Rocket Robin
robing@eol.ca


Astros starters


Shooters starters


Shooters freekick


Shooters Nick Cisternino on edge of Astros box.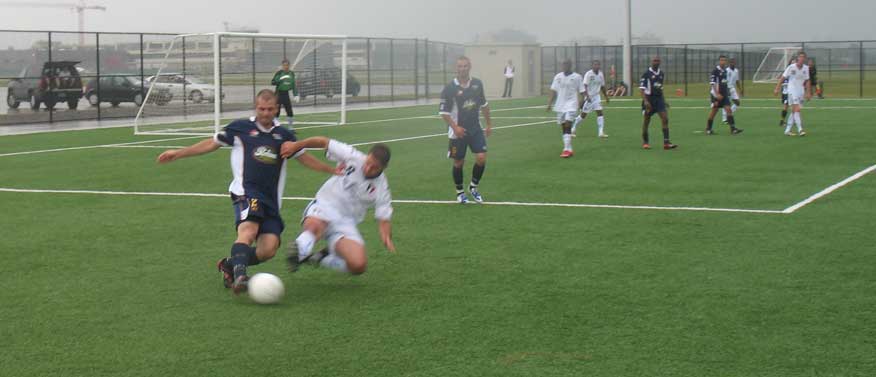 Astros Phil Rivers clears ball from box.


Astros Nick Miodrag freekick near sideline.


Astros freekick from 10 yards inside Shooters box.
.
.