.................

Result of the Sunday August 2nd, 2009 CSL game between Italia Shooters and Brampton Lions played at St Joan of Arc Catholic High School in Maple at 5:00pm.
Italia Shooters (all blue, white numbers)
............10 Camilo Benzi
18 Ryan Dummett...7 Desmond Humphrey...3 Rick Titus...4 Fitzroy Christey
12 Alvaro Yacques...22 Daryl Gomez...19 Johan Carrera...17 Mario Orestano
..........13 Kadian Lecky...23 Aundre Rollins
Subs:...77 Dave Ragno (gk)...6 Julio Garcia (mid)...14 Ilya Orlov (mid)...24 Jordan Webb (fwd)...8 Nick Cisternino (fwd)
team officials:...head coach Tony DeThomasis...trainer Kevin Sims...team official John Pacione
Brampton Lions (all white, blue numbers)
..............1 Kevin Doyle
20 Daniel Cameira...2 Moe Karanough...3 Nicholas Poku...5 Michael Marchese
13 Agustine Demedina...10 Cameron Medwin...7 Alex Arbello (cpt)...19 Jeremy Shepherd
..........11 Andrew DaSilva...8 David Guzman
Subs:...00 Tristan Fletcher (gk)...21 David Cobby (def)...12 Nordo Gooden (fwd)...9 Daniel Nascimento (fwd)...4 Peter Petropanagos (def)... 18 Aver Julian (mid)...17 Shawn ??????????
team officials:...head coach Armando Costa...assistant coach Pernel Mason...manager Victor Cameira...trainer/physio Krystin Donald
Game officials:...referee Yusri Rudolph...referee's assistants Archie Korbiel and Al Wallinga...fourth official John Oliva...(all black, white and yellow trim)
1st Half:...game starts 5:08pm...IS defend south end on this warm early evening with both a breeze and the sun from the west.
1 min...IS Gomez low 35 yard freekick has defender clear.
4 min...IS Orestano picks up deflection at 50 yards and rush down left has low 20 yard kick saved by sliding goalie at 10 yards making foot save.
5 min...Lions Guzman cornerkick from left has diving IS Christey head ball out of box from left post.
7 min...Lions Da Silva onrun up right crosses over box at 20 yards.
9 min...Lions goalie clears ball at 15 yards that deflects off a leg at 20 yards and ball flies well wide right of net.
10 min...Lions Guzman cornerkick from left has Lions Shepherd two who has two tries for shot at 20 yards and both end up blocked by defenders.
11 min...IS Lecky rolls ball through box on left despite getting knocked over by defender but he gets up first. A defender clears.
14 min...Lions Karanough run up middle from center line and his 25 yard blast is rolled wide left.
16 min…Shooters Kadian Lecky GOAL…Lecky rushes down the middle and his 15 yard shot has Lions Nicholas Poku block his shot but he overruns the ball and Lecky gets second kick from 15 yards and send shot under sliding goalie Kevin Doyle.
17 min...IS Lecky rush on right and he rolls ball from 15 yards along 5 yard line and IS Rollins shoots 3 yard tap-in wide left of post.
18 min...Lions Guzman rolls 22 yard shot through crowd that's smothered by goalie.
20 min...IS Lecky is injured at Lions 40 yard line.
26 min...Lions Guzman 30 yard freekick over wall is smothered by goalie diving forward.
27 min...IS Lecky 35 yard roller from right is picked up by goalie.
30 min...Lions Guzman rolls 15 yard shot in IS box and IS Titus makes good foot save at 5 yards preventing a Lions forward from having a clear shot.
31 min...Lions Marchese charges forward on left to shoot 22 yard roller saved by goalie on left post.
32 min...Lions Medwin is injured in center circle.
34 min...Lions DaSilva gets popped over header and is in alone at 28 yards on right and shoots 18 yarder wide right.
35 min...Lions goalie clears IS Carrera rolled cross from the right.
37 min...Lions Guzman rolls 25 yarder up middle and goalie picks up when Lions forward don't run into box.
38 min...Lions goalie is injured in box. His face needs treatment.
43 min...Lions Demedina rush on right wing and his high cross drifts behind net.
44 min...Lions Guzman gets ball at 15 yards but his run to the left end line has cross knocked out for cornerkick.
45 min...Lions Guzman cornerkick from left has goalie palm ball through box out right side.
46 min...IS Carrera turns off deflected block from defender and his 20 yard blast has flying goalie saves at 6 yards.
48 min...Lions Alex Arbello GOAL…Arbello gets high popped up ball at 35 yards and turns and blasts shot up middle that lands in right corner of net beyond diving goalie Camilo Benzi.
49 min...half ends 5:57pm.
2nd Half:...starts 6:17pm...the weather is unchanged but cooler.
halftime sub:...IS sub...Garcia replaces Yacques.
49 min…Shooters Johan Carrera GOAL…Shooters Aundre Rollins on right crosses high to box and Shooters Daryl Gomez shoots 18 yard shot that Carrera at 7 yards on left makes midair poke at ball sending it into right side of net.
52 min...IS Carrera blasts 30 yarder down middle well over bar.
53 min...Lions goalie charges to edge of box to punch away bouncer ahead of IS Gomez who'd beat offside trap.
55 min...Lions Karanough 50 yard freekick has Lions Humphrey pop up 10 yard header in box and defender clears.
56 min...Lions Humphrey 25 yard freekick from right edge of box is lofted just over bar.
57 min...Lions goalie beats IS Lecky to pickup through ball pass to edge of box.
58 min...IS Garcia 30 yard freekick from extreme left is wide right of net.
60 min...IS Orestano midair blast of bouncer at 28 yards is high and wide right.
61 min...IS sub...Webb replaces Rollins.
63 min...Lions Karanough 65 yard freekick bounces wide left.
64 min...IS Lecky intercepts Lions Karanough on edge of Lions box and on left blasts 18 yarder off bar.
66 min...IS Orestano run on left wing and cross high along end line and goalie catches ball in front of two IS players waiting on right post.
67 min...Lions sub...Petropanagos replaces Marchese.
68 min...IS Garcia cornerkick from left is short and his recross bends well wide right for goalkick.
69 min...Lions sub...Nascimento replaces DaSilva.
72 min…Shooters Jordan Webb GOAL…Webb rush from 50 yards and runs through middle avoiding giving pass to offside Shooters Kadian Lecky who lets him run by and he banks 18 yard low shot off inside of left post as goalie is falling backwards.
74 min...Shooters YELLOW card...Garcia earns it for foul at Lions 30 yard line.
76 min...Lions YELLOW card...Demedina earns it for tackle at IS 50 yards.
76 min...IS sub...Orlov replaces someone.
.........Lions sub...Gooden replaces someone.
77 min...Lions player 25 yard roller from right is picked up by goalie.
78 min...Lions Gooden blocked off by defender in box and goalie dives forward to grab.
80 min...Lions YELLOW card...Nascimento for tackle on IS Orlov injurying him in center circle.
81 min...IS Garcia 47 yard freekick up middle bounces wide right of net.
82 min...IS Webb gets centering pass and open 15 yard shot low and goalie blocks and smothers rebound at 8 yards before IS Webb can kick at rebound.
83 min...Lions Nascimento 35 yard freekick from left is blocked by player wall.
84 min...Lions Nascimento cornerkick from left is over players in box and Lions player can't control ball before it's over right sideline for IS throw-in.
85 min...Lions Karanough 40 yard freekick is blocked by player in wall.
87 min...IS Lecky gets cornerkick on rush up left as he eludes Lions Poku at 25 yards but another defender catches him at end line.
88 min...IS goalie catches high cross from right.
89 min...Lions Arbello 30 yard freekick on left is over to left side of box but no one gets a clear shot on goal.
93 min...game ends 7:05pm.
Final Score:…….Italia Shooters…………3………….Brampton Lions………..1………
Attendance was about 200 people which more than usual but there were a lot of children from the Shooters Academy and some traveling Lions fans on this warm sunny late afternoon.
Jordan Webb had only been on the field for 11 minutes before he scored. I've watched him earlier this spring and summer play for the PDL Toronto Lynx and was named their Rookie of the Year and MVP.
Lions captain Alex Arbello had among the best goals of the year with that blast almost too fast to see just before halftime.
Referee Yusri Rudolf had a quiet game giving out only three Yellow cards late in the game.
Lions hold the final playoff spot in the league with their interlocked schedule. I wouldn't know this until hours later but the North York Astros won 4-0 against Portugal FC as their second win in three weeks (losing last week to the Shooters) and still scheduled to play their two games against the Lions and league cellar dwellers London City, the Astros still have a chance at the playoffs. Actually Portugal FC is only one game ahead of the Lions and they've played one more game.
Rocket Robin
robing@eol.ca


Shooters starters


Lions starters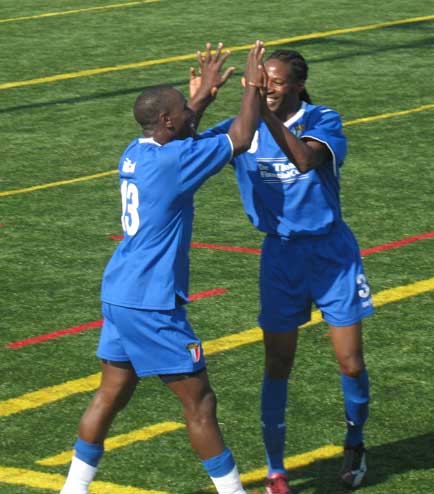 Shooters Rick Titus celebrates with goal scorer Kadian Lecky.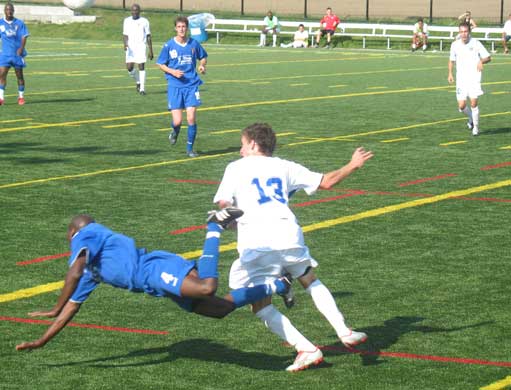 Shooters Fitzroy Christie dives to head away ball sent to Agustine Demedina.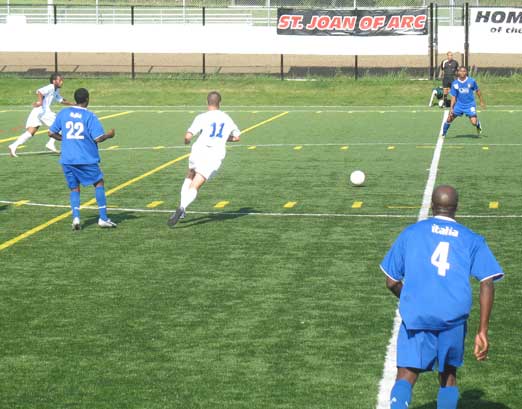 Lions Andrew DaSilva in center circle.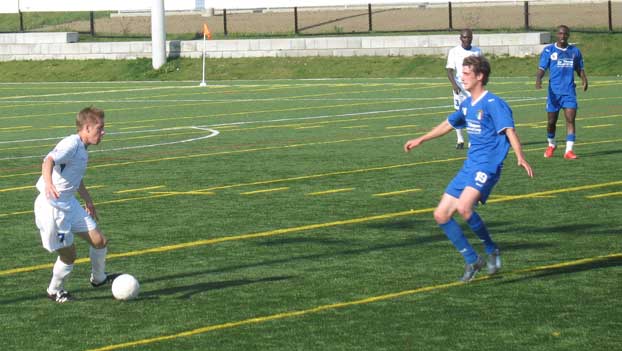 Lions Alex Arbello tries to get by Johan Carrera.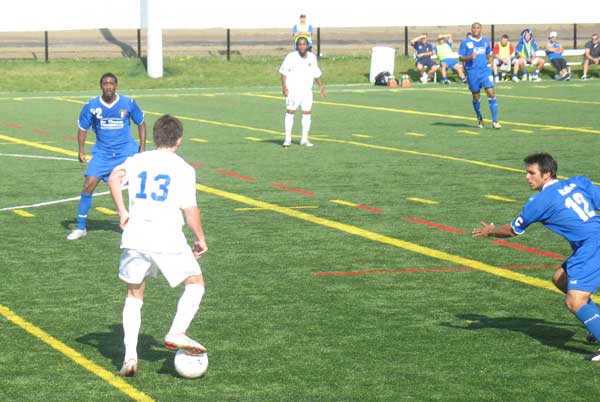 Lions Agustine Demedina with ball.
.
.