.............

Result of the Sunday August 24, 2009 CSL game between Toronto Croatia and Portugal FC played at Centennial Stadium in Etobicoke at 8:15pm.
Toronto Croatia (blue socks, white shorts and numbers, red shirts)
...................89 Marko Culjak
14 Braeden Krampert...17 Nicholas Goddard...16 Halberto Harris...3 Ante Brkic
20 Ainsley Deer...23 Tonci Piriaja...5 Johnathan Bustamante...8 Hayden Fitzwilliams (cpt)
..............10 Tihomir Maletic...7 Tomislav Ples
Subs:...1 Sandi Matika (gk)...18 Mario Beljo (mid)...27 Ryan Tawill (mid)...15 Niko Pesa (fwd)
team officials:...head coach Velimir Crljen...assistant coach Alen Vukobrod...manager Ivan Kulis...trainer/physio Kruno Culjak...team official Pino Jazbec
Portugal FC (white socks and shirts, red shorts, green numbers)
..................1 Mike Silva
23 Andrew Leite...5 Giovanni Annissi...20 Danny Amaral...2 Jaroslaw Radzinski
6 Martin Brovetto...10 Ramon Bailey...18 Biruk Nida...19 Gustavo Serrano...17 Jaime Carvalho
.................11 Jarvin Skeete
Subs:...12 Shawn Buric...22 Taylor Lord...16 Jonathan Pacheco...9 Joseph Philip...21 Yannik Thompson...13 Aaron Thompson...15 Kevin McIntosh
team officials:...head coach Danny Amaral...assistant coach Jaime Carvalho...manager Tony Maia...trainer/physio Mike Peters...team official Mark Almeida
Game officials:...referee John Oliva...referee's assistants Hassasn Riffi and Kellly Quinn...fourth official David Barrie...(all black, white and yellow trim) 1st Half:...game starts 8:21pm...TC defend south end on this mild evening but the temperature cools fast.
30 sec...TC Maletic cornerkick from right has goalie punch ball away.
7 min...TC Brkic cross from 25 yards on left drifts behind net.
8 min...PFC goalie catches cross from right.
10 min...TC Fitzwilliams flubs 8 yard shot on left and rolls to goalie.
12 min...TC Bustamante 25 yard cross from right is behind net.
17 min...PFC Serrano 40 yard freekick blast from right snakes to goalie who smothers ball.
22 min...TC Brkic slides to poke forward 20 yard shot from left and TC Ples slides to 8 yard shot but defender clears.
23 min...TC YELLOW card...Brkic for injurying PFC Leite at PFC 40 yards.
24 min...PFC Nida taps cross that deflects off defender for cornerkick.
24 min...PFC Nida(?) cornerkick from right is cleared from box.
25 min...TC Harris rush on right and blasts 30 yard shot well over net.
30 min...TC Piriaja blasts 25 yard shot up middle well over net.
36 min...PFC sub...Aaron Thompson replaces Brovetto.
37 min...PFC Carvalho charge to get to 25 yard cross from left and crosses from the right but defender clears ball from box.
39 min…Portugal Jarvin Skeete GOAL…PFC Biruk Nida sends through ball from 35 yards between defenders to Skeete who chips over sliding goalie Marko Culjak at 10 yards into low left corner of net.
41 min...PFC YELLOW card...Aaron Thompson for tackle at TC 30 yards.
42 min...PFC Amaral diving header in PFC box to clear cross from right.
46 min...PFC Serrano 55 yard freekick from right has charging goalie catch on edge of box.
47 min...half ends 9:08pm.
2nd Half:...starts 9:24pm.
50 min...TC Deer rolls 45 yarder up middle untouched by everyone until goalie picks up ball.
52 min...PFC Aaron Thompson pops up header from 22 yards on far left is caught by TC goalie.
54 min...TC player rolls 20 yarder from left that's just wide of post.
55 min...PFC Aaron Thompson rolls pass from left finds PFC Skeete up middle and he shoots low 15 yarder that hits right post and goalie grabs rebound at 6 yards.
57 min...PFC Skeete and TC goalie are both injured on crash at 7 yards on right.
59 min...TC Piriaja cornerkick from right has ball knocked around outside box.
60 min...TC Goddard blasts 30 yard partial clearance well over PFC net.
61 min...TC Harris rush on right has shot blocked and ball is tipped and TC Maletic blasts 15 yarder well over net.
62 min...TC Maletic injured at PFC 24 yards in middle.
65 min...TC Fitzwilliams flicks cross from 15 yards on left has two TC players in box unable to make a play.
66 min...TC Harris 31 yard freekick up middle has goalie dive to catch ball on right side of net.
68 min...PFC Amaral slides to poke check to stop TC Maletic bashing through middle.
68 min...PFC YELLOW card...Bailey for a tackle.
69 min...TC sub...Pesa replaces Krampert.
69 min...PFC goalie catches 35 yard shot from left is just wide right of net.
71 min...PFC Skeete quick 30 yard shot from left bounces to goalie.
72 min...TC Harris 40 yard cross from right has goalie catch wide left of net.
74 min...PFC Carvalho cornerkick from right has PFC Aaron Thompson leap and miss 15 yard header from left.
75 min...TC Brkic 35 yard freekick is blasted just wide right of net.
76 min...TC Bustamante 25 yard freekick from extreme left has goalie punch out ball from box.
78 min...PFC goalie catches ball crossed in from right by TC Fitzwilliams in crowd of players.
78 min...TC player cornerkick from left is into side webbing of net.
79 min...TC Harris cross near right cornerkick has TC Pesa head towards goal.
80 min...TC Bustamante 30 yard roller from left is through crowd of players and is picked up by goalie.
81 min...TC Maletic 15 yard cross from right is cleared from box.
82 min...PFC make another player substitution.
82 min...PFC goalie catches 25 yard shot from right.
83 min...TC Maletic gets pass from right and 15 yard blast has flying goalie push ball wide right of net.
84 min...PFC sub...Yannik Thompson replaces Skeete.
84 min...PFC Yannik Thompson on give and go has him take 15 yard shot that stopped point blank by goalie.
85 min...TC Piriaja 25 yard shot is wide left from right.
85 min...TC sub...Beljo replaces someone.
........the referee is injured and replaces by a referee's assistant.
89 min...PFC goalie charges to catch high bouncer on edge of box in crowd of players.
90 min...TC Brkic chips 40 yard ball from right that goalie catches on bounce in crowd of players.
93 min...TC Piriaja 25 yard shot up middle is well over net.
94 min...TC Harris long run on right and 30 yard cross drifts over net.
95 min...game ends 10:14pm.
Final Score:……..Toronto Croatia……..0………Portugal FC………1……….
Attendance was about 125 people. It would have been about double that but before that they cleared the stadium of fans who had just watched the CCAN league final between St Vincent and Ivory Coast that had ended about half hour earlier but a small percentage of fans were just hanging around. St V wore blue, green and yellow, and Ivory Coast wore orange and white looking exactly like the national teams. What kind of league glorifies the old homeland? Oh yeah. I am watching Croatia vs. Portugal.
This night started off mild but the temperature cooled off quickly so fans that brought jackets were much more comfortable than those without.
Mike Silva earned the shutout for Portugal making one crucial win-saving stop at 83 minutes when Tihomir Maletic received a pass from the right and blasted a 15 yard shot up the middle that had a flying Silva push the ball wide right of the net. Silva made other stops too but he got great help from his defenders especially team captain/player coach Danny Amaral who was not afraid of making some diving header clearances. Ramon Bailey has returned from a tryout in Colombia and played a strong game in the midfield.
Croatia had many shots but most by Johnatan Bustamante, Ante Brkic, Tihomir Maletic, and Tonci Piriaja were from at least 20 yards away and many were off target..
Referee John Oliva gave out a few cards in a game that wasn't too rough. He had to be replaced at 85 minutes by assistant Hassan Riffii when he was injured.
Taylor Lord returned to PFC and stayed on the bench this game. He is recovering from a charley horse. He has finally been given a tryout with Canada's Under 20 national team.
This is the first defeat of the season for Toronto Croatia although they've been tied a few times this year and they do retain first place in the league because Serbian White Eagles lost on Friday night. Croatia had a run like this in 2007 getting all the way to the final game of the regular season before they lost. The team than recovered and swept through the playoffs. Maybe it's better they lose now to humble them into playing better. The win was very important to Portugal who stay ahead of North York Astros (who won on Saturday night) for the final playoff spot.
The CSL Final is scheduled for Saturday October 24th at 5:00pm at either Centennial Stadium or Lamport Stadium (reserving Lamport in case the final is between Toronto Croatia and Serbian White Eagles).
Rocket Robin
robing@eol.ca


Croatia starters


Portugal starters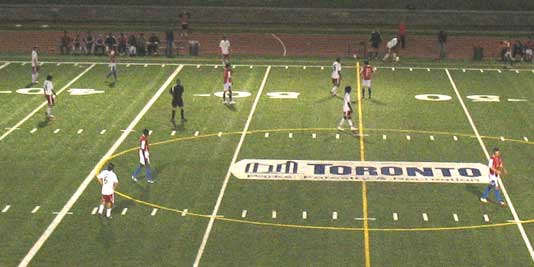 PFC player takes throw-in.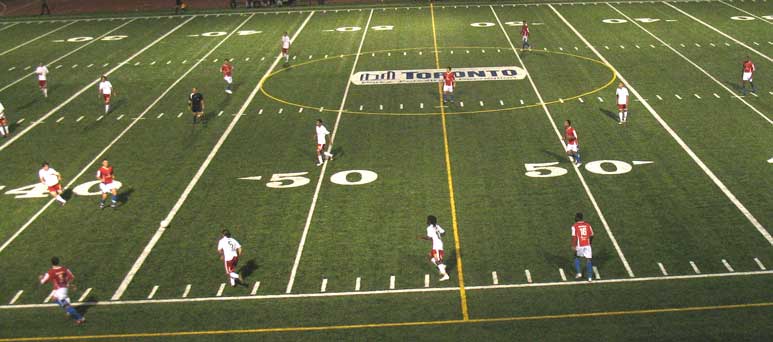 PFC ball is pushed forward to Giovanni Annissi


Croatia Tomislav Ples gets foot in.


PFC player well watched.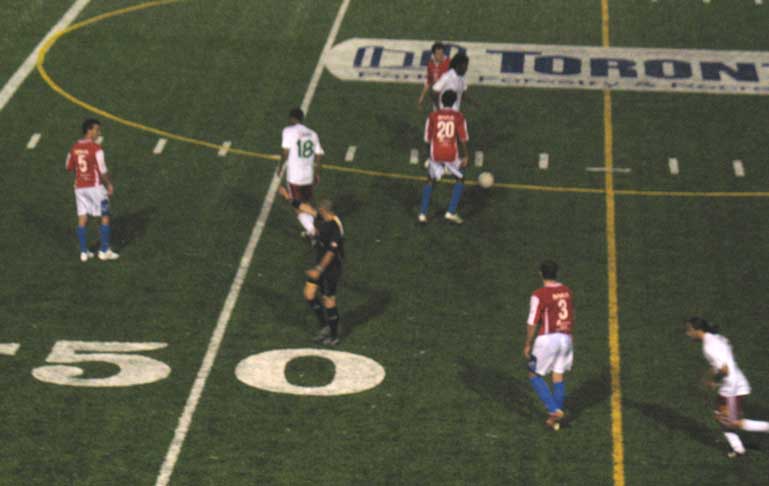 Referee signals freekick.
.
.