............

Result of the Saturday August 29th, 2009 CSL game between Portugal FC and Italia Shooters played at Lamport Stadium in Toronto at 4:00pm.
Portugal FC (all white, green numbers)
.................1 Mike Silva
23 Andre Leite...5 Giovanni Annissi (cpt)...20 Danny Amaral...2 Jaroslaw Radzinski
15 Kevin McIntosh...18 Biruk Nida...19 Gustavo Serrano...17 Jaime Carvalho
.........11 Jarvin Skeete...10 Ramon Bailey
Subs:...9 Joseph Phillip...16 Jonathan Pacheco...21 Yonnik Thompson...6 Martin Brovetto...--Taylor Lord
team officials:...head coach Danny Amaral...assistant coach Jaime Carvalho...manager Tony Maia...team official Mark Almeida
Italia Shooters (all blue, white numbers)
.................77 Dave Ragno
23 Aundrae Rollins...21 Geron Duport...7 Desi Humphrey...3 Rick Titus
17 Mario Orestano...18 Ryan Dummett...24 Courtney Dennis...4 Fitzroy Christey
...........8 Nick Cisternino...13 Kadian Lecky
Subs:...00 Robert Scala (gk)...25 Jordan Webb (fwd)...16 Nico Martinez (fwd)...9 Jason DeThomasis (fwd)...14 Ilya Orlov (mid)...15 Gianmarco Ciotti (fwd)...22 Daryl Gomez (mid)
team officials:...head coach Roberto Pugliese...assistant coach Tony DeThomasis...trainer/physio Brynne Stainsby...team official John Pacione
Game officials:...referee Richard Olivera...referee's assistants Jeff Fernall and Alexis Vaughan...fourth official Peter Pendli...(all black, white and yellow trim)
1st Half:...game starts 4:06pm...PFC defend south end on this middle late afternoon with the sun in the south west. As there in no working scoreboard, all times are converted from my wristwatch.
9 min…Portugal Kevin McIntosh GOAL…PFC Jarvin Skeete gives short pass up the middle to McIntosh who shoots low 10 yard shot to left corner of net.
11 min...IS Humphrey 12 yard shot in crowd of players has goalie make huge sliding save.
12 min...PFC goalie kicks clearance off IS Lecky but recovers to clear ball.
13 min...PFC Skeete cross from 25 yards on far right is caught by goalie on right post.
14 min...IS Cisternino injured at PFC 30 yards.
18 min...IS Cisternino gets to intercepted ball and his low shot from 15 yards on right is stopped by diving goalie on left post.
21 min...IS Orestano charges up but can't get to through ball pass up right and is over end line.
22 min...IS Orestano cross from right end line has IS Lecky stop but ball he's checked off ball at 6 yards.
25 min...IS Humphrey cross from 25 yards on right has IS Dennis head 10 yarder from left that diving goalie stops at 3 yards.
26 min…PFC Andre Leite tackles Shooters Kadian Lecky in PFC box. Lecky falls over Leite and injures him. Referee Richard Olivera signals for a Penalty kick.
28 min…Shooters Kadian Lecky GOAL…Lecky takes low shot of Penalty kick into left corner of net as goalie Mike Silva dives to right.
29 min...PFC sub...Thompson replaces still injured Leite.
30 min...IS Rollins cross from right has PFC Amaral clear ball in box.
33 min...IS Duporte 30 yard blast through crowd of players has goalie palm ball wide left of net.
34 min...IS Rollins rush on right and cross from 20 yards near end line is into webbing of net.
37 min...IS Cisternino taps ball back from 15 yards for IS Dennis shanks blast and bloops shot wide left of net.
39 min...PFC Nida starts rush with key pass in own end to PFC Skeete. PFC Thompson 25 yard blast from right is just over net.
42 min...IS Lecky cuts back to get ball in PFC box but PFC Annissi grabs him and no penalty kick is given.
44 min...IS Cisternino 22 yard blast is well over net.
47 min...half ends 4:53pm.
2nd Half:...starts 5:10pm.
halftime subs:...IS DeThomasis replaces Cisternino.
...............IS Gomez replaces Dennis.
47 min...IS goalie charges out of box to right to clear through ball.
49 min...IS Duporte charges 50 yards up midddle and taps over pass to IS Lecky who is offside on 5 yard tap-in.
51 min...IS Duporte blasts 35 yard roller up middle through crowd of players and wide left of net.
52 min...IS YELLOW card...Humphrey earns it for hand ball at IS 30 yards.
53 min...PFC Serrano 30 yard freeekick hits head of PFC Nida and deflects out of box.
53 min...PFC Amaral slides to poke away ball after IS player has long run into box.
54 min...IS sub...Webb replaces Orestano.
56 min...IS Gomez cornerkick from left has defender clear away from box.
56 min...IS Lecky run on right and crosses 20 yarder behind net.
57 min...PFC sub...Phillip replaces injured Skeete.
59 min...PFC YELLOW card...Thompson earns is for stomping on fallen IS Christey at IS 25 yards.
60 min...PFC Carvalho leaping header clears cross in PFC box.
60 min...TC DeThomasis rolls 20 yard shot up middle is picked up by goalie.
62 min...IS player can't get control of through pass at 15 yards on right and rolls ball for goalkick.
64 min...IS Humphrey 35 yard freekick from right has defender clear and IS DeThomasis 22 yard shot through crowd of players hits defender and ball is rolled into net but called back offside.
65 min...IS YELLOW card...DeThomasis earns it for tackle on PFC Amaral from behind at PFC 40 yards.
67 min...IS Webb on give and go rush up middle has goalie charge out and slide on edge of box for partial clearance and IS Lecky rolls 8 yard shot wide right.
71 min...PFC Carvalho cornerkick from right has defender head ball out left side of box for throw-in.
74 min...PFC Thompson blasts 25 yard shot well over net and back fence.
74 min…Portugal Jaime Carvalho GOAL…Carvalho taps in a 5 yarder into the open net as PFC Jaroslaw Radzinski rolled him a pass from 8 yards from left with goalie Dave Ragno who had to guard the left post.
75 min...IS Lecky cross from 20 yards on right end line has ball bounce wide left of net.
77 min...IS DeThomasis 30 yard shot from right is caught by goalie.
78 min…Portugal RED card…Yonnik Thompson picks up his second Yellow for handball at the center line as Shooters player flipped ball up into air. Thompson had picked up his first Yellow at 59 minutes when he stomped on fallen Fitzroy Christie at the Shooters 25 yard line.
79 min...PFC sub...Brovetto replaces Carvalho before restart.
80 min...IS Gomez 40 yard blast up mkiddle is wide right of net.
81 min...IS Humphrey 15 yard cross from left end line is behind net.
82 min...IS Humphrey run down middle and pass to left for IS DeThomasis to put in 10 yarder but play flagged offside.
85 min...IS sub...Martinez replaces Dummett.
86 min...IS Humphrey chips 35 yard kick from right has charging goalie catch. An ankle clip call set up this freekick.
88 min…Shooters Geron Duport GOAL…Duport bends in 25 yard freekick from left over player wall and into top right corner of the net.
90 min...IS Gomez cornerkick from left has defenders clear ball.
91 min...IS Webb kicks 12 yarder from left that goalie saves.

Final Score:………...Portugal FC…….2………Italia Shooters……….2……….
Attendance was only about 50 on this warm, sunny afternoon. This game was taped by a Rogers crew for broadcast on their cable community channel later in the evening. The game was taking place at the same time as the MLS Toronto FC vs. Seattle game in Seattle but there isn't really an overlap of support between the two leagues.
Closest chance that wasn't a goal was at 67 minutes when Shooters Jordan Webb (who played the summer for the PDL Toronto Lynx) on a give and go rush up the middle had the goalie charge out and slide on the edge of the box for a partial clearance but Shooters Kadian Lecky ended up with a chance at an open net at 8 yards and shot the ball wide right. (Somewhat like TFC's Dwayne Rosario did in the Seattle game).
This game had two similar moments to the CSL game I saw the night before. For the dumbest Red card I've seen, today's card to Yonnik Thompson for a handball in the center circle was just stupid as it wouldn't have mattered if the Shooters player had gotten by him as there was a whole line of defenders between the player and the goal. White Eagles goalie Marko Petrovic earned a direct Red last night for making a sliding tackle 30 yards out of his box near the right sideline with two defenders charging back who would have been able to block a shot or cross by Wolves Carlo Arghittu. Petrovic was a step behind kicking the ball out of bounds. For great plays it was a toss up between White Eagles Sasa Viciknez's freekick and today's Geron Duport's freekick—both goals, taken from the same spot in the field and curled into the top right corner of the net.
The scoreboard at Lamport Stadium is broken. I'm not clear if it really was struck by lightning or if it's just mechanical failure. I can't see the City of Toronto doing anything about it as if MLSE who owns Toronto FC is going to put a bubble over this field by this winter so they can put real grass at BMO Field and still satisfy the City who correctly have the right to a year round facility in the downtown area, MLSE would easily cover the cost of a new scoreboard anyway.
Portugal FC needed the point to keep ahead of North York Astros for the last playoff spot who that evening earned a 1-1 tie on a road game against Brampton Lions.
One hour to get to the other game was not enough time I reasoned earlier in the week with access to the expressway blocked by the Canadian National Exhibition. Instead I took transit and stopped at a bar to help my friends to a 4th place finish in music trivia out of 1924 bars in North America.
Rocket Robin
robing@eol.ca


Portugal FC starters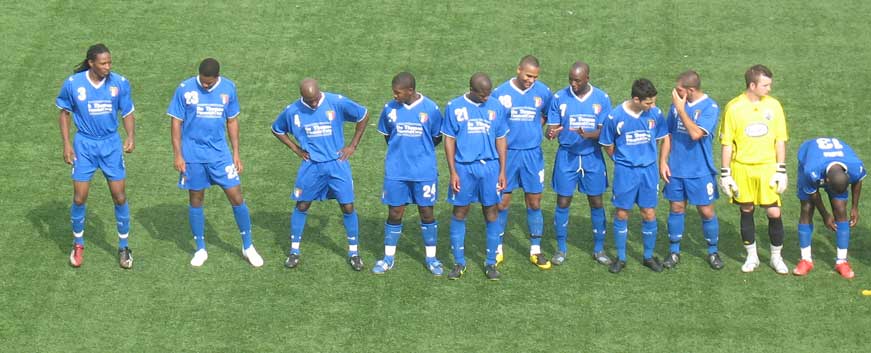 Shooters starters


PFC goalie clears


Shooters Kadian Lecky takes his Penalty kick.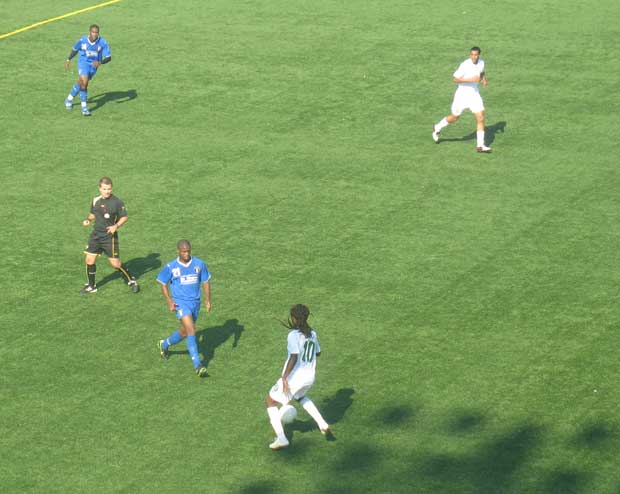 PFC Ramon Bailey on rush.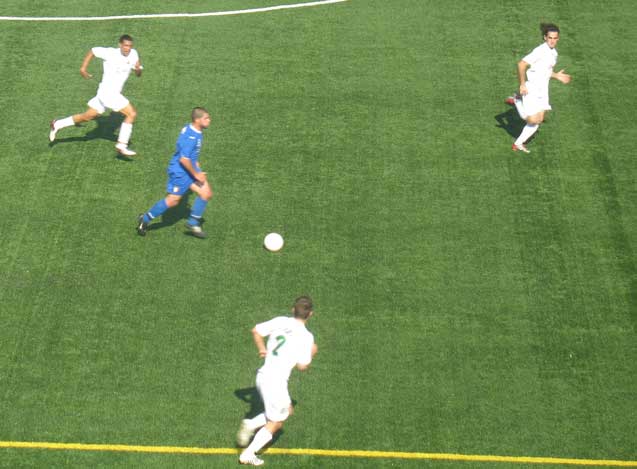 Shooters Nick Cisternino on rush.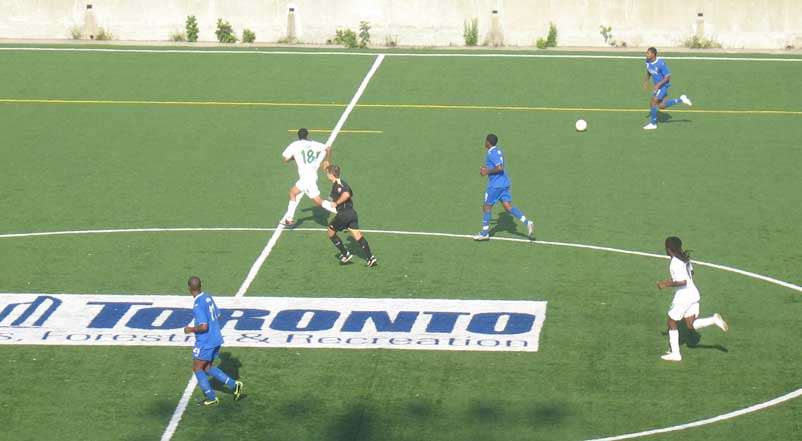 Shooters Aundrae Rollins on rush.
.
.