....................

Result of the Sunday September 20, 2009 CSL game between Serbian White Eagles and Toronto Croatia played at Lamport Stadium in Toronto at 8:00pm. This was a neutral site location but White Eagles were considered the home team for this game.
Serbian White Eagles (all white, blue numbers)
...............1 Dan Pelc
14 Uros Stamatovic...6 Mirko Medic...5 Mark Jankovic...3 Dragorad Milicevic
8 Jonathan Hurtis...17 Nikola Budalic...19 Kiril Dimitrov...4 Milos Vucinic
..............99 Sasa Viciknez (cpt)...7 Shane Lammie
Subs:...27 Marko Petovic (gk)...20 Milan Janosevic (mid)...29 Slobodan Djokic (mid)...11 Dragan Radovic (fwd)...18 Veljko Lukovic (mid)...16 Viktor Anastasov (mid)...15 Mihailo Bacanin (mid)
team officials:...head coach Dusan Prijic...assistant coach Igor Ciric...manager Ken Stanojevic...physio Dragisa Latinic...team official Milenko Kiatic...trainer Joca Kalinic
Toronto Croatia (blue socks, white shorts and numbers, red shirts)
................12 Marko Culjak
16 Halberto Harris...21 Sven Arapovic...17 Nicholas Goddard...20 Ainsley Deer
23 Tonci Piriaja...18 Mario Beljo...4 Antonio Zupan...8 Hayden Fitzwilliams (cpt)
...........14 Braeden Krampert...10 Tihomir Maletic
Subs:...1 Sandi Matika (gk)...3 Ante Brkic (def)...5 Johnny Bustamante (mid)...7 Tomislav Ples (fwd)...15 Niko Pesa (fwd)
team officials:...head coach Velimir Crljen...assistant coach Alen Vukobrad...manager Ivan Kulis...trainer/physio Fady...team official Tom Granic
Game officials:...referee Silvio Petrescu...referee's assistants Mike Lambert and Derek Abrams...fourth official Michael Anthony Izzo...(all black, white and yellow trim)
1st Half:...game starts 8:11pm...SWE defend south end. It's already dark at game time.
2 min...TC Arapovic injured at TC 20 yards.
4 min...SWE Viciknez chips cross from 25 yards that has SWE Lammie blast 15 yard midair shot that flying goalie pushes wide left of net.
4 min...SWE Viciknez cornerkick from left has defenders clear from edge of box.
6 min...TC Zupan 45 yard chip from left bounces well wide and left unplayed.
9 min...SWE Viciknez taps pass over to SWE Hurtis at 25 yards in middle but his shot is blocked by defender.
13 min...TC Piriaja chip from 22 yards from right has defender head ball out of box.
13 min...TC Fitzwilliams run on left trying to elude defender chips ball over SWE end line.
14 min...SWE Vucinic cross from 25 yards deflects off head of TC Harris for cornerkick on left.
15 min...SWE Viciknez cornerkick from left is knocked out of box by defender.
15 min...SWE Viciknez cross from 30 yards on left has SWE Lammie have ball checked off him before he can take shot at 20 yards.
16 min...TC goalie catches 45 yard chip from right.
18 min…White Eagles Kiril Dimitrov GOAL…SWE Sasa Viciknez 85 yard freekick from right has SWE Shane Lammie head ball across goalmouth from 6 yards and Dimitrov heads ball in from 5 yards white just left of post into right side of net behind goalie Marko Culjak.
22 min...TC team apply constant pressure on right side but defenders clear chances.
22 min...SWE Lammie rush on left after SWE Viciknez tapped him pass. Defenders get back in play and he rolls q2 yarder across box just step in front of charging SWE Viciknez at 4 yards.
26 min...SWE Vucinic cross from left has SWE Lammie stop ball agt 10 yards but TC Goddard knocks ball away.
27 min...SWE Viciknez 33 yard freekick down middle is blasted well over net.
29 min...SWE Vucinic pushes ball over to SWE Milicevic running down left wing but he crosses over box. SWE cornerkick from right is wasted.
32 min...TC Deer cross from 35 yards on left has defender head out of box.
33 min...TC YELLOW card...Harris for tackle on rushing SWE Dimitrov crossing over center on left injurying him.
35 min…Croatia Ainsley Deer GOAL…TC Braeden Krampert cross from right of box 25 yards along end line has charging Deer head in from 12 yards from left that has ball go over goalie Dan Pelc and into right side of net.
38 min...SWE Viciknez 30 yard cross from left is well wide left of net.
40 min...TC Krampert throw-in from right corner flag is cleared before getting into box.
41 min...TC Harris low 25 yard shot from right is saved by defender at 6 yards.
41 min...SWE goalie leaps high to catch cross in box.
43 min...SWE Viciknez freekick from 55 yards has SWE Dimitrov at 20 yards get ball but TC Deer blasts away clearance.
45 min...SWE Viciknez 38 yard freekick blasted into player wall and cleared.
45 min...half ends 8:56pm.
2nd Half:...starts 9:13pm.
46 min...SWE Viciknez 20 yard shot from right is wide right of net.
47 min...TC Harris is injured in own end as play carries on upfield.
49 min...SWE Lammie pops up header into TC box with back to net and goalie beats him to ball.
49 min…White Eagles Jonathan Hurtis GOAL…SWE Nikola Budalic strips the ball off a defender at 20 yards and passes forward for Hurtis who takes a 6 yard shot on left that squeezed over sprawling goalie on left side of net.
51 min...TC sub...Bustamante replaces Goddard.
54 min...SWE Lammie pops up ball with foot and turns at 15 yards but goalie catches ball.
54 min...SWE Lammie injured on rush for bgall up middle has TC Arapovic grabs his arm at 35 yards.
57 min...TC sub...Ples replaces Krampert.
.........SWE sub...Radovic replaces Lammie.
59 min...SWE Viciknez cornerkick from right has SWE player pop up ball but ball cleared from box!
60 min...TC Maletic gets to chipped pass into box and 15 yard shot stopped by sprawling goalie at 6 yards.
61 min...TC YELLOW card...Beljo for knocking over SWE Dimitrov at center line.
62 min...TC sub...Pesa replaces Beljo.
63 min...SWE Viciknez cross knocks over TC Vucinic on edge of box that knocks him out and he needs to be helped off field.
65 min...SWE Viciknez cornerkick from right has defenders clear shot from box.
66 min...TC Harris chip from 25 yards on right has goalie charge to catch ball in crowd of players.
67 min...TC Piriaja 30 yard chip from left into box has SWE Jankovic clear ball behind end line for cornerkick.
68 min...TC Bustamante cornerkick from left has ball cleared out right side of box.
71 min...TC Bustamante 30 yard freekick from left has ball bounce ball wide right.
72 min...TC Zupan leaves game with broken/bleeding nose.
73 min...TC sub...Brkic replaces injured Zupan.
73 min...SWE sub...Djokic replaces Hurtis.
73 min...SWE Radovic on rush up left has 25 yard shot that diving goalie blocks at 15 yards and defender clears at 8 yards when ball trickles through.
78 min...TC Pesa 25 yard ball pushed ball too far for goalie.
78 min...TC Pesa heads 20 yarder that goalie catches in front of Pesa charging in.
79 min...SWE sub...Janosevic replaces Vucinic.
81 min...TC Bustamante 40 yard freekick from left has SWE Jankovic head behind right endline.
82 min...SWE YELLOW card...Djokic for knock down at center line.
82 min...TC Ples rolls cross from right 20 yards on end line has goalie dive forward to stop.
83 min...SWE Viciknez 30 yard freekick from near right corner flag is deflected for cornerkick.
84 min...SWE Viciknez cornerkick from right has ball knocked away by defenders.
85 min...TC sub...A player wearing #13 replaces Fitzwilliams. (TC doesn't have a regular player that wears that number so it might have been backup goalie Matika wearing an outfield jersey.
86 min...TC player flubs 20 yard shot that rolls to goalie.
88 min...SWE sub...Bacanin replaces Dimitrov.
91 min...SWE two players are caught offside on breakaway.
92 min...TC Harris shot from 12 yards is blocked.
93 min...TC #13 15 yard shot from right is saved.
94 min...SWE defender pops up back pass that goalie catches.
95 min...TC Ples 8 yard pass over freekick has TC Maletic player try two shots from right post from 5 yards that are both blocked and ball deflects for cornerkick on right.
95 min...TC Maletic cornerkick from right has player stop and SWE fast break on 2 on 0 breakway and goalie blows whistle to end game as they cross center line.
95 min...game ends 10:03pm.
Final Score:……..Serbian White Eagles………2…………Toronto Croatia………..1………
Attendance was about 250 White Eagles fans on the West side stands and 90 Croatia fans on the East side stands. It is already dark at game time on this mild night.
I was in the West stand press box but had less of a search from the one man on security than what I go through at BMO Field at every single TFC game.
Croatia had two good chances to tie after White Eagles took the lead. At 60 minutes, Tihomir Maletic got to a chipped pass into the SWE box and his 15 yard shot was stopped by the sprawling goalie at 6 yards. At five minutes of injury time, Croatia was allowed a freekick from 8 yards because of an SWE defender popping a kick back to his goalie and the goalie caught it. Referee Silviu Petrescu called that a back pass. It was then hard to tell with about 18 men in the box but Tomislav Ples seeing a solid wall of defenders standing on the goal line passed the ball along the 6 yard box and Tihomir Maletic got away two quick shots from even with the right post that were both blocked and the latter one being deflected over the end line for a cornerkick. With the White Eagle fans screaming for the referee to blow his whistle for the last five minutes, Maletic took a cornerkick that the White Eagles cleared for a 2 on 0 rush but Petrescu then stopped the game when they'd broken out to the SWE 30 yard line and the fans then booed the decision to stop the game. White Eagle players came over to salute the fans and the boos turned to cheers.
Since Trois-Rivieres had already clinched first place for the playoffs, this was a game to decide second and third place and of course a chance for the two old-world rivals to face off.
White Eagles have suddenly changed their coaching staff from Wednesday (they had two road game losses and a home tie in their last games). Gone are head coach Rafael Carbajal and assistant Paolo Pacione. Now in charge are head coach Dusan Prijic and assistant Igor Ciric. I ask team owner Ken Stanojevic about why he made the change. "We just didn't like them" was his reason. Someone not connected with the team confided in me that there were complaints the team was not using enough "Serbian" players. I don't know if that's true but there would be no keeping forward Shane Lammie off the team as he's the best player on their team right now.
Serbian White Eagles now play TFC Academy in a two game quarterfinal. Hard working TFCA head coach Jason Bent was in the back row of the stands taking notes. New academy coach (without portfolio?) Danny Dichio was nowhere to be seen. Toronto Croatia finishes third and draws Brampton Lions for their opponent. St Catharines Wolves had won their game against Italia Shooters 4-3 (high score for Wolves as they usually score one game or less per game) vault up to fifth place and get to play Italia Shooters for two more games. That game had finished one hour before this game started and I didn't think I could get between the two stadiums in time but a friend arrived just at game time and had pulled it off. He said since about a third of the starters also played for Real Toronto who were playing in the Ontario Cup Final that night, the Shooters line up only had a minimum eleven players and 60 year old team official John Pacione was listed as a substitute (with some of the regulars watching from the stands in Maple in the first half before leaving for the Real game at Ontario Soccer Centre in Vaughan). Real Toronto ended up winning the Ontario Cup 2-1 I read the next day. The one other quarterfinal match is between first and eighth involves Trois-Rivieres Attak and Portugal FC, same first round match up as last year. Portugal FC official Isac Cambas supposedly cornered league executive director Stan Adamson during the game to complain about the Shooters lineup and the Wolves avoiding the Attak (the unbeatable home team and the huge expense of traveling to Quebec).
Rocket Robin
robing@eol.ca


White Eagles starters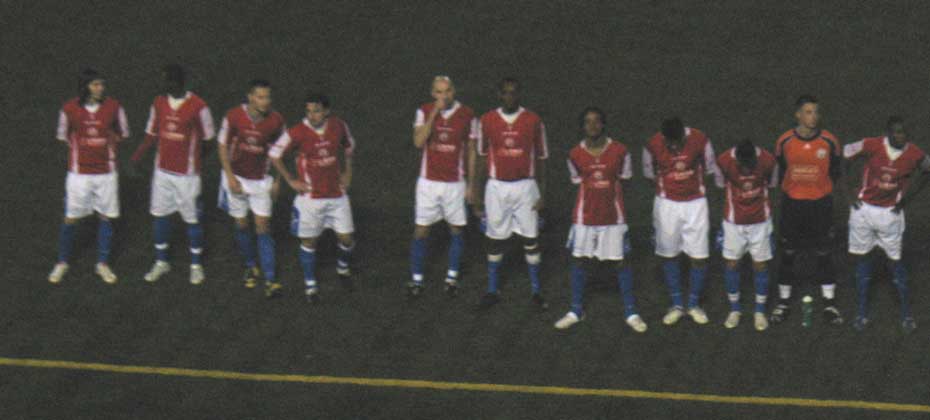 Croatia starters


White Eagles ready for freekick.


Another White Eagles freekick had just been sent wide.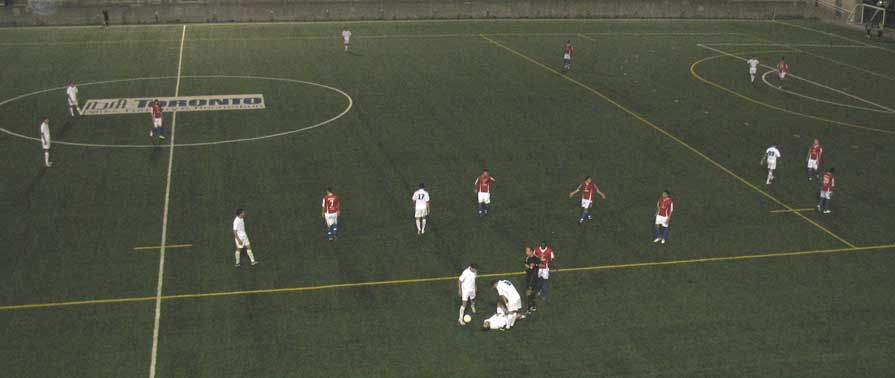 A White Eagles player is injured.


Croatia Hayden Fitzwilliams with ball.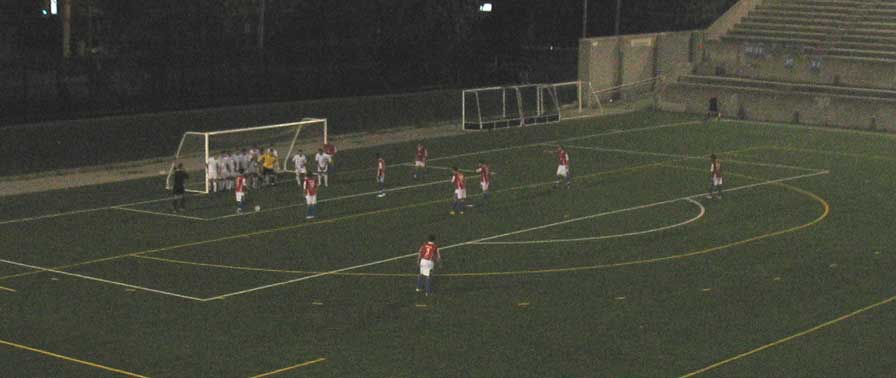 Croatia get last minute freekick chance inside White Eagles box.
.
.