.................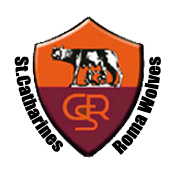 Result of the Sunday October 4th, 2009 CSL game between Italia Shooters and St Catharines Wolves played at St Joan of Arc Catholic High School in Maple at 5:00pm. This was the return leg of the Quarter Finals.
Italia Shooters (all blue, white numbers)
.......................1 Camilo Benzi
23 Aundrae Rollins...21 Geron Duporte...18 Ryan Dummett...4 Fitzroy Christey
22 Daryl Gomez...14 Ilya Orlov...19 Johan Carrera...17 Mario Orestano
.................7 Desi Humphrey...9 Jason DeThomasis
Subs:...77 Dave Ragno (gk)...2 Gaston Orique (def)...3 Rick Titus (def)...5 Stalin Cardenas (mid)...6 Blake Ordell (fwd)...8 Nick Cisternino (def)...16 Nico Martinez (fwd)
team officials:...assistant coach Tony DeThomasis...manager Kadian Lecky...trainer/physio Kevin Simms...team official John Pacione.
St Catharines Wolves (black socks and shorts, maroon shirts, white numbers)
.....................21 Tony Visca
7 Brandon Jones...15 James Blair...12 Geoffrey Attard...20 Matthew Dimaria...6 Joe Conte
..............27 Danny Gallagher...11 Stefan Kamendy...13 Scott MacLennan
................10 Carlo Arghittu...14 Matthew Cain
Subs:...16 Micheal Shepherd (mid)...17 Simon Murphy (mid)
team officials:...head coach James McGillvray...assistant coach Carlo Arghittu...manager Armando DiFruscio...trainer/physio Angelo Pizzacalli
Game officials:...referee John Oliva...referee's assistants Gianni Facchini and Scott Decker...fourth official Hassane Rafari...(all black, white and yellow trim)
1st Half:...game starts 5:08pm...Shooters defend north end on this cool overcast evening but the seats were wet from the rain that had stopped falling just before game time.
3 min...W Kamendy 18 yard blast from left after throw-in from left is just over net.
7 min...IS player's cross from left hits bar possibly headed on its way by IS Gomez.
8 min...IS Orlov 35 yard chip from right is over players and caught by goalie.
9 min...W Jones 25 yard blast from right when ball is cleared and he intercepts is shot well over net.
11 min...IS Christey injured with foot to head at W 50 yards.
13 min...IS Rollins cross from right 18 yards has defender step in front of IS DeThomasis to head ball away at 7 yards.
The sun comes out!
15 min…Wolves Matthew Cain GOAL…Wolves Carlo Arghittu short pass from 15 yards to Cain who from right puts low shot into left corner of net from 10 yards over sprawling goalie Camilo Benzi.
16 min...IS Orestano blast from 22 yards on left has goalie palm ball over bar.
16 min...IS Rollins cornerkick from left has ball knocked down in box but IS player can't get away shot.
18 min...IS goalie catches cross to right in front of W Arghittu.
19 min...IS DeThomasis on right crosses into box from 25 yards and defender heads ball down and clears.
21 min...W Cain bumped off long ball down middle at 20 yards.
22 min...W goalie charges out for bouncing through ball ahead of IS Orestano.
25 min…Wolves YELLOW card…Danny Gallagher earns it for charging along with another Wolves player into Shooters Desi Humphrey and their high/low crunching tackle somersaults him over. Because this tackle was just inside the Wolves box, referee John Oliva also signaled for a Penalty kick.
26 min…Shooters Geron Duporte GOAL…Geron blasts Penalty kick to right corner of net as goalie Tony Visca crumples to center of net.
28 min...IS Orlov gets tapped back pass and his 28 yard shot from left is wide right of net.
30 min...IS sub...Titus replaces Orlov.
31 min...W YELLOW card...Arghittu for complaining about non-call of check on edge of IS box as play moved back upfield.
32 min...W YELLOW card...Blair for tackle on IS DeThomasis at center line sideline.
34 min...IS Humphrey eludes sliding defender at 35 yards and rounds goalie but is too far left. He stops ball and takes sharp angle 20 yard shot near left end line that hits bar and IS Otrestano 8 yard rebound from right has defender deflect behind own net.
35 min...IS Gomez cornerkick from right has IS Rollins head 10 yarder that's stopped in crowd of players.
36 min...W goalie catches cornerkick from left.
37 min...IS DeThomasis gets IS Humphrey's backwards flick pass and rolls cross from 15 yards that defender clears.
38 min...IS Humphrey and IS Rollins work out short cornerkick from right but cross is headed away.
39 min...IS Christey cross from left near end line from 20 yards is over goalie and IS player can't turn 5 yard header.
41 min...IS Gomez knocks away ball that W Gallagher charges into box upfield for throw-in.
41 min...W Kamendy charges through players to get foot to W Conte throw-in from left and shoots 10 yarder over bar.
44 min...IS Rollins cross from 30 yards on right has goalie bobble then pick up ball well wide left of net.
44 min...IS DeThomasis injured at W 50 yards.
48 min...half ends 5:56pm.
both teams stay on their benches during halftime rather than going back to the dressing rooms inside the school.
2nd Half:...starts 6:13pm.
halftime sub...IS Cisternino replaces Orestano...Humphrey moves back to defence.
46 min...IS Cisternino cross from 30 yards on left is into crowd of players and IS Christey heads 10 yarder and diving goalie makes save.
49 min...IS Cisternino intercepts defender and low 15 yard shot has goalie make great foot save. IS DeThomasis eventually rolls 18 yard rebound to goalie from right.
49 min...W Cain rushes on right and cuts towards goal even with 22 yard line and shoots ball wide left.
51 min...W goalie has to charge out to clear back pass ahead of IS Cisternino at 20 yards on left.
52 min...IS sub...Ordell replaces Dummett.
53 min...IS Cisternino 25 yard low blast up middle has goalie smother ball.
54 min...IS Christey charge to loose ball on left and crosses high on end line that's over W box.
56 min...W MacLennan slides to poke through ball from IS Christey charging on left.
57 min...IS Duporte blasts 25 yarder up middle over net.
62 min...IS sub...Cardenas replaces DeThomasis.
63 min...W Conte 40 yard freekick from left has W Kamendy leap and head across goal from 10 yards but defender heads ball down and clears.
63 min...W Murphy(? when did he come into game?) low 30 yard shot through players up middle has goalie smother.
65 min...W Cain 35 yard blast from right is wide right after receiving pass.
66 min...IS Cisternino rush down left and cross into box has defender clear.
67 min...IS Ordell bends 30 yard shot from left just wide right of top corner when IS Cisternino taps him pass.
69 min...W MacLennan 35 yard blast over crowd of players and well over net. (IS Christey was injured on missing sliding tackle).
70 min...W Jones cross from left 25 yards has two W players miss ball charging into box.
71 min...W Conte long throw-in from right has play whistled down for push in box.
72 min...IS Titus sends through ball pass to IS Cisternino but goalie picks up on edge of box.
73 min...W Jones 50 yard pass upfield from left over right end line.
74 min...IS Cardenas 25 yard shot from right bounces to goalie.
75 min...IS Christey makes header off line to clear long throw-in that goalie had punched away but W player had chipped back from 12 yards.
76 min...IS sub...Martinez replaces Carrera.
76 min...W Jones 35 yard low shot up middle deflects to goalie.
77 min...IS YELLOW card...Cisternino for sliding tackle on W Blair at W 40 yards.
79 min...IS Cisternino eludes defender but falls but IS Christey crosses from left end line that's cleared.
80 min...IS player 25 yard shot from right has goalie palm ball over bar.
81 min...IS Gomez cornerkick from right has IS Cisternino head ball wide from 12 yards.
81 min...W Gallagher long 55 yard cross from right has W Conte one-touch 25 yarder left well over net.
82 min...IS Gomez cornerkick from right has W Dimaria leap and head ball away. IS Duporte 35 yard low shot through players wide left of net.
83 min…Shooters Geron Duporte GOAL…Shooters Daryl Gomez gets pass up middle to Dupont setting up a 2 on 1 breakaway but he takes 18 yard shot just over sliding goalie into center of net.
85 min...IS Cardenas through ball pass has goalie beat two forwards to pick up ball.
86 min...IS Cardenas gets rolled pass from right and 22 yard low shot is wide left.
87 min...IS Cardenas taps ball back for IS Cisternino to roll ball wide left from 20 yards through defenders.
88 min...IS Ordell low 20 yard shot wide left from right.
89 min...IS Ordell rush on right and rolls cross from 20 yards which has IS Cisternino sidefoot ball with defender on him. A 5 yarder that goalie stops.
90 min...IS Ordell long run up left and 22 yards shot has goalie block.
92 min...W Gallagher quick takes 55 yard freekick from right well high and wide right of net.
93 min...game ends 7:01pm.
Final Score:………Italia Shooters………2………St Catharines Wolves……..1……….
Attendance was about 100 people on this cool overcast day. It had rained earlier in the afternoon wetting the aluminum seats but there was no sliding around on the field turf by the players during the game. The crowd was inflated by teams from the Richmond Hill Soccer Club which means there were family members to watch as well.
Shooters won the first game in St Catharines so Wolves had to win this game and if they did, they would have to win a 30 minutes overtime period. That would be difficult as the team had only brought 13 players. Their last game saw midfielder Matthew Stillman and forward Joe DelPriore both Red carded. I was told starting goalkeeper Claudio Perri is away on his honeymoon. Wolves had come so far this season because of their defence and they worked well getting the Shooters players called on offsides about a dozen times.
Shooters had the luxury of a full bench and always had fresh legs and even switched some players from forward to defence and defence to forward to mix things up.
Shooters almost put the game out of reach earlier when Desi Humphrey playing forward (he moved back to defence in the second half eluded a sliding defender on a rush up the middle then rounded the goalie but pushed the ball too far forward. He stopped the ball near the left end line and took a sharp angle shot from 20 yards that hit the bar and Shooters Mario Orestano took an 8 yard rebound from the right that a defender deflected behind his own net.
At 75 minutes, Shooters Fitzroy Christey helped ensure they'd advance by making a header off their own goal line when a long throw-in from the left had the goalie rush left to punch the ball before a Wolves player could head it but a cross into the box had a Wolves player send in a 12 yard shot that Christie kept out.
Shooters will once again know what it's like to play short next week when they have something like seven players absent between this Tuesday and next Tuesday as they also play for Real Toronto who will represent Ontario in the 2009 BMO National Championships Challenge Trophy competition in Saskatchewan next week. Shooters owner Tony DeThomasis says they will be back by the second leg of the semi-final which will be against CSL regular season champs Trois-Rivieres Attak. Shooters lost their CSL regular season final game 4-3 against Wolves two weeks ago when Real Toronto were winning the Ontario championship later the same day.
Before this game TFC Academy II beat Italia Woodbridge Strikers 5-1 in a game that went into 30 minute overtime. Strikers had a player pick up his second Yellow card and the Strikers playing the last 20 minutes of regular time and the extra time, they didn't get the offensive chances. The Academy was presented with the CSL Reserve Division championship trophy but the ceremony was spoiled by having the presentation table moved from the sideline into the center circle. We couldn't hear a word of what was said but the players did come over singing "Champi-onas" holding the trophy to pose for their parents taking pictures. The ceremony was filmed by the guy who puts the stuff on the TFC website so I'll get to see what was said no sooner than anyone else. Also on view should be stands 'spectators' Jason Bent (the head coach of Academy I) and Chris Cummins (the head coach of Toronto FC of the MLS)—they had a bye week this week—with some comments about the thrill for young players winning this competition. Bent confirmed with me that about seven players playing in today's game were at least on the bench yesterday for the CSL quarterfinal against Serbian White Eagles. White Eagles knocked Academy 1 out of the playoffs. I also introduced myself to Chris Cummins as a TFC season ticket holder but he said he'd seen me before (good eyesight?—nope he said he saw me at last week's Academy 1 game). I wished him good luck and gave him a card with my web site address.
Rocket Robin
robing@eol.ca


Shooters starters


Wolves starters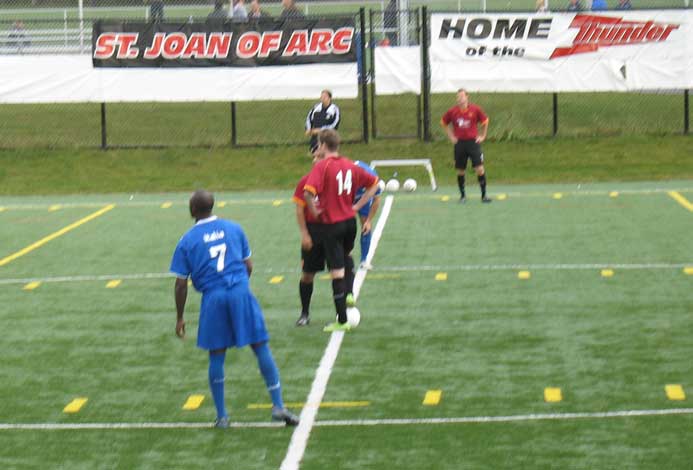 Kickoff to start game.


Shooters Ryan Dummett waits for ball to drop back into play.


Shooters Geron Duporte scores on penalty kick.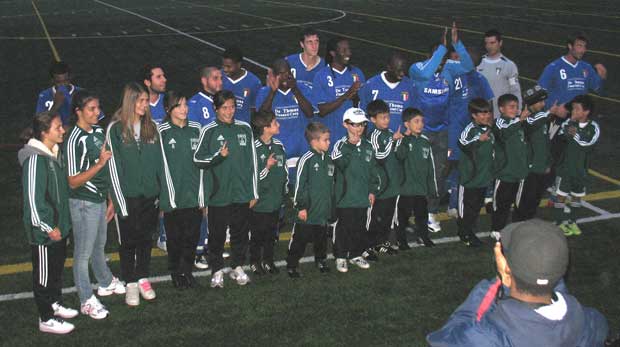 Shooters team poses for pictures with the Richmond Hill kids soccer teams after the game.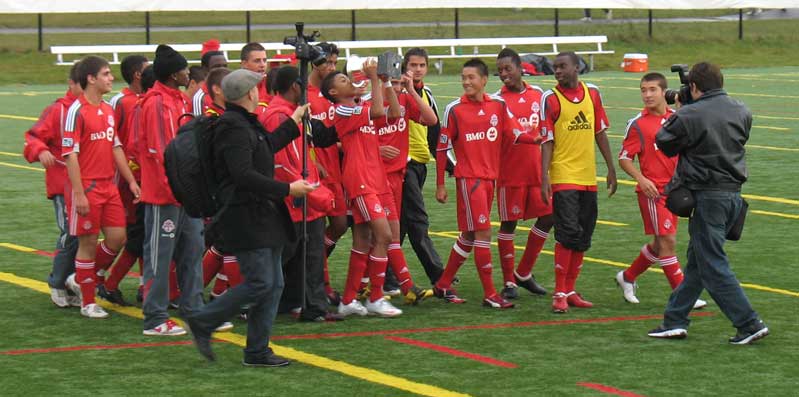 Before this main game, Academy II player "drinks" from Reserve Division championship cup.
.
.