........................................................

Result of the Friday May 20, 2011 CSL game between SC Toronto and London City played at Lamport Stadium in Toronto at 8:00pm.
SC Toronto (all white, black numbers)
........................1 Mike Silva (cpt)
......21 Branko Majstorovic...5 Gerard Ladiyou...19 Richard Asante
8 Carlos Nogueira...15 Brennan McNicoll...7 Ilya Orlov...2 Casey D'Mello
.......20 Alon Badat...13 Sergio De Luca...11 Massimo Mirabelli
Subs:...12 Sotiri Varlokostas (gk)...3 Dane Roberts (mid)...4 Henry Moody (--)...6 Daniel Fabrizi (mid)...10 Adrian Pena (fwd)
14 David Alva (mid)...16 Daniel Tannous (def)
team officials:...head coach Carmine Isacco...assistant coach Patrice Gheisar...manager Juan Carlos Ramirez Gaston
London City (all black, white numbers)
.....................1 Scott Mueller
16 David Harriman Duke...3 Daniel Vincent...18 Brody Van Gestel...2 Erald Pope
8 Gentjan Dervishi...11 Eris Tafaj...6 Thomas Beattie...14 Ermal Murataj
..........10 Michael Marcoccia (cpt)...15 Youna Samra
Subs:...33 Scott Cahlmers (gk)...5 David Ortega (mid)...7 Elvir Gigolaj (fwd)...17 Justin Marques (mid)...21 Carson Green (def)
...22 Jeremy Cecranci (fwd)...23 Christopher Harrington (def)
team officials:...head coach Luka Shaqiri...assistant coach Isa Bulku...manager Ryan Gauss...medical staff Nathalie Gagnon-Wease
Game officials:...referee David Barrie...referee's assistants Matthew Arduini and Benjamin Jacobs...fourth official Mack Meloche...(neon yellow shirts, black shorts and socks)
1st Half:...game starts 8:09pm...SCT defend south end on this warm evening with a bright sun in the north west.
1 min...SCT Badat cross from 25 yards on right has ball bounce through box as goalie swats at it and results in cornerkick.
2 min...SCT Nogueira cornerkick from left has LC Vincent pop up header at 5 yards that puts ball out of play wide left.
3 min...SCT Mirabelli run on left to end line and low cross has SCT De Luca not able to turn ball in from 2 yards on left post.
4 min...SCT Badat 10 yard shot from sharp right is wide left of net.
5 min...LC Dervishi intercepts goalie's clearance and 20 yard chip from right is wide left of net.
7 min...SCT D'Mello cross from 22 yards on far left is cleared by defender in middle on edge of box.
7 min...LC Samra 50 yard shot is well wide right of net.
10 min...LC goalie needs to change his shoes. He isn't the only one who slips around. SCT Majstorovic had run for long pass down right and couldn't keep ball in play as he slipped before he could ball and ball rolled for goalkick.
12 min...LC Samra rolls cross from right on 3 on 3 rush from 15 yards but defender SCT Ladiyou as nearest man on right clears.
15 min...SCT Mirabelli blasts 40 yard freekick down middle just high and wide left of net.
17 min...LC Samra on left after run to 10 yards rolls cross that defender concedes cornerkick.
18 min...LC Tafaj cornerkick from left has goalie run forward to catch ball overhead but drops and LC Van Gestel kicks 9 yarder down middle well over net.
19 min...SCT Nogueira intercepts pass at 22 yards and rolls ball up middle for SCT Badat all alone at 10 yards but he's flagged offside.
22 min...SCT Nogueira rolls over 30 yard freekick from left to center for SCT D'Mello to kick in 28 yarder for SCT McNicoll on right at 15 yards who sends in high cross and charging SCT Nogueira is flagged offside at 5 yards as he tries for header.
24 min...SCT McNicoll 25 yard shot from left that he'd intercepted is high and wide right of goal.
26 min...SCT Nogueira receives pass up middle from SCT Ladiyou and turns and fires shot just high and wide left of net.
27 min...LC YELLOW card...Beattie earns it for clipping SCT McNicoll at SCT 50 yards injurying him.
28 min...LC Samra 18 yard blast from right on run has sprawling goal block shot at 6 yards.
30 min...LC Samra 30 yard cross from right sideline bounces wide left for goalkick.
31 min...LC goalie runs over to right to beat SCT Nogueira to through ball who was also being cut off by defender.
32 min...SCT goalie beats LC Samra to through ball on right side of box.
36 min...SCT De Luca in LC box dribbles ball over end line without getting shot.
40 min...SCT Carlos Nogueira GOAL...SCT Sergio De Luca pushes through ball pass from left up the middle from 25 yards. Nogueira rolls shot 10 yards to right corner of net beyond sprawling goalie Scott Mueller.
46 min...SCT De Luca blasts 15 yard shot from left that goalie dives and catches on left post.
47 min...half ends 8:56pm.
Halftime entertainment: there was a mini game of kids teams.
2nd Half:...starts 9:12pm.
halftime sub:...LC Green replaces Pope.
47 min...SCT McNicoll at 25 yards chips ball too far for charging players and goalie picks it up.
48 min...LC Samra rush to right end line and rolls 15 yard cross that defender SCT Ladiyou pushes over end line for cornerkick.
48 min...LC Beattie cornerkick from right is cleared back to him and his recross is also cleared both by nearest defenders on right side of box.
49 min...LC Samra 10 yard shot from left is bounced wide right of goal.
50 min...LC Samra gets to bouncer at 20 yards in middle and takes one time shot over net wide left.
50 min...SCT Badat blasts 20 yard shot on rush up middle well over net.
54 min...SCT Mirabelli gets to chipped cross from 50 yards at 18 yards on edge of box and rounds goalie but shoots 10 yarder into left side webbing of net.
55 min...LC YELLOW card...Harrington Duke earns it for late challenge on SCT De Luca. It was a delayed call.
57 min...SCT Majstorovic charge on right and cross from 20 yards near end line is caught by goalie.
58 min...LC sub...Gigolaj replaces Tafaj.
58 min...SCT Badat rush into box on break on right into box, flubs cross attempt and falls on nudge from behind as LC Green defender slides from behind to knock ball away.
59 min...LC YELLOW card...Samra earns if for something at 30 yards on SCT after offside call. LC Van Gestel is injured earlier in play needs treatment.
61 min...LC sub...Ortega replaces Murataj.
64 min...LC Van Gestel returns to the game.
66 min...LC Harriman Duke long throw-in from right has defender head ball down and LC Gigolaj has 12 yard shot blocked.
68 min...SCT sub...Fabrizi replaces McNicoll.
69 min...SCT Nogueira crosses from 30 yards on right and SCT De Luca dives forward to head 10 yarder that flies just over the bar.
70 min...SCT Massimo Mirabelli GOAL...SCT players work out short cornerkick from right and SCT Alon Badat crosses 22 yarder from right that bounces to charging Mirabelli who pokes 5 yarder to short right side of net that sprawling goalie gets hand to but ball deflects over him.
71 min...SCT Massimo Mirabelli GOAL...SCT Branko Majstorovic taps freekick from 25 yards across box and then charges around four man player wall on right where he's rolled a pass. He rolls 12 yard cross near right end line that SCT Alon Badat taps but ball flies up off defender and Mirabelli chips 7 yard kick over flying goalie to high left side of net.
72 min...City Youna Samra GOAL...Samra chests down long chip from 40 yards at 18 yards on left and ball drops over to City Thomas Beattie who rolls him pass to left and Samra bends in 15 yard shot into top left corner of net over goalie Mike Silva.
75 min...SCT Alan Badat GOAL...SCT Sergio De Luca turns and tries to squeeze through at 20 yards on 1 on 4 rush but is bumped over on edge of box by jersey tug by City Daniel Vincent but rolls ball forward where Badat holds off City Carson Green to round charging and sliding goalie at 10 yards and kick ball into center of empty net.
76 min...SCT sub...Roberts replaces Nogueira.
.........LC sub...Caranci replaces Marcoccia.
.........LC sub...Harrington replaces Dervishi.
79 min...LC Beattie chips pass from 25 yards on right over to LC Caranci at 5 yards on left who heads ball wide left.
80 min...SCT sub...Alva replaces De Luca.
.........SCT sub...Tannous replaces Majstorovic.
.........SCT sub...Moody replaces Mirabelli.
81 min...LC Beattie 30 yard freekick from right has defenders head ball over end line for cornerkick.
82 min...City Youna Samra GOAL...Samra cornerkick from left has SCT Richard Asante head ball away. City Daniel Vincent at 50 yards on left chips ball to middle and Samra chests ball down, turns, and fires low 15 yard shot into right corner of net.
84 min...SCT D'Mello long run down left sideline to get to through ball pass and he roll low cross from near cornerflag through box and SCT Badat can't turn roller into net from 6 yards.
87 min...SCT Roberts rush on right wing and cross from 25 yards has defender LC Harrington kick ball behind goal.
91 min...LC Van Gestel cross from left 40 yards has LC Beattie twist to get foot to it at 20 yards but ball rolls for goalie to pick up.
93:19 min...game ends 9:59pm.
Final Score:........SC Toronto........4.......London City.........2.......
Attendance was about 200 people on this warm night. There was no Toronto Eagles (affiliated club) before this game like last week but they had lots of kids here from their organization play a mini game at half time.
The goals game fast and furious with four goals in a five minute period starting at 70 minutes. Both teams had other chances that the scoreline could have been doubled. At 18 minutes City Eris Tafaj had a cornerkick from the left that goalie Mike Silva stepped forward for to catch overhead but he dropped it and Ctiy Brody Van Gestel kicked a 9 yard shot over the net. At 28 minutes City Youna Samra took an 18 yard blast from the right on a run that the sprawling goalie blocked at 6 yards. At 49 minutes Samra took a 10 yard shot from the left that bounced wide right of goal. A minute later Samra got to a bouncer in the middle and shot over the net wide left. In the same minute SCT Alon Badat blasted an 18 yard shot on rush up the middle well over the net. At 54 minutes SCT Massimo Mirabelli got to a chipped cross sent in from 50 yards at the 18 yard left edge of box and rounded the goalie but shot a 10 yard try into the left side webbing of the net. At 84 minutes Badat couldn't turn a cross sent in from 20 yards from the left as he charged forward or he would have had a 6 yard tap-in into the open net.
Referee David Barrie kept the game under control and gave out only one Yellow card that I can remember. [The referee e-mailed me later that it was actually three].
London City has a completely different roster than last year's 4-12-8 (W-L-T) record. I only recognized five names held over. The team bus has a picture of captain Michael Marcoccia on each side of it. I was joking with City Manager Ryan Gauss before the game (as I didn't recognize whose picture it was). It is a decal so it could be peeled off in future years so no position is permanent.
This game was broadcast live on Rogers Community Channel after two weeks of tape delayed games—one for hockey playoffs and one because of a storm getting the crew to pack up their transmitter equipment. The broadcast is also shown again tomorrow at 8:00pm. Good league/TV strategy may be to try to show the game played in Ottawa between Capital City vs Toronto Croatia game which was broadcast locally and was rumoured to have 2500 fans turn up to see it live. Now that would look good on television!
SC Toronto gets off to a dream 2 wins in 2 games start but their next game is on the road for the first time this season against Brampton City United at Victoria Park at 3:00pm next Sunday afternoon.
Rocket Robin
robing@eol.ca


SC Toronto starters


City starters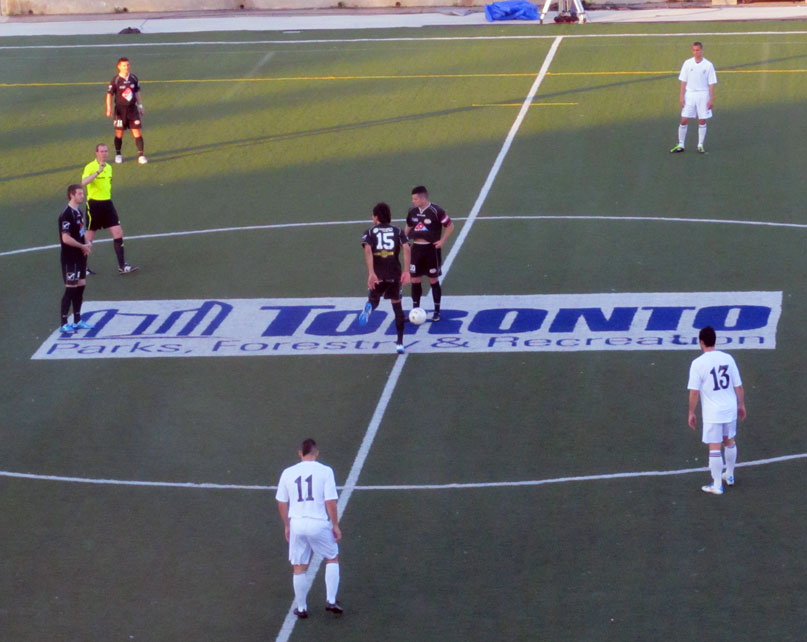 City players wait to start the game.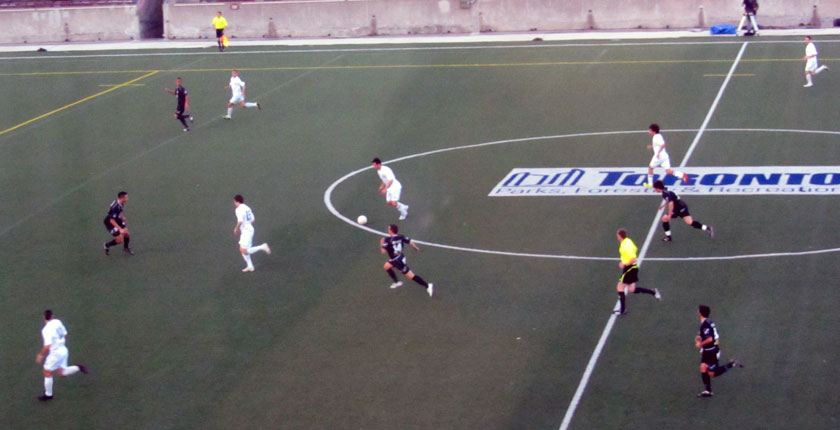 SCT rush


SCT Ilya Orlov with ball.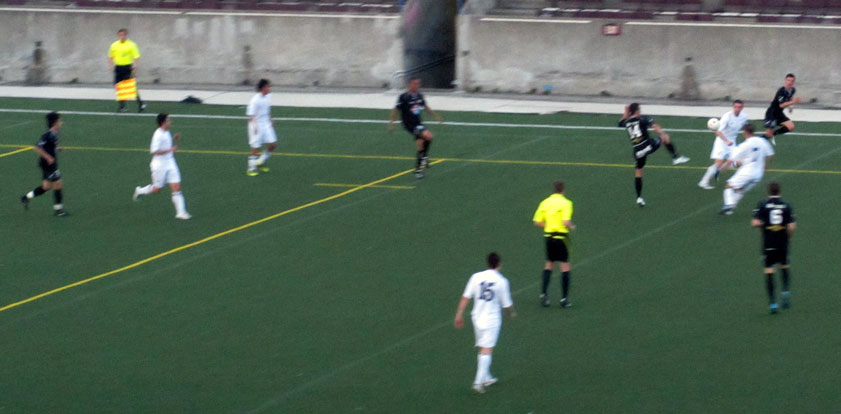 City Ermal Murataj (14) gets jab in with his foot.


City cornerkick has SCT goalie catch.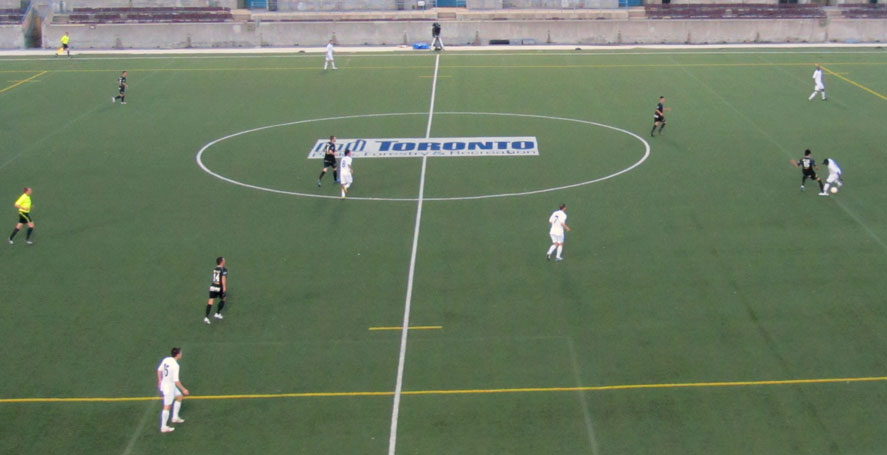 City Michael Marcoccia makes check.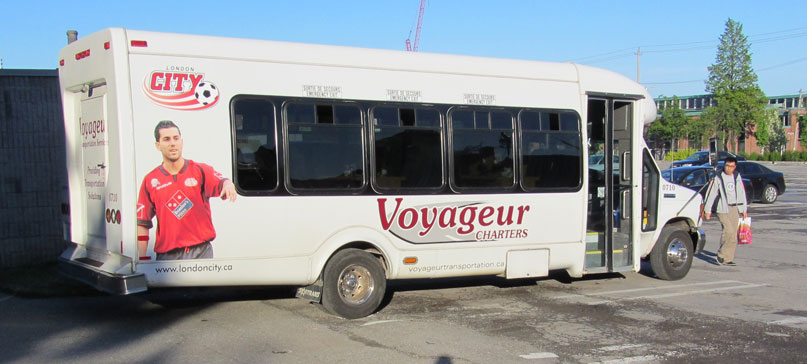 London City team bus with captain Michael Marcoccia sticker on the side.
.
.