..................................................

Result of the Sunday June 19, 2011 CSL game between Mississauga Eagles FC and Brantford Galaxy played at the Hershey Centre in Mississauga at 7:00pm.
Mississauga Eagles (all white, green numbers, one green stripe on chest)
.......................12 Melford James Jr
24 Andre McMorris...5 Thierry Mangwa-Batomen...13 Antoine Paul...30 Orane Swaby
7 Matthew Macri...23 Jose Melo...2 Sanjar Kairosh...4 Ivan Juric
.............27 Dave Simpson (cpt)...9 Shawn Brown
Subs:...32 Christopher Prouting (gk)...3 Tristan Scott (def)...8 David Guzman (mid)...17 Mohammed Habibzi (def)...19 Michael Krzeminski (mid)
26 Kwesi Klass (def)...40 Gabriel Gala (mid)
team officials:...head coach Josef Komlodi...assistant coach Paul Dhillon...goalkeeping coach Bogdan Brasoveanu...assistant manager Alex Szczotka ...physio Peter Kim
Brantford Galaxy (red socks, black shorts, red & black striped shirts, white numbers)
........................1 Vladimir Markotic
2 Raphael Goldemann...6 Rade Novkovic...10 Zvonko Bakula...4 Zach Tait
7 Kyle Grootenboer...15 Nenad Begovic...8 Ferid Idrizovic...9 Sasa Vidovic
.............13 Patryk Misik...11 Ranko Golijanin (cpt)
Subs:...0 Cameron McKay (gk)...12 Bobby Turnbull (def)...14 Austin White (mid)...16 Mark Reilly (fwd)...27 Stefan Dancetovic (mid)
team officials:...head coach Lazo Dzepina...assistant coach Tomislav Dancetovic
Game officials:...referee Manuel Orellano...referee's assistants Alexis Vaughan aned Joe Piacente...fourth official Matt Arduini...(neon yellow shirts, black shorts and socks)
1st Half:...game starts 7:08pm...MEFC defend south end.
2 min...MEFC Melo 22 yard freekick from right has defender head ball over endline from 5 yards.
3 min...MEFC Macri cornerkick from left is rolled over end line on right from MEFC player's 15 yard kick.
8 min...BG Grottenboer rolls cross from 18 yards on right and MEFC Swaby clears out of box.
9 min...MEFC Macri cornerkick from right has MEFC Goldemann head ball from 7 yards on right across box and goalie catches.
10 min...BG Golijanin is injured at MEFC 25 yards as play moves into BG end. Golijanin is helped from the field. BG Begovic takes over as captain.
15 min...MEFC goalie beats BG Misik to through ball.
16 min...MEFC Paul blasts 22 yarder high over net and back fence.
16 min...BG sub...Reilly replaces still injured Golijanin.
18 min...BG Begovic 30 yard freekick from right is cleared from box.
18 min...Eagles Dave Simpson GOAL...Eagles Matthew Macri short cross from 12 yards along end line is over defender and has Simpson kick 5 yarder from center to right side of net.
20 min...MEFC Macri cornerkick from right has defender heads ball behind end line.
20 min...MEFC Macri cornerkick from right has BG Bakula head away.
21 min...MEFC Melo blasts 20 yard shot through crowd down middle and goalie blocks at 4 yards.
23 min...BG Misik can't get away shot after dribbling in middle to 20 yards.
24 min...MEFC Swaby 45 yard cross from left is well wide right of net for goalkick.
25 min...MEFC Melo 35 yard freekick from right has defender head away.
25 min...MEFC Brown on rush on left rolls ball over end line when defender bumps him.
26 min...MEFC Juric down at 15 yards but gets up and turns to kick 15 yarder up middle to goalie.
27 min...MEFC Brown fights off defender to roll ball from left end line through box that MEFC player misses.
28 min...MEFC Brown along end line cuts out and 7 yarder off defender wide left for cornerkick.
29 min...MEFC Macri cornerkick from left has two BG defenders head ball across box then out right of box.
30 min...MEFC McMorris is injured near sideline near center line.
31 min...BG Begovic 25 yard freekick blast from left is well over net.
33 min...MEFC Melo recovers ball on partial clearance on right and shoots low 20 yarder wide left of net.
36 min...MEFC Paul 70 yard freekick down middle is through players wide left for goalkick.
38 min...MEFC Melo cornerkick from left is knocked around in box and BG Idrizovic heads back to goalie.
42 min...Eagles Shawn Brown GOAL...Brown rushes from 45 yards on left that has him charge towards goal cutting in and eluding checks to take 15 yard shot to right side of net past goalie Vladimir Markotic.
44 min...MEFC Macri gets ball passed to him from right and 20 yard shot has flying goalie push wide left of net.
45 min...MEFC Macri cornerkick from left has ball cleared.
48 min...half ends 7:56pm.
2nd Half:...starts 8:11pm.
46 min...MEFC Melo chips 45 yard freekick down middle and MEFC Juric just can't keep ball in play on left end line.
50 min...MEFC sub...Gala replaces 7.
53 min...BG Vidovic blasts 22 yard freekick on left into player wall.
55 min...MEFC Melo 25 yard freekick from right has defender head away.
56 min...MEFC Brown cross from extreme right 15 yards is blocked by defenders.
57 min...MEFC Simpson breaks up pass and rolls 5 yarder wide right of post.
63 min...BG Goldemann rush on right and high cross into box from 22 yards but no BG players are there.
64 min...MEFC sub...Scott replaces Simpson. Melo is given captain's armband.
65 min...MEFC Gala blasts 25 yard shot down middle well over net.
66 min...MEFC Melo cornerkick from left has ball bounce between players and cleared from box.
68 min...BG sub...White replaces Misik.
69 min...MEFC Juric rush to get to ball in middle and pass from 35 yards finds MEFC Brown on right and 18 yard shot is well over net.
72 min...MEFC McMorris short cornerkick from right to MEFC Gala is back to him and cross is blocked.
73 min...MEFC Scott is pushed pass over on left and he crosses from 25 yards near end line behind net.
74 min...BG sub...Dancetovic replaces Reilly.
76 min...MEFC Melo 35 yard cross from right has goalie punch away in crowd of players and MEFC player shoots 10 yarder wide right of net.
78 min...MEFC sub...Krzeminski replaces Melo. Juric gets captain's armband.
79 min...BG goalie clears ball on edge of box ahead of MEFC Krzeminski,
80 min...MEFC Scott slides to shoot 25 yarder from left wide left.
83 min...MEFC Gala 60 yard pass from right has goalie on right beat charging MEFC Scott to ball just inside box.
84 min...MEFC Gala cross from right near end line 22 yards has defender clear.
84 min...MEFC Juric 25 yard shot over players down middle and is caught by goalie.
86 min...MEFC sub...Habibzi replaces Juric. MEFC Paul now becomes the fourth MEFC captain of the night.
.........MEFC sub...Guzman replaces Brown.
.........BG sub...Turnbull replaces Vidovic.
87 min...MEFC Krzeminski low 25 yard shot from left is well wide right of net.
88 min...BG Idrizovic is injured in center circle.
92 min...game ends 8:58pm.
Final Score:.......Mississauga Eagles FC.........2..........Brantford Galaxy.........0........
Attendance was about 300 on this mild evening with the sun still out in the north west for the full game.
Eagles could have put this game away in the first half. At 27 minutes Shawn Brown fought off a defender to send the ball from the left end line that a few teammates missed as it rolled through the box. At 44 minutes Matthew Macri received a pass and took a 20 yard shot that the flying goalie pushed wide left of the net. Chances in the second half for both teams were harder to come by.
Melford James Jr earned the shutout for the Eagles without having much work to do. The Galaxy's offensive threat just about ended at 10 minutes when Ranko Golijanin was injured and needed to be subbed out with some kind of ankle or knee injured. He scored the only goal in the 1-0 Friday night game against TFC Academy. Another Friday-Sunday road game in the Greater Toronto Area with a Saturday Division 2 game as well puts a strain on their roster once again said manager Jim Turnbull. The team was in the same spot just two weeks ago. Brantford is only a two hour drive away so the team does not stay in a hotel for the weekend.
The Eagles are a new franchise this year. They were formed with an immediate tie to the youth clubs of Erin Mills and wear the same white and green colours. The team plays at The Hershey Centre. The CSL has used those facilities before as Toronto Croatia played there in the 2008 season. The field has an airplane go by every 90 seconds to land at Pearson Airport just to the east. The other feature used to be the constant threat of mosquitoes from the swamps nearby but with the wind today and the weather this season around Toronto, they were not a problem.
The Eagles had four players that had worked their way through the Erin Mills Soccer Club. Ivan Juric, Jose Melo, David Guzman, and Dave Simpson I've seen listed as having EMSC experience. I mentioned in the last weeks that some overage TFC Academy players had worked their way to SC Toronto. This team has MLS Toronto FC players from the 2007 inaugural season!--Joey Melo, David Guzman, and Gabe Gala. They also have three players that played for Milltown FC in their only CSL season (2010)--Thierry Mangwa-Batomen, Sanjar Kairosh, and Tristan Scott. Goalie Melford James Jr played for Hamilton Croatia last year (their only year in the CSL). Goal scorer Shawn Brown played for Serbian White Eagles last year. The other goal scorer, Dave Simpson, played in the old CPSL for Hamilton Thunder in 2003 and the USL Toronto Lynx in 2005 before leaving for a career in Europe.
The Eagles record improves to four wins, four losses and one tie. Galaxy fall to two wins, five losses.
Four men ended up being the Eagles captain tonight. Dave Simpson wore it until his substitution at 64 minutes. Jose Melo wore it from that time until he was subbed off at 78 minutes then Ivan Juric wore it until he was subbed at 86 minutes and Antoine Paul finished the game wearing the armband.
The game was broadcast live on Rogers Community Channel in the Mississauga area. A member of the crew says they so far have split the five games they've worked on between the Eagles and Brampton City United—they didn't cover the Brampton game played in the afternoon. They used a mobile truck from CITY TV—maybe one of the few not being used at that moment to broadcast the MuchMusic Video Awards this year hosted by Selena Gomez. We did have a woman named Selena sing 'O Canada' though.
Rocket Robin
robing@eol.ca


Eagles starters


Galaxy starters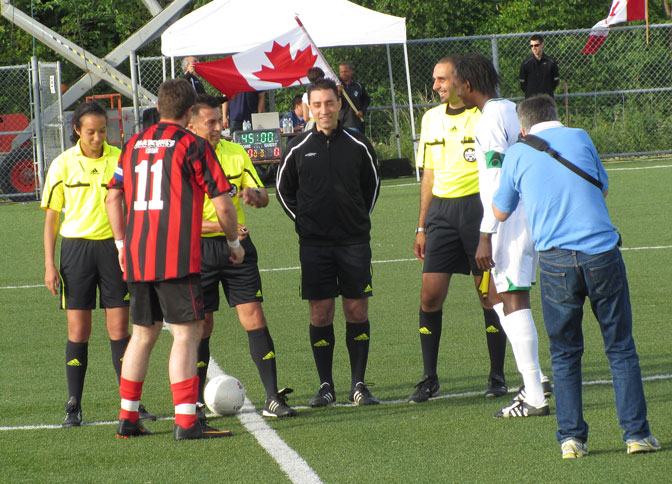 Captains Ranko Golijanin (Galaxy) and Dave Simpson (Eagles) at coin flip with referee Manuel Orellano.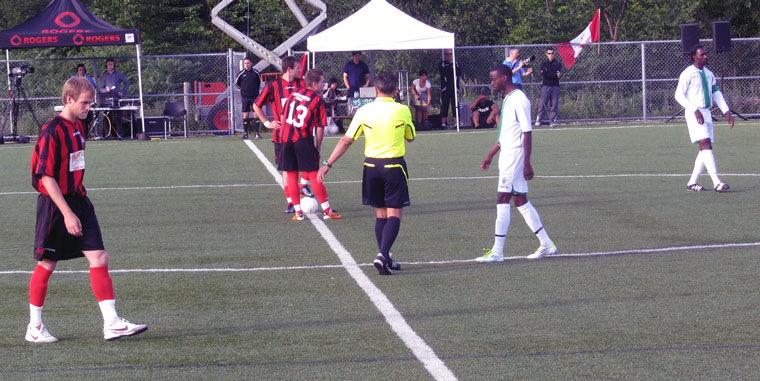 Galaxy Patryk Misik at kick off.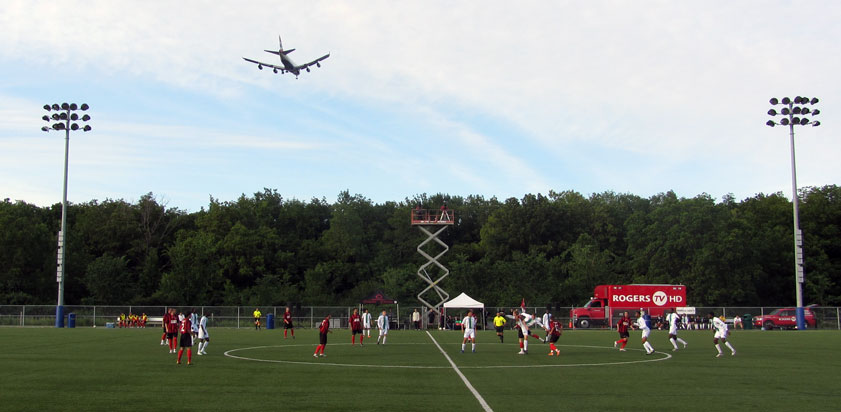 Planes flew over the game almost every two minutes.


Galaxy freekick.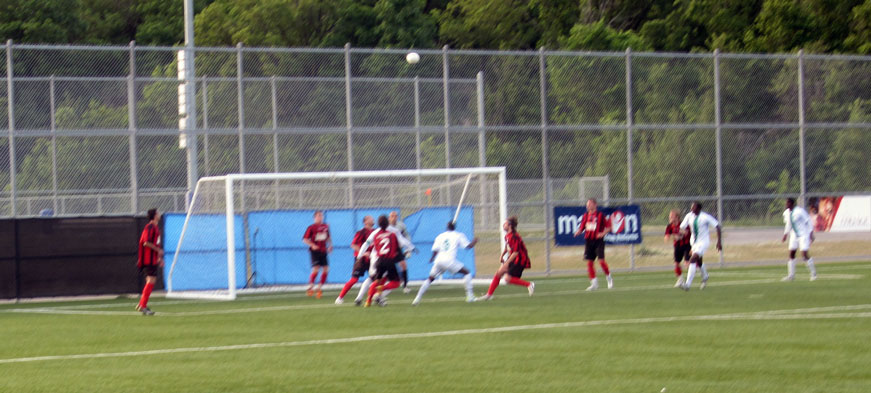 Action in Galaxy box.


Eagles Dave Simpson (27) passes back to Andre McMorris (24)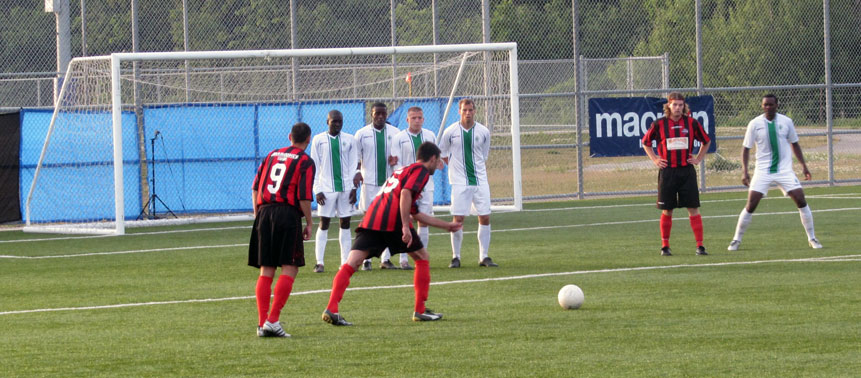 Galaxy Nenad Begovic takes freekick.
.
.