.........................................

Result of the Saturday September 10, 2011 CSL game between York Region Shooters and Montreal Impact Academy played at St Joan of Arc Catholic High School in Maple at 5:00pm.
York Region Shooters (black socks, shorts and numbers, sky blue shirts)
.......................1 Camilo Benzi
4 Marcelo Capazolo...12 Rick Titus...8 Chris Turner...6 Fitzroy Christey
21 Ricky Herron...10 Mario Orestano...20 Taylor Lord...14 Dino Gardener
................9 Jason DeThomasis...11 Kadian Lecky (cpt)
Subs:...00 Adam Majer (gk)...13 Aundre Rollins (def)...18 Carlos Rivas (mid)...19 Alex Trujillo (mid)...22 Jalen Brome (mid) ...77 Des Humphrey (mid)...99 Ryan Dummett (mid)
team officials:...coach Brian Bowes...manager John Pacione...massage therapist Eric Yuill...direct Tony Di Thomasis
Montreal Impact Academy (blue socks and numbers, white shorts and shirts)
.....................22 Samuel Benomar
2 Hugo Lapointe-Senecal...3 Ismail Benomar...23 Amine Meftouh...27 Marco Lapenna
...........16 Felix Cardin (cpt)...6 Alessandro Riggi...21 Chris-Michel Rumuri
...........17 Victor N'Diaye...14 Kevin Luarca...7 Bastien Bourgault
Subs:...32 Maxime Crepeau (gk)...19 Michelot Hyacinthe (fwd)...26 Zakaria Messouci (mid)
team officials...head coach Philippe Eullaffroy...physio Aundre Beltran...massage therapist Julie Bertrand...director Alexis Pinard
Game officials:...referee Justin Tasev...assistant referee's Armando Pereira and Lujubka Vrljes...fourth official Yusri Rudolf...(all black uniforms, neon yellow trim)
1st Half:...game starts 5:07pm.
3 min...MIA Luarca cross from 22 yards near left endline is chested down on right post and cleared by defender.
4 min...YRS Herron high cross from 20 yards on right is cleared from box.
5 min...YRS DeThomasis long throw-in from right has defender in box knock ball with knee and another defender clears ball for throw-in.
5 min...YRS DeThomasis long throw-in is cleared from box.
6 min...YRS DeThomasis rush to ball on right and 20 yard shot near end line has goalie smother on post.
6 min...YRS Turner chips in 40 yard ball from right and diving YRS Lecky heads 10 yarder on left that flying goalie catches on left post.
10 min...YRS Turner cornerkick from left is partially cleared and YRS player pops up 20 yard kick well high and wide right of net.
12 min...YRS Turner cornerkick from left has ball is headed around and goalie leaps to catch under bar.
15 min...YRS Lecky has 15 yard shot is blocked on left and YRS Lord kicks 18 yard rebound low and wide right.
20 min...YRS Lecky steals ball off MIA Benomar at 25 yards and dribbles but can't get away shot and is checked off ball at 12 yards.
23 min...MIA Lapenna cornerkick from left has defender head away ball.
23 min...YRS DeThomasis 25 yard cross from left is wide right through box.
24 min...MIA Lapenna rolls ball from 25 yards through defenders and MIA Luarca redirects 12 yarder that goalie picks up but may have been called back as offside if it had of gone in.
25 min...YRS DeThomasis long throw-in up left side finds open YRS Lecky but he pushes ball too far forward and goalie picks up.
27 min...YRS Dino Gardener GOAL...YRS Kadian Lecky on left rolls cross from 25 yards on extreme left near end line and defender stops ball at 8 yards. Gardener takes ball in middle and fires low to inside right corner of net.
28 min...YRS sub...Humphrey replaces Gardener right after goal.
29 min...MIA player can't win Penalty kick when he flies into box on right side.
32 min...YRS Orestano knocks down cross from left turns and fires quick 25 yard shot that goalie catches under bar.
34 min...MIA goalie picks up through ball on right before charging YRS Herron can get to it.
34 min...YRS DeThomasis charges to ball and goalie charges out and 25 yard shot from left hits goalie on forehead and deflects for throw-in.
35 min...YRS Desmond Humphrey GOAL...Humphrey stops cross from left at 20 yards (sent in by YRS Kadian Lecky) and turns and blasts shot from there that flying goalie Samuel Benomar gets a hand to on left but deflects ball into top left corner of net.
36 min...YRS Kadian Lecky GOAL...Lecky gets to pass sent in from YRS Mario Orestano and shoots low 12 yard shot under flying goalie into middle of net.
39 min...YRS Orestano bicycle kick from 8 yards right of net on cross from left bounces to goalie.
40 min...MIA Riggi is injured on run to right end line and low cross blocked by already slide defender at 6 yards.
42 min...MIA Luarca blasts shot that retreating goalie stops point blank at 6 yards after MIA Riggi outjumped goalie for header at 10 yards.
43 min...MIA sub...Messouci replaces still injured MIA Riggi laying in endzone.
44 min...YRS Humphrey low cross from near left en dline is through sliding YRS player at 2 yards and YRS Herron shoots from 12 yards on right that defender saves on line.
45 min...MIA Luarca low 16 yard shot from left is smothered by goalie on left post.
46 min...half ends 5:53pm.
2nd Half:...starts 6:11pm.
halftime subs:...YRS Dummett replaces Capazolo.
...............YRS Rivas replaces Christey...YRS Lord drops back to defence.
52 min...MIA Messouci on rush to pass can't keep ball in as it bounces over left end line.
52 min...MIA goalie out to beat YRS Humphrey to through ball at 25 yards.
54 min...MIA sub...Hyacinthe replaces Benomar.
55 min...YRS Herron cross from 25 yards on right has YRS Lecky partly connect on bicycle kick at 8 yards and ball rolls for goalie to smother.
57 min...YRS DeThomasis can't turn 6 yard header on cornerkick from left.
57 min...YRS player crosses from right and YRS Turner charges to head 8 yarder down middle that goalie catches.
58 min...YRS Lecky on through ball on left blasts 12 yard shot high and wide left of net.
60 min...MIA Messouci gets to pass over from middle and 15 yard shot from left is into webbing of net.
62 min...MIA Lapenna cornerkick from left has defenders clear MIA Luarca blasts partial clearance at 30 yards on right that deflects to goalie.
63 min...YRS Lecky rush on left on end line but cross as he falls is behind net.
64 min...YRS sub...Rollins replaces Turner.
65 min...YRS DeThomasis rush on right and 25 yard cross from sideline has goalie dive forward to catch ball in middle.
66 min...MIA Felix Cardin is tripped on left side of box by YRS Mario Orestano and referee Justin Tasev awards a Penalty kick.
67 min...MIA Felix Cardin GOAL...Cardin blasts Penalty kick down middle and diving goalie Camilo Benzi puts his hand up and palms it over the bar. Ball hit his hand which was only about four feet off the ground as he was falling.
71 min...YRS Orestano cornerkick from right is over players and knocked wide left for throw-in.
72 min...YRS Humphrey steals ball at 35 yards and quick blast down middle is well over net.
72 min...YRS Lecky rush to ball on left and low cross wins cornerkick.
72 min...YRS Humphrey cornerkick from left has defenders clear.
73 min...MIA Hyacinthe rushes in along left endline but pushes behind line.
74 min...MIA Luarca gets to cross over to right and 12 yard blast to left corner has flying goalie get hand to and YRS 12 scissor kicks away.
78 min...YRS sub...Brome replaces Lecky. YRS Humphrey takes over as captain.
78 min...YRS DeThomasis blasts 40 yard freekick from left that goalie palms over net.
79 min...YRS Humpnrey high cornerkick from left has YRS Brome head 12 yarder in crowd over net.
81 min...YRS Lord cross from left sideline has goalie fly forward in crowd of players and punches ball away at 8 yards.
83 min...YRS Humphrey cornerkick from right has YRS 9 head but defender knocks back for goalie to grab on left post.
85 min...YRS Humphrey charges to left end line to get to cross from left but can't save it.
89 min...YRS Humphrey bends 28 yard freekick from left well over net.
91 min...game ends 6:57pm.
Final Score:........York Region Shooters..........3...........Montreal Impact Academy...........0...........
Attendance was about 100 on this warm sunny late afternoon. There were actually just about the same number of fans for the CSL Reserve League game between the Shooters 'B' and the Serbian White Eagles 'B' just held just before this game and almost the same coming in to watch the next game between Prospect FC vs SC Toronto 'B' of the Reserve League. The fans rotated out after they saw the game they wanted to see.
Montreal were in a deep hole by bringing six subs including an extra goalie for this weekend road trip to the Toronto area and then having two players Red carded (Wandrille Lefevre and Maxim Tissot both for dissent) in the game they'd played at 8:00pm against Toronto Croatia and another (Francesco Augustin) who was Yellow carded last night and the accumulation must have made him also listed on the game sheet as serving a one game suspension.
I was surprised that while the Shooters were still celebrating Dino Gardener's goal, Gardener was immediately subbed out. Desmond Humphrey was subbed in and scored within 8 minutes. Genius in coaching? Nope—I asked at halftime and it was because he had played in the Reserve League game that had just ended ten minutes before this game started.
This was defender/midfielder Taylor Lord's second game for the Shooters. He scored in last week's game against St Catharines Wolves. He returned to the CSL after being in Germany playing for the SV Morlautern 1912 team during their season which just ended. They were the champions in their league and move up a division but they're still one league away from becoming professional. They play in the town of Morlautern which is just outside Kaiserslauten. Lord wants to maintain his amateur status in the CSL at this time and had offers from five teams that respected that whereas the directors of Serbian White Eagles which was the team where he played last year wanted him to lock him up with a three year pro contract. Lord was invited for his second call up for tryouts held in Los Angeles for the Canadian Olympic team (U-23s) coached by Tony Fonseca which begins qualifying next year. The team has not been picked yet. Lord enjoys the way the Shooters are run very professionally in training.
Camilo Benzi played the best game of his season today to earn the shootout and that wasn't just because he stopped a Penalty kick.
Best non-scoring chances were at 6 minutes when YRS Chris Turner chipped in a 40 yard ball from the right and a diving YRS Kadian Lecky headed a 10 yarder on the left that the flying goalie caught on the left post. At 34 minutes YRS Jason DeThomasis charged to a ball on the left and the goalie charged out of the box and DeThomasis's 25 yard shot from the left hit the goalie in the forehead and deflected out of bounds for a throw-in. At 42 minutes MIA Kevin Luarca blasted a shot that the retreating goalie stopped point blank at 6 yards after MIA Alessandro Riggi had outjumped the goalie to head the ball loose at 10 yards. At 44 minutes YRS Desmond Humphrey sends in a low cross from the near left end line is through sliding YRS player at 2 yards and YRS Ricky Herron shoots from 12 yards on right that a defender saves on the line. At 57 minutes a ball was crossed in from the right and YRS Turner charged to head an 8 yarder down the middle that the goalie caught. A minute later YRS Lecky on a through ball on the left blasted a 12 yard shot high and wide left of the net. At 74 minutes MIA Luarca got to a cross from the left and took a 12 yard blast to the left corner of the net but the flying goalie got a hand to the ball and YRS Rick Titus scissor kicked a clearance from the box. At 78 minutes DeThomasis blasted a 40 yard freekick from the left that the goalie palmed over the net.
Shooters pull away from a tie they had in the standings with Montreal until today. YRS climb to fourth with a record of 11-5-5 for 38 points and MIA are now fifth with a record of 10-8-5 for 35 points which means they've played two more games then YRS. That would be a first round playoff match up if they started today but Serbian White Eagles, Mississauga Eagles, and Brampton City United could all catch MIA just by winning their games in hand.
Rocket Robin
robing@eol.ca


Shooters starters


Impact Academy starters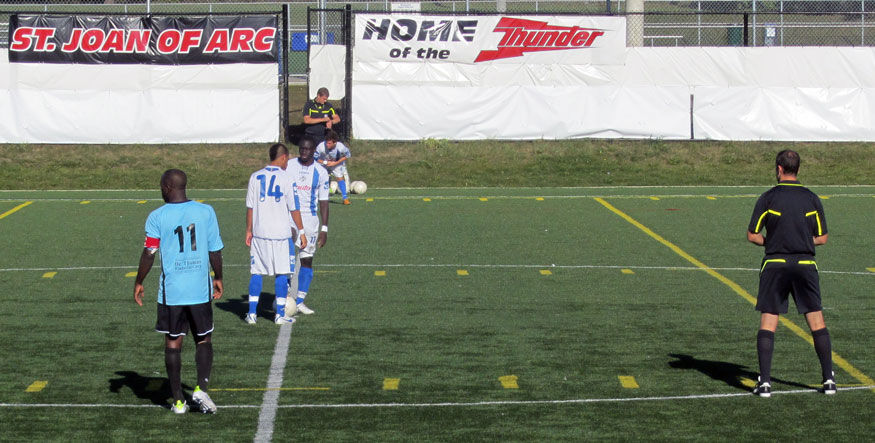 MIA Kevin Luarca (14) and Victor N'Diaye (17) kickoff.


YRS cornerkick squeezes into box.


MIA goalie Samuel Benomar catches ball over YRS Kadian Lecky.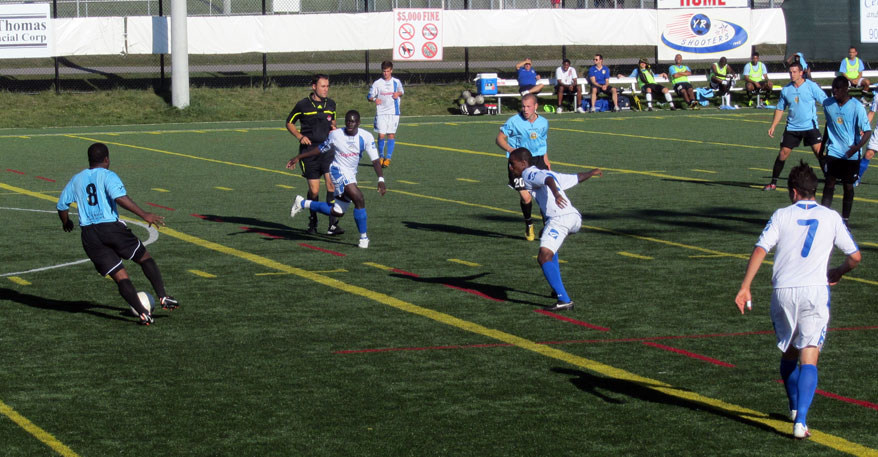 YRS Chris Turner rushes through midfield.


YRS goalie swatted ball over bar (and under football bar) on Penalty kick as he dove.


MIA goalie picks up ball.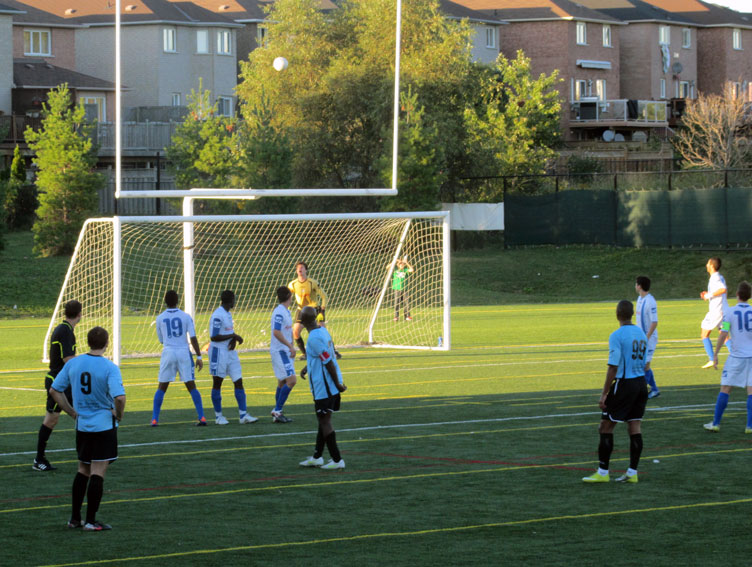 YRS Desmond Humphrey now as captain bends freekick over net at 89 minutes.
.
.