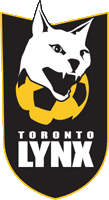 ................................................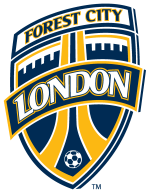 Result of the Sunday May 22nd, 2011 PDL game between Toronto Lynx and FC London played at The Ontario Soccer Centre in Vaughan at 4:00pm.

Toronto Lynx (black socks, shorts, and numbers, white shirts)

........................1 Mike Watkins
23 Paul Smyth...4 Callum Home...6 Konner McNamara...2 Taylor Lord
12 Greg Lewandowski...20 Cam Eisses...8 Aaron McKenna...10 Lee Smyth
.................7 Macca Wilde...14 Jon Costa

Subs:...00 Matt Silva (gk)...11 Jelani Smith...13 Andrew Dehreyeh (mid)...17 Jordan Taylor (def)...18 Brandon Wellington (mid)
...19 Jordan Kotsopolous (mid)...24 Steve Fattorie (def)
team officials:...head coach Duncan Wilde...assistant coach Billy Steele

FC London (all navy, white outlined numbers)

.......................00 Toba Bolaji
........15 Jovan Ivanovic...5 Shawn Kodejs...28 Chris Dillon
10 Dino Ceric...8 Tyler Hemming...3 Gary Ogilvie...11 Haris Cekic (cpt)...22 Alex Lewis
...............6 Scott Bibby...12 Donny Bachor

Subs:...31 Jarrett Humphreys (gk)...4 Mike Davis (def)...9 Carl Haworth (fwd)...14 Alexander Rouse (fwd)...24 Aaron Schreebeli (def)
...26 Alex Eby (fwd)
team officials:...head coach Martin Painter...assistant coaches Jeff Cambridge and Batim Mohamid

Game officials:...referee Zac Taylor...referee's assistants Igor Grahovac and Mark Henoud...no fourth official...(neon yellow shirts, black shorts and socks)

1st Half:...game starts 4:04pm...Lynx defend north end on this mild and sunny late afternoon.
4 min....FCL player's long throw-in from left has Lynx Home head away from box.
4 min...FCL Ceric cross from 20 yards near right end line is behind net.
5 min...FCL player's cross has sliding defender clear ball from box.
5 min...FCL Cekic cornerkick from left is over players in box.
6 min...FCL Ogilvie blasts 20 yard shot well high and wide left of net.
8 min...Lynx Wilde pushes ball on right over end line on 1 on 2 rush.
13 min...FCL Dillon long throw-in on right is headed through box out left side. 16 min...FCL Hemming turns on receiving throw-in and shoots 22 yarder on right well over net.
17 min...Lynx goalie leaps to catch tipped up shot at 15 yards behind players on edge of box.
19 min...Lynx YELLOW card...Wilde earns it for sliding tackle at center line.
20 min...FCL Bibby 25 yard shot is popped up that goalie catches on charge forward.
22 min...Lynx Lee Smyth gets bounced cross from right and 22 yard shot on left around defender well wide right.
23 min...Lynx Lewandowski is injured on run on right to FCL 25 yards for pass forward. No card was given.
25 min...FCL Cekic 25 yard shot from left is just wide right of post on low shot.
26 min...FCL Cekic cuts 22 yard roller around defender up middle well wide left.
32 min...FCL Cekic low 25 yard blasts from right is caught by goalie.
37 min...Lynx Lee Smyth 40 yard freekick up middle chip bounces to goalie on bounce to left post.
40 min...Lynx Lord run on left cuts in and pushes pass to Lynx Wilde who wins cornerkick on 22 yard cross.
41 min...Lynx Lee Smyth 25 yard freekick from left has Lynx Paul Smyth leap at 5 yards wins cornerkick on right.
42 min...Lynx Lee Smyth cornerkick from right has ball headed over endline for goalkick.
43 min...Lynx Costa cross from left 20 yards has defenders head away.
44 min...FCL Kodejs 70 yard freekick from right bounces for goalie to grab wide right.
45 min...FCL Ogilvie 50 yard freekick up middle has FCL player not able to control on header on left end line.
47 min...half ends 4:51pm.

2nd Half:...starts 5:03pm...the weather is the same.
halftime sub:...FCL Eby replaces Bachor.
48 min...Lynx player's 40 yard freekick from left is headed for cornerkick on right.
48 min...Lynx Lee Smyth cornerkick from right is cleared from box.
49 min...FCL Ivanovic cross from right is wdie left of net.
49 min...FCL Cekic cornerkick from left has goalie punch ball out and FCL Hemming (?) blasts 22 yarder well over net.
50 min...Lynx sub...Smith replaces Costa.
51 min...FCL Scott Bibby GOAL...FCL Gary Ogilvie crosses 25 yarder from left to middle for Bibby to head 8 yarder into right corner of net beyond goalie Mike Watkins.
54 min...FCL Hemming 25 yard freekick from left is headed away in cross in box.
55 min...FCL Cekic 35 yard freekick from middle is bent over players but wide right of net beyond charging players.
58 min...Lynx Wilde works out short cornerkick but cross into box is easily cleared.
58 min...Lynx sub...Wellington replaces Wilde.
59 min...FCL Ceric cornerkick from left has goalie punch away.
62 min...Lynx sub...Taylor replaces Paul Smyth.
63 min...FCL Bibby gets center line pass and rolls 18 yard shot wide left of net.
67 min...Lynx sub...Dehreyeh replaces Eisses.
67 min...FCL Cekic 40 yard freekick from left has ball headed for cornerkick.
68 min...FCL Cekic cornerkick from left has FCL Ivanovic mid air touch from 10 yards is caught by goalie.
73 min...FCL Lewis rush down left and cross from 25 yards is well high and left of net.
73 min...Lynx sub...Fattorie replaces Lewandowsky.
.........FCL sub...Schreebeli replaces Ogilvie.
76 min...FCL YELLOW card...Bibby earns it for not giving 10 yards on Lynx Lee Smyth freekick at 45 yards.
77 min...Lynx Taylor makes header tip to keep FCL Ceric from getting header at 10 yards on left.
79 min...FCL Bibby catches goalie out but shot from extreme right is behind net from 15 yards.
79 min...FCL sub...Rouse replaces Ceric.
81 min...FCL Lewis rush on left and cross from 18 yards on endline is caught by goalie.
83 min...Lynx Fattorie is injured on sliding tackle.
84 min...Lynx Home 50 yard freekick from right has Lynx player on left cross after clearance from 20 yards on left that goalie catches.
85 min...Lynx Home 65 yard freekick from right is over players and bounces to goalie. FCL Ivanovic is hurt on play.
89 min...Lynx Lee Smyth 40 yard freekick from right bends to goalie to catch.
90 min...Lynx Lee Smyth 40 yard chip has goalie beat Lynx forward to ball at 8 yards to catch.
91 min...FCL YELLOW card...McNamara earns it for pull down of player after whistle.
94:42 min...game ends 5:52pm.

Final Score:......Toronto Lynx.....0......FC London.......1......

Attendance started at about 100 but doubled to about 200 before the game ended. Unlike the Lady Lynx rainy game earlier in the afternoon, this game was played in nothing but sunshine on this mild afternoon.

This game was much rougher than the Lady Lynx game with a lot of fouls although relatively few cards given out by referee Zack Taylor.

The shutout was earned by Toba Bolaji. He is actually from this city (Vaughan) so I doubt he's never played at this soccer complex before. Back-up goalie was Jarrett Humphreys who was on the TFC Academy team in 2008. (Defender Shawn Kodejs was also on TFCA 2008) . Humphreys answered me after the game that he still has two years to go at Laurier University and this PDL schedule is a perfect fit between the collegiate season.

FCL had Scott Bibby as the chief offensive threat and captain Haris Cekic taking most of the cornerkicks and freekicks.

FC London head coach Martin Painter said in a team meeting at halftime that the only way the Lynx could score was on a set piece. He was right as the Lynx had very limited chances.

Duncan Wilde is still head coach of the Lynx with assistant coach Billy Steele. He said before the game that he has a few players missing with Lloyd Grist still away in Wales [Port Talbot just lost a Euro qualifier the week before]. The Lynx captain has mono and couldn't play (don't know who that is). Wilde ran through his history with the Lynx and the CSL. He coached the Hamilton Thunder of the CPSL in 2003 (owned by madman Italo Ferrari) and he was dismissed when he cut the owner's son Roberto Ferrari as the goalie. He moved to the Lynx in 2004 and ran the Academy from 2005 and also coached the CPSL champs Oakville Blue Devils in 2005 (which was somewhat like a reserve team for the Lynx). He coached the 2006 team (their last in the USL First Division) but the team was weak because Toronto FC had already been awarded an MLS franchise and they knew their days were numbered.

Duncan Wilde and Billy Steele now control this team and the Lady Lynx. They have 'inherited' the teams from Bruno Hartrell. Inherited as in he didn't have to buy it off Hartrell. It takes about $150,000 to run the Academy. He said the killer expense of PDL is the travel cost for the clubs. They were very close to joining the CSL this year. They wanted to have a team in the CSL Reserve (Second) Division for now for their Academy teams like Kitchener and Niagara Falls do this year but weren't allowed because they don't have a 'franchise' (which means a promise to have a team in the CSL First Division by next year). He said it is possible they might have a franchise in the CSL next year although the league doesn't want any more Toronto area franchises (but Oakville would be OK with league officials). Having a PDL team AND a CSL franchise would be too much he thinks. The CSL has promised to start a Womens' Division next year (but that's been promised for a few years) but he has no trouble with keeping the Lady Lynx in the W-League because their travel costs are lower (division opponents are closer together).

Lynx next game is Wednesday May 25th as part of School Day with a game at 11:00am against new team Hamilton FC Rage. The Lady Lynx will play at 2:00pm against the woman's team in W-League action.

Rocket Robin
robing@eol.ca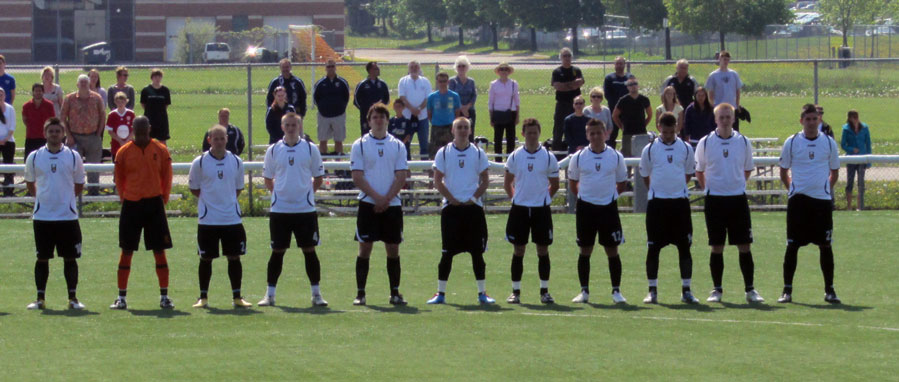 Lynx starters


FC London starters

Lynx players wait for kick off.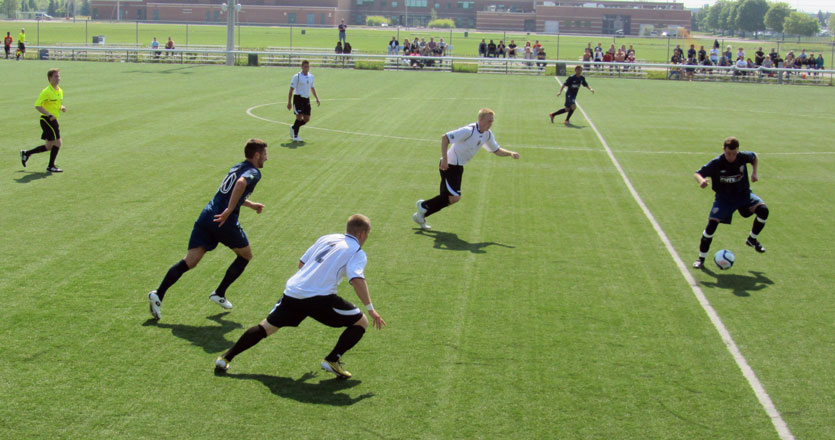 FC London rush crosses the center line.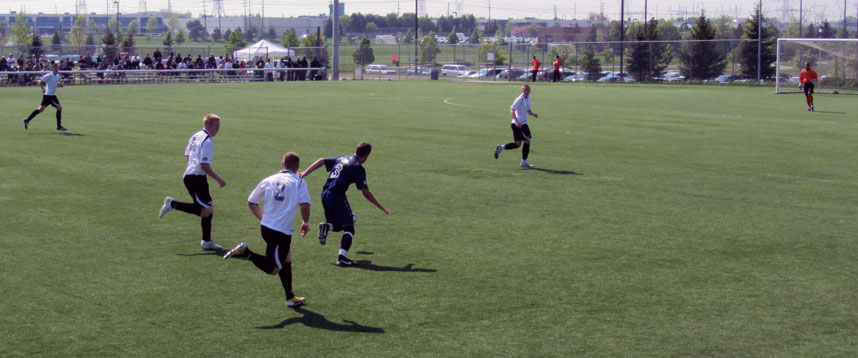 FC London Gary Ogilvie (3) on rush.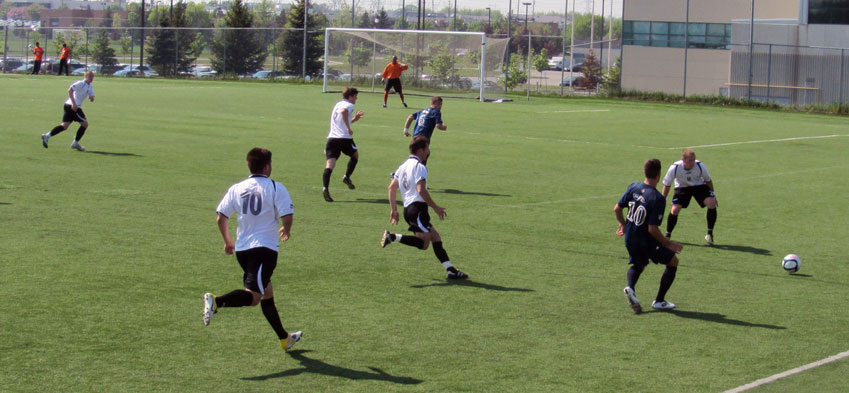 FC London Dino Ceric (10) rolls ball forward to Scott Bibby (6)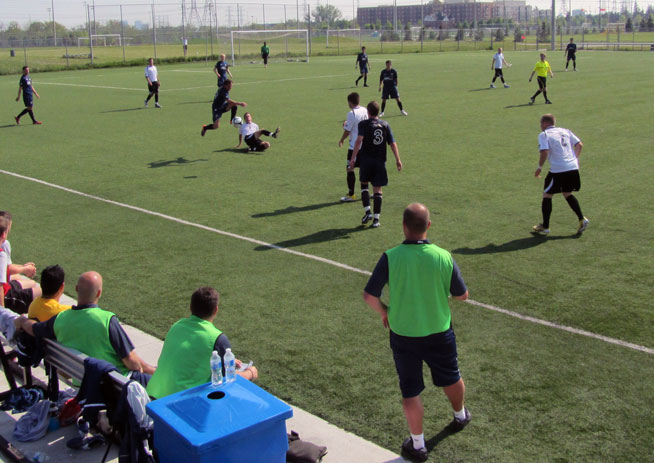 FC London player leaps over defender.


FC London Haris Ceric freekick cross.


Referee calls Lynx freekick deep in own end.
.
.