May 1, 2012 CSL--CSL Pre-season Press Conference (by Rocket Robin)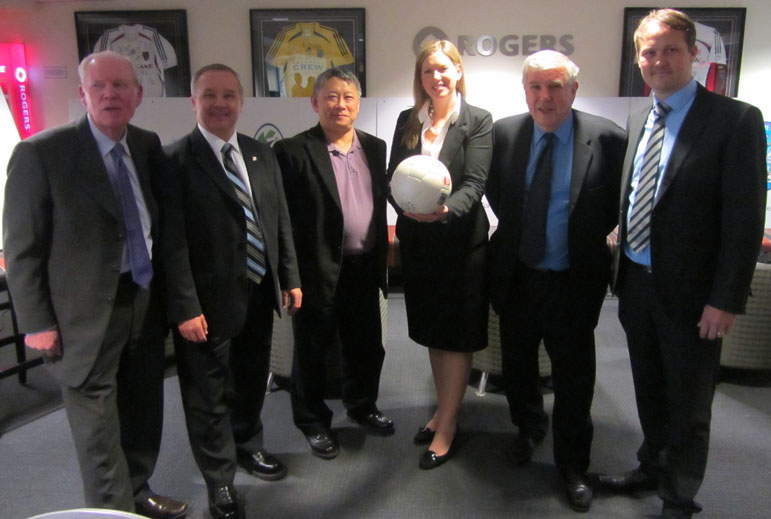 Stan Adamson, Ron Smail, Willie Jong, Melissa Kenny, Pino Jazbec, and Michael Krog at the press conference.

Details of the Canadian Soccer League (CSL) Pre-season Press Conference held
on Tuesday May 1, 2012 at the Rogers Room at BMO Field in Toronto at
12:00pm.  Attendance was maybe 75 people. 

The meeting was called to order at 12:10pm by CSL Director of Media and PR Stan
Adamson.  The head table consisted of Willie Jong (supervising producer with Rogers
TV), Ron Smale the president of the Ontario Soccer Association, Melissa Kenny
(filling in for Eric Barber of the Days Inn hotel chain), Michael Krog the
president of Locust Sports and Pino Jazbec (CSL League Administrator)

Adamson welcomed everyone and reminded us that the European club season and the
start of the Canadian season except this year because this summer also involves 
the Canadian Men's World Qualifying effort plus an exhibition game against the 
USA and all these games will take place in Toronto.  The European championships
will also take place this summer plus the Olympics with the Canadian Women's team
qualified for the finals.  The MLS season has also started.

Adamson introduced the head table and called up Pino Jazbec to outline the
schedule.  He said there will be 16 teams this year split into an East and West
division but only one table will be kept.  Each team will play home and away
against teams in their division and once against the crossover division.  

[No breakdown was given but by looking at the schedule after the news conference 
I was able to figure out the breakdown as:

WEST:  Windsor Stars, London City, Niagara United, Brampton City United, Brantford
Galaxy, St Catharines Roma Wolves, Toronto Croatia, and SC Waterloo Region.

EAST:  Montreal Impact Academy, York Region Shooters, SC Toronto, Mississauga
Eagles FC, TFC Academy, Serbian White Eagles, Kingston FC, and North York Astros.

[Notice how that means ethnic rivals Toronto Croatia and Serbian White Eagles only
play one regular season game against each other?]

[Capital City FC is not returning this year.  They finished third last year (their
only year in the league) and were a the losing finalist in the playoffs.  The press
kit doesn't ignore them—its actual quote is:  "One team—Capital City of Ottawa, 
a city anticipating the launch of a team in the new U.S.-based NASL, failed 
to return to the CSL for the upcoming season."]

The Quarterfinals will be reduced to only one game rather than a two game, total
goal series.  The season starts this weekend and the regular season and playoffs
should be over before the end of October.

The Second Division has 12 teams with a two division split but only one set 
of tables and each team will play 16 games.  (London City, Montreal Impact 
Academy, North York Astros, and Toronto Croatia will not field reserve teams 
in this league this year)

Willy Jong was brought in to expand on Jazbec's comments on television coverage
this year.  [I've also mixed in comments by Alex Bastyovanszky who will 
be producing and hosting the TV show 'This Week In The CSL' which starts Friday 
May 18th}.  The magazine show 'This Week in the CSL' will be shown Friday nights 
on Rogers Community Channel using footage from the previous week's games.  
The league will try to film every game for referee/discipline purposes and 
to have the raw footage for these shows.  Games may be filmed Friday but shown 
on Sundays.  

Jong said the Rogers supports soccer at the 'local' level (after pointing at the
name of this venue welded onto the wall).  [Rogers/Bell have bought control 
of MLSE which owns Toronto FC MLS team as well as other pro teams].  Rogers 
is very pleased with local soccer as it provides the station with programming
content and they return the favour by giving the local teams coverage.  He is
pleased that cable rival Cogeco is coming into the system as they have the
territory of two of the new teams. [Niagara and Kingston].  He asked the teams 
to cooperate to make it the best TV product.  

Melissa Kenny from Days Inn came up to discuss its sponsorship of the league.  
She was filling in for Eric Barber who has been here each of the other years.  
This is the fourth year the chain has worked with the league.  They work with 
local teams for kids tourneys etc and provide an excellent experience for 
an affordable price.  Their slogan is "spend less, travel more" which might 
be worked over as "spend less, play more" in this soccer context.  [I talked 
with her during the post conference lunch.  I had not analyzed the schedule 
in detail but neither of us could figure out a reason why teams don't do Friday
-Sunday road trips but cram both games into two days---Actually no change this 
year as I see Montreal Impact Academy are doing it again this season].   

Ron Smale from the Ontario Soccer Association welcomed the three new members 
of the CSL.  The OPDL [sorry I can't figure out exactly what those initials 
stand for] has already kicked off.  It is setting standards for development 
and pathways to put great product on the field in discussions of how to move 
the game forward.  Toronto FC is now an associate member of the OSA.  It's 
all about breaking down barriers and he is looking forward to the upcoming 
CSL season. 

Michael Krog from Locust Sports didn't get called up to speak but he had a smile 
on his face the whole afternoon.  Locust supplies the game balls this year 
as all reference to Givova (last year's supplier has been removed).  

Adamson then finished the meeting with outlining that now there's over a million
soccer players in Canada.  He weaved in a story from last week's Globe & Mail 
that Jamaica proclaimed that they would be the #1 track country in the world.  
He compared that with the USA making a statement about soccer and how they've
advanced from ten years behind Canada in development to ten years ahead of Canada. 
We've now got the means $$$$ and the technical staff so it is time for Canada 
to say their goal is to be top 20 in the world.  He saluted Alf Reubens 
(in attendance today) for being honoured by the OSA for his Inside Soccer magazine.  

Adamson said that 16 teams is now the most the league has ever had since its 
launch in 1926 and all its names since then.  The mission is to develop soccer 
AT HOME across Canada so young players can stay in Canada.  The competition 
is vital not just the skills training.  

The meeting broke up at 12:55pm for a buffet lunch.

I mingled with some of the owners/officials.

I chased after Jim Brennan of TFC Academy who was on his way out.  I had a list 
of last year's team and wanted him to tick off who was back and who was gone and 
he looked it over but said this was Danny's (Dichio) team so he couldn't help.  
Yes it's Danny D who coaches the Division 1 team and Jim B who coaches Division 2.
The only players I can answer for so far are goalie Quillan Roberts who's jumped
from Div 2 to the MLS team (U-17 goalie who scored a 70 yard shot in the World
Cup), goalie Chad Bush who is off at school and 2011 CSL goal leader Stefan 
Vukovic who was released.    

On my way out I asked Stan Adamson two points that were not mentioned in today's
conference.
1.  There will again NOT be a Women's Division this year.
2.  There will NOT be an Open Canada Cup again this year.  The restart of this
competition had been mentioned by the league within the last month.
Adamson said the owners felt they had enough on their plate this year without
adding either of these.

I noticed that the teams will only play 22 regular season games each this season
(last year there were 26 as each team played each other twice).  The quarterfinals
have been reduced to only one game (no confusion like last year when Mississauga
Eagles general manager Susan Rossiter was sure the series was two games and
overtime rather than total goals—so they didn't bunker down when they had a player
Red carded and lost 4-0 in that first game).  Her son will once again be the flag
carrier for the team she said as he likes the attention of the girls in the crowd.
Less games means its doubtful I will get to 63 games like I did last year.     

I asked North York Astros manager Bruno Ierullo about this year's team.  
(last year Astros didn't win a game the entire season)  Assistant coach Geraldo
Lezcano Sr died of cancer at the end of last year and a brother has been brought 
in so there will be three Lezcano brothers coaching the team this year (Lezcano 
Sr was their father).  Ierullo's assistant said they have better player's 
this year.

James McGillivray is ready for the season to start.  He is returning as coach 
of Niagara United this year (was coach of St Catharines Roma Wolves two years 
ago) in their move up to a First Division team.  Last year they had just 
a Second Division team but he was named Coach of the Year and the team won the 
West Division at that level.  He has about five players from across the border 
in Buffalo and an Irish player who played for London City last year but the team 
is otherwise tapping in to the local talent with U11s, U13s, U15s teams already 
set up.  "Why have some European here who will be gone in a year?" was his 
point.  A good opening for me to tell some Torsten Frings jokes.    

Other names dropped in the press kit mention that Marco Reda (former Canadian
National team defender and Toronto FC and way back to Toronto Lynx) will be 
an assistant coach with SC Toronto this season.  It mentioned that SC Toronto 
had signed Colombian U-20 national team forward Janer Guaza Lucumi.  The new 
head coach of Brantford Galaxy will be Ron Davidson who was CSL head coach 
of the year for Hamilton Croatia in their one year in the league.  

I answered some questions about my own health which was quite a concern last 
year.  I got to choose a month for a heart operation to be after last year's 
soccer season.  I had mitral valve prolapse or MVP (not most valuable player) 
which is a serious heart condition that was gradually getting worse.  
The symptoms were my heart beat faster as blood was leaking back into my heart 
and it felt like I'd just run up five flights of stairs.  I could usually sit 
down and relax for two minutes and it would go away but it was getting that
sometimes I'd have it beat fast for hours.  The operation was done in late 
November and I was only in Sunnybrook Hospital for one week.  It felt like 
I was in a bear hug but every day I would feel slightly better.  By mid-February 
I was able to stop all the pills I'd been prescribed—some people have to take 
blood thinners for the rest of their life.  I was banned from driving for six 
weeks after the operation but I wish instead of the excuse that an expanding 
car air bag might cause damage to me, they'd have said the reason is I wouldn't 
be able to move my neck to see into the side mirrors without incredible pain. 
True! I'm alright now.  

Let the season begin....

Rocket Robin
robing@eol.ca



.

.