........................ ......

Result and details of the Friday June 13, 2014 League 1 Ontario game between Durham United FC and Vaughan Azzurri played at Kinsmen Park in Pickering at 8:00pm.

Durham United FC (navy socks and backs, red shorts, red & black striped chested shirts with navy backs, yellow numbers)

.....................1 Benjamin Cowman
4 Erick Leal...13 Le Shaun Young...12* Hameez Farrell...14 Jordon Dover
17 Joseph Roccasalva...11 Colin Francis...7 Jordon Hargrave...8 Nicholas Goddard
..............10 Marintho Dumevski...9 David James

Subs:...0 Eugene Alves (gk)...5 Davon greaves...6 Davinder Johal...15 Tristan Grant...20 Le Rohne Young
...19 Shaquille Agard...16 Taylor Lord
team officials:...team head coach Tony La Ferrara...assistant coaches Rupert Greaves and Sanford Carabin
...managers Connor Schmitt and Corrado Roccasalva

A player wearing #21 started the game and played until 70 minutes and being subbed off injured. Since I didn't notice a #12, I'll say this player may have been Hameez Farrell.

Vaughan Azzurri (all white, red numbers, black trim)

.....................1 Colm Vance
2 Casey D'Mello...5 Daniel Fabrizi...24 Mathieu Laurent...23 Malcolm Loukides
.........8 Carlos Nogueira...7 Jonathan Lao...17 Emmanuel Zambazis
..........9 Andrea Lombardo...14 Dana Iezady...11 Joey Cicchillo

Subs:...12 Anthony DeSousa (gk)...6 Paulo Alves...13 Darren Gertiesingh...16 Benjamin Futoriansky...21 Austin Ricci
...27 Devante Walker...31 Daniel Cramarossa
team officials:...team head coach Carmin Isacco...assistant coaches Kosta Poulos and Patrice Gheisar...manager Tony De Palma

Game officials:...referee Alexis Vaughan...referee's assistants Sharon Welsby and Jessica Patton...fourth official Marie Soleil Beaudoin
...(yellow shirts, black shorts and socks)

1st Half:...game starts 7:59pm...DUFC defends east end on this mild evening with a blinding setting sun in the north west.
I was sitting behind the table top scoreboard so all times are converted from my wrist watch.
3 min...VA Lao 30 yard freekick from left bends inwardly and goalie catches ball on right post.
5 min...VA Iezady pushes ball on left to VA Cicchillo who gets pass on left sideline at 20 yards and low cross on left near cornerflag is saved in middle.
6 min...VA Iezady receives pass up middle and chips 20 yarder that hits top of bar.
7 min...DUFC Francis blasts dropped back pass from 25 yards over crowd of players and well over net.
8 min...VA Iezady low 22 yard shot down middle is wide left.
14 min...DUFC Leal cross from 25 yards on right has DUFC Hargrave on left head ball wide left from 8 yards.
17 min...DUFC James on rush to pass on right pushes ball over end line for VA goalkick.
18 min...VA Carlos Nogueira GOAL...VA Joey Cicchillo on left near end line crosses to right for VA Andrea Lombardo who misses ball but rescues it and turns and crosses from 12 yards along right end line and Nogueira flicks header from 5 yards into net.
20 min...VA James low cross from 10 yards on right end line out to middle and VA Hargrave shoots over net from 15 yards.
21 min...VA goalie rush to right to dive on ball to beat DUFC James to pass at 10 yards.
23 min...DUFC Jordon Hargrave GOAL...DUFC Colin Francis passes from 28 yards in middle over to left to Hargrave and he shoots tough angle 20 yard shot over the goalie on the left post and the ball drops into the top right corner.
24 min...VA D'Mello shot from 20 yards near right end line is into outside webbing of net.
25 min...VA Nogueira receives cornerkick from right and knocks ball down and VA Cicchillo at 6 yards on far right shoots over net.
27 min...VA Iezady gets to ball up middle but surrounded by defenders and 18 yarder rolls to goalie.
29 min...VA Lao cornerkick from right has VA Laurent leap and head 12 yarder on left but it's actually away from goal and is cleared for DUFC quick breakout.
30 min...VA Andrea Lombardo GOAL...DUFC David James has 30 yard shot blocked and VA players make quick breakout and rush down left and VA Joey Cicchillo crosses from 22 yards and Lombardo blasts 12 yarder from right into left corner of net.
32 min...VA Cicchillo rolls pass forward for VA Iezady who shoots 18 yarder that goalie pushes wide of post.
33 min...VA Lao cornerkick from left has ball headed down but ball cleared by DUFC player for fast break. DUFC Hargrave gets shot from 20 yards on left that goalie catches.
34 min...DUFC James chests ball down at 20 yards but goalie dives forward in middle to smother ball at 15 yards.
35 min...DUFC Goddard chips ball over players at 25 yards and goalie picks it up.
36 min...VA goalie makes about his third run to edge of box to pick up DUFC passes sent in too far.
38 min...DUFC Leal cross from 25 yards on right has goalie palm ball over DUFC Hargrave waiting to head in from 5 yards.
42 min...VA Nogueira rolls pass forward that VA Iezady slides and can't control.
43 min...VA Cicchillo rolls ball to middle from 22 yards on left and goalie smothers at 7 yards.
44 min...VA Lombardo 15 yard midair shot has DUFC Dover tip ball wide left for cornerkick.
45 min...VA Lao cornerkick from left has goalie catch in crowd of players.
46 min...half ends 8:45pm. The sun is now lower than the trees.

2nd Half:...starts 9:01pm.
46 min...DUFC YELLOW card...#21 earns it for knock over on VA Iezady at DUFC 30 yard line.
47 min...DUFC sub...Lord replaces Francis.
48 min...DUFC sub...Grant replaces Leal.
49 min...VA Nogueira rolls weak shot from 18 yards that goalie picks up.
51 min...VA Iezady runs even with 22 yard line and blasts shot well over net and back fence.
52 min...DUFC Hargrave blasts midair shot up middle from 20 yards wide left of net.
There's now a gusty wind from the west.
56 min...VA goalie rush forward to clear ball before DUFC James can get to through ball.
58 min...DUFC sub...Agard replaces Dumevski.
60 min...DUFC Hargrave backheels ball at 25 yards on left and DUFC curves shot that goalie catches.
61 min...DUFC Roccasalva gets shot between defenders at 22 yards and flies it wide left.
64 min...VA Joey Cicchillo GOAL...VA goalie Colm Vance takes goal kick which finds Cicchillo at DUFC 40 yard line on left and he cuts towards net and shoots low 15 yarder over sliding goalie and into right side of net.
68 min...VA Cicchillo rush in from left but is checked off ball by two defenders.
68 min...DUFC #21 is injured at DUFC 30 yard line.
70 min...DUFC sub...Johal replaces injured #21 who exits around the perimeter of the field.
72 min...DUFC James low 20 yarder from right has sprawling goalie block at 6 yards. James blasts 15 yard rebound from left well over net.
73 min...VA sub...Ricci replaces Iezady.
75 min...VA Jonathan Lao GOAL...VA Malcolm Loukides gives pass from 40 yards on left to Lao who blasts low 22 yarder from left that hits right post and deflects across goal and hits inside of left post.
76 min...VA (DUFC own) GOAL...VA Malcolm Loukides 25 yard freekick from left has VA Mathieu Laurent pop up header on right. A DUFC defender outjumps VA Carlos Nogueira but backheads ball over goalie Benjamin Cowman and under bar into own net.
77 min...VA sub...Alves replaces Nogueira.
79 min...VA Lombardo blasts 35 yard freekick from left is into player wall.
80 min...VA Futoriansky (must have come in at halftime) has DUFC goalie charge out to grab ball at 10 yards.
81 min...VA sub...Walker replaces Lombardo.
........VA sub...Cramarossa replaces Cicchillo.
82 min...DUFC Lord rolls ball in crowd of players from 12 yards that goalie smothers.
83 min...DUFC sub...Le Rohne Young replaces James.
85 min...DUFC Le Rohne Young GOAL...DUFC player crosses ball from 15 yards on right and VA player heads it across box and it lands for Young to jab shot from 10 yards down middle past goalie into center of net.
87 min...VA Ricci gets pass on left and low 22 yard shot is wide right of post.
91 min...VA Ricci gets breakaway from center line and rush up left and 20 yard shot is saved by goalie. A VA player crosses from 12 yards on right over defender and Ricci tees up shot at 15 yards but he's checked off ball.
94 min...DUFC Le Rohne Young on 2 on 1 rush at 15 yards rolls pass to far wide for DUFC Roccasalva to play.
95 min...game ends 9:51pm.

Final Score:....Durham United FC......2......Vaughan Azzurri.....5....

Attendance eventually reached about 90 by the time the game was over (it started at something like 25) on this mild evening with the temperature cooling rapidly. Good thing there was a gusty wind as it kept thousands of little bugs from landing. Some fans had won special seats in a gazebo set up on the south side. At half time (when there were about 60 fans) she said there were about triple the fans for their home opener last Sunday afternoon in the sunny warm weather.

Referee Alexis Vaughan led an all female officiating crew and the game was well played without any rough play. I only noticed one Yellow card the entire game.

This was a game between two teams with identical 1 win, 1 tie records but as the game wore on the Azzurri gradually pulled away. I asked head coach Carmine Isacco why the game ended up with this scoreline whereas when I saw them play Toronto FC Academy in the first game of the season, they were held to a 1-1 tie even though they had a man advantage for more than 75 minutes. He answered that the team were better prepared this game and gradually broke DUFC down but he expected they'd start their domination before the first half ended. The roster of Azzurri include a lot of TFC Academy grads. I asked if a lot of them also play for York University Lions for which Isacco is also the head coach. Yes they do! I notice that Azzurri have four home games scheduled at York (University) Stadium.

Taylor Lord was an early second half substitute for DUFC. I watched him play for Toronto Lynx and different CSL teams then play two seasons for USL-Pro Dayton Dutch Lions as a starting defender then earlier this year tried out for the new USL Sacremento franchise coached by Preki but pulled a back muscle in his tryout. He's playing for Durham right now as he's a local kid and to keep in shape but may still move to a USL team later in the year said his father.

I'd never been to Kinsmen Park before. The team played on a real grass field with stadium lights. There were bleachers on the north side and a clubhouse on the south sideline with a small scoreboard. (I was not facing it so all times are converted from my wristwatch). The clubhouse belonged to the Dolphins (a football team) so there were white gridiron lines all over and the soccer lines were a very faded out orange colour. The fourth official had to keep reminding substitute players and ball boys that they were standing on the field of play when they stood on the white lines. Only media guy in the clubhouse I noticed (I wasn't there) was podcaster Duane Rollins.

The park has about six soccer fields (two looked like they were Field Turf) and four baseball diamonds and tennis courts. This game was held on the northernmost field which was surrounded by trees and swamp areas so they could charge admission. Because of the wind I was spared any bugs. The park is very close to Lake Ontario and the Pickering Nuclear Generating Station.

Ron Smale president of the OSA watched the game near me and I gave him an earful about the Cup schedule being announced the day of the first Cup game (last Monday--the tweet gave me six hours warning) . Now I'm glad I didn't go as the second half would have happened as the city was hit with a huge downpour.

Still some glitches in the computer generated rosters (I'm grateful as it saves me lots of pregame writing). The Durham team are now apparently all NOT under 23 whereas two weeks ago most of them were. That wasn't even funny later when I was given the Azzurri roster and the U23s and Import boxes weren't filled out.

Rocket Robin
robing@eol.ca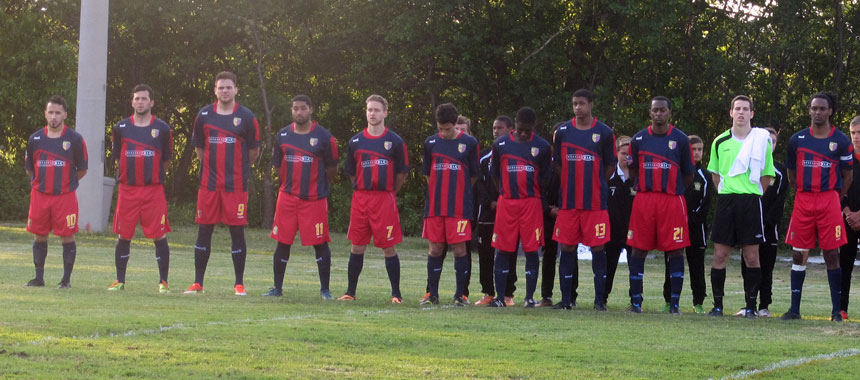 Durham United FC starters


Vaughan Azzurri starters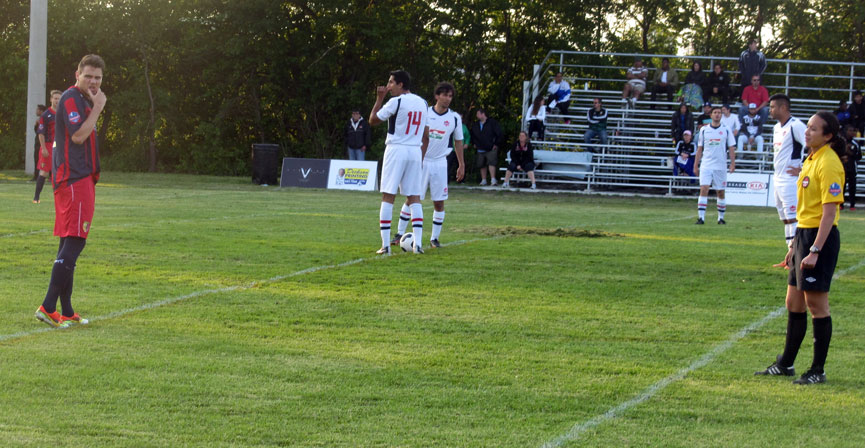 VA Dena Iezady (14) and Carlos Nogueira (8) take opening kickoff.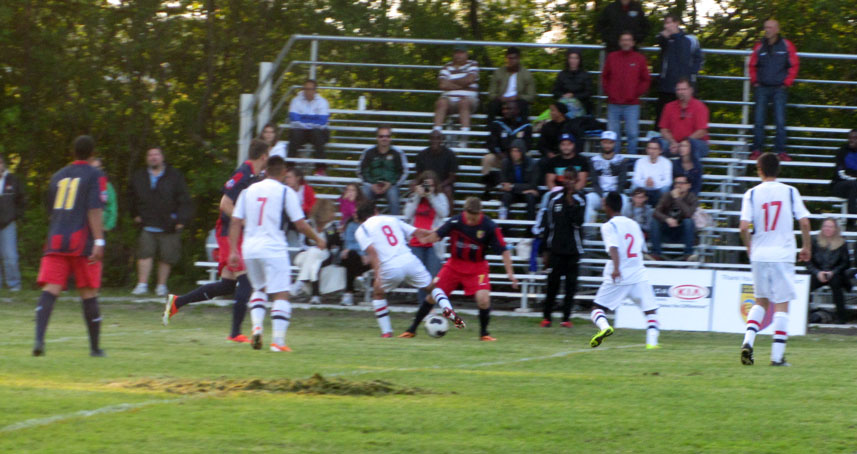 VA Carlos Nogueria (8) and DUFC Jordon Hargrave (7) battle for ball.


midfield action


A cross comes into the VA box.


VA cornerkick.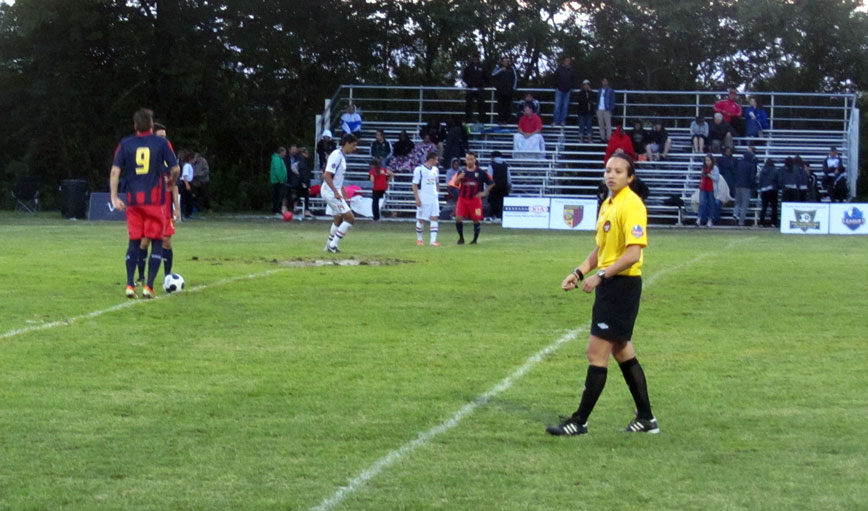 DUFC David James (9) and Joseph Roccasalva (17) take second half kickoff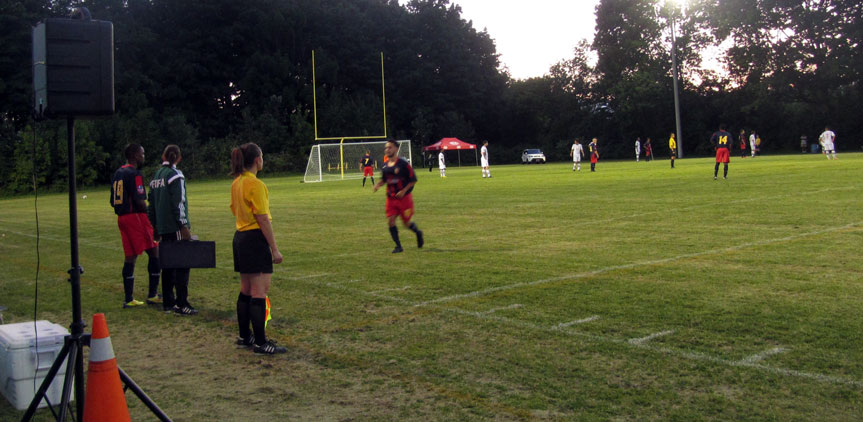 A DUFC substitution as Sahquille Agard (19) replaces Marintho Dumevski (10).
back to League 1 Ontario 2014 menu

.
.