March 17, 2017 Canada Soccer--Announcement of new Canadian
Men's national team coach (by Rocket Robin)
Details of the press conference held Friday March 17, 2017 at 10:00am in the Pier 4 Room of the Westin Harbour Castle Hotel in downtown Toronto.

Attendance was about thirty people all formally invited by the Canadian Soccer 
Association with two days notice.

Before it started everyone knew about the appointment. When I first received 
the e-mail, I didn't know and wondered why anything about the 'Canada's men's 
national team' would be announced in Toronto as the team will be playing Curacao 
on June 13th in Montreal and that would be the place to pump up the enthusiasm. 
Ooh maybe it's the announcement of the new Canadian league? That's been overdue 
and keeps getting delayed.

Hmm. Then I started getting twitter messages and e-mails that it was 
to announce a new head coach it made some sence. Toronto the 'media capital 
of Canada'---when the Canadian Women's team played a friendly in Vancouver, 
the result didn't make Toronto's papers (time zones) and by the next day 
it was old news. Also I asked Richard Scott after the conference whether 
Zambrano could speak French. No! English and Spanish. Well English speaking 
Toronto solves that. I always thought Benito Floro could have used 
a translator just because he was so soft spoken.

A small head table on an elevated stage had the President of Canada Soccer 
Peter Montagliani, newly announced Men's Head Coach Octavio Zambrano 
and Victor Montopoli, General Secretary of the CSA.

Montagliani and Zambrano gave opening remarks before taking questions 
from the media.

Montagliani immediately announced Zambrano as the new head coach of the 
Men's team but also supervision of the entire men's side of the program 
from U-15s right to the Senior team. The CSA wanted to change the 
structure of the entire program so there's be "uniformity" and "one voice". 
Secondly it is because Zambrano has so much experience in all the coaching 
he's done.

He then outlined briefly the wealth of experience OZ brings to the position. 
PM thinks this will be the most challenging position OZ has faced. 
Even more challenging than CONCACAF is ourselves!

Meaning the Canadian culture and negative mindset that we have and we've 
only started to shed it in the last four or five years. OZ has some 
excellent instincts for the game, he's a winner, not afraid to take 
on challenges. We're confident he's the right person for the job.

OZ starts by expressing his deepest gratitude to all the people of the 
CSA for making him feel welcome. We have a responsibily not only to the 
first team, the Olympic team but the grassroots level and all the 
national teams in between. With them we must create an identity 
of football. To ensure that Canada reaches not just the next level but 
the highest level. "I feel I've prepared all my life for this job!" 
"I am thankful and will not disappoint".

Next the new Umbro Canada soccer jersey is unveiled. It's all white 
with red trim, letters and numbers. I can't see a difference between 
it and other jerseys over the years. Click click click! Go the cameras. 
The two of them turn it around and it reads 17 and Zambrano.

Now questions from the floor:

Kristian Jack TSN: VM what made it stand out that OZ was the 
right guy?

VM: experience factor but also the ability to take on the role for 
the program.

James Sharman Sportsnet: OZ well known for turning around teams 
quickly but at the club level, what's your biggest challenge at the 
international level?

OZ: I've spoken to quite a few colleagues and international coaches 
while doing my research. The selection process of the player is the 
most important. Making sure they have the right quality. The BEST 
of the Canadian squad is a good group...young guys coming up and guys 
that have been scouted.

A different guy from TSN: VM Too many voices? What did OZ sell you 
on in terms of development? What is his philosophy?

OZ answers first: age 3 to 12 is the age of discovery. It is a critical 
time as we must achieve a total mastery of the ball. Ie wel should 
be able to teach any technical ability that the game requires. Then at 
age 12 or 13 game strategies but we have to have the skills first. 
As we work on the first team (priority) we should also be looking after 
the bottom half/the grass roots Teach and monitor that the skills 
are being taught.

VM: Not just OZ's ability to do the job but it's more a cultural thing. 
Canada one of the few places where we have a lack of respect for 
the system. Not the result of not getting the (game) results because 
other countries also don't get results. We already have coaching 
books/strategies. It's all there, follow it. The problem is people 
want to pull off the training sessions from Everton Football Club 
rather than using the resources we have here. We have an amateur 
environment and it's killing us. That's one of the reasons we have 
to grow on the professional side. We're starting to do that but 
it's the early days.

Anthony Totera from Red Card: When you were in the process of taking 
this position with the promise of a league that will be set up here 
in Canada so you can have a look at more Canadian talent?

OZ: It is the utmost importance that we have our own league! I commend 
VM, PM and everyone for making sure this is done. There are a lot 
of player that are a lot peripheral players at the highest levels 
of North America and Europe. They are there but they are not 
playing/getting quality minutes! The league will give them that 
opportunity. It will also give me a chance to monitor them and 
interact with the coaches. We will not rely on the MLS environment. 
We will make decisions for the benefit of the Canadian players.

[I was 'marking out' for this answer as I watched Toronto FC play 
Philadelphia Union on the weekend with TFC having no Canadian starters.  
Also even TFC II have been making announcements for new goalie 
from St Louis USA, new Finnish guy signed etc]. 

Kristian Jack TSN: (for VM) Other countries head coaches are strictly 
evaluated for results on the field. This feels different. 
An enormous job! Should there be patience shown if the results don't 
come very quickly for the senior squad?

VM: Yeah there has to be patience but we have to accelerate the 
attitude that winning is important. There's a guy sitting behind 
you—our U-17 coach—trust me, he likes to win [that is Paul Stalteri]. 
He (PS) also knows he has a job on the development perspective 
but he's not going to just go there, he wants to qualify.  
You can't undermine development for an attitude of winning 
(winning is part of development). The problem with that in the 
professional environment we must balance winning and development. 
Because we are mostly in an amateur environment we don't balance 
that we get into an ugly parent syndrome. Winning is '1A' 
if development is '1'.

Richard Scott from CSA: For our first home match in Montreal, 
OZ talk about your passion.

OZ: We can't step onto the pitch without having the passion 
to win at all costs but fairly. We've been happy to participate 
but we've not been keen enough to think that we can win. If you 
don't have the fire to make that extra move to go all in then 
you won't be part of this program.

Anthony Totera again: Have you decided on your coaching staff?  
Also are you going to try to convince some of the players that 
have not committed to Canada to play for us?

OZ: Yes (for second question) me and the CSA must try to convince 
the players that this is a big issue for us and we truly want 
him to have the honour to wear the Canadian jersey. We must 
say the right thing to make them commit. Very important 
to engage with them.

First question he introduces his staff (who were not there).

Fitness Trainer Norberto Salamanca all his exercises involve 
the ball. Assistant coach Javier Livia will bring his knowledge 
of Europe. Assistant coach Michael Findlay will stay on. He has 
a knowledge of Canadian soccer. Zak Abdel as goalkeeper coach 
has worked with OZ since LA Salsa days. Experienced and great 
at finding young players.

Wrap up and instructions for break out sessions given. 
Thank yous.

After the former part of the press conference, the reporters 
broke up for individual interviews with Montagliani and 
Zambrano which meant the camera crews shoved their way 
in to pick up the sound bites. Some of this would be picked 
up on the lunchtime news and it was being tweeted about while 
the conference was in progress. I certainly couldn't compete 
with this.

I heard the very end of Montagliani answering questions about 
the new Canadian league. He said there'ld be a MINIMUM of six 
teams to start. Some teams may join by the second year. 
He said he only has six weeks left of his three year term 
as president of the CSA. (he has been elected as head of CONCACAF). 
He said it was "a tough decision but the right decision". 
I asked Anthony Totera about if he'd heard when there may 
be an announcement but all he would say was "soon".

Paul Stalteri was there and he remains the men's Under 17 
head coach.

I pointed out to the Toronto Star reporter Laura Armstrong 
that for the last five days the print edition of their paper 
has published the MLS Standings with 'New York' (as opposed 
to New York City) holding both first place in the East and 
second place in the West (instead of Houston). Do you think 
if it was an error in the hockey or baseball standings 
that this would carry on for an entire week?

There's my niche! The Periscope broadcast of this press 
conference has disappeared and video will be squeezed 
to 20 second clips for the sports news. I have the entire 
22 minutes of the formal press conference which I can post! 
I expected reporters would place their recorders, phones, etc 
on the table like the last Toronto press conference but no one 
did so I didn't either. I am behind the times. Good thing 
I was in the front row and my two little Sandisks (one for 
back up) picked up good enough!

Rocket Robin
robing@eol.ca

MP3 File...Victor Montagliani and Octavio Zambrano at press conference
entire 22 minutes of formal press conference.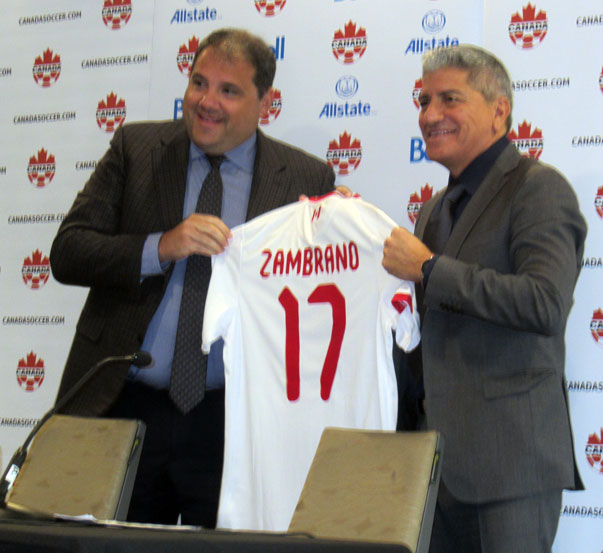 Victor Montagliani, President, Canada Soccer and new Canadian National Men's team head coach Octavio Zambrano
hold Canada's new Away team jersey at today's press conference in Toronto.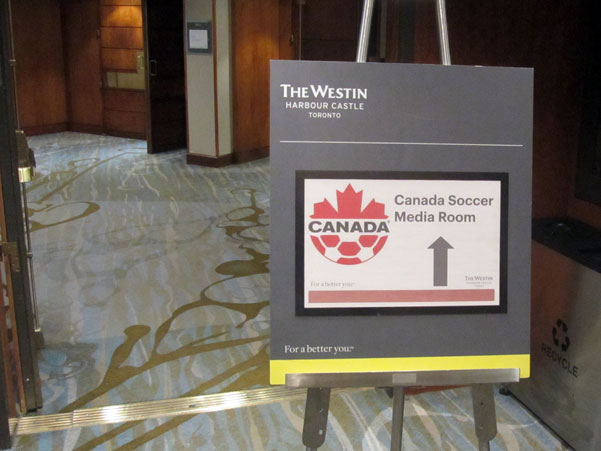 press conference sign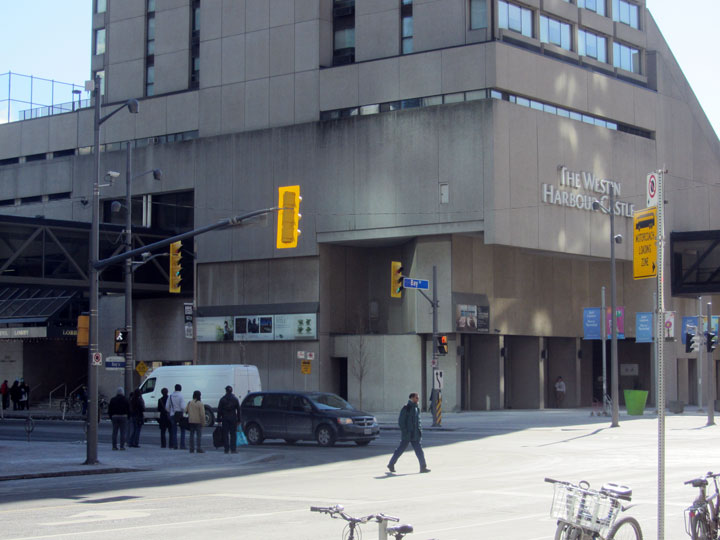 Westin Harbour Castle, Toronto
back to International games menu
.
.