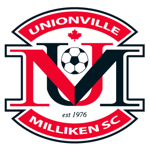 ......................................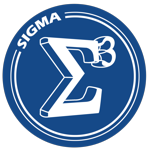 Result and details of the Saturday July 7, 2018 League 1 Ontario League game between Unionville Milliken FC and Sigma FC
played at Bill Crothers Turf Centre in Unionville at 8:00pm.

Unionville Milliken FC (white socks and numbers, red shorts and shirts)
......................0 Adrian Ibanez
15 Halburto Harris...22 Odain Simpson...8 Nathan Brown...2 Sean Kim
10 Tre Crosby...4 Bradley Heath...6 Richard Edwards (cpt)...24 Isaiah-Prentice Whyte
.............20 Richard West...7 Kiril Dimitrov
Subs:...9 Jalen Brome...11 Jarek Brome...14 Hassan Abdulmumini...16 Terrence Bernard
...17 Basel Rashrash...23 Iyowuna Jumbo...77 Nicolas Martinez
team officials:...team head coach Emanuele Ameltonis...manager Jordan Holmes...equipment manager Tony De Thomasis
Sigma FC (blue socks and shirts, black shorts, white numbers)
......................1 Triston Henry
.........2 Dionysis Stergiotis...3 Dominic Samuel (cpt)...5 Kyle Walton
20 Mansoor Alfazy...6 Faisal Ghaffur...11 Marcel Zajac...9 Daniel Jodah...15 Duran Lee
.................7 Kadell Thomas...10 Justin Stoddart
Subs:...31 Corey Marques...4 Jelani Smith...8 Giuliano Frano...16 Simon Triantafillou
...22 Christian Samaniego...23 Hilli Goldhar...24 David Velastegui
team officials:...team head coaches Bobby Smymiotis and John Zervos...assistant coach David Igreja
manager Perry Chadjiioannou...eqipment manager Joseph Hanley...therapist Victoria Curlucci
Game officials:...referee Marc Henoud...referee's assistants Jessica Patton and Stefan Dusciuc
...fourth official Anthony D'Nambrio...(all black uniforms)
1st Half:...game starts 8:11pm...UM defends south side. There is no scoreboard so all times are converted
from my wristwatch. There's a bright setting sun in the north west.
1 min...UM Edwards 55 yard freekick from right has Sigma Samuel head ball away on edge of box.
2 min...Sigma Alfazy low cross from 20 yards on right has defender head away at 8 yards in middle of box.
3 min...Unionville Milliken Kiril Dimitrov GOAL...UM Halburto Harris intercepts a clearance attempt down the right sideline
and bounces a centering cross from 20 yard line. Dimitrov runs to meet it and redirects from 12 yards on right into left corner
of net beyond diving goalie Triston Henry.
6 min...Sigma Walton 40yard freekick down middle is low and defenders clear at 20 yards. Sigma Stergiotis chips 40 yard
rebound from right that's caught by goalie in crowd of players.
9 min...Sigma Thomas gets quick freekick for run on right but his low cross is finally cleared by defender in box.
10 min...Sigma Ghaffur low 35 yard roller from left is through players is picked up by goalie.
12 min...Sigma Alfazy rolls through ball pass from 35 yards on left too far forward for charging Sigma Zajac.
13 min...UM West quick throw-in to UM Crosby who blasts low 12 yard shot up middle that goalie saves. UM West blasts low 12 yard
shot from far left that goalie saves on left post.
13 min...Sigma Thomas volleys then takes 20 yard shot from slight right that's caught by goalie on bounce.
14 min...UM Dimitrov 30 yard roller up middle is wide left.
17 min...Sigma goalie catches cross from right on left post.
18 min...Sigma Daniel Jodah GOAL...Sigma Kadell Thomas starts run up right sideline at own 25 yard line after goalie caught
cross and rolled him the ball. A retreating UM player pokes the ball off him from behind at Sigma 40 yard line. Thomas continues
run and steals ball off defender Sean Kim at UM 50 yard line and rushes forward. At UM 35 yard line he rolls centering through-ball
pass to charging Jodah on edge of box who takes low shot that goalie Adrian Ibanez had initially come out to 10 yards then froze.
Ibanez reached down to get hand to but deflects it into right side of net.
19 min...Crosby 30 yard freekick from left near sideline is over players in box and out for goalkick.
21 min...Sigma Walton 25 yard freekick from far right has UM Simpson head ball away in crowd of players in box.
25 min...UM Dimitrov 45 yard freekick from right has UM Simpson flick header from 15 yards across box and UM Whyte,
a defender, and the goalie all near the left post all crash together.
27 min...Sigma Stoddart chips 45 yarder from right over players and bounces to goalie.
30 min...UM YELLOW card...Simpson earns it for kicking Sigma Jodah in ankle near right cornerflag.
31 min...Sigma Walton low 28 yard freekick from right has nearest defender clear.
34 min...UM Edwards cross from 40 yards on right is steps ahead of UM Crosby charging forward down middle at 15 yards.
37 min...Sigma Stoddart 25 yard freekick from right tips off head in player wall for cornerkick.
38 min...Sigma Stoddart low cornerkick from right has Sigma Alfazy send 12 yard roller that deflects off defender for
another cornerkick.
38 min...Sigma Stoddart cornerkick from right has defender flick ball through box and out the left side.
39 min...Sigma Lee 25 yard shot from left is through players and wide right but wins cornerkick.
40 min...UM West gets to long pass and blasts 12 yarder from left just over the bar.
42 min...UM Brown gets back to beat Sigma Thomas to through ball up the middle.
43 min...UM Crosby rolls pass forward on left and UM player centers ball but defenders clear in 6 yard box.
43 min...UM West blocks clearance on left sideline and rolls centering pass into box but defender clears on 6 yard line
beating charging UM forward.
45 min...half ends 8:56pm.
Second Half:...starts 9:12pm.
halftime subs:...Sigma Frano replaces Ghaffur.
...............UM sub...Jumbo replaces Dimitrov.
47 min...UM Harris chips 55 yarder from right that goalie catches in front of crowd of players.
51 min...UM West rolls ball forward and UM Whyte gets 8 yard shot along right end line deflected through the 6 yard box
by a defender.
52 min...UM Whyte takes 12 yard shot after recovering a loose ball has a defender block.
54 min...UM West starting a 3 on 3 break but chips too far ahead and ball bounces to goalie.
56 min...UM Whyte chips pass to UM West whose 20 yard shot is ssaved by goalie.
58 min...UM Crosby 35 yard freekick from right is cleared in crowd of players on left side of 6 yard box.
59 min...UM Crosby cornerkick from right is headed down on left and defender clears.
60 min...Sigma sub...Goldhar replaces Jodah.
61 min...Sigma Stoddart 33 yard shot up middle is caught by goalie.
62 min...Sigma Goldhar cross from left end line has UM Simpson block with his face...Ouch.
63 min...UM sub...Jalen Brome replaces Kim.
64 min...UM Crosby 28 yard freekick from right has defender head ball away. UM player eventually crosses
in from left that's caught by goalie.
65 min...UM Whyte shot/cross from 20 yards along right end line hits bar and deflects out.
66 min...Sigma sub...Velastegui replaces Stoddart.
67 min...UM Jalen Brome 40 yard chip is over players in box.
68 min...Sigma Velastegui 25 yard freekick from left has goalie get upraised hand to and defender clears from box.
69 min...Sigma sub...Samaniego replaces Alfazy.
70 min...UM Crosby centers pass for UM Whyte to blast 8 yarder that hits bar. Sigma goalie catches 25 yard rebound shot.
71 min...UM Jalen Brome blasts 30 yard shot from right that UM Jumbo charging for it can't quite turn header at 10 yards
and ball is wide left for a goalkick.
73 min...UM sub...Rashrash replaces Whyte.
75 min...Sigma sub...Smith replaces Zajac.
75 min...UM Edwards cornerkick from left bounces between players and goalie smothers on right post.
77 min...UM YELLOW card...Edwards earns it for dissent on Sigma being given a freekick.
78 min...Sigma Velastegui cornerkick from left has defender on left post head away.
78 min...Sigma Frano long throw-in from left has defender head away.
79 min...Sigma David Velastegui GOAL...Sigma Kadell Thomas recovers ball on right side of box and taps pass for Velastegui
to blast low 15 yard shot from slight right that diving goalie gets piece of near left side of net but momentum deflects over him
and into left corner.
82 min...Sigma Velastegui 30 yard freekick from right is too far for Sigma Thomas on left side of box.
84 min...UM Jumbo 22 yard freekick from top left edge of box is into player wall and cleared.
88 min...UM Crosby 40 yard freekick from right has goalie charge forward and catch in crowd of players. The Sigma goalie
is injured on the play.
89 min...UM sub...Jarek Brome replaces West.
93 min...UM defender heads ball back to goalie to break up a Sigma 2 on 2 rush.
95 min...UM Jarek Brome blasts 18 yarder down middle just over bar after two UM players are knocked down in the box
on the right and the referee doesn't award Penalty kicks.
95 min...game ends 10:02pm.
Final Score: Unionville Milliken.........1.........Sigma FC.........2.........

This was my first time I'd been to Bill Crothers Secondary School.  The buildings and facilities look brand new.  
There's a main turf field with stands mostly of slabs of stone that were laid into a grass hill with a stairway 
connection.  There is an alternate turf field beside here on the other side of the hill and a natural field 
at the entrance-way.  Tonight there were about 70 spectators.  

A big question mark would be whether the game would be played on the turf centre field (the one with a track 
on it and the football lines).  A L1O Women's game had concluded in the afternoon but there was a big rip 
in the field just outside the south end box.  'Could be an ankle buster' I heard mentioned.  A narrow strip 
of field turf had been pieced in and not secured but it looked like it needed a lawn mower to even it out 
to the putting green length of the original.  Referee Marc Henoud settled for layers of duct tape to patch 
it all over.  Yeah duct tape fixes everything and even plays a major part in The Rock's new Skyscraper movie.  

A big surprise to me was Sigma conceding so early.  That was only the second goal this season they'd given 
up in league AND Cup play.  A tying goal at 18 minutes and I expected a goalfest but the game settled down.  

Unionville had some other good chances especially at 13 minutes when Richard West took a quick throw-in 
to Tre Crosby who blasted a low 12 yard shot up the middle that goalie Triston Henry saved. West then 
blasted the still loose ball from 12 yards along the left end line which the goalie saved on the near post.  
65 minutes had Isaiah-Prentice Whyte shoot or cross from 20 yards along the right end line and the ball 
hit the bar and deflected out.  70 minutes had Tre Crosby center a pass for Whyte to blast an 8 yarder 
that hit the bar and the goalie caught the 25 yard rebound shot.  95 minutes had 89 minute sub Jarek Brome 
blast an 18 yarder down the middle just over the bar after two Unionville players were knocked down in the 
box but pleas for P Ks were ignored.  

Sigma's Marcel Zajac still leads the scoring race with seven goals with now three rivals closing in at six.  
He left the June 9th game after six minutes with a rib injury then missed the next two weeks league 
and cup matches and returned on June 27th for 30 minutes and today played 75.  Now he just has 
to recapture his scoring touch.  

The result improves Sigma's record to 6 wins, 0 losses, 1 tie for 19 points and pulls Sigma into a tie for 
first with TFC III who would play Sunday afternoon.  [Late news, TFC III lost their first game of the 
season on the road against Oakville Blue Devils].  I expect TFC III to regain first place as they will start 
playing midweek games to finish their schedule a month early so they can join the USSDA and start play 
in September with their L1O roster.  Sigma plays TFC III in the L1O Cup semi-final July 21st and 
in league play on August 12th, both at BMO Training Ground.  

Unionville's record falls to 4 wins, 3 losses, 1 tie for 13 points and they were fourth at the end 
of Saturday night.  They look a good chance to finish in the top nine and make the playoffs 
(TFC III won't contest).    
 
Rocket Robin
robing@eol.ca
twitter @RocketRobin01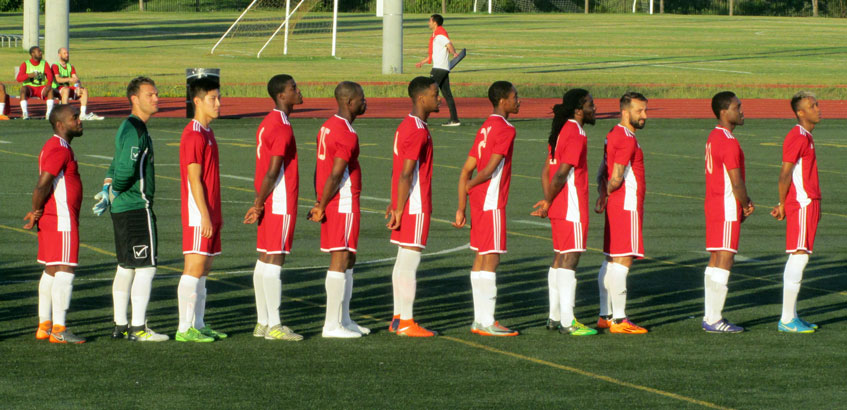 Unionville Milliken FC staters


Sigma FC starters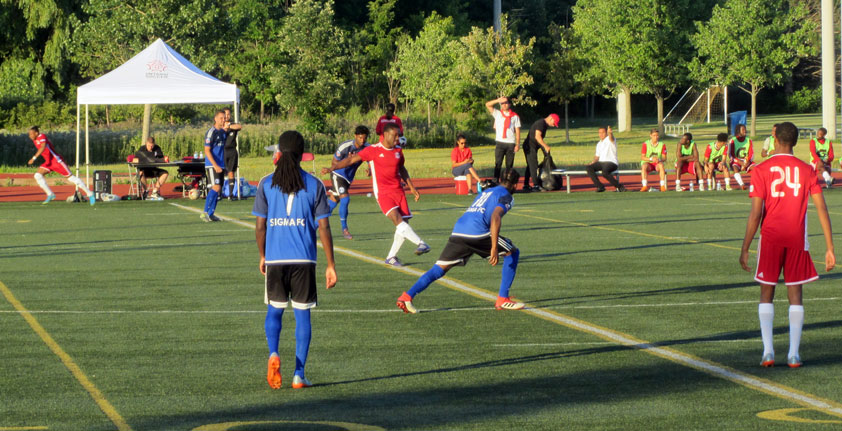 UM Richard West takes opening kickoff.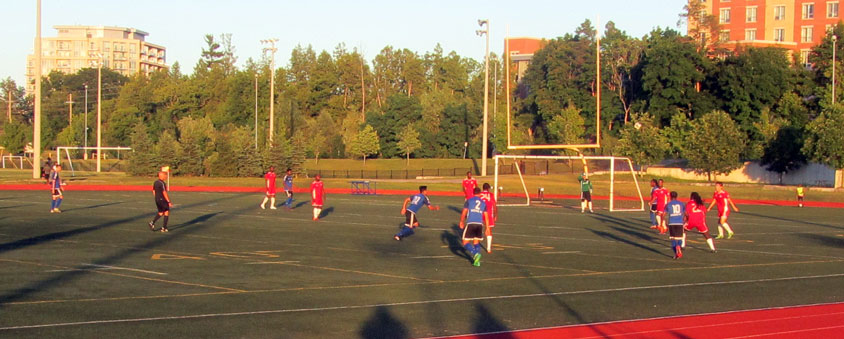 The ball is popped up in Unionville Milliken box.

Sigma freekick comes into box.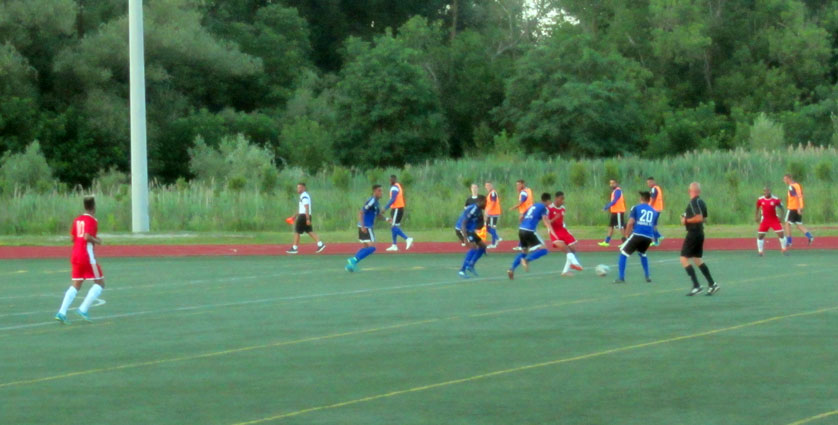 midfield action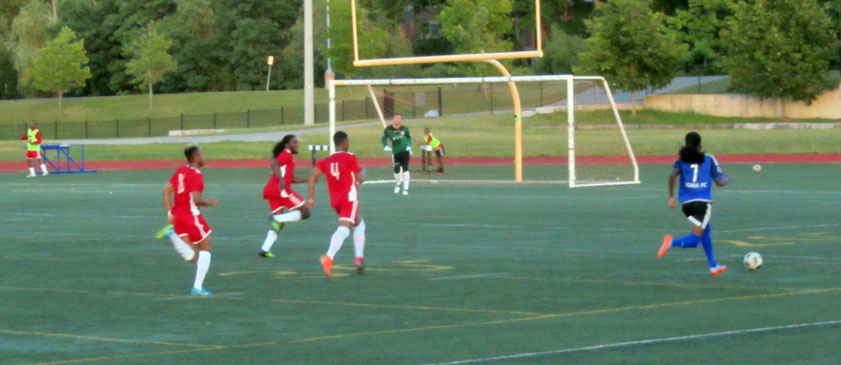 Sigma Kadell Thomas (7) run down right.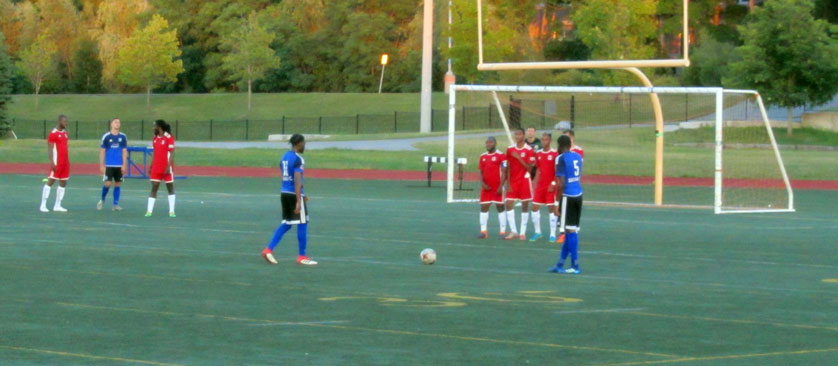 Sigma Justin Stoddart (10) and Kyle Walton (5) line up freekick.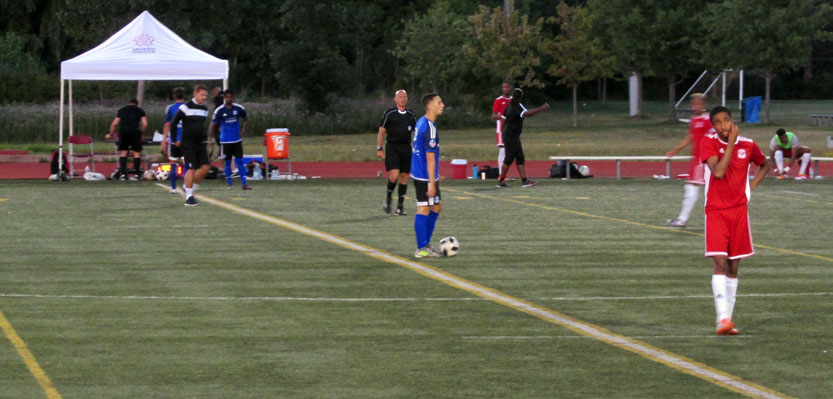 Sigma Marcel Zajac (11) takes second half kickoff.


Sigma David Velastegui (24) takes freekick.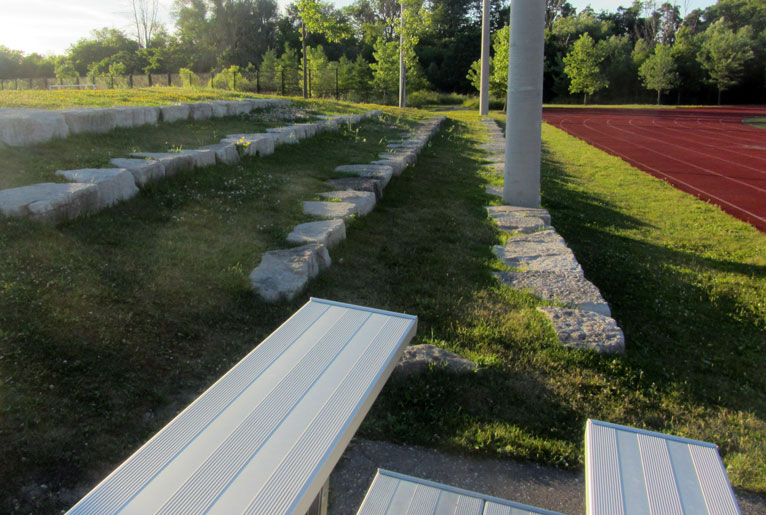 Maybe 'The Flintstones' can sit here.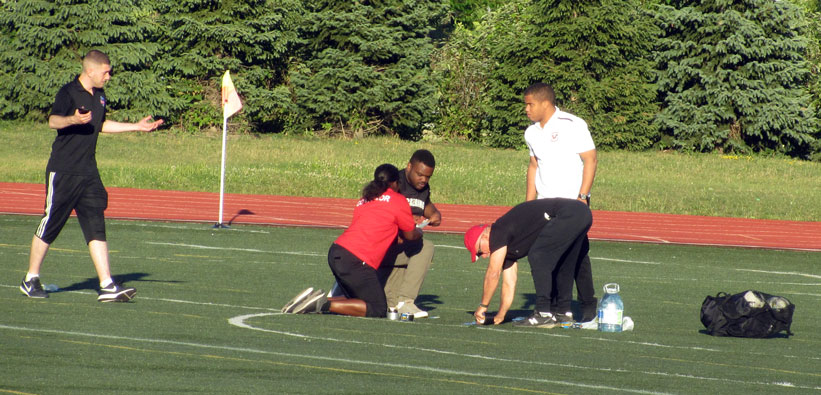 Pre-gaming patching the rip in the turf.
back to 2018 League 1 Ontario Men's index
.
.