................................

Results and details of the Wednesday April 18, 2018 USL game between Toronto FC II
and North Carolina FC played at BMO Field in Toronto at 8:00pm.
Toronto FC II (all red, white names and numbers)
...............................80 Angelo Cavalluzzo
77 Brandon Onkony...61 Rocco Romeo...59 Noble Okello Ayo...49 Robert Boskovic...38 Kyle Bjornethun
32 Olakuni Dada-Luke...37 Gideon Waja...88 Alan Mariano Mino...55 Aidan Daniels (cpt)
....................................64 Shaan Hundal
Subs:...70 Gianluca Catalano (gk)...20 Ayo Akinola (mid)...36 Tim Kubel (def)...42 Steffen Yeates (mid)
...43 Aikim Andrews (fwd)...45 Lua Uccello (mid)...56 Malik Johnson (mid)
team officials:...manager Laurent Guyot
North Caroline FC (all white, goald names and numbers)
.........................1 Alex Tambakis
8 Andre Fortune...98 Futty Danso...5 Michael Harrington...3 Peabo Doue
16 Graham Smith...31 Steven Miller...10 Kyle Bekker...6 Austin da Luz (cpt)
.............27 DJ Taylor...7 Ulrich Ewolo
Subs:...30 Austin Guerrero (gk)...9 Marios Lomis (fwd)...11 Wuilito Fernandes (def)...14 Daniel Rio (fwd)
...17 Bernahard Luxbacher (mid)...18 Marcel Kandziora (mid)...33 Austin Guerrero (gk)
team officials:...manager Colin Clarke
1st Half:...Game starts 8:08pm...TFC defend south end on this cold night as bad as last night but without
the snow falling.
4 min...TFC YELLOW card...Kyle Bjornethun earns it for sliding tackle on NC Miller at TFC 45 yard line.
6 min...TFC goalie runs out to 25 yard line on left to clear ahead of NC da Luz.
6 min...TFC Daniel 30 yard freekick down middle has goalie dive to left to catch on post.
9 min...TFC Bjornethun long throw-in from near left corner flag is headed away on second attempt by defenders
and TFC Daniels skies 20 yarder is well high and wide left.
10 min...An NC multi-player break-in on left but shot after cross into box is blocked.
12 min...NC Bekker cornerkick from left has TFC Romeo on right post head away and ball is eventually cleared.
13 min...NC Bekker 50 yard freekick from right is knocked down on edge of box then a hand ball is called
against NC player.
14 min...NC goalie to edge of box to pick up ball that TFC Hundal has pushed too far forward.
15 min...NC Ewolo turns to look to play cross from right but is knocked over in TFC box and can't get away shot.
17 min...NC players work out short cornerkick from right but waste chance when ball is not crossed into box.
18 min...TFC Dada-Luke rush in on right but pushes ball to goalie while eluding defender at 15 yards.
19 min...TFC Mino wins freekick while running along 20 yard line to middle when he's brought down.
20 min...TFC Mino 20 yard freekick down middle is blasted into player wall then is cleared.
22 min...TFC Mino long rush on left and eludes two players and his low cross to TFC Hundal who shoots over net
from 8 yards.
24 min...NC Ewolo 30 yard blast down middle is well high and wide right of net.
25 min...NC Bekker cornerkick from left has NC Ewolo on left at 6 yard flick header high across box but out
wide right unplayed for goalkick.
26 min...TFC Onkony on left at 40 yards sends ball too far forward and well wide left for goalkick.
27 min...TFC goalie out of box has to clear when two defenders give up retreat and NC Ewolo chases past them.
27 min...TFC Bjornethun cross from 20 yards near left end line has defender head ball down and clear in middle.
28 min...TFC Onkony finishes play on partial clearance with 22 yard blast over net.
29 min...NC Bekker recovers ball sent into TFC box and 18 yard shot deflects off TFC Romeo at 7 yards and bounces
wide right.
29 min...NC Bekker cornerkick from right is headed away from net by TFC defender in crowd of players and ball not
played back into box.
30 min...TFC Daniels after long run down left and cuts towards middle and shoots 18 yarder from left around defender
in front of him and wide right of top corner of net.
32 min...NC Doue cross into box from 28 yards on left has NC Ewolo swipe at ball off balance at 8 yards and
TFC Boskovic boots clearance on skyball.
32 min...I notice the TFC subs are warming up already.
33 min...NC Doue slides and rescues ball near TFC left end line off defender TFC Onkony but cross into box
is cleared.
34 min...TFC Daniels backheels shot into net from 6 yards after splitting defenders on run in from left.
He dropped the ball to TFC Hundal who spun around and blasted a low shot from 12 yards up middle.
Daniels was behind the defenders and was called offside.
36 min...NC Miller sends in a low cross from 25 yards on right and TFC Boskovic in middle of box at 10 yards clears
ball away.
38 min...TFC Waja blasts shot from 20 yards off TFC Daniels who had rushed 40 yards up field to drop off pass and
he was flagged offside when ball hits him in the back.
40 min...TFC Romeo retreating to 8 yards heads away NC Danso's chip from 50 yards down middle into box. TFC Boskovic
on edge of box then heads ball back to goalie.
41 min...NC goalie is out to right side of box to beat TFC Dada-Luke and dive on ball. Dada-Luke flips over him.
The goalie crawls to smother that was fumbled away before. A TFC backheeler set up play down middle.
43 min...NC Danso near left post leaps to head away cross from left end line by TFC Bjornethun ahead of TFC Hundal
waiting at 7 yards in box.
44 min...TFC Bjornethun long throw-in from left is headed away on left edge of 6 yard box.
45 min...half ends 8:53pm.

Halftime Entertainment: There's a highlight video of this game from the USL feed shown on the video board with
commentary by Terry Dunfield.
2nd Half:...starts 9:09pm.
46 min...TFC Dada-Luke on right edge of box bounces low cross into center of box and TFC Hundal whiffs on shot
from 10 yards and quick breakout for NC.
46 min...NC Miller cross from right has NC Ewolo head high and wide right from 6 yards.
47 min...TFC Daniels eludes sliding defender at 30 yards and 22 yard shot from left is saved by goalie diving
to left to smother.
48 min...TFC Dada-Luke rush to right end line and low cross is smothered by goalie diving forward on right post.
51 min...TFC Ayo is touched back pass by TFC Dada-Luke and 22 yard shot from right has goalie catch reaching
to left side of goal.
55 min...NC Fortune pokes ball just wide left of post from 6 yards sent in by NC Danso's flicked header header
at 12 yards but he's called offside.
59 min...NC defender at 8 yards clears cross sent in by TFC Dada-Luke from from 20 yards on right.
60 min...TFC Hundal shoots 8 yarder from right over bar after TFC Mino sends him pass and he steps around defender
to get away shot.
61 min...NC sub...Kandziora replaces Fortune.
62 min...TFC Bjornethun long throw-in from left is flicked across box by header but NC Danso heads away.
62 min...TFC Waja retreats to clear cross from 22 yards on right into box.
63 min...TFC sub...Johnson replaces Hundal.
64 min...TFC Dada-Luke long run up right but rolls low cross into box for TFC Mino but defender steps in front
of pass and clears at 16 yards.
66 min...TF Daniels eludes sliding defender on run up left and taps ball back from left end line and
TFC Johnson's 8 yard shot is over net.
68 min...TFC Dada-Luke is sent 70 yard pinpoint pass by TFC Boskovic and his shot from 18 yards is blocked
by defender and deflects for cornerkick.
68 min...TFC Mino outswinging cornerkick from right has defender head away on edge of box at 16 yards.
69 min...TFC Dada-Luke low cross from 25 yards near right end line has defender near right post clear ball away.
70 min...NC player's cross from 28 yards on left has charging NC player not able to turn header at 10 yards
in middle of box.
70 min...TFC Dada-Luke is checked off ball just inside NC box after 1 v 2 run up right.
71 min...TFC sub...Akinola replaces Dada-Luke.
72 min...NC Miller gives away freekick at 25 yards on left for tripping TFC Bjornethun.
73 min...NC sub...Lomis replaces Ewolo.
73 min...TFC Daniels 28 yard freekick from left is sent well high and wide right.
75 min...NC Miller rush down right and cross is over box and charging NC Lomis misses connecting on left end line.
The ball is eventually crossed back them left but defender pops up header at 6 yards for goalie to catch.
76 min...NC YELLOW card...Kandziora earns it for tripping TFC Mino on sliding tackle on rush down middle
to NC 30 yard line.
78 min...TFC Daniels chips in 33 yard freekick down middle and defender at 10 yards heads away in crowd of players.
TFC Akinola blasts 18 yard midair rebound well over bar.
79 min...TFC goalie leaps to catch 40 yard cross from left sent in by NC Bekker.
81 min...NC Kandziora gets into left side of box and rolls centering pass inside the 6 yard box that hits TFC Boskovic
and goalie turns to dive on ball at 3 yards.
82 min...NC Bekker chips short pass down middle from 25 yards and charging NC da Luz at 15 yards shoots in goal but
is called offside.
83 min...TFC sub...Uccello replaces Waja.
84 min...TFC Akinola on right sends pass across to open TFC Johnson whose 8 yard shot from left is batted down
by sliding goalie on left post.
86 min...TFC Daniels shoots 20 yarder down middle wide right.
88 min...NC Bekker sends in cornerkick from right into crowd of players. NC Lomis blasts 15 yarder off bar after
partial clearance.
89 min...NC Bekker low cross from right has TFC Boskovic clear from box at 8 yards on near side of box.
90 min...NC Bekker 30 yard freekick from right has TFC Boskovic as nearest defender at 16 yards head away.
91 min...NC sub...Luxbacher replaces Bekker.
91 min...NC Danso pops up header from 15 yards on right that goalie catches on bounce.
91 min...TFC Mino can't draw Penalty kick on weak fall just inside top of box.
92 min...NC Luxbacher cuts in on left surviving bump by TFC Onkony on edge of box and low 10 yard shot has goalie
on left post slide and tip ball wide right.
92 min...NC player's cornerkick from right has TFC Mino head ball from 10 yards near right end line out of box.
93 min...game ends 9:57pm.

Final Score:....Toronto FC II.........0.......North Carolina FC......0........

I suppose no one could expect a goal-a-thon.  The visitors had only scored four goals 
in four games and won their first game on Saturday so they may have been tired for 
this game.  TFC II had only scored once up until tonight and their marker was in their 
season opener against New York Red Bulls II.    Still the best takeaway is that TFC II 
shut out the opponents for the first time this season after having conceded eight 
goals in three games including four against Pittsburgh.  The turnaround from that 
game is what TFC II head coach Laurent Guyot said in his post match scrum pleased 
him the most.    

This was the third time the team had tried to get in a home game.  The others were 
postponed to spare the field for the first team.  The combination of the cold and wet 
weather and the MLS team's continuing advancement through round after round of CCL 
play pushed along TFC II's chance of getting in a home game.  They had to turn their
last attempt into a road game in Pittsburgh on a few day's notice.  

The Anthony's Espresso (same sponsor as last year) Man of the Match (who is always 
a TFC II player) was named as midfielder Alan Mariano Mino who had some good runs 
and a few shots at net.  He is from Argentina.  He's come from IA Sud America 
a first division team in Uruguay.  At age 24 he's somewhat older than the homegrowns 
on the team but comparable with the few MLS draft picks who don't catch 
on immediately with the big team.  

Coach Guyot said the best player on the field was Aiden Daniels.  Daniels was one 
of the three TFC II players who signed a first team contract last week for a chance 
to play in the TFC road game against Colorado last week.  He is the only one who 
returned as another reserve heavy lineup is expected to play against FC Dallas 
as the stars are expected to rest for their deciding CCL game next Wednesday.  

Referee Yusri Rudolf gave out one Yellow card to each team in a game that never 
got rough.  He didn't fall for a few claims of Penalty kicks which looked too lame 
to expect any call.  Assistant referee Melissa Snedden was kept busy disallowing 
a goal for each team and calling more non-scoring offside calls.  

There were plenty of crowd pleasing rushes back and forth.  

Best non-scoring chances were at 22 minutes with TFC Mino making a long rush 
on the left eluding two players and his low cross to TFC Shaan Hundal had him 
shoot over the net from 8 yards.  28 minutes had TFC Brandon Onkony recover 
a partial clearance and blast a 22 yarder over the net.  30 minutes had 
TFC Aiden Daniels shoot an 18 yarder from the left just wide right of the top 
corner.  47 minutes had Daniels elude a sliding defender at 30 yards and 
his 22 yard shot was saved by the goalie diving to the left.  Four minutes 
later TFC Noble Okello Ayo was touched a back pass and his 22 yard shot from 
the right had the goalie catch reaching to the left side of goal.  60 minutes 
had Hundal shoot a 15 yarder from the right over the bar after Mino sent him 
a pass.  66 minutes had Daniels elude a sliding defender on a run up the left 
and tap a pass back inside the box and TFC II substitute Malik Johnson's 10 yard 
shot was over the net.  84 minutes had TFC Ayo Akinola on the right send 
in a pass across to the open Johnson whose 10 yard shot was stopped by the 
sliding goalie on the left post.  88 minutes had NCFC Kyle Bekker send 
in a cornerkick from the right that was only partially cleared and NCFC sub 
Marios Lomis blasted a 15 yard shot off the bar.   
 
USL league stats list NCFC winning in cornerkicks at 6-1 and crosses 
at 22-10 but TFC II having a 4-1 advantage in shots on goal.  That seems 
like pretty stingy to NCFC but I'd give my MOTM to goalie Angelo Cavalluzzo 
who saved TFC a point with an injury time stop on late sub Bernard Luxbacher 
who broke in from the left and got away a shot from 10 yards that Cavalluzzo 
guarding the near post got an arm to and deflected it wide right.  

I wondered how much moving up three USL starters to the main team on what 
I expect was short notice affected the team.  Even if they all are eventually 
lent back down after the CCL run ends next week, the disruption to training 
and availability may cause problems at that time.    

I didn't like NCFC's uniforms when navy blue is their team colour.  Tonight's 
gold numbers on white shirts were hard to decipher—almost as bad 
as CD Guadalajara's black numbers on red and white stripes.  Anyway in-the-box 
pileups were confusing with goalie Cavalluzzo's all white kit.      

Attendance was about 110 by my estimate.  The USL website posts only 50!  
It was a bitterly cold night just like last night's CCL game but this 
is really bad.  I was thinking the Leafs were playing as they alternate hockey 
and basketball since their playoffs started but neither team was playing.  
Last year the message boards screamed that the Ontario Soccer Centre was so 
far away (just outside the city limits) and the fans would flock to be downtown 
and they'd get more than their 500 to 1000.  There were no children 
in the crowd.  Tickets are free to TFC season ticket holders (last year 
was $12) but outsiders are either $15 or $30.  I couldn't see the difference 
as all the folks were squeezed into Section 107 in the East stands.  
One concession stand and one beer stand open but with security, ushers, 
kitchen staff etc there were more staff than fans.  Oh yeah Wednesday!  
I suppose all the downtown hipsters were having their beards trimmed tonight.  

The event optics could have been planned a bit better.  The players lined up 
for the national anthems at the same place as the MLS games but there were 
no fans on the west side.  Eight TFC II grounds crew (rather than dozens 
of children) brought out the flags to our side of the field.  The players 
eventually awkwardly turned to face us so the cameras picked up their backs.  
Camerawork was top notch USL=major league calibre.  We got to see highlights 
on the video board.  

The website of North Carolina FC said their team has now gone 255 minutes without 
allowing a goal.  Alex Tambakis earned the shutout (his second in a row) with 
a few key saves.  NCFC played in the NASL last year.  It appears they and 
[corrected: Indy Eleven] had the good sense to bail before that league collapsed.  
A wikipedia search of that 2017 team shows that only six players were brought 
along.  One of their new players is midfielder Kyle Bekker who played for the 
TFC MLS team in 2013 and 2014.  Last year he played for San Francisco Deltas 
of NASL who won the championship and promptly folded for lack of support.  
He took a lot of the freekicks and corners that I remember watching him take 
for the Canadian National team and a brief time with Sigma FC of League 1 Ontario 
between gigs at higher leagues.  

The field looked cosmetically in good shape at the start of the game after 
last night's CCL match but once the game began it wasn't long before the field 
showed how scuffed up it was.  There won't a problem for the grounds crew as TFC 
won't play here again until Saturday April 28th against Chicago Fire.  One hour 
after that TFC II plays against New York Red Bulls II.  The weather should 
be warmer so the field should be able to hold up unless it rains.  It will 
be interesting to see how many fans they can retain (lock the gates!).  Even 10% 
would be awesome!  TFC II play next Wednesday on the road against 
Richmond Kickers—a team they dueled last year for last place.  

The tie improves TFC II to 0 wins, 1 tie, 3 losses.  They move to fifteenth 
of the sixteen teams in the East.  Last place is Ottawa Fury at 3 losses in 3 games 
who have gone to a more Canadian lineup this year (still I'd say TFC II have more).  
Fury may be kingpins next season if rumours have them bail out and join the 
new Canadian Premier League.  NCFC improve to 1 win, 1 tie, 3 losses for 
eleventh place...yeah so tonight's game was not a battle of powerhouses.  

Rocket Robin
robing@eol.ca
twitter @RocketRobin01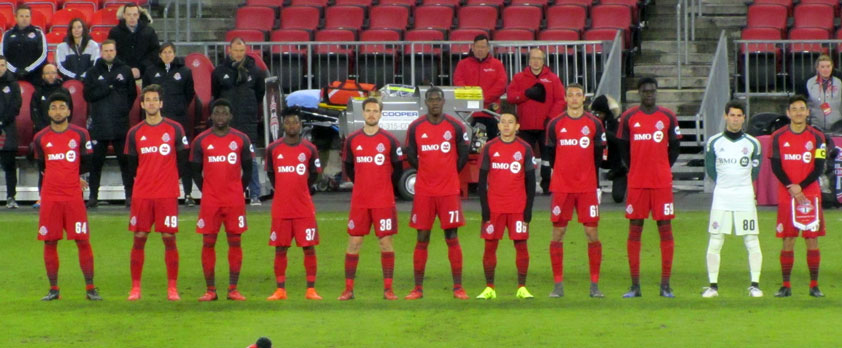 Toronto FC II starters


North Carolina FC starters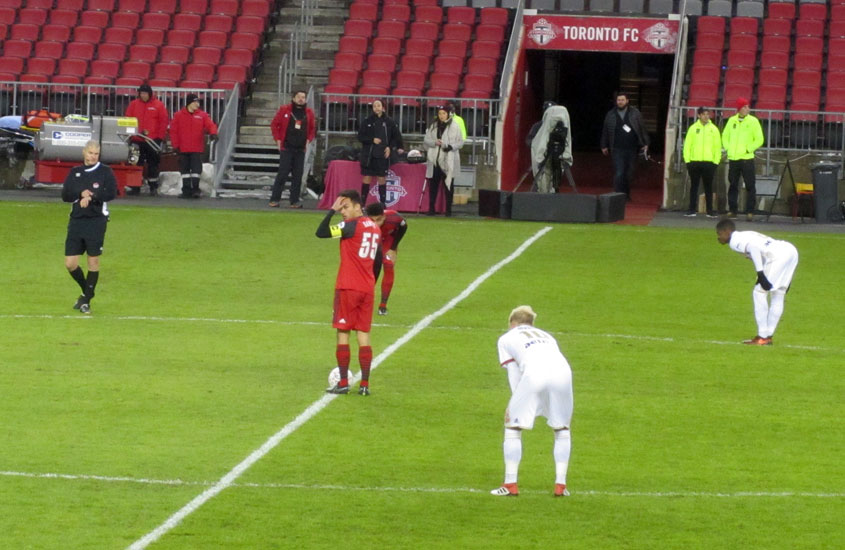 TFC Aidan Daniels (55) takes opening kickoff.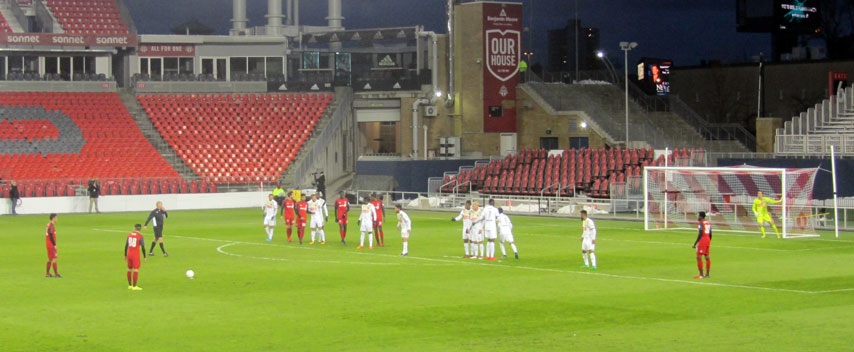 TFC Aidan Daniels (55) lines up to take freekick.


NCFC Kyle Bekker (10) takes cornerkick.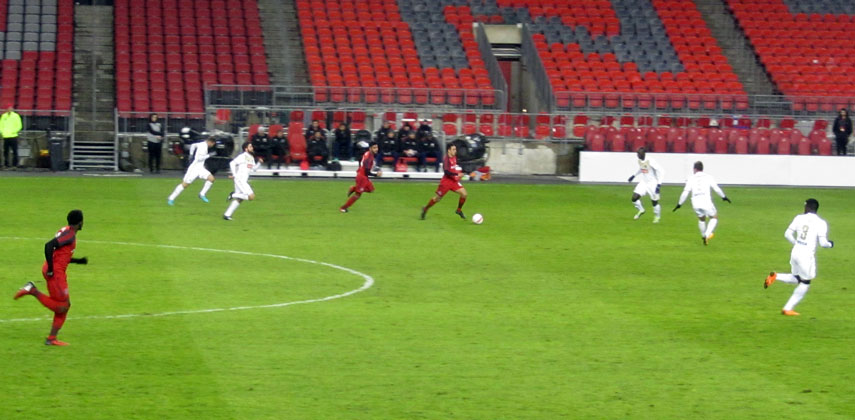 TFC Aidan Daniels (55) leads another rush.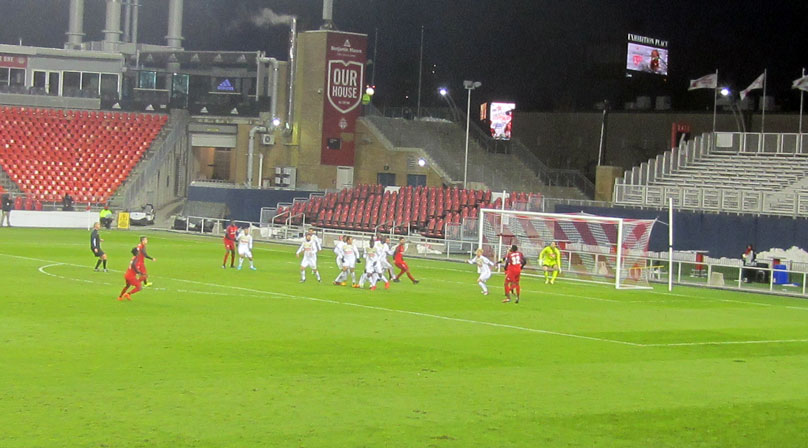 A cornerkick is popped up in NCFC end.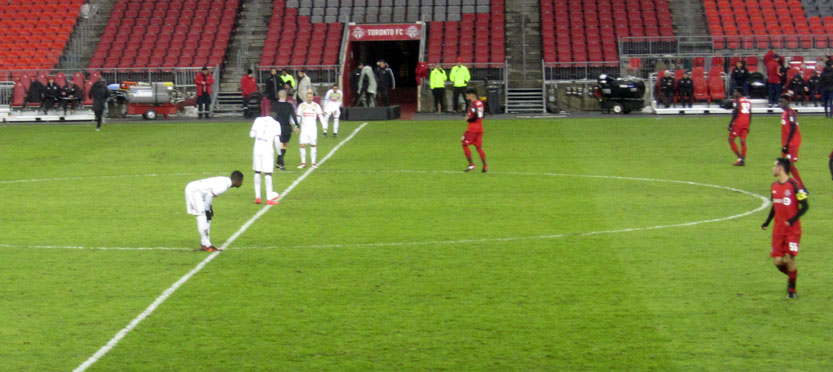 NCFC Ulrich Ewolo (7) takes second half kickoff.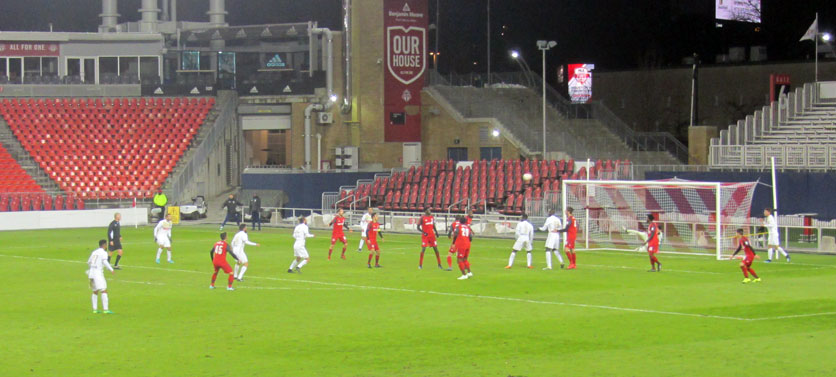 TFC goalie Angelo Cavalluzzo punches ball away.
.
.