May 18, 2019 Canada Soccer Women's International Friendly
--Canada vs Mexico (by Rocket Robin)
Details of the post-game press conference held Saturday May 18, 2019 at 3:20pm
at BMO Field in Toronto after the Canada vs Mexico International Friendly
Attendance of the media and camera crews was about 40 from both Canada and Mexico outlets.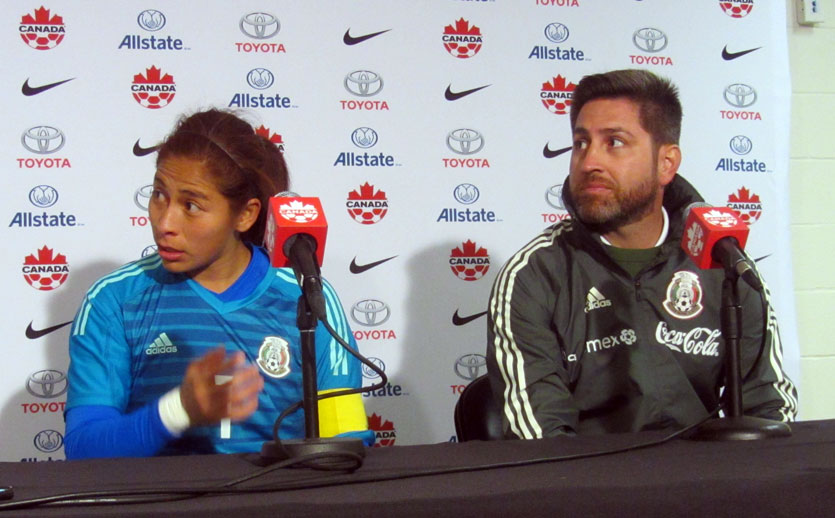 MP3 file...Mexico's post game press conference...6 min 50 sec
Mexican captain goalie Cecilia Santiago and head coach Christopher Cuellar
Cuellar makes comments about today's game, the team transition to a new roster, Santiago comments
about the game, Santiago answers what it's like to play against Christian Sinclair, (I ask Cuellar how
the new Mexican women's league will help with player development), whether climate played a factor in game,
which Asian teams Cueller would like to play (non translated Spanish answer)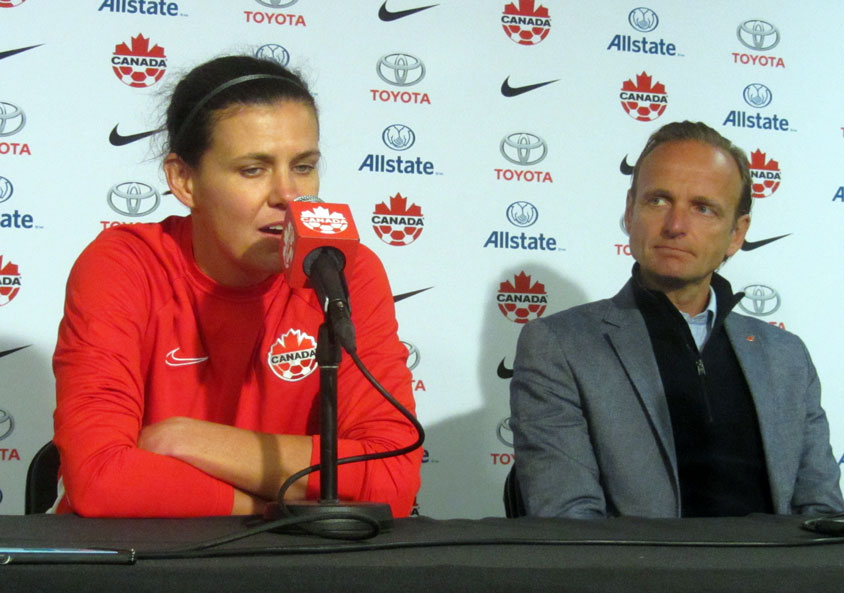 MP3 file...Canada's post game press conference...16 min 29 sec
Canadian captain forward Christine Sinclair and head coach Kenneth Heiner-Moller
Heiner-Moller makes opening comments on thoughts of today's game, Sinclair makes opening comments,
for H-M why their formation was changed today, how sure he is of his lineup, (Kadeisha Buchanan won
French Championship today with her club team Lyon), we've got more than a starting eleven in depth, for
Sinclair how she gets on with Janine Beckie, how the transformation of the team has built until now,
for H-M how they weave different players into lineup, for Sinclair about reaching the goal scoring record
soon possibly in the World Cup, for H-M what's on deck in the Canadian team's schedule before the World Cup,
for H-M will we get a Canadian Premier League for women? Sinclair also makes comments about that question,
for H-M how Janine Beckie has matured, for Sinclair how she's played a role in Canadian soccer, for H-M how
there's a role for Adriana Leon, for H-M how important it is to play in front of Canadian fans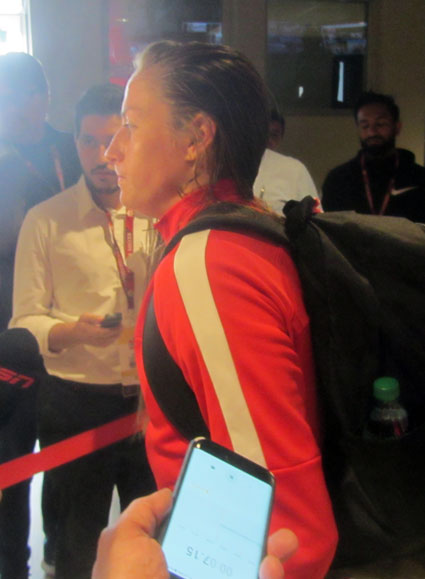 MP3 file...forward Janine Beckie...4 min 59 sec
answers questions about today's game, how Christine Sinclair is as a teammate, today's game positioning, how they celebrated
Christine Sinclair's goal, what's the team's mood, how she feels that Sinclair said Beckie is a world class player,
style of her play has changed, the focus of the team buildup, the feeling about playing in front of a home crowd, how she knew
to pass to Sinclair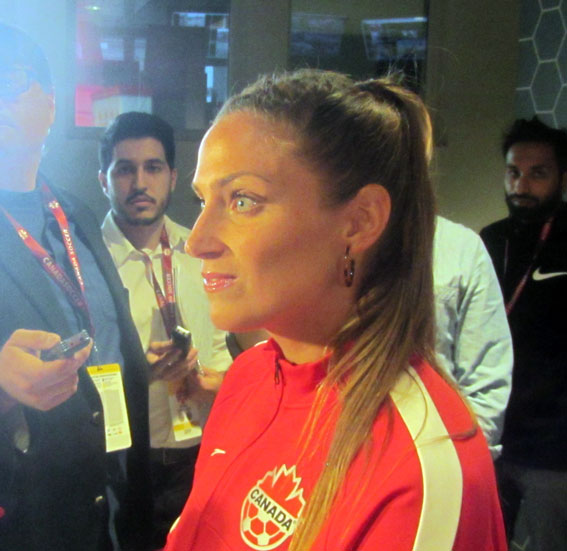 MP3 file...defender Shelina Zadorsky...2 min 29 sec
answers questions about how the defence is working together and how proud they are, how Kadeisha Buchanan fits in,
building confidence, how they are enjoying their time playing, how far they've come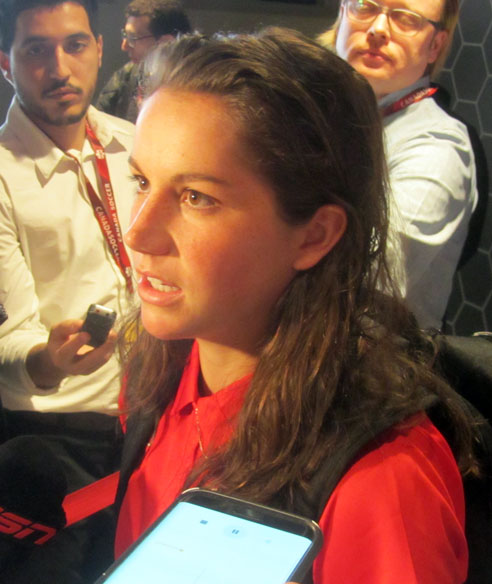 MP3 file...midfielder Jessie Fleming...1 min 50 sec
answers questions about today's game, describing the buildup to her scoring today, team relationship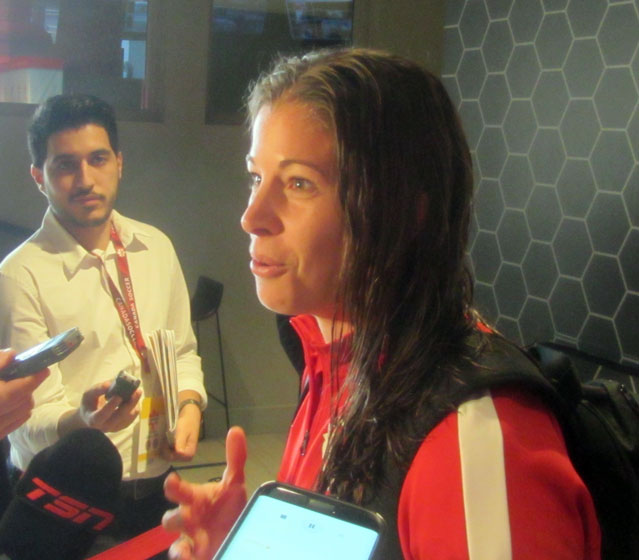 MP3 file...goalie Stephanie Labbe...2 min 5 sec
answers questions about how her day went as a goalie today ie not having much work to do, how her backline works together,
the team trajectory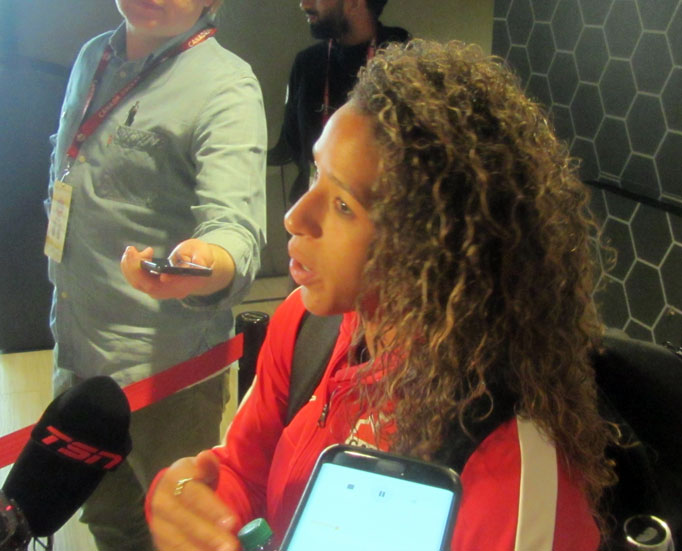 MP3 file...midfielder Desiree Scott...2 min 15 sec
answers questions about today's game, is now the best Canadian team that you've seen, what the team goals are,
has the build up been good, the feeling about wearing the captain's armband (after Sinclair left), her personal goals,
playing this World Cup in France vs the last one in Canada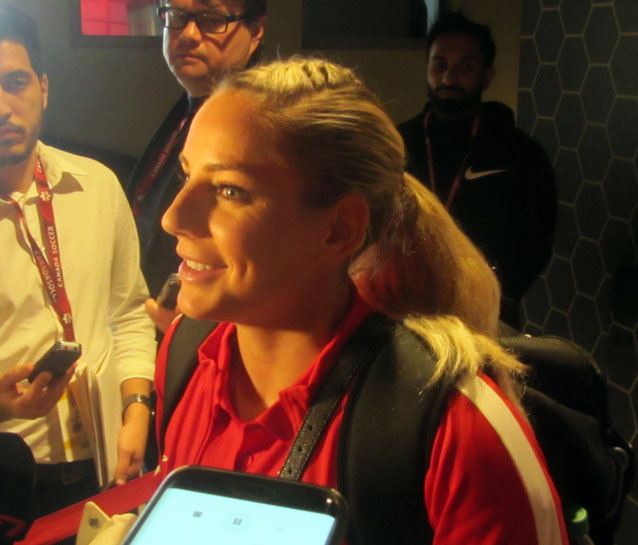 MP3 file...forward Adriana Leon...1 min 41 sec
answers questions on how it felt scoring her goal, her time at West Ham, (my question: the feeling of playing in front of this
many fans vs her Toronto Lady Lynx days), what her injury was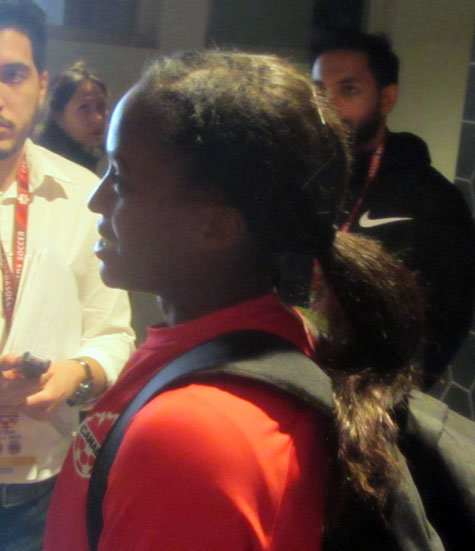 MP3 file...forward Nichelle Prince...4 min 13 sec
answers questions about the game, what it's like playing with Christine Sinclair, the chemistry with Ashley Lawrence,
the trajectory of the Canadian team and personal confidence, veteran and newcomers team chemistry, new players at the World Cup,
her personal confidence
There were often two players being interviewed at once, I had perfect positioning but only one phone to record. There was
a time where I had to pass on Ashley Lawrence (who started with interviewers in French). She played for the now defunct
Toronto Lady Lynx and I missed her because Adriana Leon then Nichelle Prince were on my left side and also played for Toronto Lady Lynx.
There was a time when they were my favourite soccer team men's or women's.
Now I'm spread so thin covering men's soccer that I may only attend the L1O Women's Championship. Fourteen of Canada's 22 player roster
grew up in Ontario. Outside the gates in the fanzone I got autographed pictures of 2012 Olympic bronze medal winners Jonelle Filigno and
Melanie Booth who both played for Toronto Lady Lynx. Booth also reminded me that she also played for Toronto Inferno before they became
the Lady Lynx. Yes I followed them too!
back to International games menu
.
.