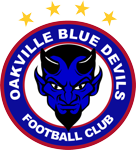 ................................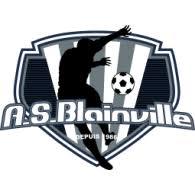 Result and details of the Sunday April 21, 2019 pre-season game between Oakville Blue Devils (of League 1 Ontario)
and A.S. Blainville (of the PLSQ in Quebec) played at Sheridan College Trafalgar Campus in Oakville at 2:00pm.
Oakville Blue Devils (all navy, white numbers)
...........................27 Lucas Birnstigl
15 Carlo DiFeo...4 Matt Monteiro...6 Victor Gallo...21 Maco Gennaccaro
12 Andi Montino...18 Manny Gill...13 Adriano Gallo...10 Judah Hernandez (cpt)...16 Khody Ellis
...........................23 Jacob Dyck

Subs:...26 Brendon Kerr (gk)...2 Michael Nitchov...3 Victor Munez...8 Sheldon Rodgers
...9 Sani Day...11 Braden Culver...22 Rahim Thorpe...20 Hitesh Joshi...24 Spencer Barber
...25 Soheil Vararham
team officials:...head coach Duncan Wilde...assistant coaches Billy Steele and Brett Mosen
...goalkeeping coach Glenn McNamara...therapist Mark Heathcote...manager Kim Ashton
A.S. Blainville (all white, blue numbers and names)
...........................30 Erwann O'Fouya
6 Bila Dicko Raynaud...4 Nafi Dicko Raynaud (cpt)...33 Idir Redjradj
20 Mohamid Farsi...14 Nicolas Bertrand...5 Wandrille Lefebvre...95 Onoe Krein...11 Mitchell Syla
....................16 Maxine Leconte...9 Stefan Karajovanovic
Subs: (I didn't have a list of them but I could see four on the bench lined up for the national anthem)
team officials:...I didn't get a list of them neither but the head coach is Emmanuel Macagno
Game officials:...referee Braedan Krampert...referee's assistants Kim Lee and Farhad Habibi
...no fourth official...(yellow shirts, black shorts and socks)
First Half:...game starts 2:02pm...OBD defends north end with the sun appearing just before kickoff for the first time in three days.
2 min...OBD DiFeo long throw-in from right corner flag is caught by ASB goalie.
4 min...OBD Gennaccaro bends 30 yard cross from left that bounces to goalie.
5 min...OBD goalie blasts clearance from 12 yards a step ahead of charging ASB Krein.
6 min...ASB Krein cornerkick from right has ASB Redjradj head 10 yarder in crowd of players that deflects out for another cornerkick.
7 min...ASB Leconte cornerkick from left has ASB Raynaud head 7 yarder down middle just over bar.
11 min...ASB Leconte 22 yard freekick from left edge of box has OBD Ellis deflect ball wide left for cornerkick in crowd of players.
12 min...ASB Leconte cornerkick from left has goalie make overhead swat across box between crowd of players. ASB Karajovanovic
waiting along right end line bounces 8 yard shot that goalie catches.
15 min...the flat ball that has drawn complaints for the last few minutes is checked by the referee and replaced.
16 min...OBD goalie runs to edge of box to beat ASB Syla to bouncer.
18 min...OBD Gennaccaro charges to sideline in own end to keep ball in play and backheels ball directly to ASB Farsi who then cuts
to middle but centering pass is saved by goalie stepping in front of ASB player waiting for tap-in.
22 min...ASB Redjradj 40 yard freekick from left is wasted as it's passed around without ever reaching the box.
23 min...ASB defender shanks clearance kick in own box for OBD throw-in near left cornerflag.
28 min...ASB Bila Dicko Raynaud pass into OBD box is blocked by OBD Victor Gallo on right and his clearance off Raynaud deflects
for goalkick.
29 min...OBD Gill is back to strip ball off ASB Karajovanovic in middle just outside OBD box.
32 min...OBD Gill is injured in collision with ASB Bertrand at OBD 40 yard line. Gill hops away then collapses and needs the trainer.
35 min...play resumes.
36 min...OBD sub...Culver replaces injured Gill (Gill needed assistance to walk/hop off the field at halftime).
37 min...ASB Karajovanovic rush on left beats two sliding defenders but his 15 yard shot is deflected off another defender wide left
for a cornerkick.
37 min...ASB Leconte cornerkick from left is over players in box and ASB Karajovanovic on right side of box heads 10 yarder wide right
of the post.
39 min...ASB Karajovanovic intercepts defender's clearance in OBD box but defender blocks his 15 yard shot.
40 min...ASB Farsi cross from right end line but defender heads ball away in 6 yard box.
41 min...OBD Adriano Gallo is injured in tangle of players at OBD 30 yard line.
42 min...ASB Lefebvre 35 yard freekick from left is through crowd of players in box and wins a cornerkick on the deflection.
43 min...ASB Krein cornerkick from right is over players leaping in box and cleared out left side.
45:16 half ends 2:17pm.
Second Half:...it's become overcast again.
Halftime subs:...ASB #26 replaces Leconte.
...........................ASB #13 is also playing.
..........................OBD Rodgers is now in as a defender.
..........................OBD Barber is also playing.
46 min...OBD Ellis rush on right and his 20 yard cross has ASB #13 head away on the left post.
47 min...ASB Krein 45 yard freekick from right left is headed away by nearest defender. ASB #26 skies 28 yarder over crowd of players
and well over net.
48 min...ASB #26 intercepts pass and after a short rush shoots low 28 yarder that goalie smothers.
51 min...OBD YELLOW card...Adriano Gallo earns it for forearm to face of Bertrand near center line.
53 min...OBD Adriano Gallo 33 yard freekick from left bounces ahead of charging OBD Barber and goalie bats down and smothers
on left post.
53 min...OBD Barber rushes to left end line to cross but ball is already ruled to be already over the line.
54 min...OBD Montina cross from 30 yards on right has defender head ball away in box.
55 min...ASB goalie bats OBD Ellis to block ball. Ellis eventually gets cross in but it's cleared.
56 min...OBD goalie beats ASB Karajovanovic by charging forward to pick up ball just inside box.
57 min...OBD Ellis rolls pass forward to right too far forward for OBD Montina and ball rolls over end line.
58 min...OBD Ellis on rush on right but sliding ASB Redjradj checks him off ball.
59 min...OBD Adriano Gallo GOAL...Gallo 30 yard freekick from slight right is low to right side of net beyond diving goalie
Erwann O'Fouya. OBD Judah Hernandez also lined up for the freekick as a decoy.
60 min...ASB subs...Bertrand and Syla both leave the game. Leconte comes back in as one of the subs.
..............OBD sub...Thorpe replaces Montina.
62 min...ASB Lefebvre 35 yard freekick is stopped just inside box and cleared. ASB Redjradj sends rebound from 30 yards up middle wide
right of post.
64 min...ASB Farsi low cross from right at 25 yard line is cleared on right edge of box.
66 min...ASB Krein 28 yard freekick from right is rolled forward but he wins cornerkick.
66 min...ASB Krein cornerkick from right has ASB Nafi Dicko-Raynaud pop up header in box and goalie catches wide left of net. The goalie
quickly punts the ball downfield but the ball bounces for the ASB goalie on the edge of the box to catch ahead of the charging OBD Ellis.
68 min...OBD sub...Gennaccaro replaces Hernandez. (Victor Gallo becomes captain).
69 min...ASB goalie is out of box to left to clear ball ahead of charging OBD Barber.
70 min...ASB Lefebvre 23 yard freekick from left corner of box is bent just wide left. The OBD goalie is injured in his dive colliding with
an ASB player waiting for a tap-in.
74 min...OBD sub...Nitchov replaces Victor Gallo. (Culver becomes captain).
..............OBD sub...Barber replaces Ellis (proving Barber must have come off for a few minutes).
77 min...OBD Barber keeps ball in bouncs on long rush up right and his cross into 6 yard box has retreating ASB Bila Dicko-Raynaud make stop.
79 min...OBD Adriano Gallo cornerkick from right has OBD Rodgers header from 12 yards cleared by a defender.
79 min...OBD Gennaccar skies a shot wide left.
81 min...OBD YELLOW card... goalie Birnstigl earns it for time wasting taking a goalkick.
83 min...ASB Farsi cross from 25 yards on far right has ASB #26 point blank one-touch shot from 8 yards saved by the sprawling goalie.
84 min...ASB Lefebvre 45 yard freekick from right is caught by leaping goalie behind crowd of players.
86 min...ASB Farsi low cross through box on right is cleared.
86 min...OBD player can't win Penalty kick on bump over on rush up right into ASB box.
87 min...OBD Nitchov wins goalkick for OBD on his clearance off ASB player threatening on right side of box.
89 min...OBD Adriano Gallo 28 yard freekick is cleared in crowd of players in box.
90 min...OBD YELLOW card...Culver earns it for upending ASB player jumping for header at OBD 30 yard line.
91 min...ASB Lefebvre blasts 30 yard freekick up middle has goalie dive to left and stop. ASB Krein 30 yard rebound
from left is low and goalie smothers.
92 min...OBD goalie is out to right of box to clear through box.
93 min...OBD Barber cornerkick from right is short to OBD Adriano Gallo to time waste before defenders
interrupt and clear.
94 min...ASB Lefebvre blasts 40 yard freekick up middle into player wall. A rebound chip is called offside.
95 min...ASB Farsi recovers loose ball on left and low shot has diving goalie push ball wide of post.
96 min...ASB Krein flicks ball along left endline but bounces to goalie.
96 min...game ends 4:53pm.

Final Score:...Oakville Blue Devils......1.......A.S. Blainville......0......

Attendance was about 70 on this damp and rather chilly afternoon.  This was a pre-season game on a holiday weekend 
and organized on short notice so I wasn't surprised the crowd was about 1/3 of what I usually see at regular season 
Blue Devils games.  I heard there weren't going to be any game sheets but I did take pictures of game lists that 
the announcer used although the list of ASB didn't name any subs.  

I thought Blainville looked better in the first half but the halftime break turned the game around and Oakville 
looked more likely to score an insurance goal until a late flurry by Blainville near the end almost got them the tie.  
With pre-season rules players could be subbed out and return to the game.  This was done frequently by ASB who'd 
only dressed four subs and were in Toronto yesterday to play an unofficial game against Woodbridge.  (Secrets out 
in my interview with the Blainville coach after the game).  

Referee Braeden Krampert kept the game under control with mostly warnings until the second half.  Some of the tackles 
were sloppy preseason rust vs wet astroturf bumps.  Only one Yellow to each team plus a time-wasting call against OBD.  
Maybe only two serious injuries that required a trainer, one to each team.  Announcer Ari Soroka had his music keyed 
up to play 'The Theme From M*A*S*H' during these delays.  

I think the Blue Devils will do quite well in L1O again this year.  They had five players invited to the L1O/CPL 
combine on January 24 after none came to the open tryouts last Fall.  This was what I was waiting for.  All five 
passed the 'cuts' in the morning and made the afternoon championship game.  Two of these players, winger Tyriq Armstrong 
and midfielder Rajvir Kahlon (who scored a hatrick in his morning combine game) were praised in an article written 
on the L1O website last week of 'Ten L1O players not yet signed to CPL teams'.  Surprisingly or not surprisingly they 
were NOT in today's lineup so who knows if they're in talks!  The others at the combine were goalie Lukas Birnstingl, 
defender Carlo Difeo and midfielder Khody Ellis who scored in the combine's afternoon game   
    
It is sort of awkward for me;  I see L1O players who I consider 'better' than the L1O players who have signed for 
the CPL but I don't know how much of a combo of players being 'known' by the Forge coach who coached Sigma FC for 
so many years and Vaughan Azzurri/Aurora FC players very familiar to the York 9 FC current coaching staff.  Also maybe 
the offers that new league (with its undisclosed but rumoured to be low salary cap) is able to offer won't have players 
want to give up their days jobs and family commitments to move across the country.  

There are a few players not returning to Blue Devils this season.  The four that I know the best are Anthony Novak 
(the current L1O Golden Boot winner) who just earlier this month signed for Forge FC rather than the Canadian Armed 
Forces, Felipe Vilela who is joining Aurora FC this season...(my joke about graduating college as an electrician 
he could have helped install stadium lights at Sheridan College who are forced to play nothing but matinees...yeah 
he is a George Brown College grad).  Also both the McNamara brothers retired at the end of last season.  I'd watched 
them for close to a decade.  Their father is still the OBD goaltender coach.    

This game also attracted me as the opposition was A.S. Blainville who are the current PLSQ champion.  They are in this 
year's Canadian Championship for the second year in a row and will play CPL York 9 FC in Blainville on Wednesday May 15 
and then the return leg at York Lions Stadium on May 22.  They looked older than the OBD roster for this game but this 
was their second game within 24 hours with a small roster.  They arrived in either four or five SUV's as transport for 
the weekend.  I was able to ask their head coach after the game about their trip to Ontario this weekend and player 
Diyaeddine Abzi who signed to play for York 9 FC after impressing in last year's championship competition where they 
defeated first round opponent....Oakville Blue Devils!  Abzi scored the only goal in that clinching second game 
at the Ontario Soccer Centre in Woodbridge. (remember no lights at Sheridan College!)   

Now funny I didn't notice any York 9 FC spies scouting today's game.  I think I'd recognize them.  

I noticed Oakville players shaking hands and high fiving a person in the front row.  I asked him after the game about 
it and he said he's injured right now but is waiting to sign with them and that he played for Sanjaxx Lions last year.  
They are a team that is not returning to L1O this year.  Another insider said there are a lot of L1O players trying to sign 
on with Sigma FC and Vaughan Azzurri this year believing that will be a pipeline to the CPL.  I have no idea right 
now how CPL mid-season signings will take place.  

Oakville start their regular season in exactly two weeks with a home game against the returning (after a one year hiatus) 
Durham United.  There are 16 teams in the league this year and a 15 game schedule and OBD only get seven home games.  
Head coach Duncan Wilde answered me after the game that the availability of Sheridan College after the school schedule 
comes out makes dates harder to book so that may be the league logic rather than a short straw draw.  

I was able to drive here in under one hour but then it was a holiday Sunday.  It was getting to a playoff game in Oakville 
last season about 2/3s of the way to Hamilton in midweek rush hour traffic when I decided I couldn't be a Forge FC fan 
at the 2 1/2 hour mark of that drive.  That was in the days when only two teams had been rumoured and nothing for the 
Toronto area.   
  
Rocket Robin  
robing@eol.ca
twitter @RocketRobin01   

Post match interviews (the other questioner is Pierce Lang who was filming the interviews)

mp3 File...Oakville Blue Devils head coach Duncan Wilde answers questions...5 min 20 sec
Wilde discusses today's game and some of the key players. I ask about Anthony Novak and Felipe Vilela moving on.
Also about the season schedule and Blue Devils chances this year.

mp3 File...OBD goalie Lukas Birnstingl discusses today's game...1 min 9 sec

mp3 File...second part...Birnstingl answers question on OBD pre season preparation...22 sec

mp3 File...OBD Adriano Gallo talks about today's game...1 min 24 sec
Adriano discusses his goal and answers my question about playing this season with his brother Victor Gallo. The joke was
it turned out his brother was in the same hallway so you'd expect him to say some nice things!

mp3 File...Blainville head coach Emmanuel Macagno interview...2 min 17 sec
I talk to the visiting head coach about this weekend in the Toronto area and their upcoming Canadian Championship series
against CPL York 9 FC next month. Also discusses York 9's Diyaeddine Abzi.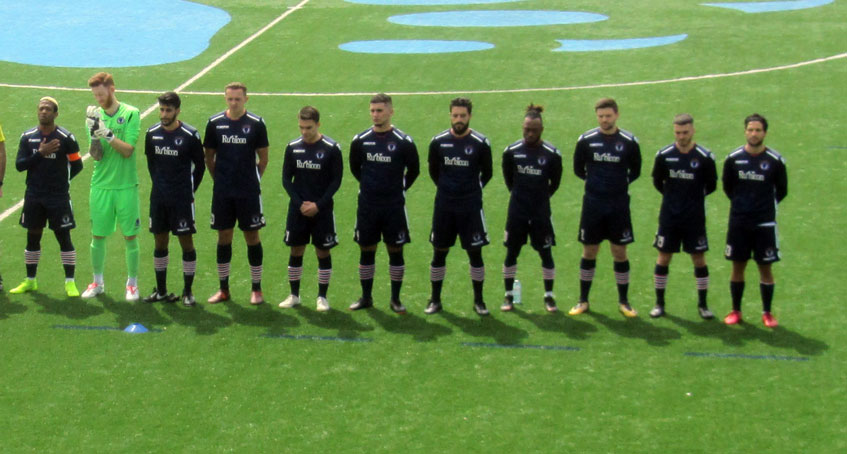 Oakville Blue Devils starters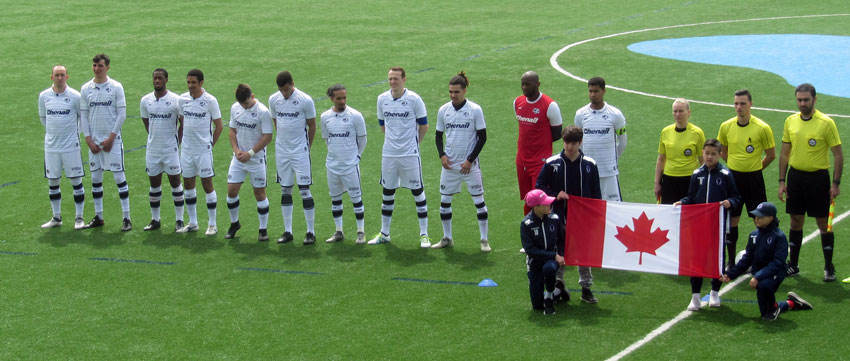 A.S. Blainville starters

OBD Jacob Dyck (23) takes opening kickoff.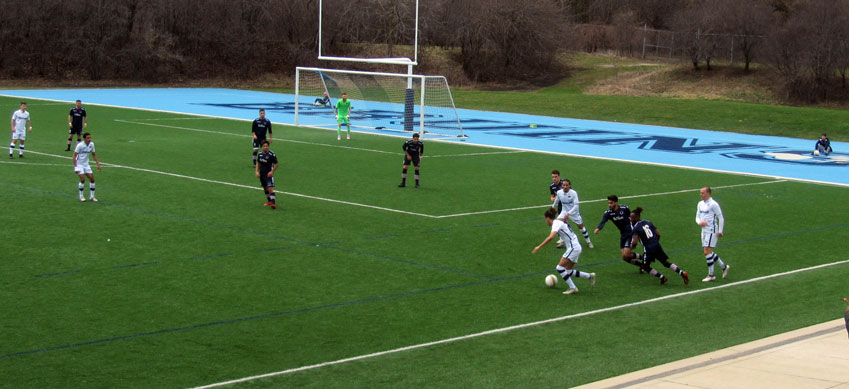 ASB Mohamid Farsi (20) keeps ball in play.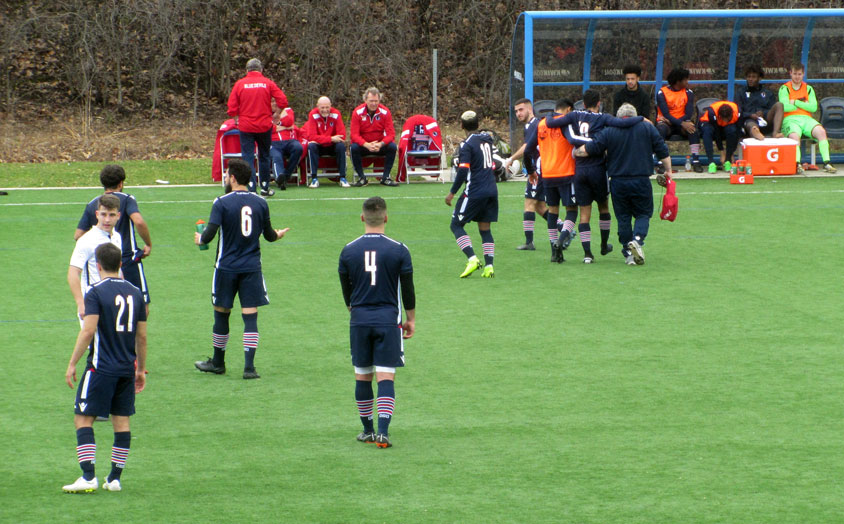 OBD Manny Gill (18) has to be helped from field.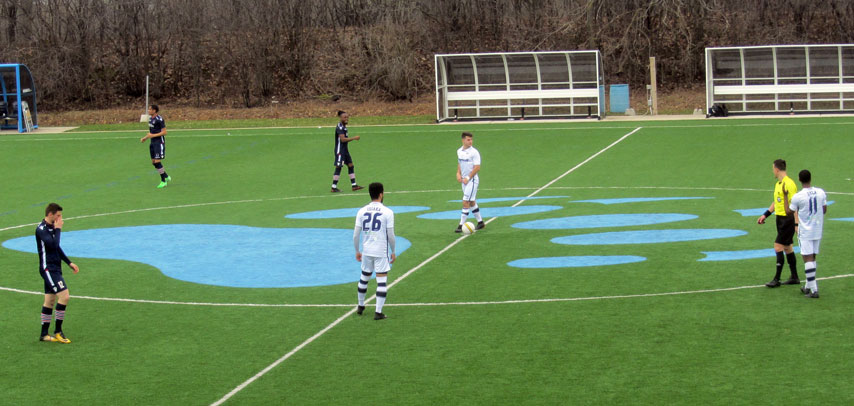 ASB Stefan Karajovanovic (9) takes second half kickoff.


OBD Adriano Gallo (13) with Judah Hernandez (10) as a decoy blasts freekick low into right side of net.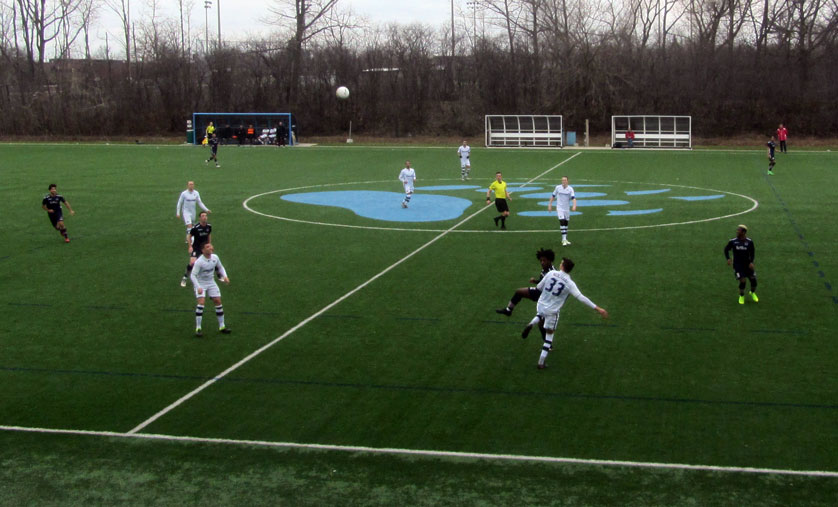 ball is popped up near center line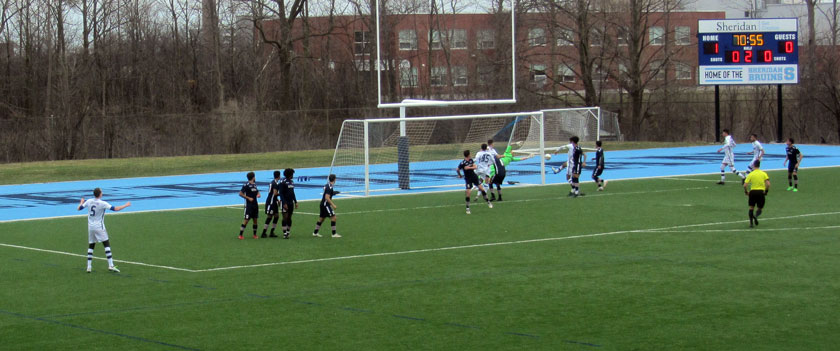 ASB Wandrille Lefebvre (5) freekick has goalie fly to right and get injured on this play.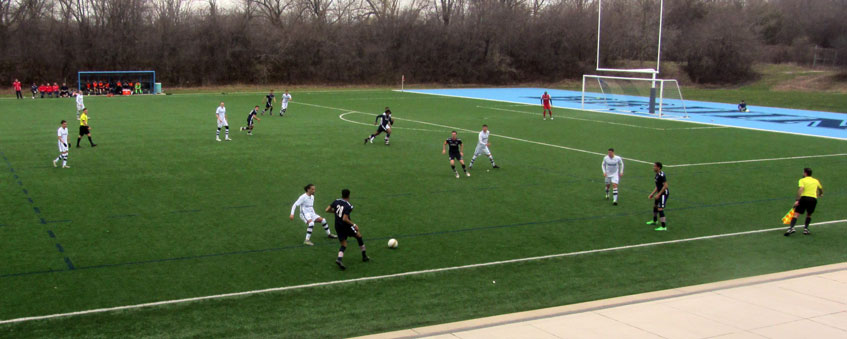 OBD Hitesh Joshi (20) passes to charging teammates.
back to League 1 Ontario index

.
.