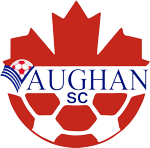 ..............................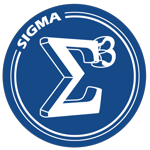 Result and details of the Saturday May 4, 2019 League 1 Ontario game between Vaughan Azzurri and Sigma FC
played at McNaughton Turf in Vaughan at 3:00pm.

Vaughan Azzurri (all navy, white numbers, red trim)

.................1 Ali Ghazanfari-Moghaddam
2 Jarred Phillips...17 Tristan Gayle...6 Duran Lee...3 Joseph Amato (cpt)
10 Jason Mills...5 David Velastegui...16 Edward Lay...7 Jahsua Mills
............9 Omar Marzouk...15 Duemerci Yuma

Subs:...12 Matt George (gk)...8 Ryan Raposo...14 Jarek Whiteman...18 Joshua Belluz
20 Daniel Cramarosa
team officials:...head coach Patrice Gheisar...assistant coaches Anthony Vadori and Francesco Vescio
...manager Tony De Palma...athletic Therapist Clavijo Estaban

Sigma FC (all white, blue numbers and shoulders)

..................1 Baj Maan
........3 Reginal Laryea...4 Malik Smith...5 Oluwageun Oyegunle
14 Simon Triantafillou...6 Manuel Morgado...21 Noah Jensen...20 Christian Samaniego...10 Justin Stoddart (cpt)
.............7 Tyriq Armstrong...9 Leaford Allen

Subs:...31 Spiridon Koskinas (gk)...2 Cheikh Tchouambou...8 Manvir Brar...11 Sean Merrick
...12 Francis Kwashie...17 Markell Saddler...19 Taha Ilyass
team officials:...team head coach John Zervos...assistant coaches David Igreja and Philip Opassinis
...manager Perry Chadjiiannou...therapist Victoria Carlucci

Game officials:...referee Scott Bowman...referee's assistants Ethan Bent and Marko Grubisic
...fourth official Brian Novogradac...(yellow shirts, black shorts and socks)

First Half:...game starts 3:05pm on this damp, overcast and cool afternoon. The scoreboard is not working so all times
are converted from my wristwatch.
4 min...VA player's shot from right in crowd of players is rolled well wide right of net.
5 min...VA Gayle bumps Sigma Allen off ball just inside VA box to break up pinpoint chipped pass from 35 yards.
7 min...VA Velastegui 25 yard freekick from right is out to VA Lay who blasts 30 yarder from slight right well over net.
9 min...VA Lay 25 yard freekick from left sideline has defender in 6 yard box head ball away.
12 min...VA Marzouk dribbles down right and stops at 22 yards to shoot low into box. The ball hits a defender at 15 yards
and deflects back for Marzouk to hip 22 yarder well over net.
14 min...VA Lee makes key stop at 8 yards on 15 yard Sigma shot down middle set up by a trailing pass.
15 min...VA Lay 28 yard freekick from left has VA Lee touch header in crowd of players at 6 yards and ball drops for Sigma goalie
to grab.
18 min...VA player's long throw-in from right is headed by VA players across box from right but a defender clears.
18 min...Sigma Triantafillou high cross from 20 yards on extreme right is over box.
20 min...VA Lee makes key check on Sigma Armstrong to break up pass play on edge of VA box.
22 min...VA player's freekick from 25 yards on right is cleared from box.
23 min...VA goalie out to 25 yards to clear ball before Sigma Allen can play pass to him.
24 min...Sigma goalie makes last second lunge to save 22 yard shot from right on left post.
26 min...VA Yuma taps pass to VA Jason Mills for run from Sigma 20 yards. VA Jason Mills shoots wide right of net from 8 yards.
28 min...Sigma Armstrong is pushed pass from center to right and he shoots 18 yarder well hbigh and wide right of net.
29 min...Sigma Triantafillou rush on right and centers pass to Sigma Jensen who rolls ball forward but picked up to goalie.
31 min...Sigma Oyegunle long cross after run up left from 28 yards drifts behind end line too far forward for Sigma player.
33 min...VA Jahsua Mills rush down left and low cross into 6 yard box has VA Jason Mills surrounded by four defenders not able to play.
34 min...Sigma Stoddart cornerkick from left has defender on right side of box head ball away.
35 min...VA Amato races to left end line and keeps it in to roll ball along end line requiring defender to clear.
36 min...VA Yuma backheel pass on edge of box to VA Jahsua Mills who dribbles forward but tumbles over defender.
39 min...VA Lay ends cornerkick tap around with 22 yard cross from right that goalie catches on left post.
40 min...VA Lay one-touch blast up middle from 28 yards is wide right.
42 min...Sigma Tyriq Armstrong GOAL...Sigma Noah Jensen sends pass across box from left and Armstrong shoots 10 yarder
from right into roof of net over goalie Ali Ghazanfari-Moghaddam sliding at 5 yards on right post.
44 min...Sigma Leaford Allen bumps VA Lee off ball on run down left and rolls ball across box from right a step ahead
of sliding Sigma Stoddart at 10 yards missing clear shot.
45 min...Sigma YELLOW card...Laryea earns it for complaining about the non-call on the last play.
46 min...VA Yuma is rolled a forward pass but can't connect for shot.
47 min...VA Lay cornerkick from left is cleared in crowd of players in box.
47 min...half ends 3:57pm.

Halftime Entertainment: Anthony Totara the Assistant to the Soccer Operations Director gave out some York 9 FC swag for
fans knowing Vaughan Soccer Club trivia. The real stumper was when Vaughan Soccer Club was founded. With no takers
his helper said "Google it!".

Second Half:...starts 4:11pm.
47 min...Sigma Morgado chips ball up right wing for open Sigma Allen charging up line he chips 10 yards out goalie from 25 yards
and ball bounces wide left of post.
49 min...Sigma Oyegunle can't get by VA Velastegui to cross on left and runs it over end line.
50 min...VA Omar Marzouk flying down right side is upended by sliding Sigma player cartwheeling him over and injurying him
bad enough to need the trainer. Referee Scott Bowman awards VA a Penalty kick.
52 min...VA David Velastegui GOAL...Velastegui stutter steps and shoots low Penalty kick to left side as goalie Baj Maan
crumples in middle.
54 min...VA Marzouk cross from 22 yards on sharp right is just step ahead of VA Yuma for 3 yard tap-in on left post.
54 min...VA Marzouk 25 yard low shot up middle between players is just wide left.
55 min...VA Marzouk one-touch midair kicks a 12 yard shot up middle wide right of net.
58 min...VA Lay high recross of cornerkick on right is broken up on left side of box.
59 min...VA Phillips bashes over Sigma Morgado at 40 yards and blasts 35 yarder well over net and back fence.
59 min...Sigma sub...Saddler replaces Samaniego.
60 min...VA Marzouk taps pass from center to left and VA Lay low 22 yard shot is smothered by goalie.
60 min...Sigma sub...Kwashie replaces Laryea.
60 min...VA Jahsua Mills cross from left has VA Marzouk pop up ball on midair kick.
62 min...Sigma Allen gets break when VA Gayle falls but called offside.
63 min...VA Jahsua Mills can't control pass sent over to him charging on left and pops over end line.
64 min...Sigma goalie beats jumping VA Marzouk into box to clear bouncer at 8 yards.
65 min...VA sub...Whiteman replaces Jahsua Mills.
66 min...VA sub...Raposo replaces Marzouk.
67 min...VA Raposo centers pass from 20 yards and a VA player shoots down the middle over the net.
68 min...A Sigma player rescues a ball before it rolls over the right end line and taps ball back for Sigma Tyriq Armstrong
who is upended before getting away a shot from 10 yards. The referee awards Sigma a Penalty kick.
69 min...VA YELLOW card...Velastegui earns it for complaining about the Penalty kick call.
70 min...Sigma Justin Stoddart GOAL...Stoddart blasts Penalty kick low to right just beyond diving goalie who guessed correctly.
71 min...VA Raposo 10 yard shot from right is wide right of short side.
72 min...VA sub...Cramarosa eplaces Velastegui.
74 min...Sigma Jensen low cornerkick from left is cleared by first defender on left side of box.
75 min...Sigma Allen sends crossfield pass to Sigma Saddler but he's checked off ball by defenders.
76 min...VA YELLOW card...Jason Mills earns it for complaining about non-call knockdown just outside Sigma box.
78 min...VA Yuma flicks 10 yard header to middle sent to him from left wide right of post on bounce.
79 min...Sigma sub...Ilyass replaces Armstrong.
80 min...VA Cramarosa cornerkick from right is over to VA Raposo who shoots 18 yarder from sharp left that goalie catches
on near post.
82 min...Sigma Stoddart can't win freekick on push over too easy on pass inside box.
83 min...Sigma goalie beats VA Yuma to long high through ball pass to left edge of box.
84 min...Sigma Morgado is injured at Sigma 40 yard line and wins freekick.
85 min...VA sub...Belluz replaces Yuma.
86 min...Sigma Allen wins cornerkick as he rushes up right but can't shake defender.
86 min...Sigma Stoddart cornerkick from right is over heads of players and out of box.
88 min...Sigma sub...Brar replaces Jensen.
89 min...VA Phillips rolls pass froward down right for VA Raposo who shoots 18 yarder near right that goalie catches on near post.
90 min...Sigma sub...Merrick replaces limping Allen.
91 min...Sigma YELLOW card...Stoddart earns it for involvement in a pushing incident at the VA end line.
........VA YELLOW card...Lee earns it for his part in the incident.
92 min...Sigma gets to end of short cornerkick fro right after a deflected clearance and 8 yard shot is pushed wide right by goalie.
95 min...VA Cramarosa 55 yard chip over crowd of players down middle is caught by goalie.
95 min...game ends 5:01pm.

Final Score:.....Vaughan Azzurri......1......Sigma FC.......2......

Attendance was about 100 on this damp and cool and overcast afternoon not so different than all but two days in the last month
although windbreakers were OK for fans not to be cold.

This was a rough game between two teams with quite different lineups than last year. Both coaches answered me after the game
that they were still fitting in players returning from school but as a first game of the season they were pleased.

Referee Scott Bowman gave out five Yellow cards (three to Vaughan) besides the two Penalty kick calls. There was one dust-up
in the Vaughan end during added time with Sigma looking to waste time.

Best non-scoring chances were at 15 minutes when VA Edward Lay took a 28 yard freekick from the left that had VA Duran Lee
touch a header in a crowd of players at 6 yards but the ball dropped for the goalie. 24 minutes had the Sigma goalie make
a last second lunge to save a 22 yard shot from the right on the left post. 44 minutes had Sigma Leaford Allen bump VA Duran Lee
off the ball on a run down the left and rolled a pass across the box a step ahead of the sliding Sigma Justin Stoddart
at 10 yards missing a clear shot. 47 minutes had Sigma Allen receive a pass up the right wing and at 25 yards chipped the
goalie who'd come out to 10 yards and th
e ball bounced wide left of the post. 54 minutes had VA Omar Marzouk cross from
22 yards on the sharp right that's just a step ahead of VA Duemerci Yuma for a 3 yard tap-in on the left post. 80 minutes
had VA David Cramarosa take a cornerkick from the right that was over to VA Ryan Raposo who shot an 18 yarder from the sharp
left and the goalie caught on the near post. 92 minutes had Sigma Sean Merrick get to the end of a short cornerkick from
the right after a deflected clearance attempt and take an 8 yard shot that the goalie pushed wide right of the post.

These are the two L1O teams with rosters most devastated by the new Canadian Premier League. The count was on with
an estimate of twelve Vaughan players moving on (that's a bit high but I counted almost double digits) with most moving
on to York 9 FC (including head coach Carmine Isacco to be an assistant coach with the new club) but one to Valour FC
and now two within the last month to HFX Wanderers.

Vaughan won the double last year with them winning both the L1O league championship and the Cup competition. This year
L1O has iced their Cup as the teams play a more compressed schedule to finish all but their playoffs before some players leave
their teams for NCAA and Canadian college and university commitments. Azzurri for winning the L1O championship gain entry
to the Canadian Championship competition with the winner gaining entry to the CONCACAF Champions League although that's
unlikely as long time Canadian representative MLS Toronto FC is waiting for the Vaughan branch with a bye to the semi-finals.
Vaughan's first opponent in Round 1 is HFX Wanderers so they will be meeting last year's teammates forward Tomasz Skublak
and defender Matthew Arnone.

Sigma FC (home in Mississauga) has a direct pipeline to Forge FC playing in Hamilton. Head coach Bobby Smyrniotis now holds
that position with Forge FC. There are eight of last year's players directly signed with Forge. There are another five that
successfully passed the 'Open Trials' in last year's CPL showcase across Canada who have not been signed. Goalie Baj Maan
is finally starting for Sigma after not playing a single L1O minute last year because the now Forge Triston Henry was anchored
in net. Today's scorer Justin Stoddart returned with Sigma. Defender Kyle Walton I would find tomorrow lined up for Woodbridge
Strikers. David Velastegui with time on Mississauga Metrostars of the MASL arena league over the winter was playing today for
Vaughan Azzurri! Then there is a person like forward Tajon Buchanan who signed a Generation Adidis contract on January 4 and
was a first round draft choice for MLS New England Revolution following Sigma's most famous grad Cyle Larin. Sigma FC defender
Reggie Laryea is a younger brother of Richie Laryea who also went the MLS draft route and now is signed for Toronto FC.

Sigma will be entering two teams in the new L1O Under 21 league.

Both teams have new coaches and in my interviews both were happy that their players can move on to make a living playing
soccer in Canada.

L1O commissioner Dino Rossi was at this game. He is the only one who can get to more games than I can because he also
covers their women's league. The Vaughan women's team had just defeated FC London 2-1 in their first game of the season
that had ended an hour previously. I spoke to FCL head coach Michael Marcoccia who I'd just seen in Whitby when the men's
team was here last night suggesting he should have stayed in the Toronto area instead of travelling two plus hours to get
back to London only to turn around this morning for a return trip.

Rossi has the count at 37 of players who have passed through L1O and are now signed with the CPL. He said a CPL player
can't be demoted to L1O because they are pro contracts. A L1O player can move up to CPL either on a full contract or on
the 'Young player clause' to keep their status as a student athlete that the CPL is still working out. He also said Vaughan
will be flying to Halifax for their Canadian Championship game provided by one of their club sponsors so no worries about
holding a bake sale for fund raising nor crowding the team into a fleet of minivans.

Rossi said the L1O schedulers were not setting up this opening weekend game as a showcase between two of the best teams
from last year and he'd have liked them to have played this in five weeks time to maximize publicity build-up. The CPL Forge
and York 9 played last weekend so I'd thought today's game was pre-planned.

Sigma goalscorer Tyriq Armstrong I watched play for Oakville Blue Devils last season. He answered me that he'd not played
on Sigma teams as a child so wasn't returning to them. There's been a not too untalked about rumour that guys are trying
to catch spots on Sigma FC, Vaughan Azzurri, and Aurora FC (York 9 FC head coach Jimmy Brennan's last coaching position)
in order to join the pipeline to the CPL because that may be the surest way to get noticed and a possible call up.

Ali Ghazanfari-Moghaddam was goalie for Vaughan. A Google search of the name of my site and his name revealed he played
on ANB Futbol in the L1O early days. I remember a fan camcording the ANB games but never moving the camera off him even when
the play was well upfield. It was his mother making a showcase video. Hmm, well he did play for Ryerson University here
in Toronto.

In a weekend of "Whatever happened to the Sanjaxx Lions" players (the only team along with Toronto FC III not returning
to L1O this season) I found forward Duemerci Yuma playing forward for Vaughan today. He had joined Sanjaxx with seven games
to go last season and scored six goals almost single-handedly carrying them on a late run to the playoffs finishing one
win short. He made the final game at the CPL-L1O combine in January scoring a goal in the morning game. Good chance
to be CPL spotlighted by being on Vaughan.

Vaughan have only two more games at McNaughton Turf and two more road games before their opening of their own facility
'North Maple Regional Park'--another '1000 higher' in address further north on Keele Street for their game against Woodbridge
Strikers on Sunday June 9. I'll provide more details when I finally see it but I know it will be a lot better than McNaughton.
The change rooms here are across the fast moving McNaughton Street at the Maple Community Centre with cars playing chicken with
those venturing across the street. Today there were other soccer games beside us at the St Joan of Arc High School field
including a U-11 Sigma team at one time with the referee blowing a whistle close to the sound in our game and I wondered why
our players didn't stop their runs. The scoreboard wasn't working today or it could be long term although the timing buzzer
still went off at the 45 and 90 minute mark. The low fencing ensured that a lot of balls this game sailed away into the parking
lot or the school field or surrounding area. Vaughan teams are scattered all over Maple at Parks and Rec fields and this
new facility will be a great way of consolidating their activities.

Rocket Robin
robing@eol.ca
twitter @RocketRobin01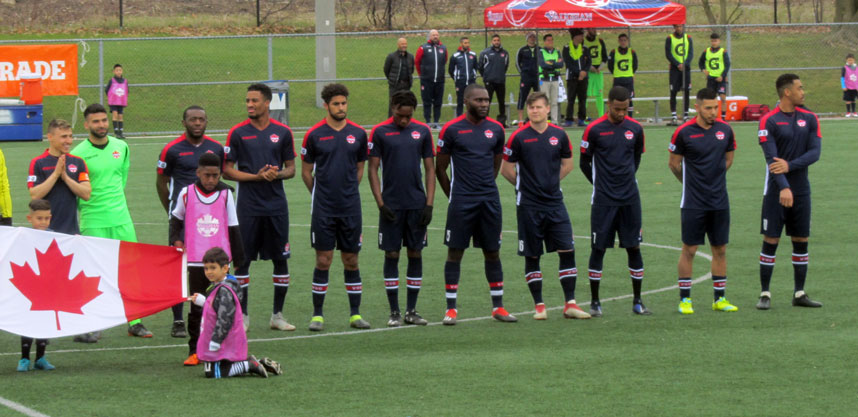 Vaughan Azzurri starters


Sigma FC starters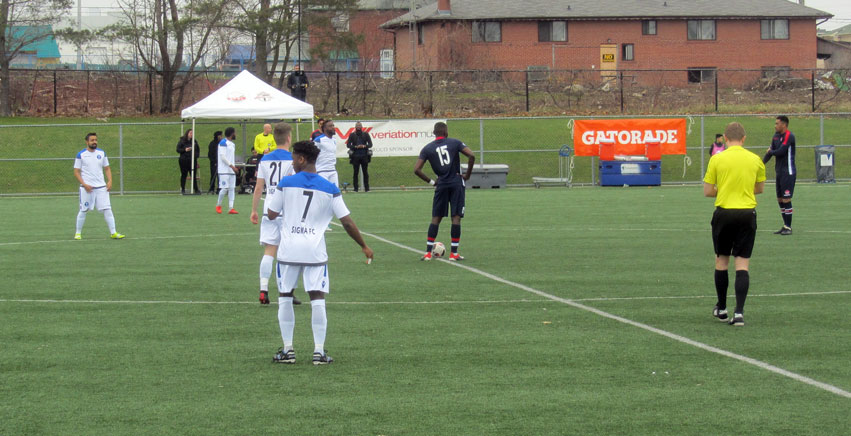 Vaughan Azzurri Duemerci Yuma (15) takes opening kickoff.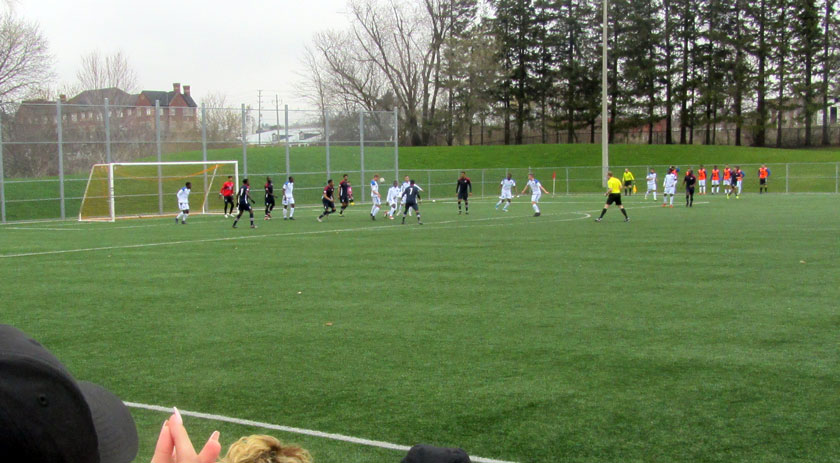 the ball is knocked around in the Sigma box.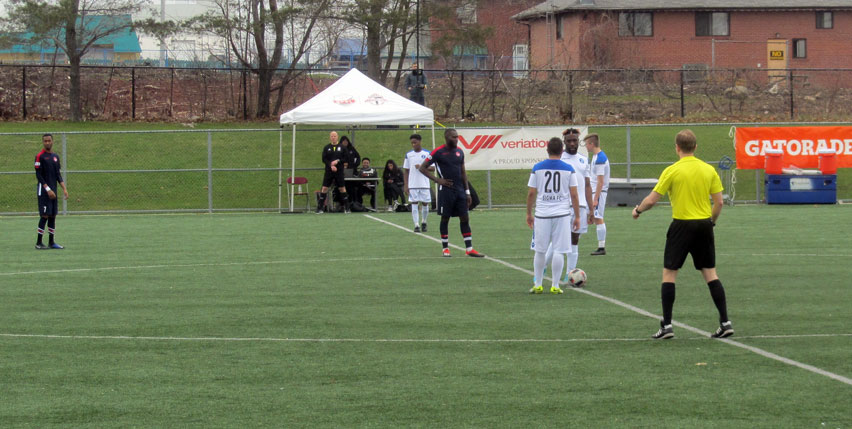 Sigma Christian Samaniego (20) and Leaford Allen (9) take second half kickoff.


Vaughan Azzurri Duran Lee (5) lines up to take Penalty kick.


Sigma Justin Stoddart ready to take Penalty kick.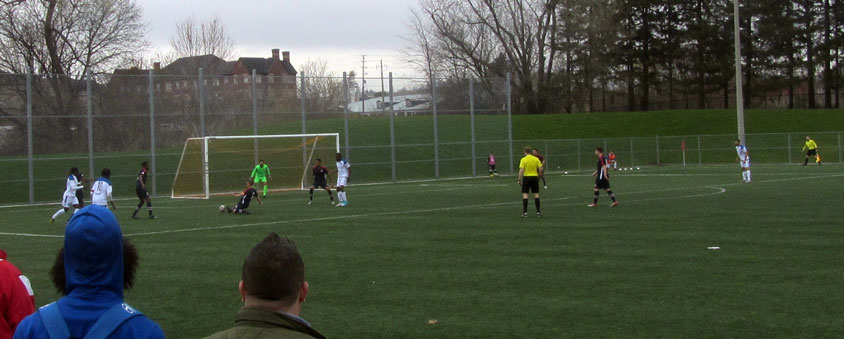 Vaughan Azzurri Joseph Amato (3) gets back to break up Sigma play.

Vaughan Azzurri Jarek Whiteman (14) is jostled off ball on this run.
Here are the sound files: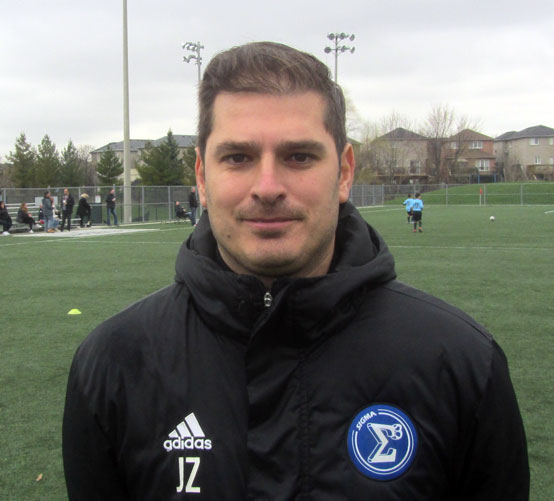 MP3 file...new Sigma FC head coach John Zervos...3 min 54 sec
Zervos talks about today's game, the compressed L1O sechedule this season, players joining the CPL
and a pathway for this year's players moving on to other leagues. Also the new L1O Reserve league.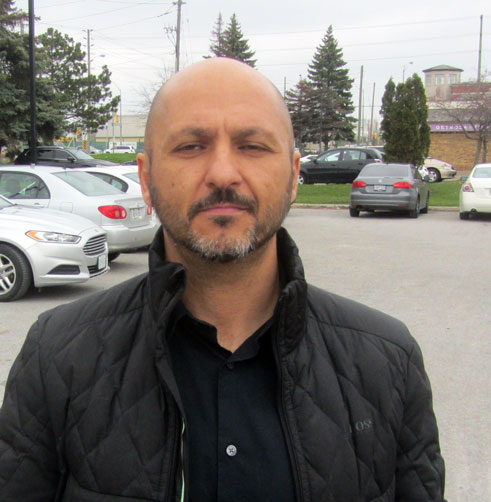 MP3 file...new Vaughan Azzurri head coach Patrice Gheisar...3 min 45 sec
Gheisar talks about today's game, his coaching experience, their upcoming series against CPL HFX Wanderers
in the Canadian Championship. Vaughan players moving on to the CPL. Also thoughts on the CPL compressed schedule.
back to League 1 Ontario index

.
.