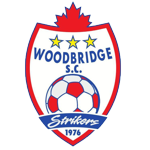 .......................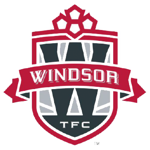 Result and details of the Sunday May 5, 2019 League 1 Ontario game between Woodbridge Strikers vs Windsor TFC
played at Vaughan Grove in Vaughan at 5:00pm.
Woodbridge Strikers (all blue, white numbers)
.............................1 Tyrone Williams
...........6 Joshua Parades-Procter...4 Francesco Sinolpoli...5 Kyle Watson (cpt)
24 Matthew Strangis...18 Lucas Puntillo...20 Isaiah Johnston...8 Francio Henry...3 Josjua Kiselyov
..................11 Matthew Santos...10 Christian Cavallini
Subs:...76 Michael Markac (gk)...2 Sam Gardner...14 Adam Lofranco...15 Andres Caicedo
...16 Tyrell Rayne...19 Ronaldo Marshall...21 Harkirat Sanghera
team officials:...team head coah Peter Pinizzotto...managers John Csarlato and Johnny Stancati
...equipment manager Amedeo Pellegrino...therapist David Lisi
suspended list Emmanuel Issac
Windsor TFC (all red, white numbers)
.............................1 Kyle Vizirakis (cpt)
18 Jackson Moy...4 Tobi Taiwo...5 Rudolf Popaj...20 Kyle Buren
15 Nathanial Clemmings...11 Bryce Phillips...3 Andrew Ribeiro...6 Adesina Gbadebo...8 Ard Dieker
...........................7 Tyrone Mulder
Subs:...10 Michael Pio...13 Daniel Wlodek...14 Oliver Love...16 Tanner Page
...21 Stefan Milidrag...22 Brendan Woodfull
team officials:...team head coach Ryan Mendonca...managers Sash Trpcevski and Vancho Cirovski
Game officials:...referee Bradley Doubrough...referee's assistants Ryan Schwenger and Nick Vagenas
...fourth official Sean Simpson...(all black uniforms)
First Half:...game starts 5:03pm...Woodbridge defend south end on this warm and sunny late afternoon.
The game is on one of their turf fields not the one with the scoreboard so all times are converted from
my wristwatch.
2 min...TFC Mulder bumps over W Kiselyov on run down right and low cross from 20 yards along end line
is smothered by sliding goalie on near post.
4 min...W Cavallini cornerkick from right has nearest defender pop up header and ball then cleared.
5 min...W Parades-Procter blasts low shot up middle from 30 yards and defender stops it. Parades-Procter shoots
rebound low from 25 yards that's smothered by goalie on right side of net.
7 min...TFC Mulder recovers popped up back pass and races in from 45 yards on right. His 20 yard shot under
pressure from defender is smotherd by goalie.
12 min...TFC Popaj skies clearance inside TFC box between two W players to break up play.
13 min...W Cavallini intercepts pass up left for low pass from end line. W Santos has 10 yard shot blocked
on left by defender.
14 min...W Kiselyov long throw-in from left cornerflag is caught by goalie.
15 min...W Johnston blasts 30 yarder down middle over crowd of player and over bar.
21 min...Woodbridge Christian Cavallini GOAL...WS Isaiah Johnston makes short run on left and has shot
stopped but ball is pushed to Cavallini who jabs at ball as defenders frantically try to clear but the ball
is already behind the line before they succeed.
22 min...TFC RED card...Brendan Woodfull is ejected from the game for complaining to one of the referee's
assistants about the goal (of course the one who would be in alignment with the goal line). Since Woodfull
is only warming up, it doesn't mean that TFC have to play short.
28 min...W Strangis rolls centering pass after run to right end line but defender in box clears.
30 min...TFC Dieker rush on left and eludes defender and centering pass but TFC Clemmings falls backwards.
31 min...W Sinopoli pokes ball away from TFC Mulder conceding cornerkick on right.
32 min...TFC Ribiero high cornerkick from right has goalie get hand to on left but goalie wins freekick for
being bumped.
35 min...W Paredes-Procter chips forward pass and W Johnston 20 yard shot up middle is stopped.
36 min...W Cavallini pops header from 10 yards on left over net on high cross sent over from right.
38 min...TFC YELLOW card...Popaj earns it for flattening W Puntillo at TFC 40 yard line.
39 min...W Puntillo rolls 30 yard shot up middle between players wide left of net.
44 min...W goalie beats TFC Mulder to pick up through ball pass.
45 min...TFC Dieker blasts 28 yarder from left just over top right corner of net.
46 min...half ends 5:49pm.
Halftime Entertainment: neither team went back to their change room about 250 yards away. There's a draw for
a pair of tickets to the May 25th York 9 FC home game. The prize was claimed just before they were going to redraw.
In between there was a draw for a York 9 FC scarf.
Second Half:...starts 6:02pm.
halftime subs:...TFC Milidrag replaces Moy.
..............TFC Love replaces Clemmings.
..............TFC Tanner replaces Gbadebo.
46 min...Twice W players are pushed through balls but are too close to the TFC goalie who picks them up.
48 min...W Johnston taps pass over to left sideline. W Kiselyov cross from 22 yards near end line is caught
by goalie on near post.
49 min...TFC Love cornerkick from right is high over players in box and out of play.
50 min...W Puntillo rolls pass to left and W Cavallini 18 yard shot is caught by goalie.
53 min...TFC Mulder cross from near left corner flag has W Watson leap to clear inside 6 yard box in crowd
of players to head ball away.
54 min...W Puntillo cross from near right end line from 25 yards is caught by goalie.
56 min...TFC YELLOW card...Love earns it for grabbing W player at TFC 50 yard line.
56 min...W sub...Rayne replaces Puntillo.
58 min...TFC Page chips 40 yard freekick from left. TFC Mulder charging forward in crowd of players heads 12 yarder
well over net and back fence.
60 min...W Parades-Procter 40 yard freekick from slight left has defender head away. Parades-Procter recross
drifts behind end line.
67 min...TFC sub...Wlodek replaces Ribeiro.
68 min...W Johnston eludes two defenders to blast 25 yarder up middle just high and left of net.
69 min...TFC Taiwo lofts long throw-in from right 25 yard line into crowd of players and TFC player heads ball
across box wide left of post.
71 min...W sub...Lofranco replaces Henry.
73 min...W Parades-Procter blasts low 10 yarfder from left wide right of post when tapped back a pass by W Santos
on left end line.
74 min...TFC Wlodek receives pass up right and shoots 15 yarder into outside webbing of net.
75 min...W Rayne makes key headed clearance to clear danger from box.
76 min...W Santos gets away on run down middle and cuts to left to get away low 18 yard shot into outside webbing
of net.
77 min...W Johnston run on right and cuts around defenders to center and blasts 15 yarder well over bar.
78 min...W sub...Marshall replaces Santos.
80 min...W Parades-Procter long freekick from 65 yards on right is down wing. W Rayne takes low cross to box
and W Marshall blasts shot over bar from 10 yards.
81 min...Woodbridge Ronaldo Marshall GOAL...WS Tyrell Rayne sends in low cross from 25 yards near right
end line that Marshall blasts 10 yarder down middle that sprawling goalie Kyle Vizinakis gets a piece of but
ball spins over him and into net.
83 min...W Rayne alone on right but tries shot from tough angle and sends it high behind net.
84 min...W Rayne spings and blasts 25 yarder from left just wide right of net.
85 min...W sub...Sanghera replaces Cavalllini.
85 min...TFC Page cross from 25 yards on left has defender head ball away in center of box.
86 min...Woodbridge Ronaldo Marshall GOAL...WS Isaiah Johnston rushes down middle and taps pass to Marshall
for a 10 yard roller from right into short side of net beyond sprawling goalie.
88 min...W goalie slides forward to block TFC Wlodek's charging shot attempt down middle.
90 min...W Lofranco 25 yard freekick from left cornerflag to waste time is passed around.
91 min...W Parades-Procter blasts 18 yarder from left through crowd players that goalie catches on near post.
93 min...game ends 6:50pm.
Final Score:.....Woodbridge Strikers.....3.....Windsor TFC......0.....
Attendance was about 80 on this warm day with the sun out! This is only about the third day in the last month where
it hasn't been overcast or raining. Still this was the smallest crowd that I've seen this weekend in the four games
I've attended. They used the field turf field in the east end that borders on land of the Ontario Soccer Centre.
Their grass field is still a few weeks off from using with all the rain that's fallen even just this week. Players and
fans tested it when we stomped over it to get to the far field. The Woodbridge L1O women's team had just finished beating
North Mississauga 6-0 and hour earlier to open their season on the far turf field too.
Referee Bradley Doubrough gave out only two Yellow cards today with both going to Windsor players. There was one
dustup near the end line the entire game but that was soon broken up.
This is the opening weekend of the season and the first game for both teams so each coach offered reasons their teams didn't
look sharp today. Windsor opened up at the end admitted their head coach Ryan Mendonca and that explains why they were
exposed at the back.
Woodbridge head coach Peter Pinizzotto again looks like a genius (as I said so often last year) by his timely substitution
of Ronaldo Marshall. He was subbed on just three minutes before he scored his first goal. The minute before that on a near
identical play to the 81 minute goal, he was in the same position after receiving a pass from Tyrell Rayne and skied it over
the bar. Almost treats the goal scoring play a 'do over'.
Strikers should look better offensively as I noticed Emmanuel Issac is on the suspension list on today's gamesheets.
Pinizzotto said he will be returning for their next game and it carried over from last season. I made sure to welcome back
Francio Henry after the game. The last time I was at Vaughan Grove was last year for a round-robin playoff game. Woodbridge
had the game well in hand and so had clinched a space in the league final but Henry collapsed well away from the play.
We thought he was having a heart attack and an ambulance was called and a gurney brought on to the field and Unionville-Milliken
agreed to just end the game. Twitter photos from the hospital were sent out the next day that he was OK in what turned
out to be a seizure.
Windsor were using a lone striker up front in Tyrone Mulder and the defenders were able to key in on him. Woodbridge have
been known for their great defence over the season and their back line of Joshua Parades-Proctor, Francesco Sinopoli,
and captain Kyle Watson were always that last man back to limit the TFC players from breaking through. Mulder and Watson
were named the Coventry North Jaguar dealership's MVPs of the game as chosen by their coach. I believe the prize is still
just a plaque or cup and not a car.
Windsor stirred things up at halftime bringing in three of their five substitutions all at once. They did have more
chances in the second half but then play opened up more at both ends.
Halftime entertainment was a draw for a pair of CPL York 9 FC tickets and then a draw for a York 9 scarf. The tickets
almost went unclaimed and they were going to have a redraw but the person must have got back from the washroom or concession
stand in time before another ticket was drawn.
A few Woodbridge players have already flirted with the CPL. Forward Matt Santos was invited to Valour FC's training camp
on March 4 and defender Isaiah Johnston was invited to York 9 FC's camp on April 11. Both were back in today's L1O game.
Two Master's players drifted over to Woodbridge for last year's playoff run. Jose De Sousa and Jose Melo were not in today's
lineup and I didn't see their names on Master's line up last night neither.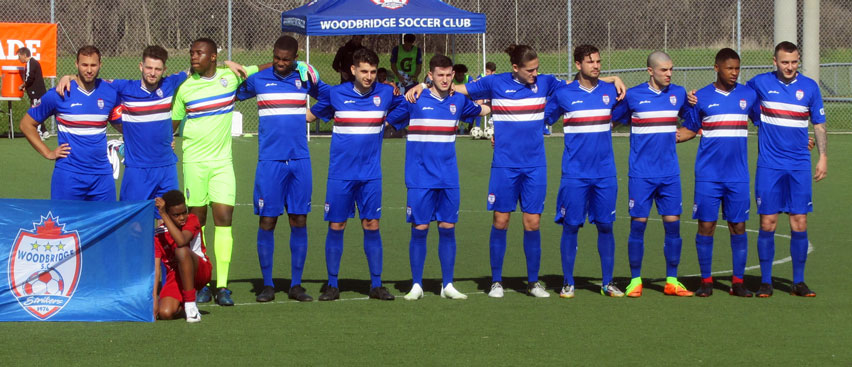 Woodbridge Strikers starters


Windsor TFC starters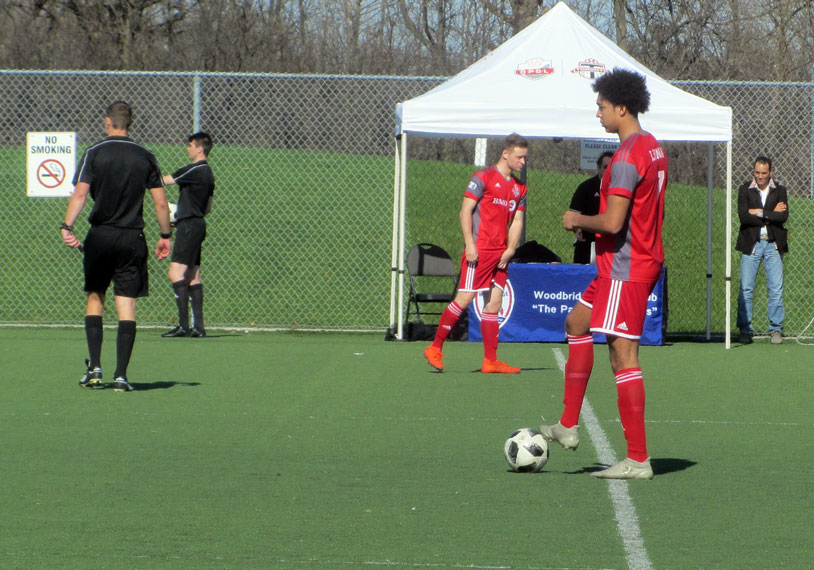 Windsor TFC Tyrone Mulder (7) takes opening kickoff.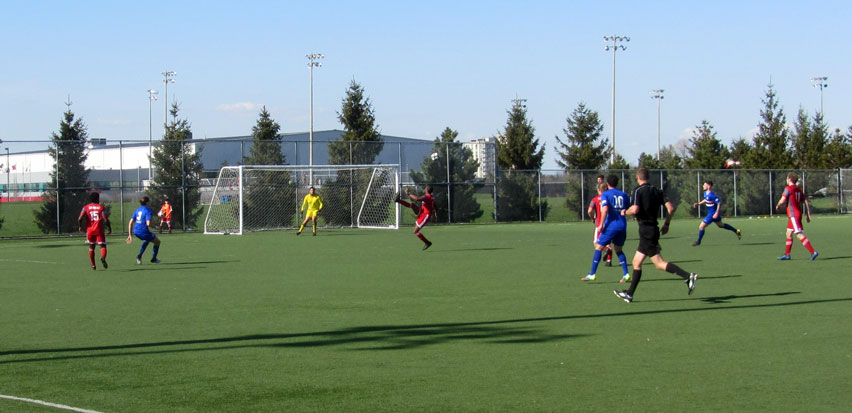 Windsor TFC Tobi Taiwo (4) makes overhead clearance.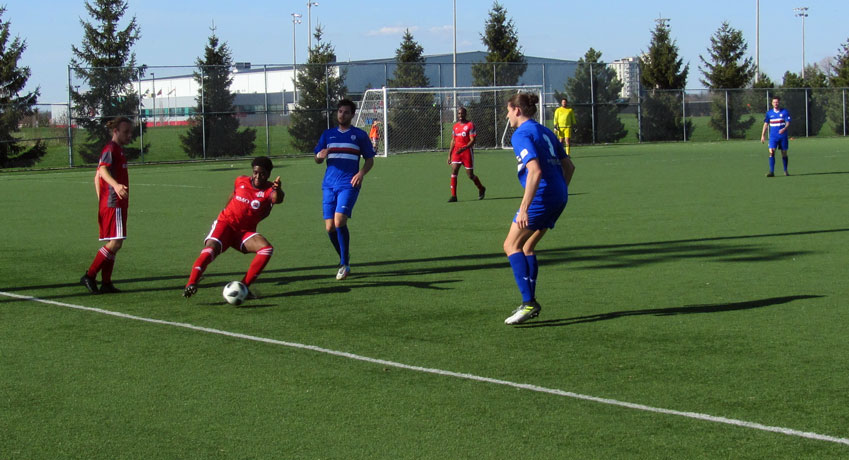 Windsor TFC player keeps ball in bounds.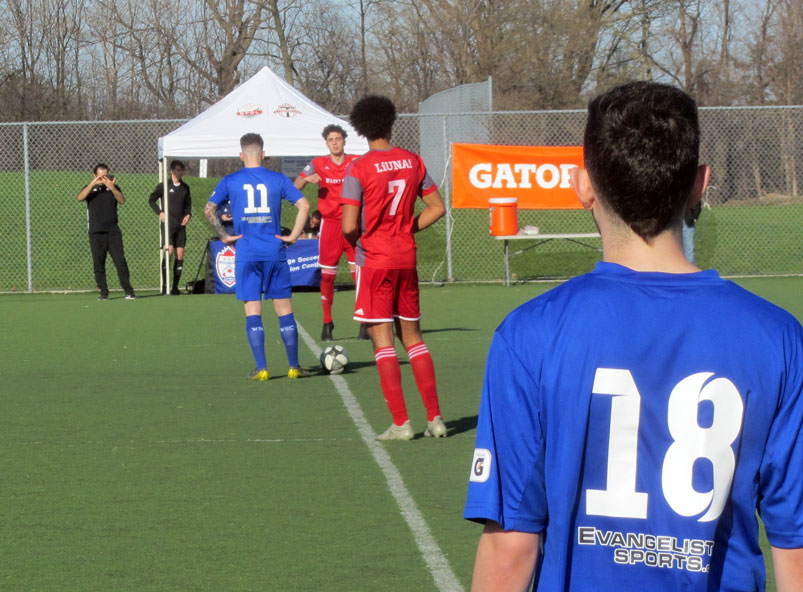 Woodbridge Matthew Santos (11) takes second half kickoff.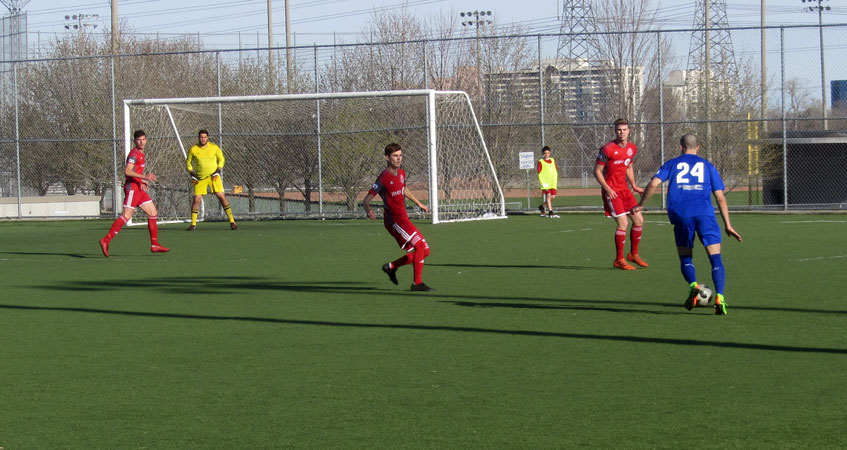 Woodbridge Matthew Strangis (24) closes in for shot.


Windsor TFC Tanner Page (16) lines up freekick.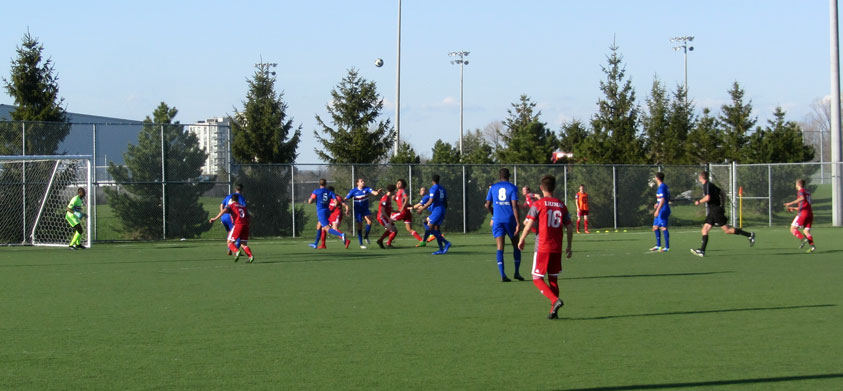 A free for all in box after that freekick.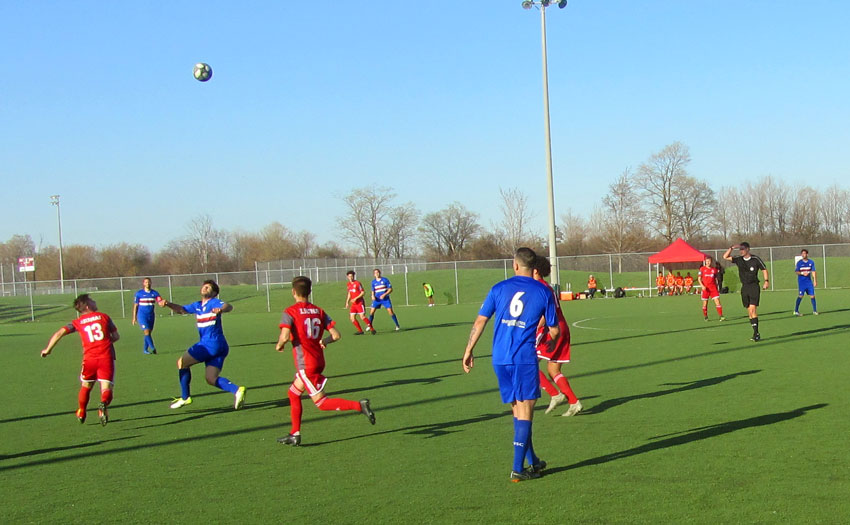 ball popped up
Rocket Robin
robing@eol.ca
Here are the sound files: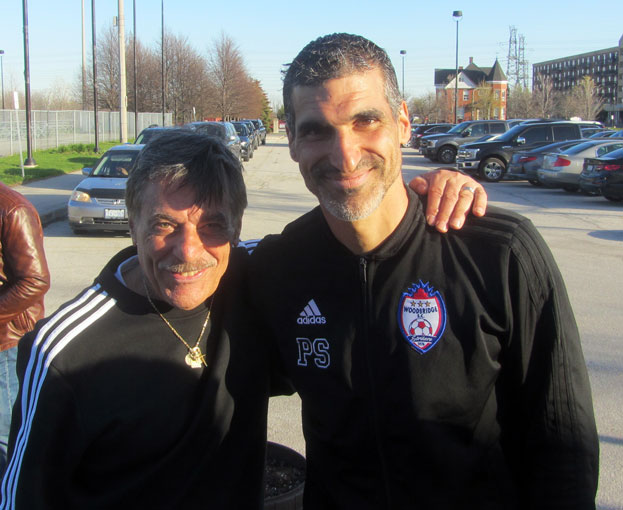 MP3 file...longtime head coach Woodbridge coach Peter Pinizzotto...3 min 54 sec
Answers questions about today's game and moving players on to the CPL. He's posing with
1997 Toronto Lynx player (OK more famous for his European and Canadian National team career) Paul Stalteri.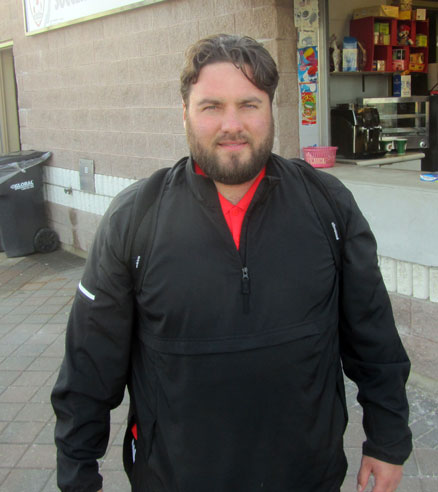 MP3 file...head coach Windsor TFC coach Ryan Mendonca...4 min 37 sec
Answers questions about today's game, the distances to the GTA and then the club's relationship with the TFC system.
back to League 1 Ontario index

.
.