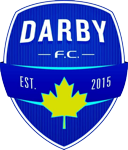 .....................................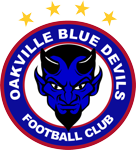 Result and details of the Friday May 10, 2019 League 1 Ontario game between Darby FC and Oakville Blue Devils played
at Whitby Soccer Centre in Whitby at 8:00pm.
Darby FC (white socks and shirts, navy shorts and numbers)
.....................1 Matt Zaikos
.........2 Nicholas Axhorn...5 Joe Zupo (cpt)...16 Colin Reilly
3 Vince Sasso...15 Alfred Hess...6 Jack Sears...17 Nicholas Spittle
........22 Bayley Winkel...7 Christian Moncrieffe...9 Lerohne Young
Sus:...0 Viktor Lyczywek (gk)...10 Kashiff DeJonge...13 Jayden Doyle...14 Carl De Abreu
...18 Trevor Hill...19 Cameron Brooks...21 Isiah Passley
team officials:...team head coach Chris Reilly...assistant coaches Billy Pachis and Jens Kraemer
...equipment manager Bill Sidsworth...therapist Andrew Landry
Oakville Blue Devils (all navy, white numbers)
........................27 Lucas Birnstingl (cpt)
2 Zachary Drake...4 Matthew Monteiro...23 Cory Vickers...25 Soheil Varahram
20 Hitesh Joshi...19 Evan James...18 Manvir Gill...13 Adrian Gallo...16 Khody Ellis
..........22 Rajvir Khalon
Subs:...0 Aaron Peters (gk)...3 Victor Munez...5 Sheldon Rodgers...11 Spencer Barber
...12 Andi Motina...17 Brandon Durarte...21 Marco Gennaccaro
team officials:...team head coach Duncan Wilde...assistant coaches Billy Steele, Brett Mosen,
Glenn McNamara...therapist Mark Heathcote
suspended players: Vaicot Gallo and Carlo Difeo
Game officials:...referee Brad Doubrough...referee's assistants John O'Hara and Roshan Mendonca
...fourth official Kurtis Portengen...(yellow shirts, black shorts and socks)
First Half:...game starts 7:59pm...Darby defends east end.
3 min...Darby Reilly 30 yard freekick from right has Darby Winkel charging in to po up ball but misses getting away shot at 12 yards.
5 min...OBD Drake cross in from 40 yards on right has OBD Joshi flicks 12 yard header with even with near post over bar.
6 min...OBD Khalon on rush down middle has retreating Darby Zupo clear for cornerkick on right.
7 min...OBD Hitesh Joshi GOAL...OBD Adrian Gallo cornerkick has an OBD player dive in middle of box to head shot further
to right. Gallo gets away a short shot from 6 yards into right side of net beyond goalie Matt Zaikos.
10 min...Darby Moncrieffe cornerkick from left is low and nearest defender clears. OBD goalie comes out to 15 yards to punch away
a follow up recross.
12 min...OBD Gill cross from 25 yards on right has goalie palm ball away overhead from left post.
13 min...OBD Varahram cross from 28 yards on left has ball over crowd of players in box and goalie gathers on right side on bounce.
14 mnin...OBD Ellis suffers head injury at Darby 50 yard line and needs trainer.
16 min...OBD Adrian Gallo GOAL...OBD Khody Ellis center a low cross from left and a well defended OBD player holds off
and lets ball pass him so Gallo can get away a low 25 yarder up the middle into left side of net between crowd of players.
19 min...OBD Khalon 33 yard blast down middle high and wide left.
20 min...OBD Khalon cornerkick from right quickly wins another.
20 min...OBD Khalon work out short cornerkick but cross is set over players in box.
21 min...OBD Ellis short pass from from left has OBD Khalon shoot 22 yarder wide left.
23 min...Darby Moncrieffe 33 yard freekick from left is between players in box and bounces wide right.
25 min...OBD Varahram ends OBD pressure with 25 yard midair shot from slight left that goalie catches.
28 min...the ball hits off a suspended light fixture near the sidelines.
29 min...OBD goalie is out to 20 yards to beat charging Darby Spittle to poor backpass.
31 min...Darby goalie cathes 40 yard cross fro right behind crowd of players.
33 min...Darby Sears cross from far right has defender chest down and clear.
34 min...OBD Gallo cornerkick from left has Darby Ellis flick header on right post behind for cornerkick.
35 min...OBD Gallo cornerkick from right has goalie punch in crowd of players and he has to belt ball wide right of post.
36 min...Darby Khalon can't win Penalty kick on left on run into box.
36 min...the ball goes off the lights near the sideline.
39 min...Darby Moncrieffe 45 yard freekick is over to let for Darby Zupo to save on end line where defender clears off ceiling.
41 min...Darby Young and OBD player crash together on run down left coming in opposite directions for ball injurying both of them.
42 min...OBD Evan James GOAL...An OBD player crosses ball and OBD Khody Ellis on left at 8 yards flicks centering header
over to James who heads 5 yarder on left side of box into left corner of net with sprawling goalie looking like he got a hand
to it but was not able to keep it out.
44 min...OBD Varahram is flattened at OBD 35 yard line and needs trainer.
46 min...Darby YELLOW card...Sasso earns it for pushing an OBD player in the back waiting for throw-in deep in the Darby end.
47 min...Darby YELlOW card...Sears earns it for a football tackle take down at Darby 40 yard line.
48 min...half ends 8:47pm.
Halftime Entertainment: There's a draw for Whitby FC scarves and caps. A reminder that this area is NOT one of the nine
York 9 FC regions.
Second Half:...starts 9:02pm.
halftime subs:...Darby DeJonge replaces Sasso.
..................Darby Doyle replaces Sears.
48 min...OBD Khalon chips 45 yarder down middle hight and wide right of net.
51 min...Darby Doyle juggles ball and gets midair shot from 22 yards wide left of goal.
54 min...Darby goalie dives to push low 35 yard shot wide left of post.
55 min...OBD Khalon cornerkick from left has OBD Drake flick 6 yard header off right post then defenders clear from 6 yard box.
56 min...OBD Ellis recovers goalie's partial bat away of ball at 8 yards and shoots off balance 12 yarder over net.
57 min...Darby YELLOW card...Young earns if for knocking down OBD Khalon.
59 min...Darby Reilly low 30 yard freekick from right is between players and goalie dives to stop then grab bal.
60 min...OBD OBD Drake midair shot from 12 yards on right bounces ball wide left.
61 min...Darby sub...De Abreu replaces Young.
62 min...OBD James run up middle and turns to top back pass to OBD Gallo who has his shot blocked on edge of box.
64 min...Darby Moncrieffe 22 yard freekick on left edge of box is bent directly for goalie to catch on left side of net.
66 min...OBD Khalon 35 yard freekick from left has OBD Vickers pop header at 12 yards on right high and wide right of net.
67 min...OBD sub...Duarte replaces Varahram.
..........OBD sub...Motina replaces James.
..........Darby sub...Brooks replaces Hess.
69 min...Duarte can't win Penalty kick when pushed over on run into right side of box.
70 min...Darby YELLOW card...Winkel earns it for rough tackle on OBD Gallo injuring at Darby 50 yard line.
72 min...Darby player can't get away shot on edge of OBD box with four defenders keeping him from getting into box along
his run center to left.
74 min...Darby Brooks long throw-in from left has defender head away on edge of 6 yard box.
75 min...OBD Ellis low cross from right is along 6 yard box has Darby Spittle clear.
75 min...OBD sub...Barber replaces Khalon.
76 min...OBD Khalon cornerkick from right is over players in box. OBD Vickers heads 12 yarder on left wide left.
77 min...Darby Joe Zupo GOAL...Darby Cameron Brooks takes long throw-in from left and Darby Christian Moncrieffe
makes short pass in box and Zupo shoots low 8 yarder forward into right side of net past diving goalie Lucas Birnstingl.
80 min...OBD sub...Gennaccaro replaces injured Gallo. Gallo had been injured at OBD 45 yard line and needs two officials
to help him limp off field.
83 min...OBD Gennaccaro 30 yard freekick from left sideline has Darby Axhorn as closest defender dive to head ball away.
84 min...OBD Duarte and OBD Barber try blocked shot at 12 yards after receiving long throw-in.
85 min...Darby De Abreu slips before getting away shot on edge of OBD box.
85 min...Darby sub...Passley replaces Moncrieffe.
86 min...Darby Reilly 40 yard freekick from right is caught by goalie.
87 min...OBD Ellis gets break away at 20 yards and takes 15 yard shot that has diving goalie save at 5 yards then
on his back reaches back and swats ball wide right post just out of reach of Ellis.
87 min...OBD Gennaccaro cornerkick from right is headed away by defender.
87 min...OBD players work out short cornerkick from right but check starts Darby fast break out.
91 min...OBD Monteiro gets back to check Darby Winkel off ball.
91 min...Darby Winkel cross from left 30 yards on right left has Darby DeJonge head 5 yarder on right into outside
webbing of net.
92 min...Darby defenders clear cross into box holding back OBD Barber.
94 min...Darby Winkel crosses from 40 yards and goalie palms ball over bar.
95 min...Darby Winkel cornerkick from left has goalie swat away in 6 yard box.
95 min...game ends 9:52pm.
Final Score:...Darby FC........1.......Oakville Blue Devils......3......
Attendance was about 120 on this cold evening. Of course this game was indoors and I'm grateful for that as by the time I drove
home it was down to 5C. Tonight I counted three balls deflect off the suspended lights or the ceiling which immediately results
in a drop ball restart.
Oakville got through the Toronto traffic alright to get here in time to have a full warm up unlike last week's FC London. By the
first 16 minutes OBD already held a two goal lead. The game was pretty rough with a lot of knockdowns against OBD players.
Referee Brad Doubrough didn't start giving out cards until first half injury time when he finally carded Darby players Vince Sasso
and Jack Sears. Sears was more funny than violent as he made a football tackle grabbing an OBD player from behind
at the Darby 40 yard line. Darby head coach Chris Reilly subbed both those players out at halftime so new players could start fouling.
It ended up with Darby earning four Yellows to OBD's none.
The Darby goal briefly reinvigorated the team as it gave them a remote chance of a comeback and put the crowd back into the game.
That then started more end to end action until the game was over.
Best non-scoring chances of the game were at 55 minutes when OBD Rajvir Khalon took a cornerkick from the left
and OBD Zachary Drake flicked a 6 yard header off the right post and a defender cleared. One minute later OBD Khody Ellis
recovered a goalie partial clearance when he batted away a shot from 8 yards and Ellis shot off balance from 12 yards over the net.
59 minutes had Darby Colin Reilly send a low 30 yard freekick from the right between players and the goalie dove to make the save.
87 minutes had OBD Ellis get a break away at 20 yards and take a shot from 15 yards that the diving goalie partially saved
at 5 yards then reach back and swat the ball wide right of the post just out of reach of Ellis. 91 minutes had Darby Bayley Winkel
cross from 30 yards on the left that Darby Kashiff DeJonge headed a 6 yarder on the right into the outside webbing of the net.
94 minutes had Darby Winkel send in a 40 yard cross from the right that the goalie had to palm over the bar near the top left corner.
I could almost compile an injury list if I'd written it all down. OBD Khody Ellis suffered a head injury at 14 minutes and needed
the trainer. 41 minutes had Darby LeRohne Young and Cory Vickers collide hard from opposite directions injurying both of them.
44 minutes had OBD Soheil Varahram flattened at the OBD 35 yard line and need the trainer. 79 minutes had the worst with
OBD Adrian Gallo being kicked near the OBD bench and needing two men to help him limp off the field. After the game he had
to be helped out on a golf cart.
I asked at halftime some game staff officials why the draw for scarves and caps had the logo of Whitby FC. The answer given
was that while both Darby FC and Whitby FC have boys and girls teams for all age groups, at the L1O level it's been decided that
Darby FC will have both men's and women's teams. In the nearby area Durham United FA has both men's and women's L1O teams
although I'd place them in Pickering just west of here.
The result keeps Oakville Blue Devils in first place with two wins in two games. At the same time in Windsor, Alliance United
was beating Windsor TFC 1-0 to maintain the same pace. The weekend still has six games to go so there may well be more teams match
their records.
With Vaughan Azzurri and Sigma FC rosters being weakened by players moving on the the new CPL, I was expecting OBD would be the
favourites to finish first this L1O season. Head coach Duncan Wilde said his team has had to make a massive rebuild that rivals
those two teams. The McNamara brothers Connor and Taylor have retired as well as Anthony Doran and Steven Ademolu (famous for
driving all the way from Windsor to 'play for a winner'). Anthony Novak signed with CPL Forge FC on April 4 (their only direct
loss), Felipe Vilela has moved to Aurora FC, Al James is also gone. I spotted Tyriq Armstrong last weekend playing and scoring
for Sigma FC.
New OBD players (besides bringing up academy kids) playing for other teams last year I noted are back up goalie Aaron Peters
(Pro Stars FC), Zachary Drake (Vaughan Azzurri), Evan James (Masters FA), and Victor Munoz (although I lost track of him after
Woodbridge Strikers 2015 although I did notice he made the finalists of the CPL Open Trials in Vaughan last Fall). I also noticed
Victor Gallo and Carlo DiFeo on the suspended list on the tonight's team sheets. They didn't play in last week's game so I assume
these are carried forward from last season.
I know I usually save my thanks to players until after the season ends but I'll say thank you now for the help in putting the
assists together. Darby captain Joe Zupo couldn't have been in the best of moods after his team's loss and OBD Adrian Gallo was
in worse shape sitting on the turf on the sideline with an ice pack on his shin waiting for a golf cart to help him get out and
back to the locker room but both were kind enough to fill in my blanks. I am going to become more dependant on that as I haven't
played back any L1O games usually posted within two or three days on their site because of CPL games on OneSoccer and I'm always
out at L1O games...tonight it's Unionville-Milliken SC vs Vaughan Azzurri and maybe two games Sunday.
Rocket Robin
robing@eol.ca
twitter @RocketRobin01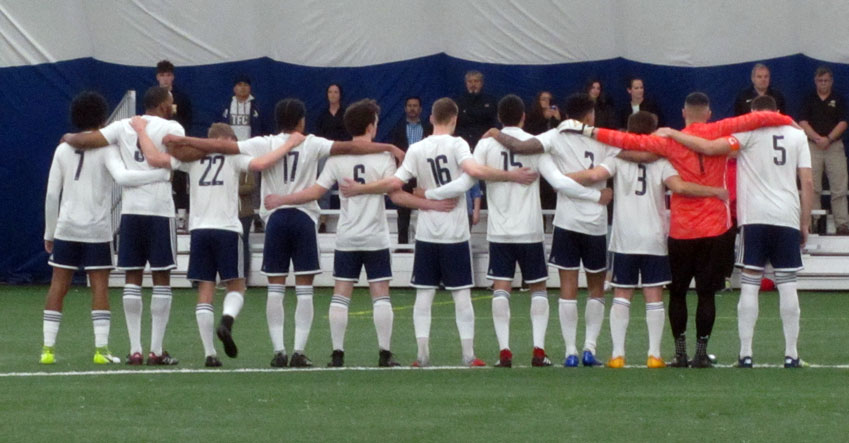 Darby FC starters


FC London starters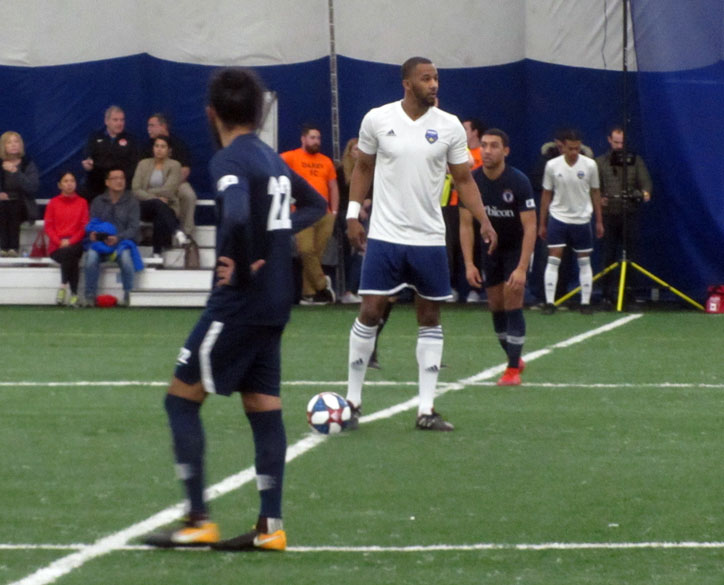 Darby Lerohne Young (9) takes opening kickoff.


Darby players charge for freekick sent into Oakville box.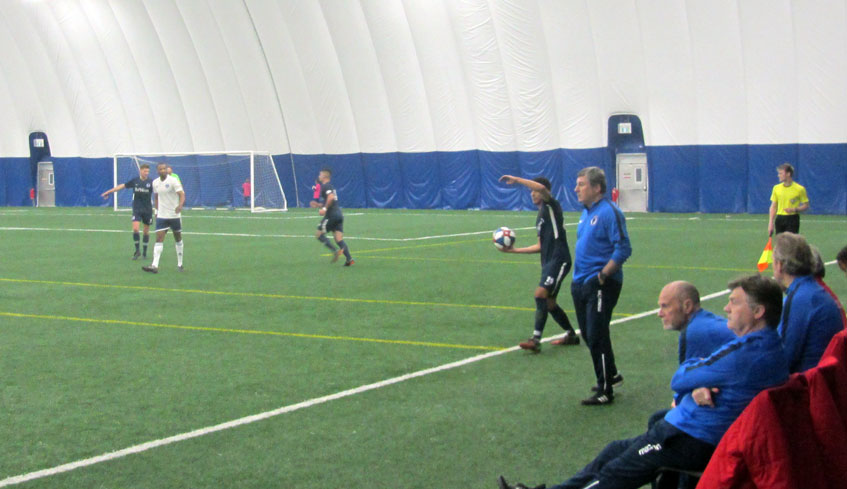 Oakville Soheil Varahram (25) takes throw-in.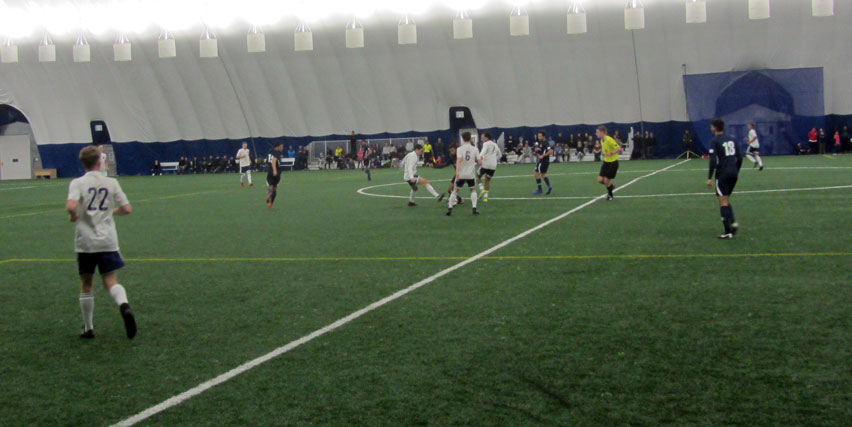 midfield action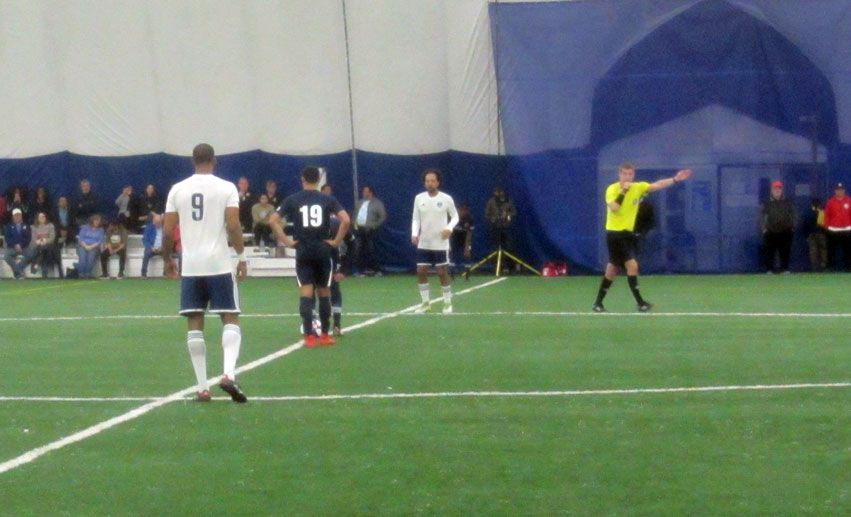 Oakville Evan James (19) and Rajvir Khalon (22) teaks second half kickoff.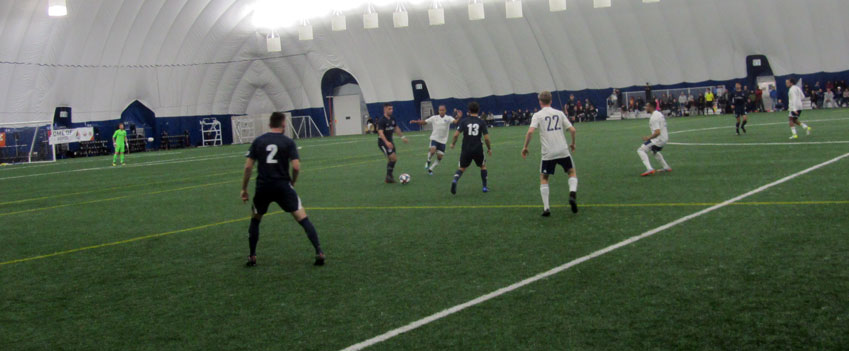 more midfield action


Oakville Andi Motina (12) and Evan James (19) close in on rush.


Darby Christian Moncrieffe (7) and Colin Reilly (16) line up freekick.
Here is the sound file:
MP3 file...Oakville Blue Devils head coach Duncan Wilde...2 min 51 sec
Wilde talks about tonight's game, the good start to the season, the roughness of this game, and
the massive rebuild for this season.
back to League 1 Ontario index

.
.