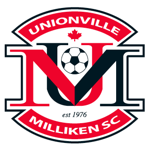 ..........................................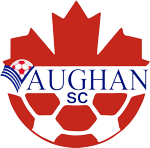 Result and details of the Saturday May 11, 2019 League 1 Ontario game between Unionville-Milliken SC and Vaughan Azzurri
played at Mount Joy Turf Field in Markham.
Unionville-Milliken SC (all red, white numbers)
.........................0 Eugene Alves
6 Michael Dirienzo (cpt)...5 Lucas Teixieira...16 Cale Loughrey...2 Sean Kim
7 Hayden Clarke...11 Tristan Espirit...10 Tre Crosby...17 Isaiah Prentice Whyte
..............13 Marcellus Paul...15 Tim Flynn
Subs:...1 Alex Jakma (gk)...4 Nicholas Assadourian...14 Ryan Penkarski...18 Jarek Brome
...19 Nathaniel Tambakis...21 Liam Cox...23 Jalen Brome
team officials:...team head coach Sanford Carabin...assistant coach Felix Dirienzo
Vaughan Azzurri (white socks and shirts, red shorts, navy numbers)
..........................1 Michael Argyrides
2 Jarred Phillips...17 Justyn Thomas...6 Duran Lee...20 Daniel Cramarosa
5 David Velastegui...13 Sameer Fathazada...18 Raheem Rose...16 Edward Lay (cpt)
.................8 Ryan Raposo...14 Jarek Whiteman
Subs:...12 Matt George (gk)...3 Joseph Amato...4 Shiquan Lowe...7 Jahsua Mills
...9 Maksyn Kowal...15 Daniel Raimondo...21 Alistair Johnston
team officials:...team head coach Patrice Gheisar...assistant coach Anthony Vadori
...manager Tony De Palma...therapist Estevan Clavijo
suspended player Kyle Walton
Game officials:...referee Nick Piperno...referee's assistants Nick Vagenas and Alessandro Sourkov
...fourth official George Soliman...(all black uniforms)
First Half:...game starts 8:02pm...UM defends north end. The temperature is cooling fast and there's
a wind from the east.
1 min...VA Sameer Fathazada GOAL...VA Jarek Whiteman runs to left end line but is blocked by defender so he cuts back
and rolls short pass closer inside box to VA Edward Lay who centers ball to Fathazada who blasts shot into top left corner
of net past goalie Eugene Alves.
7 min...VA Velastegui rolls 30 yard freekick up left and VA player crosses from 5 yard line drifts behind net.
9 min...VA Rose gets away 25 yarder down minddle that ogalie catches on right post.
11 min...VA Fathazada gets in alone to long chip at 25 yards and chips goalie but it's over net.
14 min...UM Clarke dribbles on right and 20 yard shot is wide left across face of goal a few steps away from left post.
15 min...VA Whiteman runs to right end line and low cross is through 6 yard box has UM Teixeira clear for cornerkick.
16 min...VA Velastegui cornerkick from left has VA Raposo blast off balance 20 yard shot from left out for throw-in.
18 min...Va Raposo cross from 25 yards on left and UM Teixieira flicks header wide right of net.
19 min...VA players work out short cornerkick from right and VA Lee on left can't control midair kick attempt at 10 yards
and knocks it wide left.
22 min...VA Phillips makes key check inside VA box on left to break up play.
23 min...UM Crosby 40 yard freekick from left is into crowd of players and VA win goalkick.
24 min...VA YELLOW card...Fathazada earns it for knocking over a UM player at VA 45 yard line 30 seconds after the same
player was knocked over.
25 min...VA Lay 50 yard freekick dowm middle is cleared in box.
27 min...VA Fathazada tries backheel from 6 yards on left cross from right but has the ball roll between his legs.
29 min...UM Prentice Whyte rusn on left and 15 yard shot is wide left of net.
30 min...UM Dirienzo cross from 50 yards on right has UM Flynn outjump goalie at 8 yards but heads 8 yarder down middle
wide left of net.
32 min...UM Paul 20 yard shot along right end line is smothered by goalie diving forward.
33 min...VA Paul cross from end line has VA player head into net but ball is ruled to already behind the end line.
34 min...UM YELLOW card...Crosby earns it for high kick on VA Fathazada at UM 50 yard line as both go for midair ball.
35 min...VA Raposo near left corner sends short pass to VA Fathazada near end line and cross from 15 yards along end line
has diving goalie smother.
36 min...VA Cramarosa taps pass to VA Raposo and he chips 35 yard shot down middle wide of net.
37 min...VA Sameer Fathazada GOAL...Fathazada recovers blocked shot and shoots 15 yarder over fallen goalie into
right side of open net.
40 min...VA YELLOW card...Thomas earns it for knock down at center line.
41 min...UM Loughrey 55 yard shot down middle is caught by goalie in crowd of players on right side of net.
42 min...UM Loughrey 40 yard freekick from left has VA Lee leap and head ball away at 10 yards.
45 min...UM player takes 25 yardd freekick near right end line is over players in box and UM Dirienzo at 10 yards
nods header into ground and ball bounces wide left.
47 min...VA player's 25 yard freekick from right is blasted into player wall. The ball deflects into box where two VA players
have shot blocked. VA Cramarosa gets away 20 yard shot through crowd of players that goalie catches.
47 min...half ends 8:49pm.
Second Half:...starts 9:06pm.
47 min...UM Espirit low cross from right is past goalie but UM player called offside at 6 yards.
50 min...VA David Velastegui GOAL...VA Sameer Fathazada has shot stopped and ball is recovered by Velastegui
who sidesteps defender at 20 yards and bends low 18 yard shot into low left corner of net beyond diving goalie.
52 min...VA Velastegui, Phillips, and Whiteman have a pass play called offside.
54 min...VA Sameer Fathazada GOAL...VA Edward Lay rolls pass forward from 60 yards. Fathazada receives ball
and sends it low into left side of net.
55 min...UM Paul is sent in on a breakaway on right and his 18 yard shot is low and goalie dives to stop but injures
himself on the play.
56 min...UM Clarke steals ball off VA Thomas who'd been sent dangerous cross across own box and UM ends up
winning cornerkick.
56 min...UM player's cornerkick from left is headed away.
59 min...UM Paul low 22 yard shot from right is deflected wide right by diving goalie.
59 min...UM Flynn charges forward to get header down middle of cornerkick from right and header is stopped.
60 min...UM sub...Tambakis replaces Paul.
..........VA sub...Kowal replaces Whiteman.
..........VA sub...Johnston replaces Thomas.
..........VA sub...Lowe replaces Rose.
63 min...UM goalie runs to edge of box to beat VA Kowal to through ball pass.
64 min...VA Fathazada on right centers short pass to VA Velastegui who chips 20 yarer down middle just over bar.
64 min...UM sub...Jarek Brome replaces Clarke.
66 min...UM Espirit 35 yard shot down middle is caught by goalie.
67 min...UM Flynn 30 yard shot deflects off defender at 25 yards and out for cornerkick.
67 min...UM player's cornerkick from right is headed away in crowd of players and starts fast break out.
68 min...VA Fathazada rush up middle to 30 yards and taps pass beteween defenders for VA Kowal who gets away shot.
69 min...VA sub...Jahsua Mills replaces Fathazada.
70 min...VA Velastegui makes key header to send ball behind own net on a UM cross from right with three UM players
waiting in the box.
71 min...UM cornerkick from right is cleared quickly.
71 min...UM YELLOW card...Kim earns it for sliding tackle on VA Kowal near center line left sideline.
72 min...VA Johnston is lucky to not be carded on knock over on UM players on sideline near concrete ground.
73 min...VA sub...Amato replaces Raposo.
75 min...UM Crosby cornerkick from left is through players in box unplayed and out right for goalkick.
76 min...UM Crosby checks VA player off ball in UM 6 yard box on right then makes dangerous run across box
before clearing.
77 min...UM sub...Cox replaces Prentice Whyte.
80 min...VA Velastegui is injured on right edge of UM box when UM Kim lands on him. A UM freekick is awarded.
81 min...VA Jahsua Mills rusn to right end line to save cross. He gets back to ball and crosses into box where defender
heads away.
82 min...VA player's high cornerkick from right has VA Lowe pop header from 12 yards wide left of net.
83 min...VA Kowal 25 ayrd shot down middle is off defender for cornerkick.
83 min...VA Velastegui cornerkick from right has defender on left post head ball away.
85 min...UM Dirienzo chips 25 yarder from right and goalie and defender crash together at 8 yards but ball deflects
out of box.
88 min...VA Jahsua Mills rush on right rolls ball forward to VA Lay who shoots weak 12 yarder that goalie smothers.
90 min...VA Cramarosa runs to UM left end line and cross drifts behind net.
92 min...UM Cox knocks down high cross from right at 8 yards on left but is checked off ball before he can get away shot.
94 min...UM goalie boots VA Kowal to through ball wide of net.
94 min...game ends 9:55pm.
Final Score:...Unionville-Milliken SC......0......Vaughan Azzurri......4......
Attendance was about 80 on this cold night. I had written down the schedule at the beginning of the season
and didn't notice that the venue had been changed from Bill Crothers Secondary School about 8 km away (I usually
double check week by week but have been too busy this year). BCSS is supposed to be getting new field turf
this season. Before finding that out I looked the field over and it looked just OK. Mount Joy Community Centre
had similar field turf and they looked about the same in the worn out department. Since BCSS is a high performance
sports academy as well as a high school I could see them getting a priority of a new field while a city facility waits.
Unionville—Milliken SC follows last week's first weekend 1-1 tie on the road against North Mississauga with
today's tough result. There are not of names I recognize with most famous player from last year, midfielder
Joey Di Chiara signing for CPL York 9 FC on January 7. To say this year's roster looks younger is an understatement.
I saw two of last year's squad last week on the Masters FA game sheets. My source, one of the soccer dads, answered
me that investor Tony De Thomasis is no longer with U-M and has moved on to Master's. Kiri Dimitrov
(who successfully trialed for the CPL in Halifax) and Richard Edwards who played on the York Region Shooters
CSL championship team in 2017 are both in their thirties and just those two alone bring down the U-M roster
down a year in age. De Thomasis had brought some of his CSL roster to U-M for their experience. Now that U-M are
more organized OPDL and other age groups they are bringing more of their own guys forward from the Markham area.
New U-M L1O head coach this year is Sanford Carabin who I watched coach Durham United as recently as 2017 and was
an assistant coach at Darby FC last season. Durham United didn't field a L1O men's team last season. Carabin was
also the coach of Seneca College men's team until this season. He's also been for the last year an assistant coach
for the Jamaican Women's team who qualified for the World Cup in France for the first time in their association's history.
Vaughan Azzurri makes a huge statement with tonight's dominating win after losing last week's opening battle
with Sigma FC 2-1. Sameer Fathazada wasn't even on last week's gamesheets and scores a hat-trick. He is new to Vaughan
from what I've been able to read but I've seen him play for L1O Toronto Skillz in 2016 and read about him playing
at K-W United in the PDL and Fordham College in 'The Bronx' (ie New York City) years between then and now.
Michael Argyrides (born in 1999) earned the shutout tonight without having to make any difficult saves but
controlled his defenders to limit U-M chances. Defenders Jarred Phillips, Justyn Thomas (a 1999), Duran Lee,
and Daniel Cramarosa were tonight's backline. It will be interesting to see who head coach Patrice Gheisar chooses
for his lineup on Wednesday at the Ontario Soccer Centre the first game/first round of their Canadian Championship
against CPL HFX Wanderers where they will confront two players from the Azzurri 2018 team—defender Matthew Arnone,
and forward Tomasz Skublak. The second game of their series is the next Wednesday in Halifax. L1O hasn't given
them any breaks as Vaughan has a regular league game next Saturday hosting Darby FC at McNaughton Turf in their last
home game before they move to their new facility at North Maple Regional Park.
With the game well in hand, VA made their first three subs at 60 minutes bringing in 'older' guys than they took off.
That pattern continued for their other two subs. I wasn't thinking of that at the time but it may have been the coach
ensuring these older guys got a runout for a Wednesday start without tiring his younger players in case they are needed.
Most important thing in the run-outs was for no one to get seriously hurt. 80 minutes had VA David Velastegui
injured on the right edge of the UM box when UM Sean Kim landed on him although UM were awarded the freekick.
85 minutes had a VA goalie and a defender crash together at 8 yards as they both tried to play UM Michael DiRienzo's
25 yard chip.
Referee Nick Piperno gave out two Yellow cards to each team with three in the first half to keep the game in control.
Best non-scoring chances were at 30 minutes when UM Michael DiRienzo crossed in from 50 yards on the right
and UM Tim Flynn outjumped the goalie at 8 yards but header the ball from the middle wide left of the post. First half
added time has a VA freekick from the right blasted into the player wall. The ball deflected into the box where
two VA players took turns having their shots blocked. VA Daniel Cramarosa then got away a 20 yard shot through a crowd
of players that the goalie caught. 55 minutes had UM Marcellus Paul sent in on a breakaway on the right and his
low 18 yard shot had the goalie dive to stop but injured himself in the effort. 88 minutes had VA Jahsua Mills rush
on the right and roll a ball forward to VA Edward Lay who shot a 12 yarder that the goalie smothered.
I wasn't the only one faked out by the venue change as a Vaughan official also pulled into the parking lot and I told
him about the change. Mount Joy also hosted the Alliance United home game against Toronto Skillz last Saturday night.
The U-M L1O Women's team has moved all their home games to L'Amoreaux Park in Scarborough—where Masters FA holds their
home games. The venue had no scoreboard which isn't a necessity in L1O but the league or team is to provide a tabletop
scoreboard. Officials looked a bit disorganized as they were also hosting and OPDL tournament game for one of their
younger age groups and that was at another venue. The PA system stopped working in the first half. I don't know
if that was a technical matter or they didn't want to keep announcing the score.
Rocket Robin
robing@eol.ca
twitter @RocketRobin01


Unionville Milliken SC starters

Vaughan Azzurri starters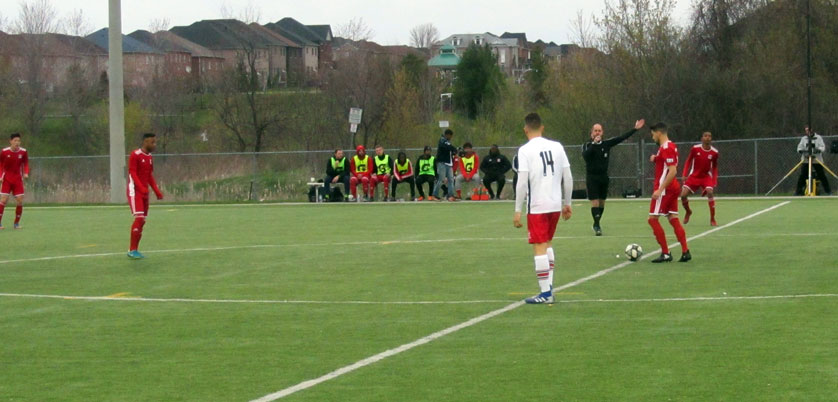 Unionville Milliken Tim Flynn (15) takes first half kickoff.


Vaughan Azzurri David Velastegui (5) takes freekick.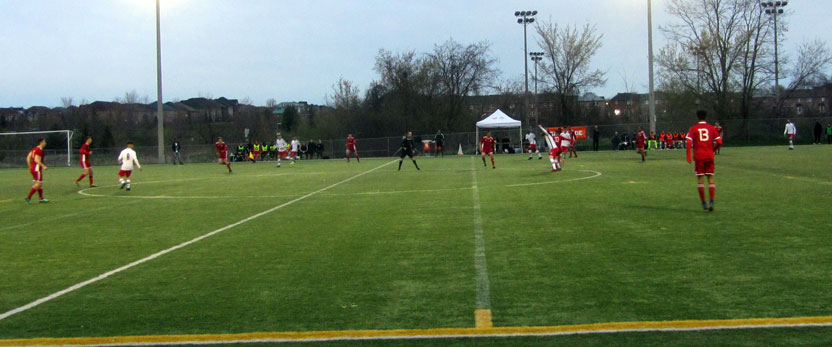 midfield action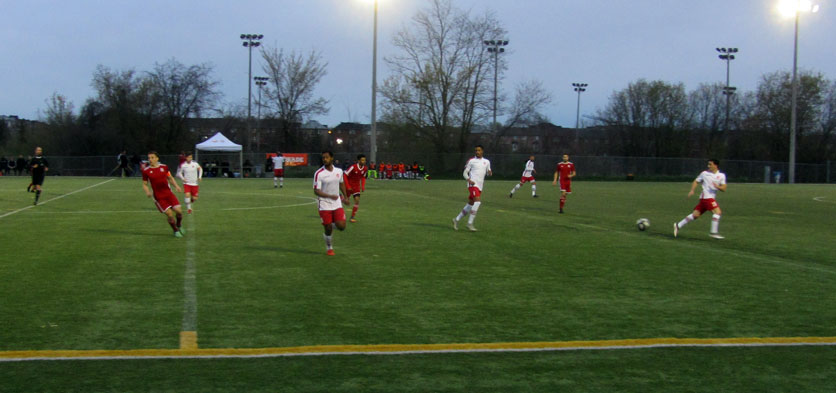 Vaughan Daniel Cramarosa (20) gets back to work out ball.


Vaughan players line up for freekick.


Unionville Milliken Lucas Teixieira (5) keeps ball in play.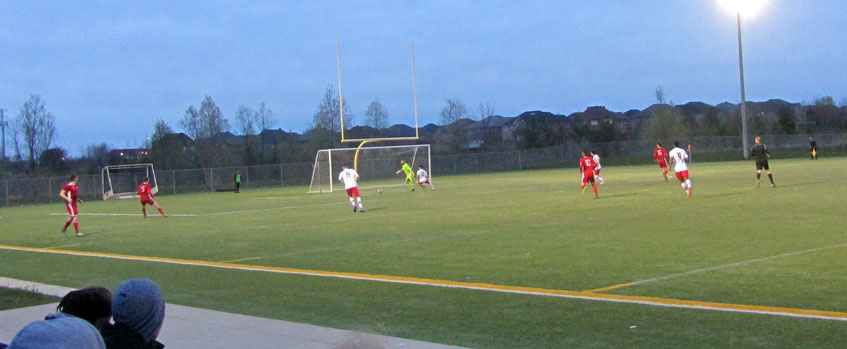 Unionville Milliken goalie Eugene Alves is forced to clear dangerous pass.

Unionville Milliken Marcellus Paul (13) races to center line.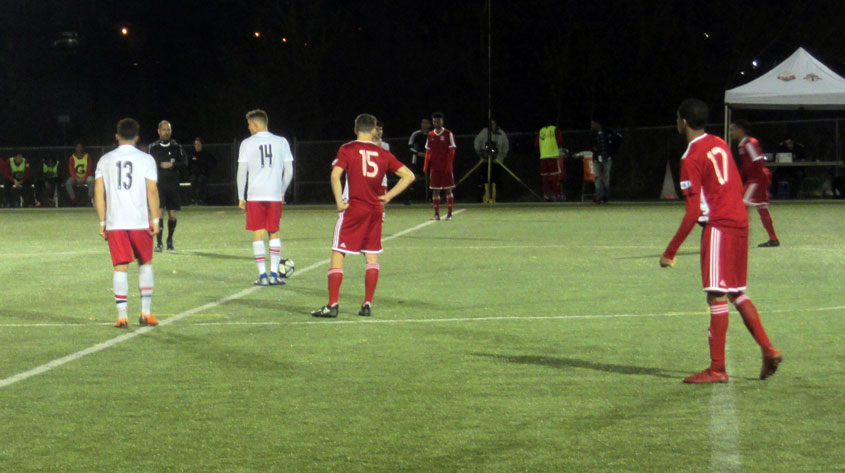 Vaughan Jarek Whiteman (14) takes second half kickoff.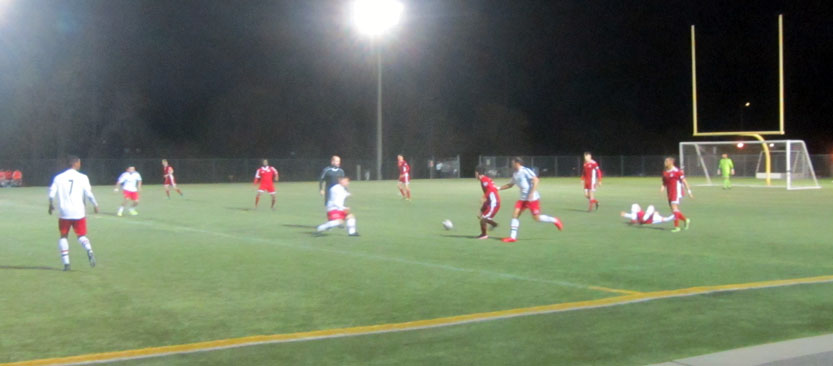 action in Unionville Milliken end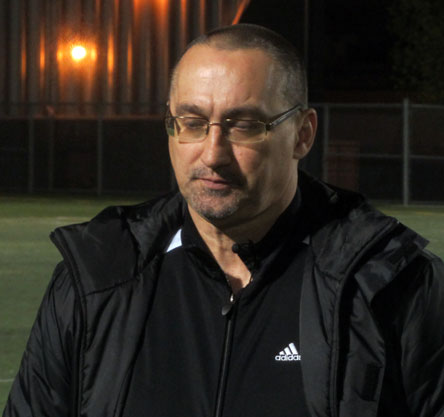 Unionville Milliken head coach Sanford Carabin.
Here are the sound files:
MP3 file...Unionville Milliken SC head coach Sanford Carabin...4 min 43 sec
Carabin talks about tonight's game, the almost complete roster change from last season, how young this year's roster is,
holding the games at Mount Joy this season, his coaching with the Jamaican Women's National team and their World Cup debut
in France next month, a 'Canadian' on that Jamaican team.
MP3 file...Vaughan Azzurri head coach Patrice Gheisar...2 min 45 sec
Gheisar talks about tonight's game and about their upcoming series against CPL HFX Wanderers for the Canadian Championships
back to League 1 Ontario index

.
.