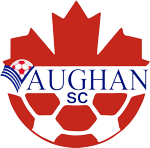 ..................................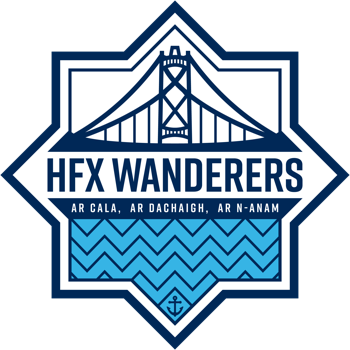 Results and details of the Wednesday May 15, 2019 Canadian Championship First Round, First Leg game
between L1O Vaughan Azzurri and CPL HFX Wanderers played at The Ontario Soccer Centre in Vaughan at 7:00pm.
Vaughan Azzurri (white socks and shirts, red shorts, navy numbers)
......................12 Matt George
5 Raheem Rose...4 Shiquan Lowe...6 Duran Lee...2 Jarred Phillips
........16 Edward Lay (cpt)...21 Alistair Johnston...22 Ryan Raposo
........11 Andrew Gray...13 Sameer Fathazada...14 Jarek Whiteman
Subs:...1 Ali Ghazanfari (gk)...3 Joe Amato (def)...7 Jahsua Mills (mid)...9 Maksym Kowal (fwd)
...15 David Velastegui (def)...19 Dayonn Harris (fwd)...20 Daniel Cramarossa (def)
team officials:...head coach Patrice Gheisar
HFX Wanderers (light blue socks and shirts, white shorts, dark blue names and numbers)
.........................50 Christian Oxner
3 Andre Bona...4 Chakib Hocine (cpt)...6 Chrisnovich N'Sa...24 Alex De Carolis
11 Akeem Garcia...18 Andre Rampersad...8 Elliott Simmons...12 Mohamed Kourouma
.............7 Juan Diego Gutierrez...17 Tomasz Skublak
Subs:...21 Jan Michael Williams (gk)...5 Elton John (mid)...14 Vincent Lamy (fwd)...15 Scott Firth (mid)
...20 Ndzemdzela Langwa...23 Matthew Arnone (def)...25 Zachary Sukunda (def)
team officials:...head coach Stephen Hart
Game Officials:...referee Serge Topalian...assistant referees Peter Pendli and Gianni Facchini
...fourth official David Barrie (all black uniforms)
match commissioner and general coordinator Allie Pike, referee assessor Amato De Luca...media officer Kaitlin Tulle
First Half:...game starts 7:06pm...VA defends south end. The weather is varied with a light rain from 25 minutes
into the first half onwards but even the sun was out. A breeze was from the north. A blinding sunset was
in the north west.
55 sec...HFX Kourouma run down left wing and low cross into box has VA Lee slide back to kick ball over own bar
in front of waiting HFX Skublak.
1 min...HFX Kourouma cornerkick from left is drifted behind end line.
1 min...HFX Tomasz Skublak GOAL...VA goalie Matt George rolls a goal kick to the right side for
VA Alistair Johnston along right end line. Johnston passes ball back to George. George taps it to right
edge of 6 yard box and HFX Juan Diego Gutierrez steps in to poke ball away and falls over sliding goalie.
Skublak receives ball along 6 yard line and boots ball low into open net.
3 min...HFX Skublak is injured at VA 50 yard line on sliding tackle.
5 min...HFX Hocine is injured at HFX 45 yard line on tackle by VA Whiteman.
8 min...HFX Kourouma cornerkick from left has defender head ball away in 6 yard box.
9 min...HFX Rampersad recovers rushed VA clearance and shoots 28 yarder down middle well over net.
10 min...VA Gray 18 yard shot from left is deflected wide right of net by defender.
11 min...VA Lay cornerkick from right is cleared by defender on left side of net.
14 min...HFX N'Sa blasts 30 yard shot from slight left wide right of net.
15 min...VA Fathazada rush on left rolls centering pass and VA player rolls pass to VA Rose on right and he in open
blasts 18 yard shot wide right of net.
18 min...HFX YELLOW card...Simmons earns it for sliding tackle on VA Phillips at HFX 50 yard line.
19 min...VA Lee challenge on HFX Garcia giving up cornerkick but not Penalty kick call.
19 min...HFX Kourouma cornekrick from right is headed away in box. HFX Simmons follow up low blast blast
from 28 yards on right is deflected for goalie to pick up.
21 min...HFX De Carolis threads through pass to HFX Gutierrez but defender knocks out for throw-in.
22 min...HFX De Carolis long throw-in from left has defender head away in 6 yard box.
23 min...VA Fathazada can't win freekick call when pushed at HFX 30 yard line when passed ball.
24 min...HFX De Carolis corcnerkickc from right has goalie palm over bar flying to top left corner.
25 min...HFX De Carolis cornerkick from left has defender clear for break out.
27 min...VA Whiteman wins cornerkick holding off defenders on left end line.
28 min...VA Lay cornerkick from left has goalie catch in crowd of players.
30 min...VA Gray intercepts at 40 yards on right and makes long cross to VA Johnston but goalie slides to 15 yards
to prevent shot.
31 min...VA Johnston chip from 30 yards has defender head away on edge of box.
31 min...VA Raposo shot is blocked from 15 yards by sliding defender.
32 min...HFX Gutierrez through ball pass to HFX Kourouma running down left and defender clears his low centering pass
from 25 yards into box.
33 min...VA goalie makes nervous clearance out of box for throw-in.
34 min...VA goalie punches ball away HFX Kourouma cornerkick from left in crowd of players.
35 min...HFX player's cornerkick from left has HFX Hocine head ball into net but play is whistled down.
36 min...VA Lay 30 yard freekick from right has VA Lowe pop header away in box in crowd of players.
38 min...HFX Akeem Garcia GOAL...HFX Monhamed Kourouma receives long pass on left sideline
at 35 yard line and runs to end line then eludes VA Raheem Rose and crosses to middle between players
for Garcia to head 3 yarder into net.
39 min...HFX Skublak on run downfield but held off by VA Lee who concedes cornerkick.
40 min...HFX Kourouma cornerkick from right has goalie punch ball away in crowd of players. HFX Gutierrez blasts 25 yard
rebound well over net.
41 min...VA Lowe makes pinpoint pass from 60 yards to charging VA Gray's head on 1 on 2 but defender heads to side
and other defender clears.
44 min...VA YELLOW card...Johnston earns it for carwheeling HFX Bona on runn for ball at VA 45 yard line on right.
47 min...half ends 7:53pm.

Second Half:...starts 8:10pm...The sun is setting in the north west.
46 min...VA Lay low cornerkick from right has nearest defender clear away on right.
48 min...HFX Kourouma cornekrick from right has HFX Skublak twist head on leap at 8 yards and wins cornerkick on deflection.
48 min...HFX Kourouma cornerkick from left is knocked around in box.
49 min...HFX Kourouma cornerkick from right has ball shot wide left from 10 yards.
50 min...VA Jarek Whiteman GOAL...VA Raheem Rose at 30 yards on right sends in cross for Whiteman who extends
his leg to redirect ball into net from 8 yards past sliding goalie Christian Oxner.
52 min...VA Whiteman wins freekick near edge of box.
53 min...VA Lay 22 yard freekick from slight right is blocked in wall of players.
54 min...VA Gray rolls 22 yard shot from right is smothered by goalie after run up right.
54 min...VA goalie is out to 20 yards to slide and clear ball. The VA defenders cover and clear in 6 yard box.
56 min...HFX De Carolis long cross from 35 yards on left drifts behind net.
57 min...HFX sub...Langwa replaces De Carolis.
59 min...HFX N'Sa breaks up VA Lay and VA Raposo multi pass play that worked its way into box and gives up cornerkick.
59 min...VA Ryan Raposo GOAL...VA Edward Lay low cornerkick from left has VA Raheem Rose receive at 25 yards
in middle and he rolls pass forward and to right for Raposo who from 8 yards shoots low into right corner of net
beyond diving goalie.
62 min...VA Shiquan Lowe makes a sliding block then heads away a cross both on the left side of the box to break up plays.
63 min...HFX player's 50 yard freekick up middle has VA Whiteman make scissor kick clearance on edge of box.
64 min...VA Raposo sent in on long pass on 2 on 1 and cuts to middle but blasts 22 yarder well over net.
64 min...VA sub...Kowal replaces Whiteman.
65 min...HFX Kourouma run up left wing but skies 25 yard shot well high over net.
67 min...HFX Gutierrez run up middle but rolls pass forward right over end line well ahead of teammates.
67 min...VA Fathazada rolls centering pass into box but ball is cleared.
68 min...HFX goalie beats VA Fathazada to catch 30 yard shot chip and catch at 15 yards.
70 min...HFX sub...Sukunda replaces Gutierrez.
..............HFX sub...Lamy replaces Skublak.
73 min...HFX Kourouma 40 yard freekick from far left over to HFX Bona on right of box and cross over to left side
is cleared by defenders.
74 min...VA sub...Harris replaces Gray.
75 min...VA Lee slides to pop up low shot at 12 yards and goalie catches.
77 min...VA sub...Velastegui replaces Fathazada.
80 min...HFX Kourouma low cross from 15 yards on right end line is picked up by goalie.
82 min...VA Harris slides on right but can't control ball and rolls it out for goalkick.
83 min...VA Lay shots 30 yard roller under HFX Hocine at 20 yards and goalie smothers.
84 min...VA Velastegui is injured with hand in face at VA 50 yard line.
88 min...VA Phillips eludes defender to cross 35 yarder from left into box that's caught easily by goalie on right post.
90 min...HFX Ndzemdzela Langwa is tripped up running into left side of box by retreating VA Raheem Rose.
Referee Serge Topalian signals for a Penalty kick.
91 min...VA YELLOW card...Lee receives it for complaining about the Penalty kick call.
..............VA YELLOW card...David Velastegui receives it for being too slow to leave the box so the Penalty kick
can be taken.
92 min...HFX Mohamed Kourouma GOAL...Kourouma blasts Penalty kick to top right corner of net as goalie
dives to left.
93 min...game ends 8:58pm.

Vaughan Azzurri........2.........HFX Wanderers......3.......
Attendance was announced as 1048. The 7:00pm was early—I'm sure for the television audience.
The players even lined up for 'O Canada' facing the cameras not the fans. Fans continued to arrive
until halftime coping with the end of the rush hour traffic from Toronto. I was informed that the stands
at the Ontario Soccer Centre hold 1200 people. Hmm 12 segments of 100 each. They looked full
to me plus a single line of fans lining the front fence in front of the seats the whole 110 yards
of the field. Also children take up less room so I was ready to believe more than announced.
The crowd was full of families mostly from the Vaughan Soccer club youth teams both girls and boys.

I had read about friends and relatives of HFX newly signed (May 1st) acquired defender Matthew Arnone
being here and wearing customized HFX with #23 numbered and named customized jerseys. There was
supposed to be about thirty of them. Too bad Arnone was only an unused sub. I was jealous because
I'd ordered a customized jersey one month less a day and I even detoured on my drive here tonight
up to their office and was told "It'll be ready in one more week" (same message as last week) but
that is York 9 FC. My press pass is to be available at their first game...I plan on getting there
a few hours early. I've also got my season ticket on mobile as back up.
Both Arnone and forward Tomasz Skublak played for Vaughan last season. Skublak was a starter
and played the first 70 minutes. His goal at 1 minute set the tone of the high press that HFX
would use for much of the night.
I felt Wanderers had periods of high pressure that caused the VA goalie and defenders to rush
their clearances and HFX players recovered those quickly to get good scoring chance positions.
VA goalie Matt George settled down after that first goal but he was more likely to punch away
a ball than try to catch it with HFX players nearby. Vaughan is known in L1O play over the seasons
to have a great defence so giving up rebounds for any team is not likely.
HFX has played three league games already so rotating in squad players was almost expected against
an amateur team. Christian Oxner in net for regular goalie Jan Michael Williams and leaving
defender Elton John (I really only know him from what's been written comparing him to his famous
namesake rather than his playing ability) on the bench this game. Yeah I had an interview with
York 9 midfielder Emilio Estevez...if I want to drop famous names!
I think VA defender Raheem Rose was a key contributor to four of tonight's goals. At 38 minutes
he was beaten along the end line by Mohamed Kourouma who fed Akeem Garcia a perfect cross for
a 3 yard header to give them a 2-0 lead. Rose sent in a cross from 30 yards early in the second half
for Jarek Whiteman to extend his leg and connect to put Vaughan back in it. He also received the
cornerkick in the middle and rolled a perfect pass between defenders that gave Ryan Raposa the short
shot to equalize the score. Then in added time, it was Rose called on the knock down in the box
on Ndzemdzela Langwa that drew the Penalty kick.
Referee Serge Topalian (from Montreal, he answered me) gave out four Yellow cards tonight—three
to Vaughan but that number was swelled because of two in a row for dissent on the arguing of his
Penalty call. A few early injuries to HFX players in the first five minutes but the game soon
settled down.
At the press conference after the game, Wanderers head coach Stephen Hart said he watched L1O games
on their channel including both Vaughan games against Sigma FC and Unionville-Milliken SC. I was
at both those games. Vaughan scored on U-M at 1 minute on Saturday and HFX stole that script tonight!
Hart appeared jealous of being restricted to a 23 man squad but Vaughan being able to draw from maybe
thirty players.
My thinking was that I'd be disappointed if Vaughan lost by that early goal but then I felt bad after
they'd clawed their way back in the second half to tie but gave up the late winner on a Penalty kick.
Everything in between those times had Vaughan looking quite competitive. I don't expect a result
for Vaughan out in Halifax because of the travel and the home crowd.
The game was good for early prestige of the CPL in that they got the win. Even a tie HFX would have been
favoured because of the crucial two away goals. A 2-0 win for Vaughan is about the only way Azzurri can get
to the next round. The winner of this series will play FC Edmonton who were given a first round bye as being
one of the founders of the league—previous experience in NASL. The bye system set up was caused by Toronto FC
getting a pass right to the semi-final.
It's York 9 FC who are on the hotseat. They played to a 0-0 result on the road against A.S. Blainville
of the PLSQ league (the Quebec equivalent of Ontario's L1O). York 9 FC now has to win because a tie with
each team scoring will have Blainville go through on the away goal rule. They nay-sayers of Toronto will
be all over them if that happens. In league play (although York 9 has only played twice) they have one
tie and one loss. The standings make them look worse because some teams have now played five games.
Biggest winners of the night was out west where Cavalry FC won 2-0 on the road against Pacific FC
in a battle of CPL teams. Cavalry are also undefeated in league play and look the best chance of knocking
off an MLS team.
The Toronto media in their usual arrogance weren't here as L1O is beneath them and Halifax doesn't exist.
They were all fan-boying down at BMO Field because Wayne Rooney was in town with DC United playing Toronto FC
in an MLS game. I'll expect better at the return leg game of York 9 FC in their game with A.S. Blainville
(from the PLSQ) next Wednesday as it will be the first home game of York 9 in any competition and TFC won't
be playing that night.
Rocket Robin
robing@eol.ca
twitter @RocketRobin01


Vaughan Azzurri starters


HFX Wanderers starters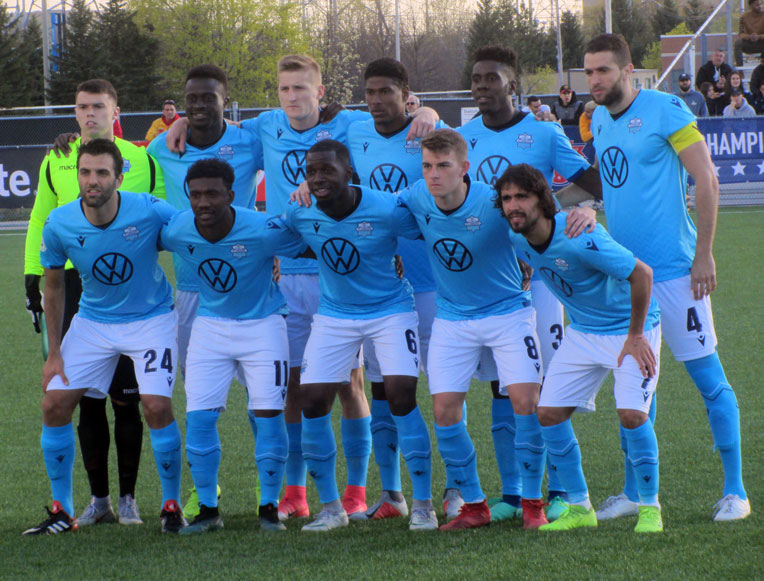 HFX Wanderers starters from another angle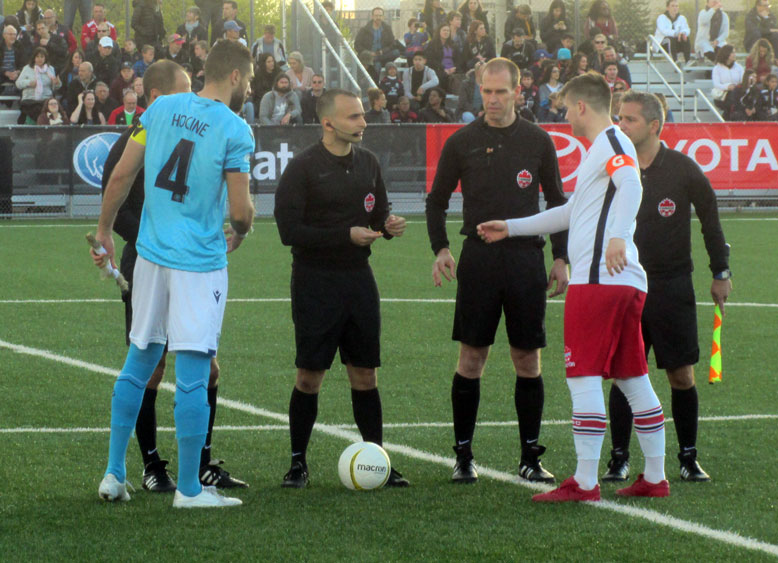 Captains Chakib Hocine (4) and Edward Lay (16) at coin toss.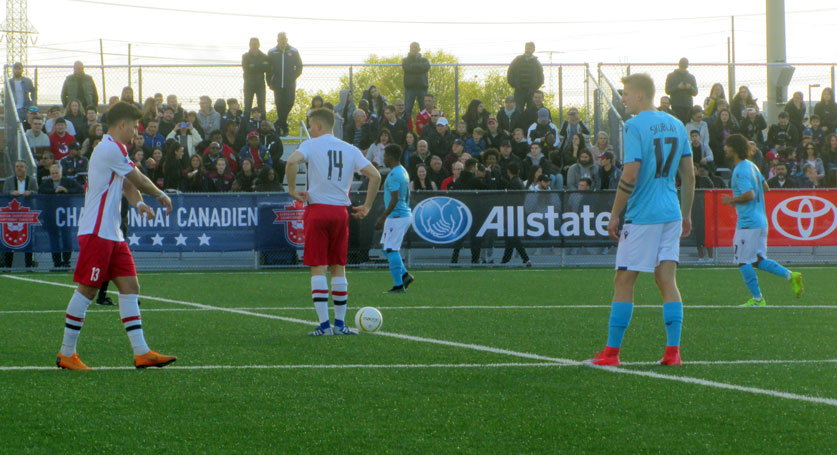 Vaughan Azzurri Jarek Whiteman (14) takes opening kickoff.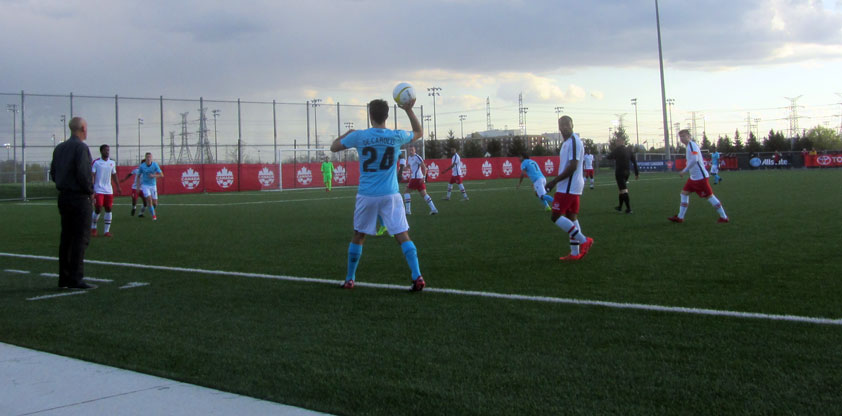 HFX Wanderers Alex De Carolis (24) takes throw-in.


HFX Wanderers Mohamed Kourouma (12) on far wing.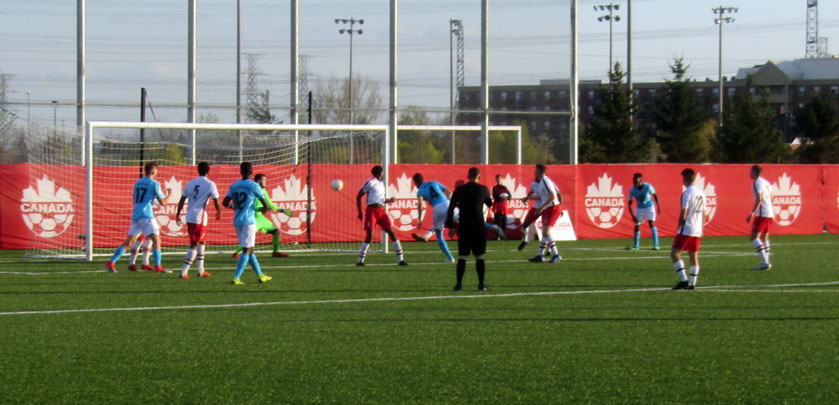 HFX Wanderers Chakib Hocine (4) header is into net but is called back as cross had bent behind end line.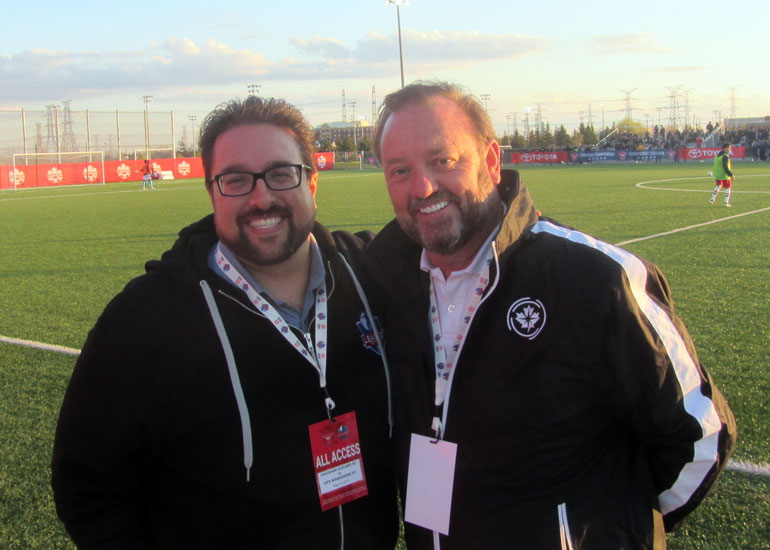 League 1 Ontario commissioner Dino Rossi and Canadian Premier League commissioner David Clanachan are all smiles at halftime.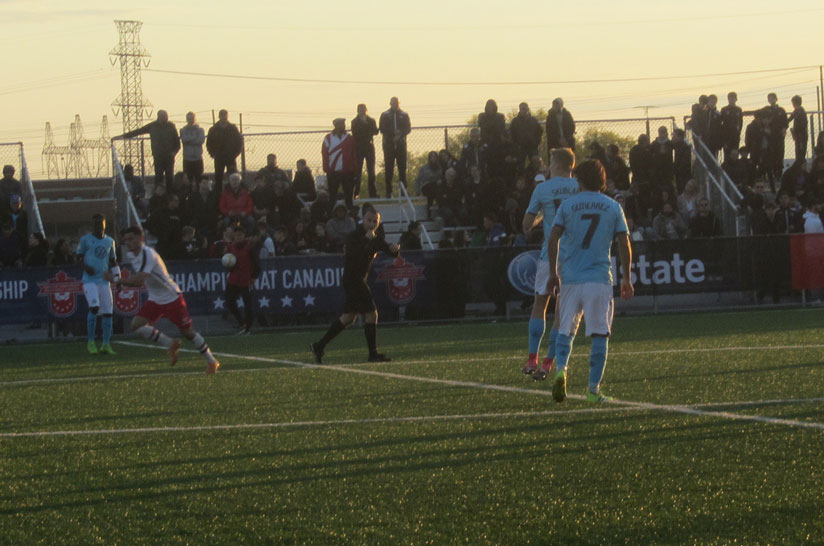 HFX Tomasz Skublak (17) has just taken second half kickoff.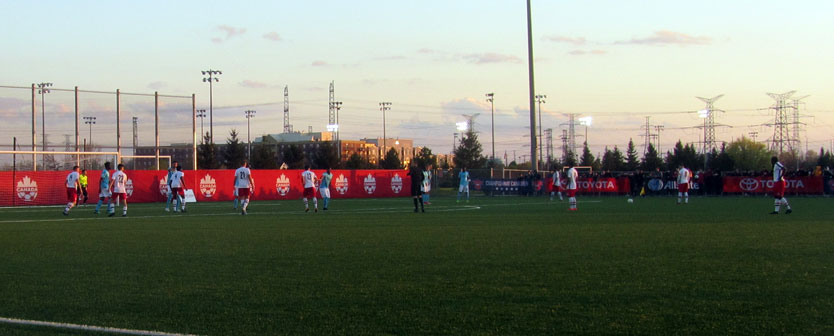 Vaughan Azzurri Edward Lay (16) ready for freekick.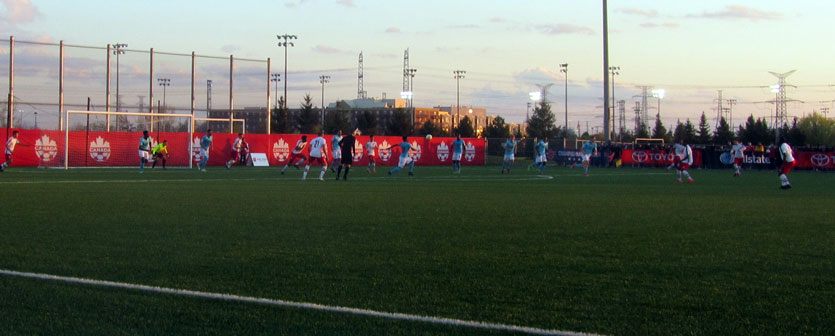 HFX Wanderers Akeem Garcia (11) clears ball on edge of box.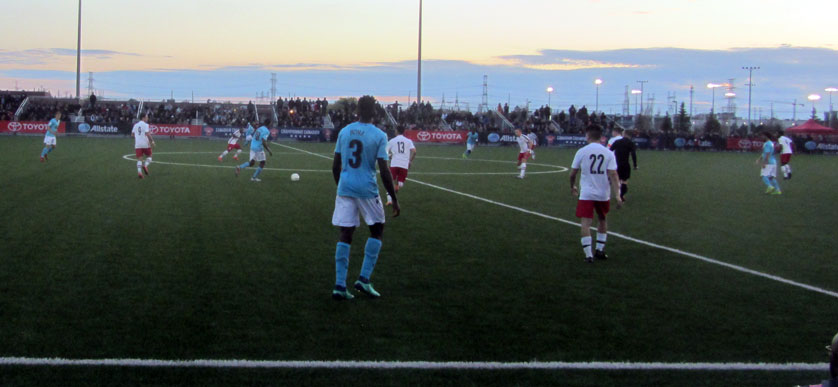 HFX Andre Rampersad (18) leads rush.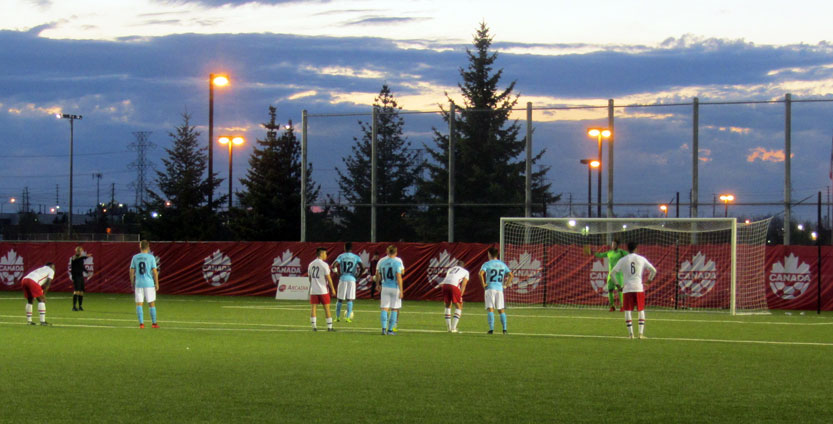 HFX Mhamed Kourouma (12) lines up Penalty kick.
Here are the sound file of the post game press conference:
L1O Senior Coordinator of Communications Cormac Rea asked the opening questions in each interview. Mahdi Ghaffaribarzi
asked the final question in the HFX interview. The female voice is Holly Williams from Canadian Press.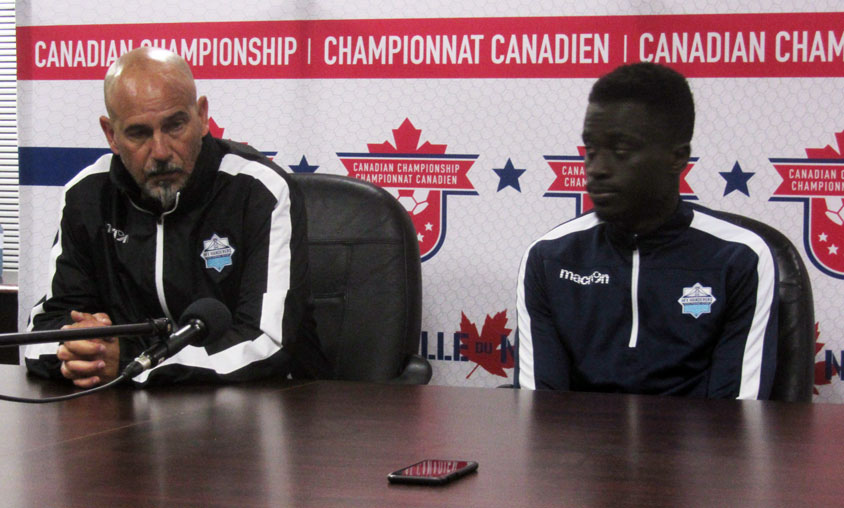 HFX Wanderers head coach Stephen Hart and forward Mohamed Kourouma.
MP3 file...HFX Wanderers...10 min 43 sec
I get in the question about whether Hart scouted Vaughan either through the two Vaughan players they recently signed
or by watching the League 1 Ontario channel.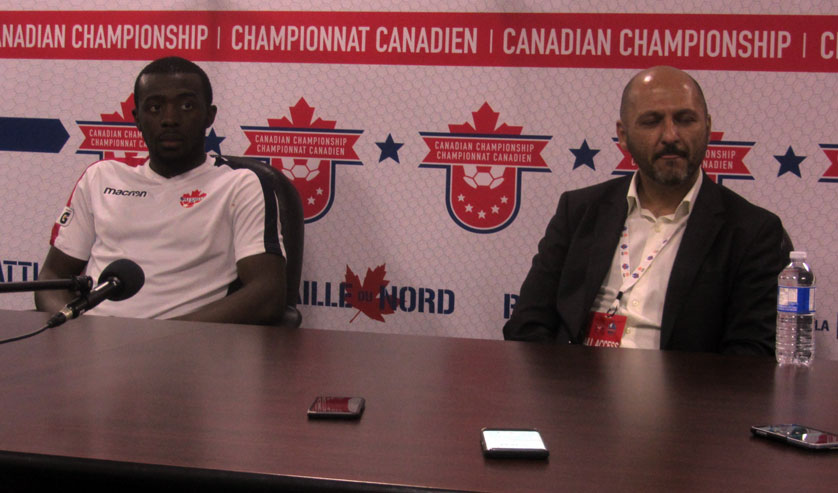 Vaughan Azzurri and defender Jarred Phillips head coach Patrice Gheisar.
MP3 file...Vaughan Azzurri...14 min 10 sec
I get in the question about the VA strategy for the next game and Hart's comment of the VA roster being 30 to 40 players.
Yeah I know, "Stop Me If You Think You've Heard This One Before" a reminder the return match is in Halifax
on Wednesday May 22. That day is also singer Morrissey's sixtieth birthday!
back to League 1 Ontario index