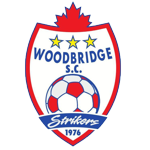 .........................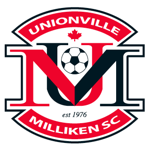 August 18, 2019 League 1 Ontario--Woodbridge Strikers vs Unionville-Milliken SC (game report by Rocket Robin)
Result and details of the Sunday August 18, 2019 League 1 Ontario game between Woodbridge Strikers and Unionville-Milliken SC
played at Vaughan Grove in Woodbridge at 5:00pm.
Woodbridge Strikers (all blue, white numbers)
..................76 Micheal Markac
2 Matthew Strangis...4 Francesco Sinopoli...6 Joshua Parades-Procter...5 Kyle Watson (cpt)
7 Emmanuel Issac...10 Cristian Cavallini...18 Lucas Puntillo...15 Adres Caicedo
.............8 Matthew Santos...21 Damieon Graham
Subs:...1 Roberto Stillo (gk)...16 Tyrell Rayne...19 Gianpiero Pellicano...22 Deshawn Palmer-Agyemang
...23 Dante Ruddock
team officials:...team head coach Peter Pinizzotto...managers John Scarlato and Jonny Stancati
...equipment manager Amedeo Pelligrino...therapist David Lisi
Unionville-Milliken SC (black socks, shorts and numbers, white shirts)
.....................1 Alessio Carbone
6 Michael Direnzo (cpt)...4 Nicholas Assadourian...16 Cale Loughrey...22 Byron Knowles Ramirez
8 Siaf Jaffer...18 Trivine Espirit...21 Trevor Carabin...11 Tristan Espirit
................9 Kaleb Powell...13 Marcellus Paul
Subs:...0 Matthew Mattila (gk)...15 Tim Flynn...17 Isiah Prentice-Whyte...19 Liam Cox
...23 Jalen Brome...77 Aidan Castillo
team officials:...team head coach Sanford Carabin...assistant coach Felix Dirlenzo...therapist Serge Marchuk
Game officials:...referee Marko Ristic...referee's assistants Mahboob Gulestani and Brian Nova
...fourth official Roain Satarzadeh...(yellow shirts, black shorts and socks)
First Half:...game start 5:05pm...WS defends north end on this hot and humid day with the sun in the west and a wind
from the south.
4 min...WS Strangis steals UM pass and runs up right sideline and makes low centering pass and WS Parades-Procter
bends 22 yard shot wide left.
8 min...WS Issac barges through check attempts up middle and rolls pass forward where WS Graham one-touches weak roller
from 20 yards that goalie picks up.
9 min...UM defender shields WS through ball pass that goalie picks up on right.
10 min...WS goalie smothers freekick cross from 30 yards that lands between players.
10 min...UM goalie is out to 22 yards to beat WS Issac to ball by punting it away.
11 min...UM goalie to edge of box to smother through ball pass meant for WS Santos.
13 min...WS Puntillo through ball pass for WS Graham is called offside.
14 min...UM defender deflects ball from 20 yards popping it up for goalie to catch ahead of WS Graham.
16 min...UM Carabin cornerkick from right hits WS Paredes-Procter and he makes two more blocks.
18 min...UM Dirienzo 40 yard pass forward bounces and goalie messes up deflecting it for cornerkick.
19 min...UM player's cornerkick from right is high and UM Dirienzo heads from left back across box and UM Paul lifts leg
to kick 8 yarder over bar.
23 min...UM Powell through ball pass is too far for teammate.
24 min...UM Powell recovers ball off fallen WS Watson and low 28 yard blast up middle is wide left.
24 min...there's a break in the rain.
25 min...UM Tristan Espirit 25 yard blast is through players and has goalie catch on right post.
27 min...UM Paul run down left to rescue ball on end line and sends cross that retreating WS Watson clears for cornerkick.
29 min...UM Tristan Espirit cornerkick from left has UM Loughrey one-touch 7 yard shot in crowd of players on right
wide right.
32 min...UM Trivine Espirit give and go with UM Powell and low 15 yard shot is saved by sprawling goalie.
33 min...UM Tristan Espirit cornerkick from right is over to UM Loughrey who heads 12 yarder that's cleared on right side of net.
35 min...WS Puntillo rush down right to end line and cross into 6 yard box just a step ahead of charging WS Issac heading attempt
at 3 yards.
36 min...WS Puntillo receives cross and blasts shot off sliding defender at 10 yards deflects off him and top of bar. The ball
stays in play on wide left end line and is crossed in and WS Cavallini heads 6 yarder from left wide right of net.
39 min...UM Powell dekes through two guys and 12 yard shot from left is a flying goalie.
42 min...Woodbridge Matthew Santos GOAL...WS Emmanuel Issac sends high cross from left
and WS Lucas Puntillo at 20 yards on right who centers pass to Santos who rolls 20 yarder between
defenders into right side of net past diving goalie Alessio Carbone.
44 min...WS Santos chips cross from 30 yards on right to cetner and open WS Issac blasts 18 yarder down middle over net.
45 min...half ends 5:50pm.
Halftime: The halftime stretched more than 15 minutes because of lightning in the distance that was closing in from the west.
Second Half:...starts 7:02pm.
halftime subs:...WS Rayne replaces Puntillo.
.................UM Cox replaces Powell.
47 min...WS Caicedo low 35 yard shot from left is picked up by goalie.
50 min...WS Parades-Procter rolls 22 yard shot through crowd of players wide right.
54 min...Woodbridge Tyrell Rayne GOAL...WS Emmanuel Issac on run down middle rolls ball from 35 yard line
between defenders over to right where charging Rayne gets ball at 18 yard line and runs towards end line
and takes low 10 yard shot that diving goalie gets piece of wide right of post but it bounces under him
into short right side of net.
57 min...UM Tristan Espirit 35 yard freekick from left has defender in crowd head away at 10 yards.
57 min...UM Dirienzo 35 yard freekick from right has WS Parades-Procter on edge of 18 yard box head away.
58 min...UM Loughrey 25 yard freekick up middle after teammate feigns kick but steps over ball is low
and into player wall. This starts a fast WS break out and WS Rayne rolls 20 yarder from right wide right of net.
60 min...WS sub...Ruddock replaces Issac.
62 min...US Knowles Ramirez flips chip into box from 30 yards and WS Sinopoli stops and UM Jaffer sends 12 yard
shot wide left.
63 min...UM Jaffer cross from 25 yards on left has WS Watson leap to head away.
63 min...UM Tristan Espirit low cross along 12 yard line from right is throug box unplayed.
64 min...UM goalie out to 15 yards on left to smother through ball ahead of WS Dirienzo.
65 min...WS Rayne beats goalie and centers from right to WS Ruddock whose low 12 yarder has defender on line shank
clearance for cornerkick.
66 min...WS Cavallini cornerkick from left is bounced through right side of box unplayed.
67 min...WS Rayne almost gets in way of UM goalie's clearance kick.
68 min...UM sub...Prentice Whyte replaces Knowles Ramirez.
69 min...UM Cox rush to get ball on far right and low cross has goalie fall back to stop on near post and then he gets
a second chance to smother.
71 min...UM Carabin can't win Penalty kick when WS Paredes-Procter is in his way to ball that squirts through defenders
and has his hand raised to tip ball.
71 min...WS YELLOW card...Ruddock earns it of delayed tripping attempt early in last play.
72 min...UM Tristan Espirit 25 yard freekick down middle is low and into player wall.
73 min...WS sub...Pellicano replaces Graham.
74 min...UM YELLOW card...Carabin earns it for grab on WS players up right sideline at 30 yard line.
76 min...UM Cox rush to right end line and cross through box has no one there. WS Strangis makes key clearance to end play.
77 min...WS Watson makes key clearance for cornerkick of cetnering pass from right.
78 min...UM Tristan Espirit cornerkick from right has defender clear.
79 min...UM player's long 45 yard line freekick from left is over to UM Loughrey at right cornerflag. He sends low cross
that defender shanks over own net.
80 min...UM Tristan Espirit 33 yard freekick from left has WS Watson leap to head for cornerkick on right side of box in crowd
of players.
81 min...Unionville-Milliken Michael DiRienzo GOAL...UM Tristan Esprit cornerkick from right has DiRienzo
head in 10 yarder on leap between crowd of players on left into low right corner of net past diving
goalie Michael Markac.
84 min...WS Santos 40 yard shot up middle tips off defender at 30 yards for cornerkick.
85 min...WS player's cornerkick from right has UM Tristan Espirit head ball through box. WS Santos recovers ball on left
and shoots 10 yarder wide left of net.
86 min...UM Dirienzo 22 yard cross from right is caught by goalie.
87 min...WS Rayne holds on to ball while eluding defender and 20 yard shot from slight right has goalie sprawl to save
and deflect ball for throw-in.
91 min...WS Rayne is given pass down right but on 1 on 3 rush has 12 yard shot stopped but defender almost deflects ball
into own net. WS Santos is injured upfield and needs trainer.
92 min...WS Parades-Procter freekick on right edge of box is passed around to time-waste. WS Pellicano shoots 25 yarder
that's caught by goalie between players.
94 min...WS player's short cornerkick from left has WS Pellicano cross through box unplayed.
95 min...game ends 7:52pm.
Final Score:...Woodbridge Strikers.....2.....Unionville-Milliken SC......1.......

Attendance was about 40 people with the game being held on the turf field further away from the dressing 
rooms and the main grass field.  Weather conditions resulted in more than a one hour halftime break.  

Woodbridge head coach Peter Pinizzotto again looks like a genius making a sub after the long break 
by bringing in Tyrell Rayne and him scoring nine minutes later.  I've seen him do that a few times 
and a goal happen even faster than nine minutes this season alone.

Referee Marko Ristic gave out only two Yellow card (one to each team) and they were both between 
71 and 74 minutes and both delayed calls.  First was for a tripping attempt on a UM rush but he let 
the play continue until the play was broken up and the other was for a shirt grab on a WS player running 
up the right sideline that fizzled with an offside call.  He also played advantages and then call 
a play back for a freekick if the advantage didn't pan out.   

The 'Man of the Match' are chosen by the coach of each team.  The sponsor is Coventry North Jaguar 
and the prize is not a car.  UM head coach Sanford Carabin chose goal scorer Michael DiRienzo which 
makes sense as he also had other chances.  Woodbridge's Pinizzotto chose defender Joshua Parades-Procter 
who made some key stops and clearances.  
  
Woodbridge's defensive line of Matthew Strangis, Francesco Sinopoli, Joshua Parades-Procter and captain 
Kyle Watson are among the league's best with only 18 goals allowed and very important to the team 
as Strikers have only scored 28.  Very important today as young goalie Michael Markac (2001) had some 
scary moments but that's not giving any slack for how slippery the ball was in the wet conditions.  

Unionville-Milliken with nothing to lose this late in the season had six starters born in 2000 or later.  
The team was 'up' for the game although their playoff chances were over a month ago.  After their goal 
so late in the game it was actually Woodbridge that had the better scoring opportunities because 
UM then opened up to try for the tying goal.  

Best non-scoring chances were at 19 minutes when a UM high cornerkick sent in from the right had 
UM Michael DiRienzo head from the left back across the box and UM Marcelius Paul lifted a leg to kick 
an 8 yarder just over the bar.  25 minutes had UM Tristan Esprit blast a shot between players 
from 25 yards that the goalie caught on the right post.  29 minutes had UM Tristan Esprit's cornerkick 
from the left and UM Cale Loughrey one-touch a 7 yard shot in crowd of players wide right.  33 minutes 
had UM Tristan Esprit cornerkick from right over to Loughrey who headed 12 yarder that a defender 
cleared from the right side of the net.  35 minutes had WS Lucas Puntillo rush down to the right 
end line and cross into the 6 yard box just a step ahead of charging WS Emmanuel Isaac heading attempt 
at 3 yards.  The next minute had Puntillo receive a cross and blast a shot off a sliding defender 
at 10 yards that deflected off the defender and the top of the bar.  The ball stayed in bounds along 
the wide left end line and was crossed in and WS Cristian Cavallini headed a 6 yarder from the left 
wide right of the post.  39 minutes had UM Kaleb Powell deke through two guys and take a 12 yard shot 
from the left that is caught by the flying goalie.  44 minutes WS Matthew Santos chipped a cross 
from 30 yards on the right to the center and the open Issac blasted an 18 yarder down the middle but 
over the net.  65 minutes had WS Tyrell Rayne beat the UM goalie and center from the right 
to WS Dante Ruddock whose low 12 yard shot had a defender shank a clearance on the goalline but 
wide enough for a cornerkick.  71 minutes and UM Trevor Carabin couldn't win a Penalty kick after 
he squeezed between two defenders and WS Joshua Parades-Procter bumped him over.  Parades-Procter 
had his arms raised over his head so Carabin didn't have much of a case.  79 minutes had a WS cornerkick 
from the right cleared away to WS Parades-Procter who blasted a 30 yarder between players in the box 
and the sprawling goalie stopped in the middle and WS Cavallini was called offside when he recovered 
the rebound.  87 minutes had WS Rayne elude a defender and send a 20 yard shot from the slight right 
that the goalie sprawled to save and deflect all the way over for a throw-in.  Added time had Rayne 
given a pass down the right but on a 1 on 3 took a 12 yard shot that was stopped but a defender almost 
deflected it into his own net.  

The parking lot near the main field and dressing rooms was almost full as much of it was roped off 
for a fun fair that must have just ended.  I ended up moving when I found the game would be at the 
far field and was glad when at halftime the rain started from nothing to full faucet within 30 seconds.  
I stayed sheltered in my car as the lightning passed overhead and was facing the field so could 
see when the players returned and retook my seat.  

The weather started hot, humid, and sunny with a breeze from the south but before halftime there were 
two outbursts of rain with the sun still out.  The game continued until halftime even though a match 
official said they could see/hear lightning/thunder in the distance.  I finally turned around at halftime 
to face west and saw the darkened sky.  Someone said look at that rain and within 30 seconds the sky 
opened up harder than the other times put together.  I fled to my car and waited for the game 
to restart...half hour after the last bolt I've heard.  

It is possible the video of this game will never make the League website.  The camcorder-on-a-pole guy 
disappeared at halftime and didn't return.  I timed the halftime break as 1 hour, 12 minutes.  I figured 
the guy maybe was hired by the hour and bolted but found by asking around that his rig was damaged 
in the storm when it blew over and the wire to his camera was severed.  If he has a memory stick I'd 
expect at least they could rescue the first half.  

The goals were good but there was no 'Goal of the Year' candidates today.  

Woodbridge needed a positive result in this game Pinizzotto answered me before the game.  There were 
four teams fighting for the last two playoff spots after North Mississauga won on Friday night to clinch 
a spot.  Darby FC beat Toronto Skillz 8-0 this afternoon to rise into the top eight.  FC London were 
in the GTA to beat Pro Stars 1-0 at the same time as our game although their game had weather delays 
as well.  Aurora FC was hosting front running Vaughan Azzurri and ended up losing 4-1.  
The results mean both Woodbridge and FC London finished tied with identical records of 8 wins, 6 losses, 
1 tie for 25 points in the 15 game regular season.  The tie breaker is the game against each other back 
on July 12th in London when FCL won 1-0.  That places FC London seventh and Woodbridge eighth.  
Darby gets frozen out as ninth and Aurora ends up tenth.  

Unionville-Milliken finishes their season with a record of 3 wins, 9 losses, 2 ties for 11 points.  
That places them twelfth of the sixteen teams.  That is one less game then the other teams but with 
the playoffs starting next weekend it's doubtful they will duel thirteenth place Windsor TFC for 
that spot.  Their game on May 25th was never rescheduled—quite a Saturday that day in that three 
L1O games were effected by storms.  I was at the CPL game at York University for York 9 FC's first 
ever league home game against Forge FC.  That game didn't go well at all as with the confusion of security 
announcements and instructions during a thunderstorm sent thousands of fans home who'd travelled from 
as far away as Hamilton.   

So attending tonight's game and watching Unionville-Milliken means that I've now seen all sixteen 
of the League 1 Ontario men's teams at least three times this season and the playoffs haven't started yet!  
That's 29 regular season games not counting a Canadian Championship game and a pre-season friendly.  
That's difficult with covering York 9 FC and Toronto FC II games as well.  

Playoffs start next weekend.  Quarters and semis will be two game series with a one game final from 
what I've heard.  

Rocket Robin
robing@eol.ca
twitter @RocketRobin01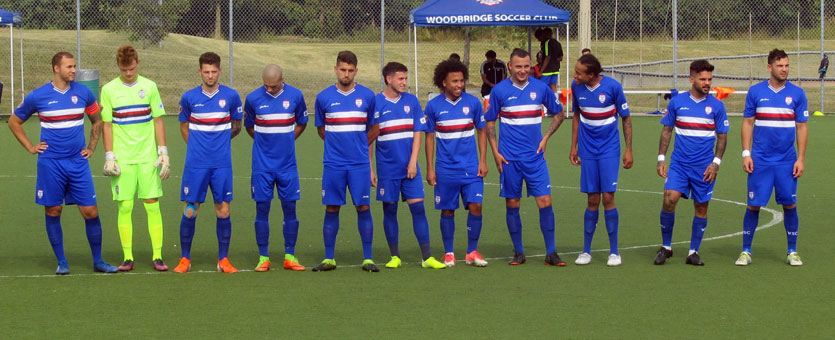 Woodbridge Strikers starters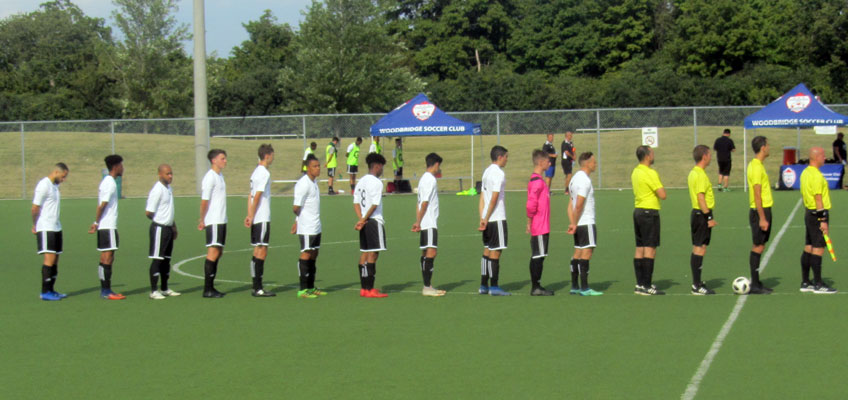 Unionville Milliken SC starters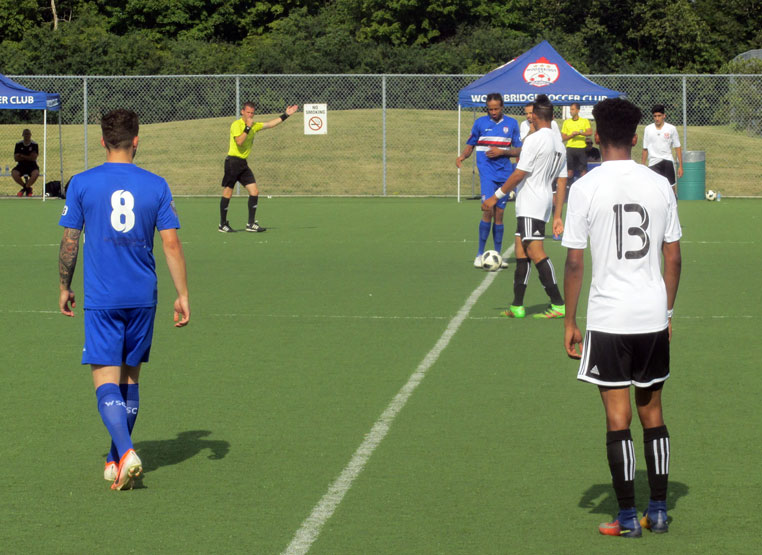 Woodbridge Damion Graham (21) take opening kickoff.

Woodbridge Andres Caicedo (15) lines up throw-in.


Woodbridge Matthew Strangis (2) has taken throw-in.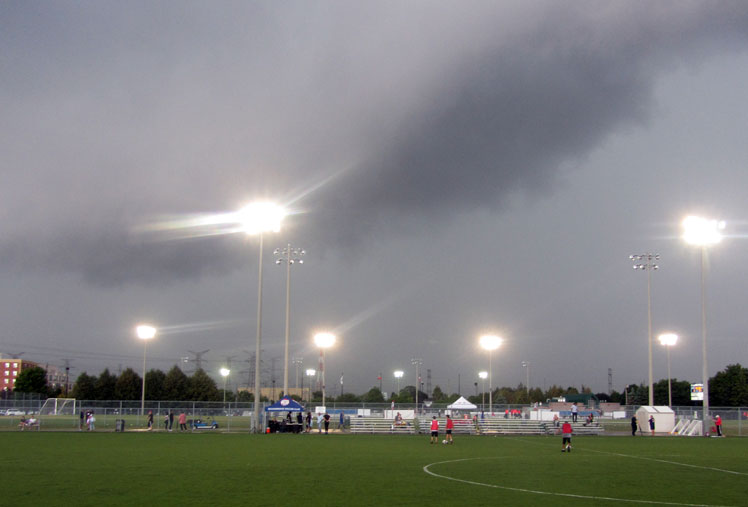 There's a delay before the second half starters to let this storm pass through.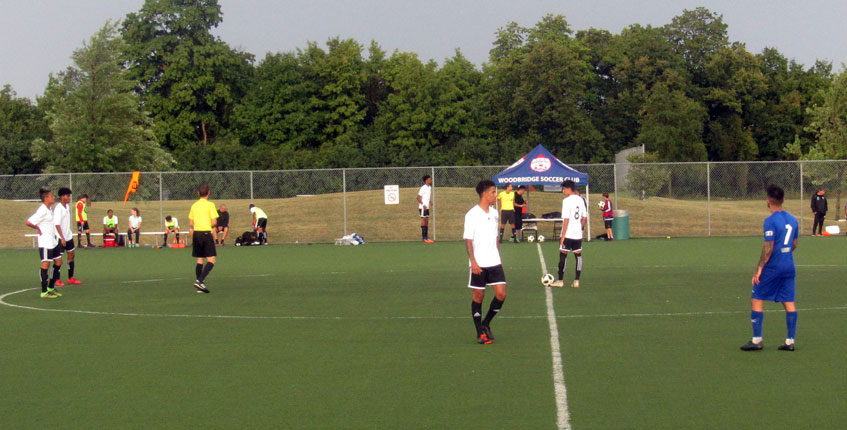 Unionville-Milliken Siaf Jaffer (8) takes second half kickoff.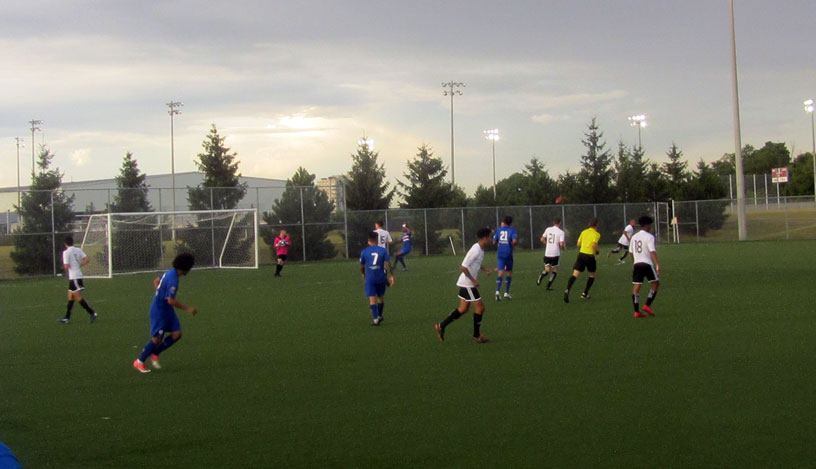 Unionville-Milliken goalie Alessio Carbone has made the catch.

Unionville-Milliken Michael Derienzo (6) roll ball ahead.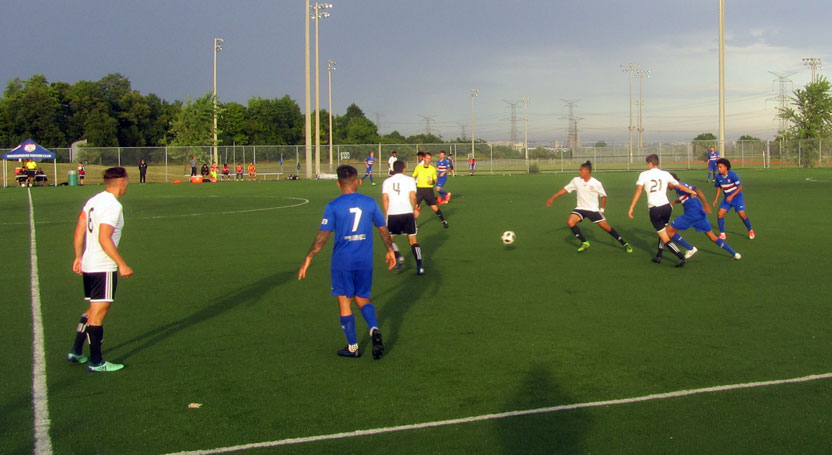 midfield action


Unionville-Milliken Cale Loughrey (16) will take freekick after UM Liam Cox (19) feigns shot.
back to League 1 Ontario index

.
.